Of all my kitchen gadgets, hands down it is the blender that gets most use. At least once a day I use it for blending smoothies or soups, as well as for grinding oats, nuts, seeds, making ice cream, chia puddings and much more besides.
Until now, I've always used mid-range blenders but, since the beginning of this year, I've become increasingly disillusioned with them. I don't know if it's just bad luck, but I'm finding that after about a year of use (usually just as the warranty expires), either the motor burns out or the jug starts leaking. I need a blender that's powerful, reliable and going to last a good few years. After all, it's not great for the environment (or my bank balance) if I'm having to buy a new blender every year.
When the jug on my latest blender started leaking a couple of months ago, I seriously started to wonder whether it would be worth taking the leap and investing in a high-end professional blender. I started to look around at options and was excited to discover that the Australian company Froothie had just launched in the UK.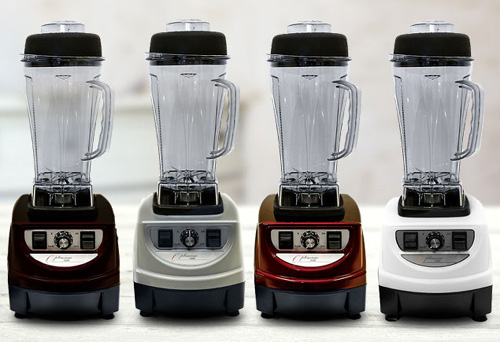 I'd heard great things about Froothie, and their Optimum 9400 blender has been pitched as the number one rival to Vitamix. While it has a similar spec to the Vitamix 500 series (even slightly better!), with a price tag of £399, it's over £200 cheaper. Though double or triple what I've spent on blenders in the past, if the Froothie lasts even a few years, then it would actually be saving me money in the long run.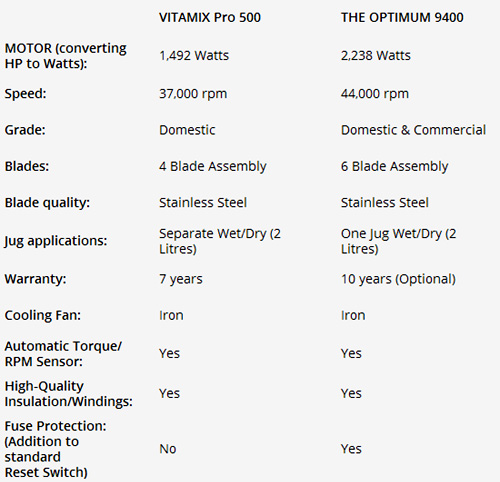 As well as looking for reliability and longevity, I also had a few niggles regarding the performance of my mid-range blenders which would hopefully be resolved with a professional high-end blender.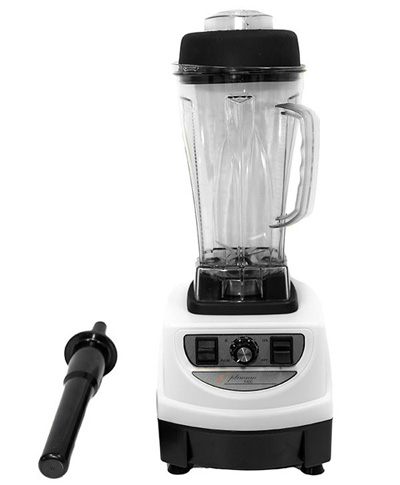 I was recently in touch with the Managing Director of Froothie UK & Ireland and he kindly arranged for an Optimum 9400 to be sent to me so I could check it out for myself. For the past month, I've been using the Froothie and comparing it with my existing blender. It's now really obvious to me what you get for the additional investment. Here's a lowdown on the main differences I've found…
Power
My mid-range blender is described as having "an incredibly powerful 1,200W motor". With a 2,238W motor, the Froothie has almost double the power. In fact, it is so powerful, that it can blend stones! You can imagine how Lil' L's eyes lit up when I told him this. He was dying to try it out but since I didn't fancy filling my Froothie with stones, he had to be satisfied with watching the video demo instead.
"The Optimum 9400 has an extraordinary 3 Horse Power motor
able to easily withstand the toughest ingredients and
outlast most other domestic blenders"

Noise
With my mid-range blenders, I've found that more power = more noise. My existing blender is so noisy that it makes my ears ring. The Froothie is noticeably much quieter.
The Blade
All my mid-range blenders have had a four prong blade which, in my experience, hasn't been wide enough. Food gets stuck around the sides of the jug and I have to keep stopping to scrape down. The blades also tend to sit too high from the base of the jug, which means that unblended food gets stuck under the blade. Compare this to the Froothie blades which are so wide that they almost touch the sides.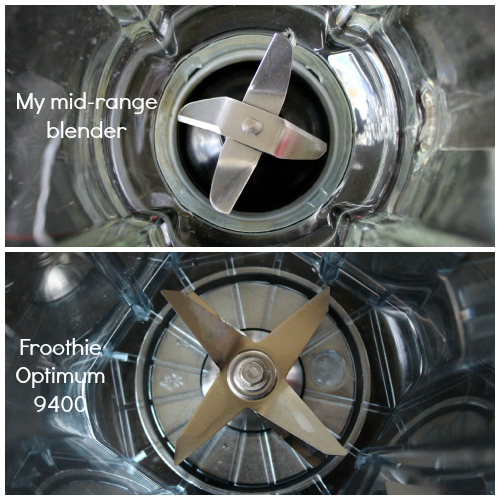 The Froothie also has two extra blades positioned underneath the four blades, which means that nothing escapes the blend. Never again will I finish the pouring of my smoothies with a 'plop' as rogue pieces of banana land in the glass.
Speed
I'm not sure of the speed of my existing blender, but I know it's not fast enough to blend cashews into a smooth cream. I can never get beyond a 'gritty' texture, which isn't nice for frosting or 'cheesecakes'. The Froothie has a speed of 44,000 RPM, which is even faster than the Vitamix. There'll be no gritty creams in this kitchen from now on.
The Jug
Mid-range blenders tend to come with a plastic (BPA) or glass jug. Since I'm not a fan of BPA plastic, I chose glass jugs for my last two blenders. The trouble is, they're extremely heavy (2kg). When full, I have to use two hands to lift them and it's tricky to pour. The Froothie comes with a BPA free plastic jug which, at 1kg, feels positively light compared to my glass one.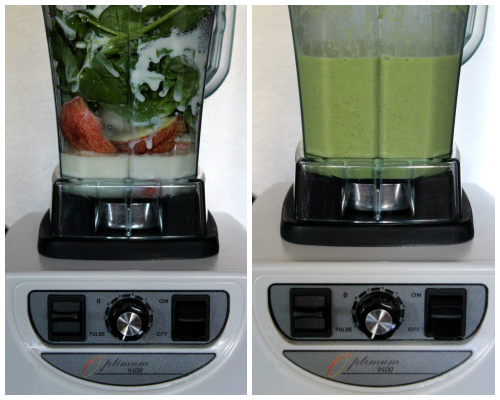 Tamper Tool
My mid-range blenders have never come with a tamper tool, which means that I can't add large amounts of light ingredients like spinach, nor can I fill them with frozen ingredients, as the blade just whizzes round and never touches them. I've used the Froothie tamper tool so much this past month that I can't imagine going back to a blender without one. In the Froothie, soft whip ice cream and frosted smoothies are blended in a flash.
Heating and Freezing
Incredibly, the Froothie has the ability to heat soups and freeze ice cream. My mid-range blender doesn't have these magical powers.
Reliability
As I mentioned at the top of this post, I've wasted a lot of money on blenders that have lasted little over 12 months. My latest blender lasted even less time. It started leaking from the base of the jug within 10 months. It was still under warranty so I got the jug replaced. I've only been using it for a few months, and the new jug has already started leaking. Though I've only used the Froothie for a month, I have confidence that it's going to last years. It's a commercial grade blender that's used by juice bars and cafes to churn out hundreds of smoothies each day. Though I'm classed as a 'heavy domestic user', I'm sure it's going to cope with my 1-2 times daily usage.
"While ordinary blenders have a fan motor that runs at maximum power at all times, leading to rapid motor burn out, the Optimum 9400 uses a proprietary carbon brush motor optimised to only use the power demanded – so you get a motor life of decades rather than months."
Here are a few of the extras that have given me further reassurance…
One Month Trial – Froothie offers a 30-Day Money Back Guarantee (including postage). No questions asked.
5 Year Warranty – This comes as standard but can be extended to ten years (for a fee), or an additional two years for free (see end of post for details).
Support – An expert team is available by phone, Monday to Saturday, 9am – 7pm, with plans to extend the opening hours to 7 days a week, 6am-5pm.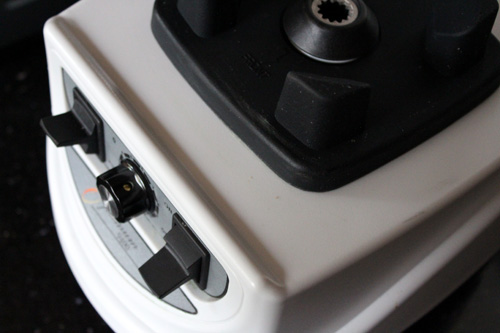 I am so impressed with the Froothie – the design, the quality of the build, the power, the speed, the customer service. When they invited me to become one of their Ambassadors, I was happy to jump on board. I'm very careful about the companies I promote on my blog (hence why there are so few adverts) but I'm proud to display my association with Froothie.
Bit of the Good Stuff Reader Offer
As a Froothie Ambassador, I've been able to negotiate a couple of great offers for my readers. If you purchase a 9400 blender via a link on my blog, you can receive an additional 2 years warranty. That means a total of 7 years warranty! To qualify for this offer, at the time of purchase you need to mention in the comments section that you've been offered an extended 2 year warranty via the Bit of the Good Stuff Ambassador (Code 1946).
ALSO…
As a Froothie Ambassador, I'm delighted to pass on a special discount code for you… enter code AMB20 at checkout to receive £20 off 💫 This offer applies to any blender, juicers, vibration plate and pressure cooker on the Froothie website.
In return for introducing my readers to Froothie, I will receive a commission which I'll re-invest back into Bit of the Good Stuff. Many thanks in advance for your support.
If you'd like to find out more about the Froothie Optimum 9400, and watch it in action, check out the video below. They even show a fork lift truck driving over the jug and it still doesn't crack!
————————————————-
More Bit of the Good Stuff Blender Reviews and Offers….
Optimum Vac 2 Air Vacuum Blender Review and Reader Offer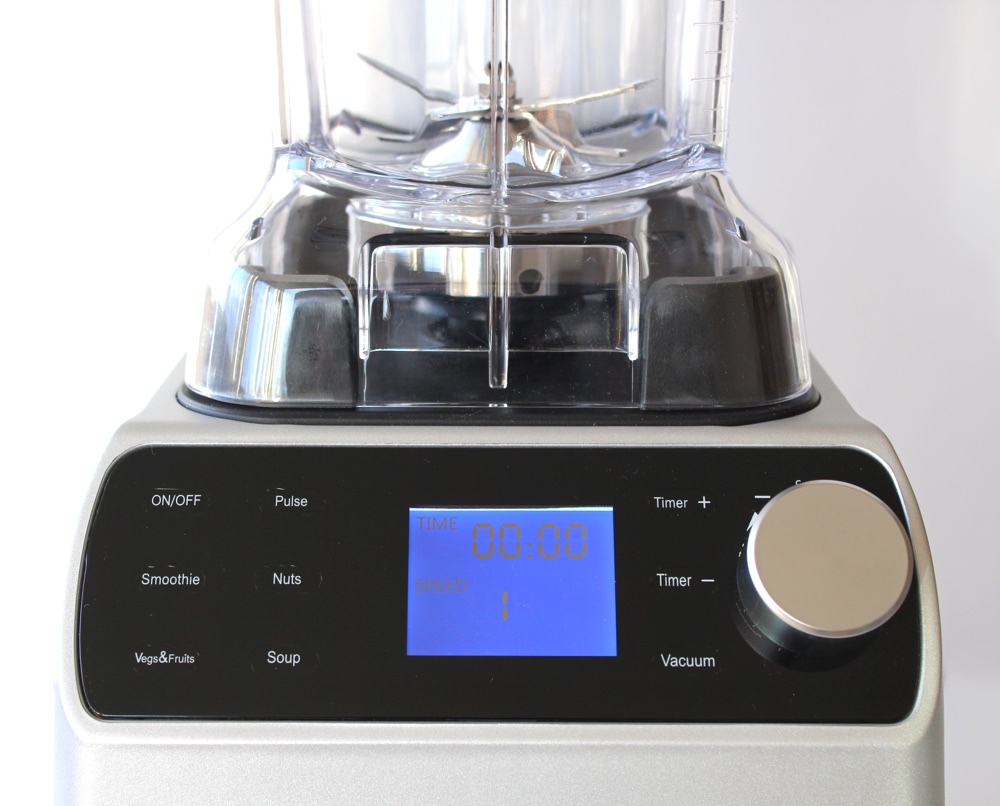 Optimum Nutri Force Extractor Review and Reader Offer