When it comes to Christmas dinner, for me, nothing can beat a nut loaf served with a big pile of roasted veggies and onion gravy ♥
My mum made me my first nut roast for Christmas when I was 12 and it was by far the best Christmas dinner I'd ever had! In contrast to turkey (which I'd always found pretty bland), the nut roast was packed with beautiful flavours and textures. Since then, I've always chosen to have nut loaf as the centre piece of my Christmas dinner… and for many years now, my mum has chosen it over turkey too!!
In fact, pretty much everyone I know loves a nut roast, regardless of whether they're vegetarian, vegan or not, so this is a great meal to serve to friends and family over the Christmas holidays, or as a special Sunday roast dinner.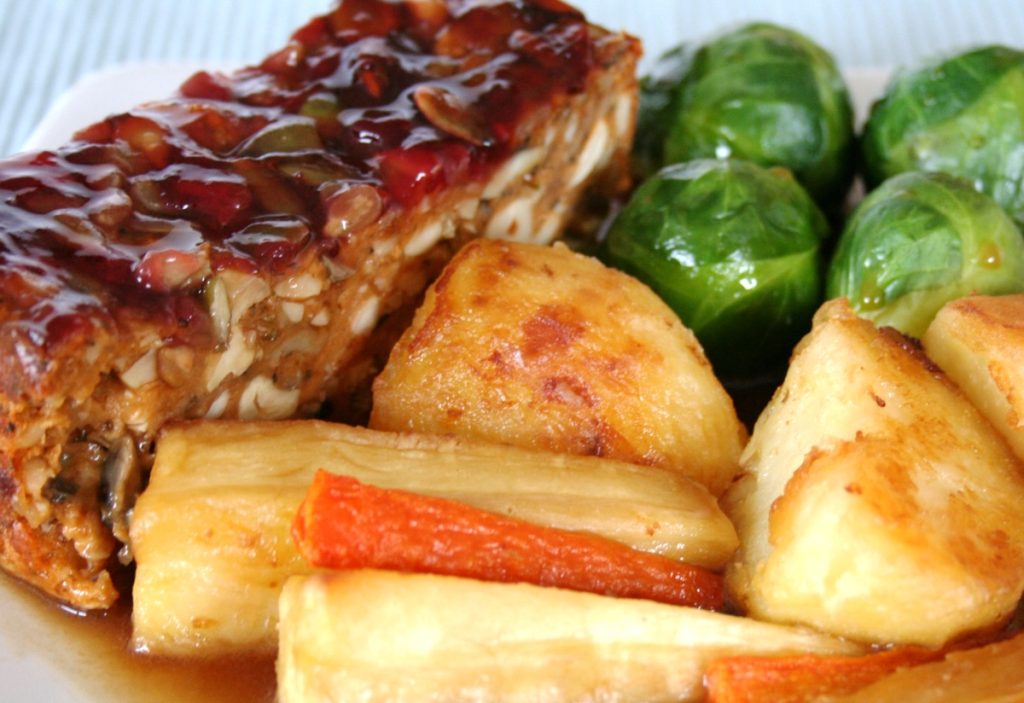 The nut loaf recipe I'm sharing today has be my family's all-time favourite. It's the one we've chosen as the centre piece of our Christmas dinner for the past ten years or so. We only make it at Christmas (to keep it 'special') and I'm already looking forward to tucking into it again this year!
Not only does it taste delicious, but it is easy to make too! It also stores really well, which means you can make the loaf a few days in advance of Christmas (or Thanksgiving) then simply heat up some slices before serving. The last thing I want to be doing in the Christmas holidays is slaving away in the kitchen and missing out on the fun, so this kind of 'make ahead' meal really suits me!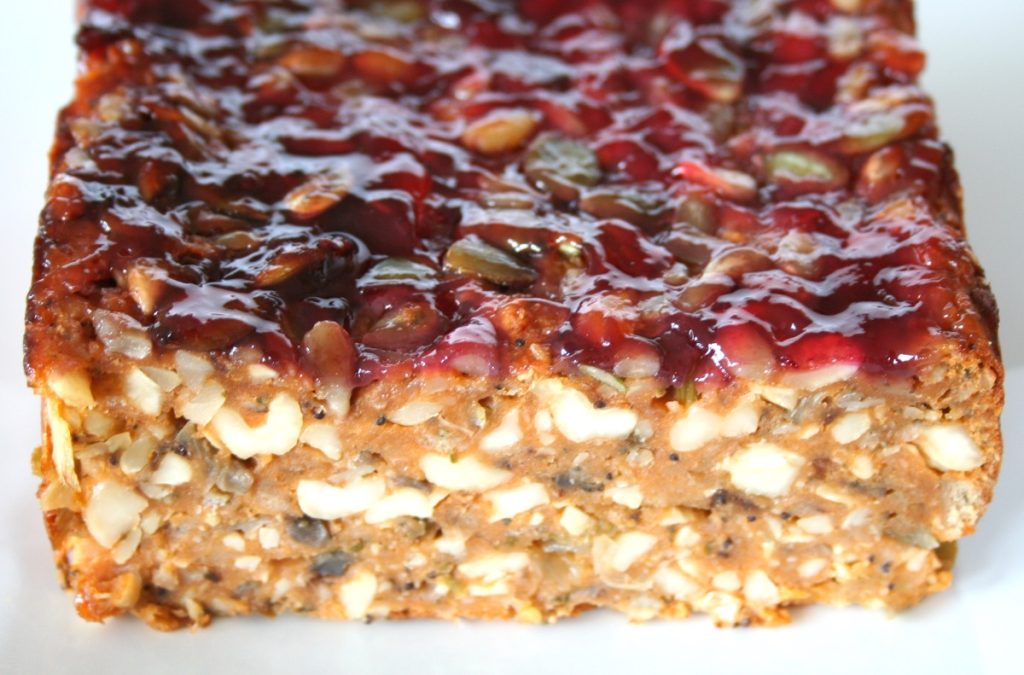 This Cranberry-Glazed Nut Loaf has proven to be popular with our lovely readers too. I first posted this recipe back in December 2013 and I've absolutely loved reading your feedback and seeing your photos on social media. Thank you so much to everyone that's taken the time to do this. It means a lot to me!
This blog post was in desperate need of updating (especially since we moved our website to a new format this year) so I'm really happy to have finally found the time to do so. This is one recipe that I'm sure my family is going to be making for many years to come!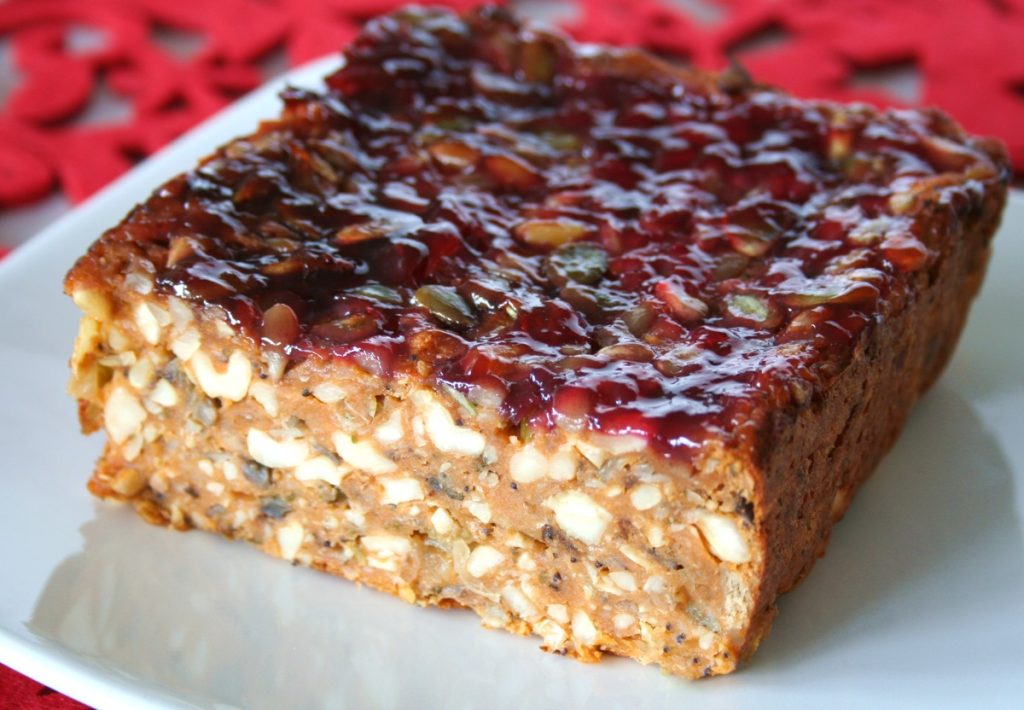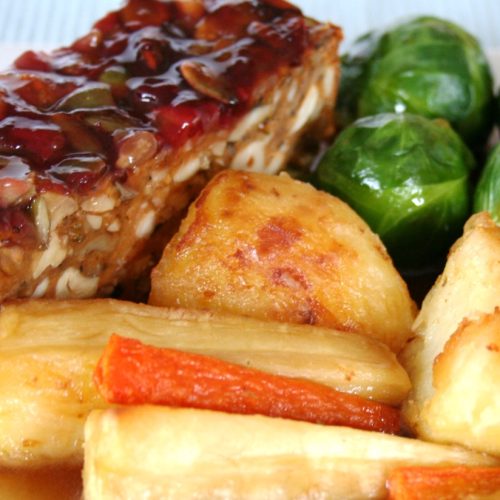 Cranberry-Glazed Nut Loaf
This nut loaf is perfect for sharing with friends and family over the festive holidays or as the centrepiece to a Sunday roast dinner. It can be made two or three days in advance and warmed through in the oven or a microwave just before serving. It also makes a delicous sandwich filling served with caramelised onion chutney or sweet pickle.
Ingredients
250

g

/ 1½ cups cashew nuts

125

g

/ 1¾ cups fresh wholegrain bread

200

g

/ 1 cup red lentils

500

ml

/ 2 cups vegetable stock (broth)

1

TBSP

olive oil

1

large red onion (160g)

finely diced

2

celery sticks (140g)

finely diced

2-3

garlic cloves

minced

100

g

/ 1 cup mushrooms

finely chopped

1

tsp

dried sage

2

TBSP

tomato purée (paste)

40

g

/ ⅓ cup wholemeal (whole wheat pastry) flour or chapatti flour

2-3

TBSP

fresh parsley

finely chopped

½

tsp

salt

1

TBSP

each of pine nuts, pumpkin seeds and sunflower seeds

4

TBSP

cranberry sauce
Instructions
Preheat the oven to 190C (170C fan) / 375F.

Grease a large (3lb) loaf pan (about 24cm x 13cm x 7cm in size) and line with a strip of non-stick baking paper to cover the bottom and long sides. Leave a little excess paper hanging out to make it easy for you to lift out the loaf. (Alternatively you can use a non-stick loaf liner).

Pulse the cashews in a food processor until coarsely chopped, then place in a large mixing bowl. Process the bread into breadcrumbs, then add to the mixing bowl.

Place the lentils in a fine mesh sieve and wash under running water, agitating them with your hand until the water runs clear.

In a pan, bring the vegetable stock and lentils to the boil, then reduce the heat and gently simmer uncovered for 15 minutes, or until the lentils have become a soft purée and all the water has been absorbed. Stir regularly towards the end of the cooking time to prevent the lentils from sticking.

Meanwhile, heat the oil in a large non-stick frying pan (skillet) and cook the onion and celery until they start to soften. Add the garlic, mushrooms and sage, and cook for a further three minutes. Stir in the tomato purée and flour, then remove from the heat.

Add the contents of the frying pan to the mixing bowl with the cashews and breadcrumbs. Add the cooked lentils, parsley and salt, and stir until thoroughly combined.

Spoon the mixture into the prepared tin. Gently press down and level the top. Sprinkle with pine nuts and seeds, and press them into the loaf. Spread the cranberry sauce on top. Cover with foil and bake for 30 minutes. Remove the foil and bake for a further 30 minutes. When ready, the loaf should feel firm to the touch. Leave to cool in the tin for at least 20 minutes, before turning out and slicing (it will firm up more as it cools). If you're making it ahead of time, you can leave it in the pan until completely cooled.

This loaf will keep for five days in the fridge, and for weeks in the freezer. If you're not planning on eating the loaf in one go, you can slice it and freeze it in portions. The loaf can also be served cold and makes a great sandwich filling.
Pin for later ⬇️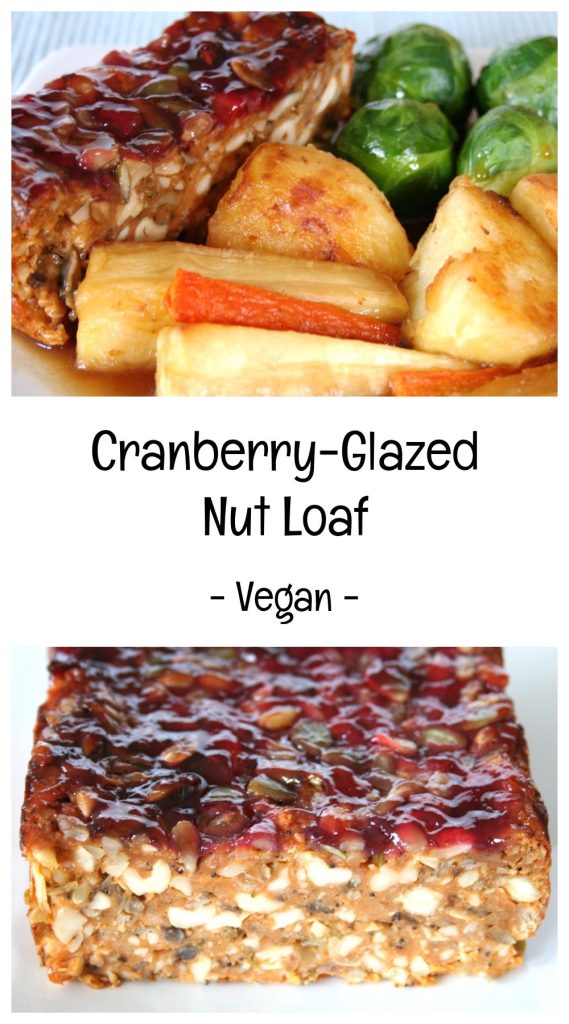 If you have any leftovers, I can highly recommend stuffing them into a sandwich or pitta bread, along with some caramelised onion chutney or sweet pickle. My family calls this our 'Boxing Day' sandwich. It's delicious!!
If you make this Nut Loaf (or any other recipes on my blog), I'd love to hear your feedback and any suggestions for adaptations! Tag your photos with #bitofthegoodstuff on social media and they will find their way to me. You can also connect with me on my social media channels here:
Instagram, Twitter, Facebook, Pinterest.
With love,

———————————-
YOU MAY ALSO LIKE…
Brussels Sprout Hash with Balsamic Red Onion & Toasted Pecans