Thinly sliced and pan-fried in olive oil, Brussels sprouts take on a delicious nutty flavour and crisp texture, that is so far removed from the texture and flavour of boiled or steamed sprouts! If you know any Brussels sprout haters, encourage them to give this recipe a try. It might just win them over!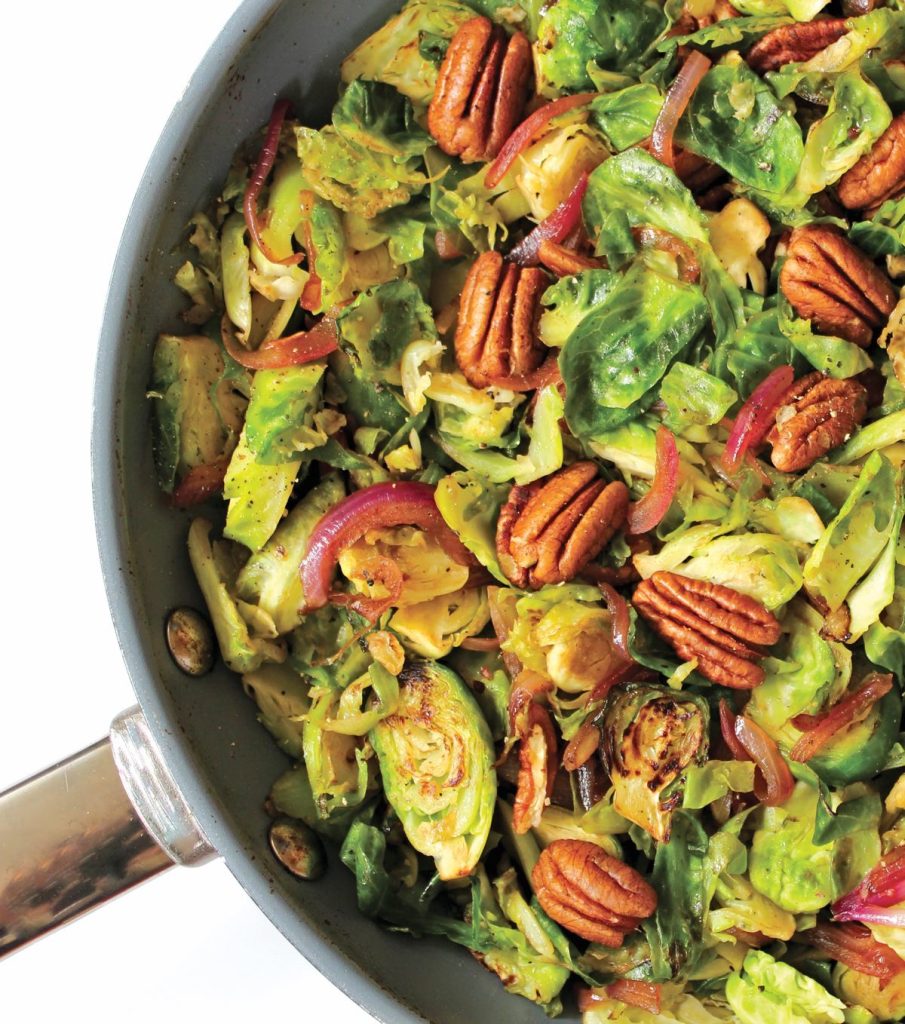 In fact, it was this recipe that I'm sharing today, that converted our son at from a self-proclaimed sprout hater to a sprout lover! Every Christmas prior to this, I would optimistically place a sprout or two on his dinner plate but sadly, there they would languish, untouched, while every other vegetable on his plate was enthusiastically devoured.
Determined to get this boy to enjoy Brussels sprouts, for our Christmas dinner in 2015, I ditched the steamed sprouts and instead sliced and pan-fried them along with some tangy Balsamic red onion and toasted pecans. It was a total game changer! He absolutely loved it and, for the first time ever, his Christmas dinner plate was completely cleared…. sprouts and all!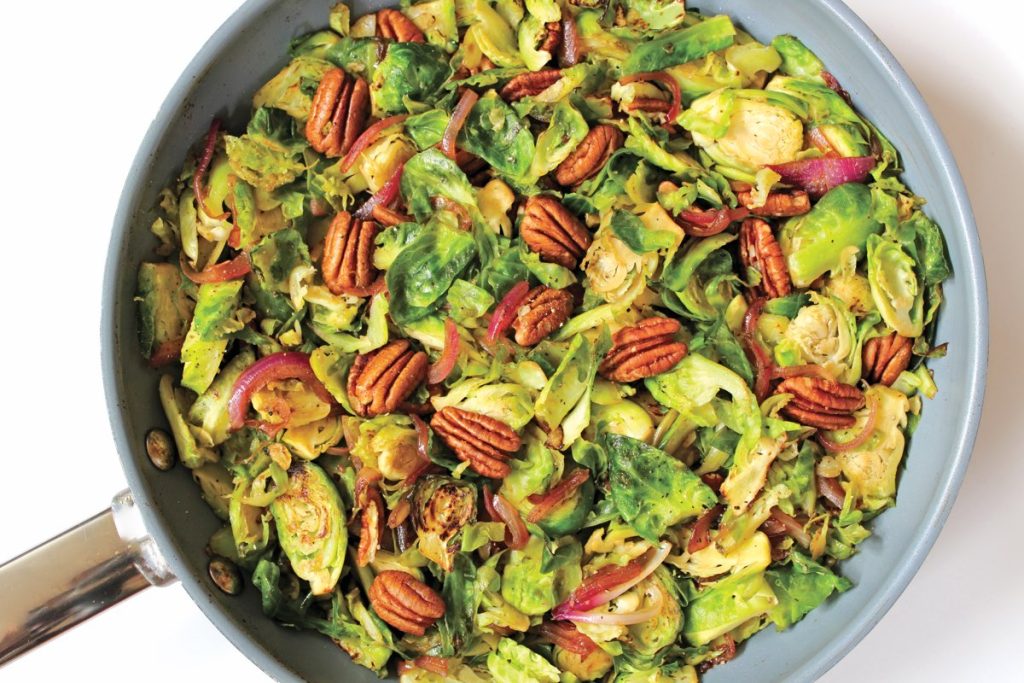 Five years on, and this Hash remains my family's favourite way to serve Brussels sprouts. We will most definitely be tucking into it on Christmas Day this year, alongside our Cranberry-Glazed Nut Loaf.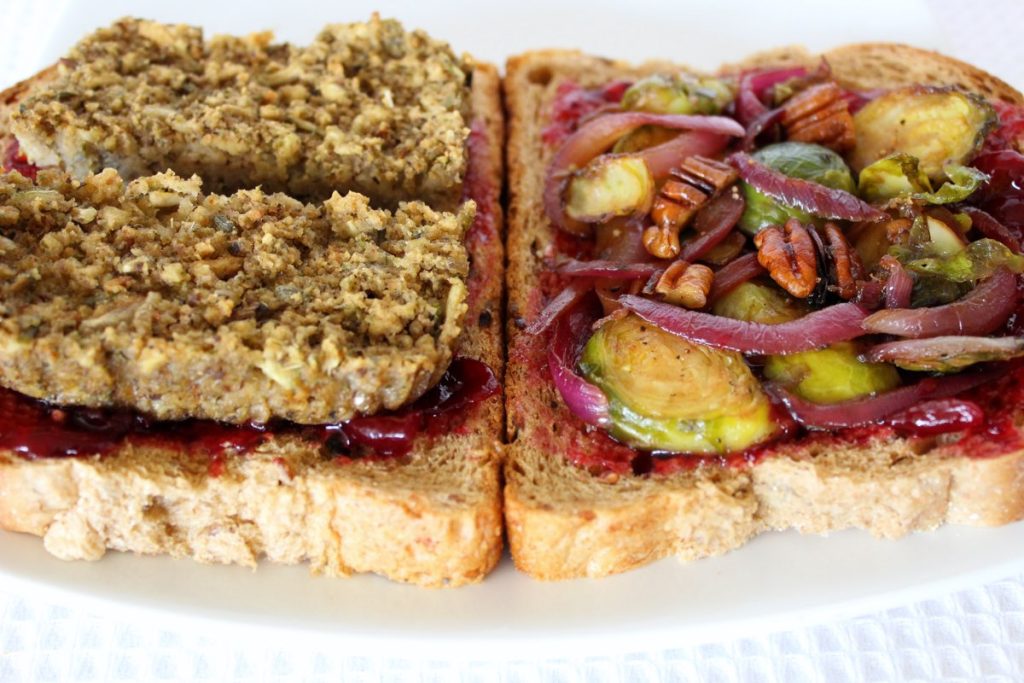 I'm also going to make sure we have leftovers, so we can serve them in a soft granary bread sandwich along with slices of nut roast (or sage & onion stuffing) and a big dollop of cranberry sauce. We call this our 'Boxing Day Sandwich' or 'Sunday Dinner Sandwich' as it is filled with roast dinner leftovers. It tastes so good!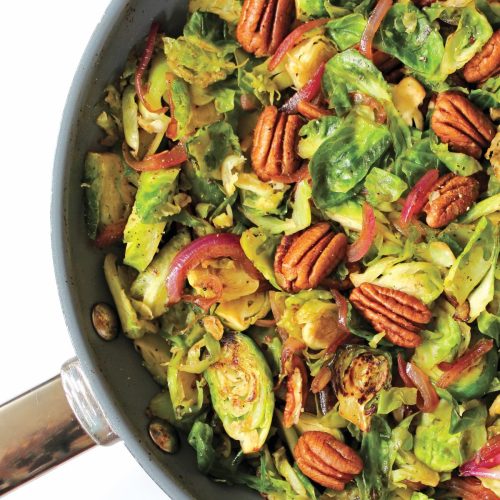 Brussels Sprout Hash with Balsamic Red Onion & Toasted Pecans
For any self-proclaimed 'Sprout Haters' out there, this is the recipe that might just change your mind! Slicing and pan-frying Brussels sprouts gives them a delicious nutty flavour and crisp texture, that is far removed from the boiled and steamed varieties! Combined with tangy balsamic red onion and toasted pecans, this Brussels Sprout Hash makes the perfect accompaniment for roast dinners. As a light light meal option, we also like to serve it with brown rice pan-fried in olive oil and soy sauce, or stuffed into our 'Sunday Dinner' sandwich with slices of nut roast and cranberry sauce.
Ingredients
60

g

/ ½ cup pecans

1

TBSP

olive oil

divided

1

medium red onion

thinly sliced

½

TBSP

coconut sugar or golden caster sugar

1

TBSP

balsamic vinegar

500

g

/ about 20-25 medium Brussels sprouts

fresh or defrosted, trimmed and thinly sliced

½

tsp

salt

freshly ground black pepper

(omit if serving to small children)
Instructions
In a small frying pan (skillet), toast the pecans on medium-high heat, stirring continuously. When they start to become fragrant, test one. If they have an intense nutty flavour, they are done. Tip them onto a plate and set to one side.

Turn down the heat to medium-low, add 1⁄2 TBSP oil to the pan and cook the onion for about 8 minutes, stirring now and then. Stir in the sugar and vinegar and continue cooking until most of the vinegar has evaporated, then remove from the heat.

While the onion is cooking, prepare the Brussels sprouts. In a large frying pan (skillet) heat the remaining oil on medium-high. Add the sprouts and season with salt and ground black pepper. Stir fry until they are browned (about 6 minutes).

When ready, add the onion and pecans to the sprouts and stir through to combine. Taste test and add more seasoning if required.

This dish is delicious served warm or cold. Any leftovers can be stored in the refrigerator for five days.
Pin for later ⬇️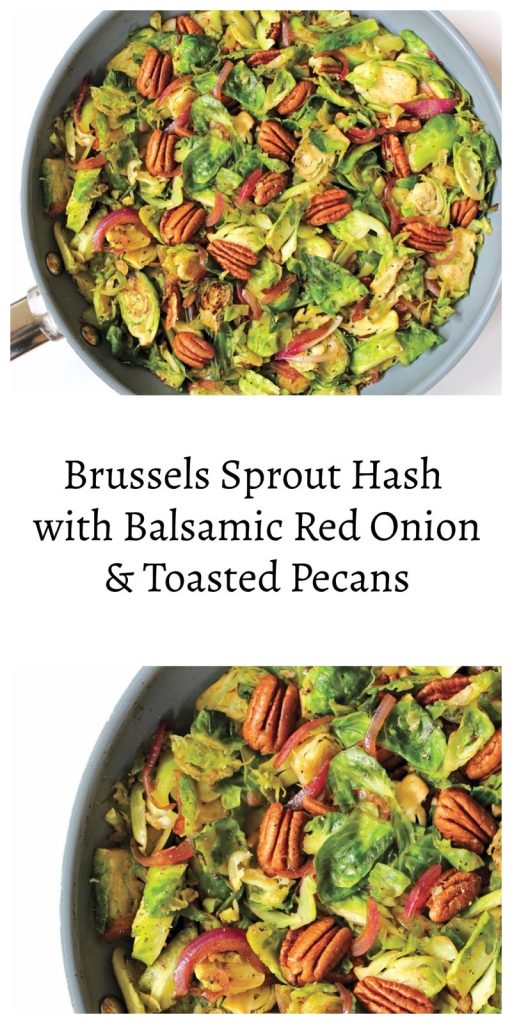 If you make this Brussels Sprout Hash (or any other recipes on our blog), I'd love to hear your feedback and any suggestions for adaptations! Tag your photos with #bitofthegoodstuff on social media and they will find their way to me. You can also connect with me on my social media channels here: Instagram, Twitter, Facebook, Pinterest.
With love,