* This recipe was originally posted in January 2018. The page was updated in September 2019.
In today's post, I'm sharing a recipe for a delicious Indian curry that's simple to prepare and ready in just 30 minutes. It's budget friendly too, costing less than £1 per portion. It's mild enough to serve to all family members and contains an abundance of nutrients to keep them in tip-top condition, including plenty of protein, complex carbohydrates, fibre, vitamins, minerals and antioxidants. It's proven to be a winner with my family and we hope you enjoy it too!
I always look forward to Curry Night in our house, as the boys venture into the kitchen and help prepare the dinner. There's music, chat and always lots of laughter. We used to buy Indian take-aways or ready meals from the supermarket, but for the past few years we've much preferred to make our own.
There are so many benefits to making your own curries! Not only do you get to include your favourite veggies, but you can also adjust the spices and heat level to suit your personal tastes. Whereas most shop-bought curries are too spicy for young children, you can easily take out the children's portions of a home-made curry before adding more spice or heat for the adults.
Home-made curries are also super cheap to make, so perfect for students or anyone on a tight budget. The recipe I'm sharing today cost me just £2.75 to make (with ingredients bought from a mainstream UK supermarket). If you shop at a budget supermarket, such as Aldi, I bet it would be even cheaper!
I love to use creamed coconut in my Indian curries as it adds a lovely touch of sweetness and creaminess. In the UK, it can be found on the world food aisles in the supermarkets (in the Indian section), as well as in health food shops and ethnic stores. It comes in a solid block (so not to be confused with coconut cream which comes in a tin or tetra pak!)
Here are a few reasons why I prefer to use creamed coconut rather than coconut milk in my curries….
➡ Creamed coconut is simply made of dehydrated coconut meat, whereas a lot of coconut milks (especially those found in mainstream UK supermarkets) contain added ingredients, including weird-sounding ones like 'Polysorbate 60'.
➡ I find I only need to use a quarter of a 200g block of creamed coconut to achieve the desired levels of creaminess for a curry, so the overall fat and calorie content of the curry is less than using a can of coconut milk.
➡ It works out far cheaper. The creamed coconut in this curry cost just 20p compared to £1.35 for a can of quality coconut milk (one without weird ingredients).
Sweet Potato, Chickpea and Peanut Butter Curry
This curry is easy and quick to prepare. It's also super cheap to make! I've kept the spices mild so that it's family-friendly, but feel free to crank up the heat by adding extra cumin or cayenne pepper.
Ingredients
½

TBSP

olive oil

1

large onion

finely chopped

2

tsp

minced garlic

1

tsp

ginger paste

(or 18g / 1 inch piece of fresh ginger, finely grated)

125

g

/ 1½ cups mushrooms

chopped

1

tsp

smoked paprika

½-1

tsp

ground cumin

½

tsp

ground coriander

¼

tsp

cayenne pepper*

400

ml

/ 14 oz can chopped tomatoes

360

ml

/ 1½ cups vegetable stock (broth)

2

x 400ml / 14 oz cans chickpeas

rinsed and drained

2

medium sweet potatoes (340 g)

peeled and diced

50

g

(¼ of a 200g / 7 oz block) creamed coconut**

chopped

large handful spinach leaves

chopped

1-2

TBSP

natural crunchy peanut butter

preferably one with no sugar or salt added

salt

to taste
Instructions
Gently heat the oil in a large heavy-bottomed pan over medium-low heat. Cook the onion for 4 minutes.

Add the garlic, ginger and mushrooms, and cook for a further minute.

Stir in the spices.

Add the chopped tomatoes, vegetable stock, chickpeas, diced sweet potatoes and creamed coconut. Bring to the boil then reduce the heat, cover with a lid and simmer for 15 minutes or until the potato is tender.

Remove from the heat. Reserve a small amount of the chopped spinach as a garnish, then stir the remainder into the curry.

Stir 1 TBSP peanut butter at a time into the curry, taste testing until you reach the desired level of nuttiness. Season with salt, to taste.

This curry is delicious served with brown rice, naan bread or chapattis. Any leftovers can be stored in the fridge for up to five days. I haven't tried it yet, but I'm pretty confident that this will curry will be freezable.
Notes
* If serving to small children, omit the cayenne pepper and stir it into the pan once the children's portions have been removed.
** If you can't find creamed coconut where you live, it is available to purchase online. Alternatively, you could simply substitute it with some coconut cream or milk, adding a little at a time until you reach the desired level of creaminess.
Pin for later ⬇️
If you make this curry (or any other recipes on my blog), I'd love to hear your feedback and any suggestions for adaptations! Tag your photos with #bitofthegoodstuff on social media and they will find their way to me. You can also connect with me on my social media channels here:
Instagram, Twitter, Facebook, Pinterest.
With love,

—————————–
Vegan Night at Bath Scouts, 2018 💚
In March, Mark and I were invited by our local Scout group to lead a vegan cooking session. The scouts were split into four teams and we set them the challenge of making this Sweet Potato, Chickpea and Peanut Butter Curry and chapattis from scratch! They had thirty minutes to create the meal and present it, before being judged. They were amazing!! We were blown away not only by their cooking abilities, but also their enthusiasm! All four teams ended up producing the most delicious curries, which meant we had a really tough time picking a winner. I managed to snap a couple of pics before the curries got devoured.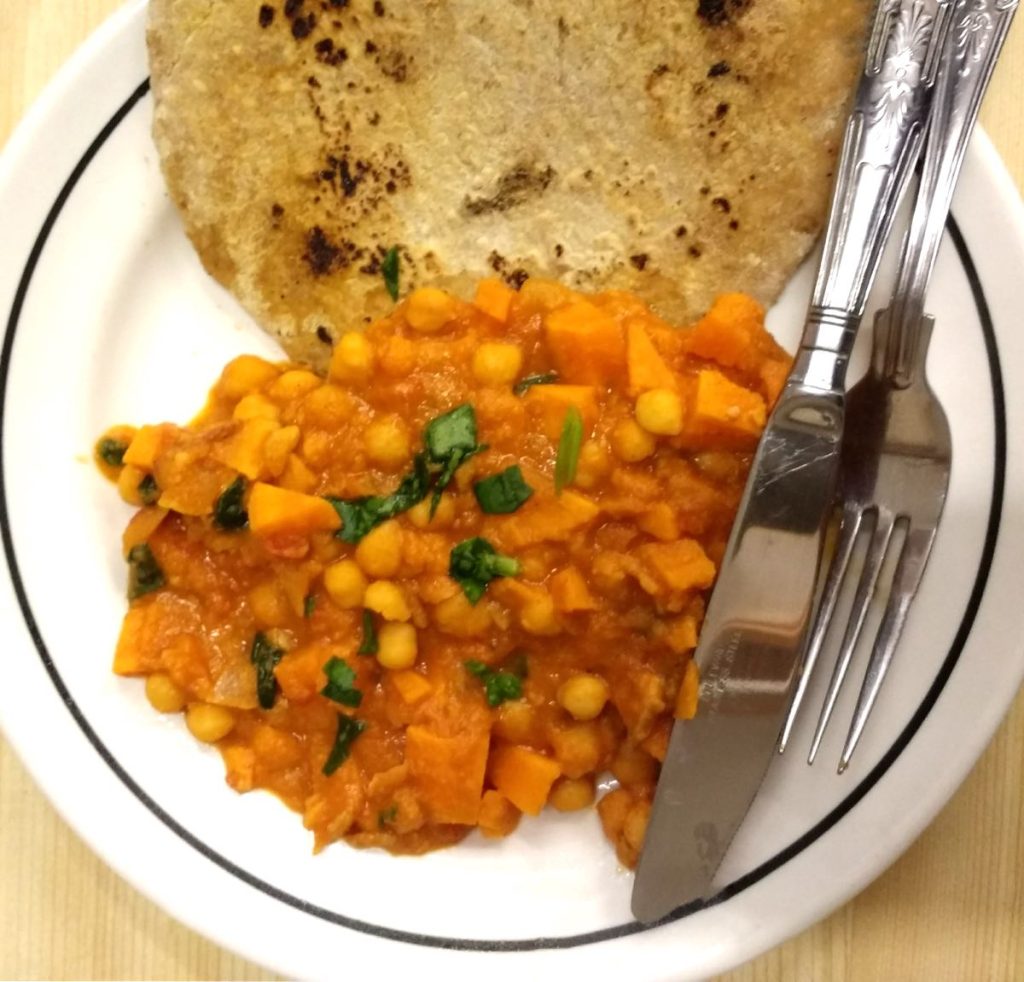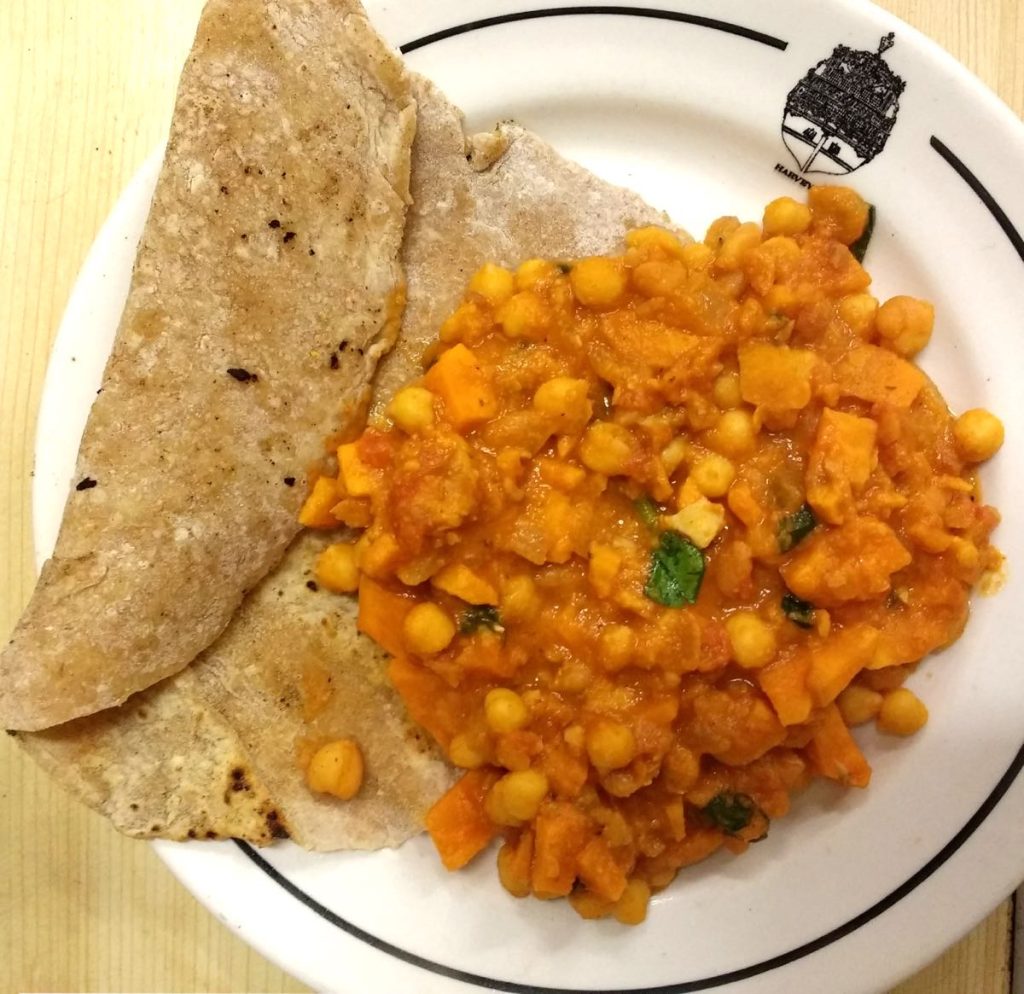 Didn't they do well?
It was such an amazing night! Definitely one I'll remember with a lot of fondness! 😍

SaveSave
SaveSave
SaveSave
SaveSave