* This recipe was originally posted in December 2018. The page was updated in October 2019
In today's post, I'm sharing a delicious soup recipe that's just perfect for the cold weather season. It's creamy, filling and flavoured with spices that will warm you from the inside out. Topped with tamari-glazed chickpeas and seeds, and accompanied with a slice or two of wholegrain bread, this soup makes a wonderful evening supper or weekend lunch option. It is also budget-friendly. It cost me just £3.00 to make, which equates to 75p per portion. Bargain!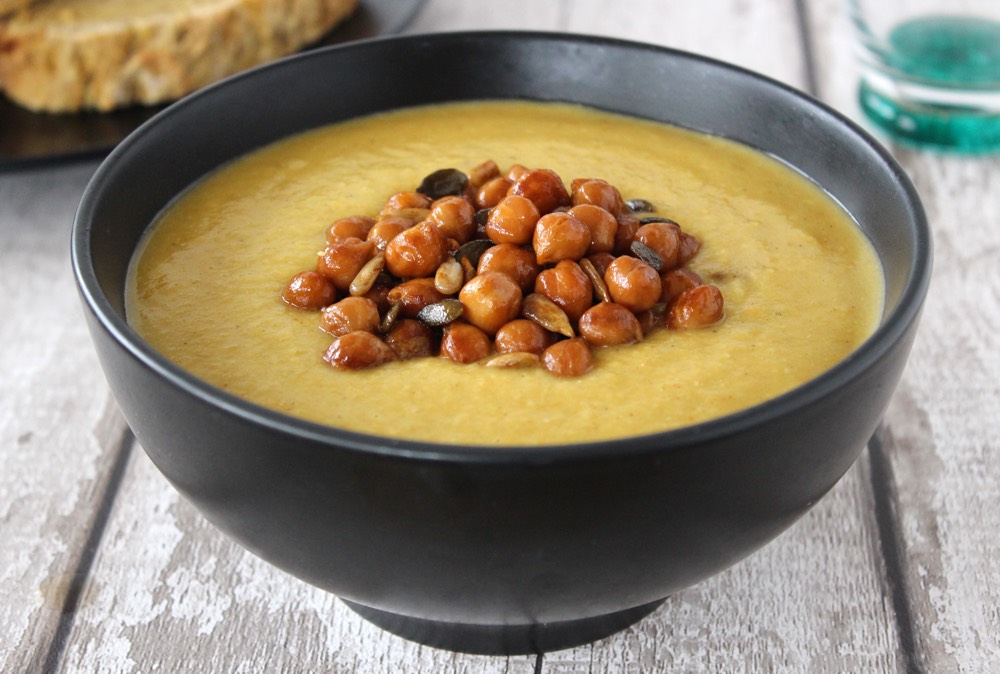 This soup is my idea of the perfect winter comfort food. As well as being tasty, warming and filling, it is also packed full of nutrients that help to keep our immune systems strong. It is rich in antioxidant vitamins A and E, as well as B vitamins and a whole host of minerals.
And thanks to the lentils, chickpeas and seeds, this soup is also a great source of protein. A single serving of the soup contains 33% of the recommended daily amount of protein (based on a 2,000 calorie diet). Add a couple of slices of multigrain bread and it provides over 50% of the protein RDA!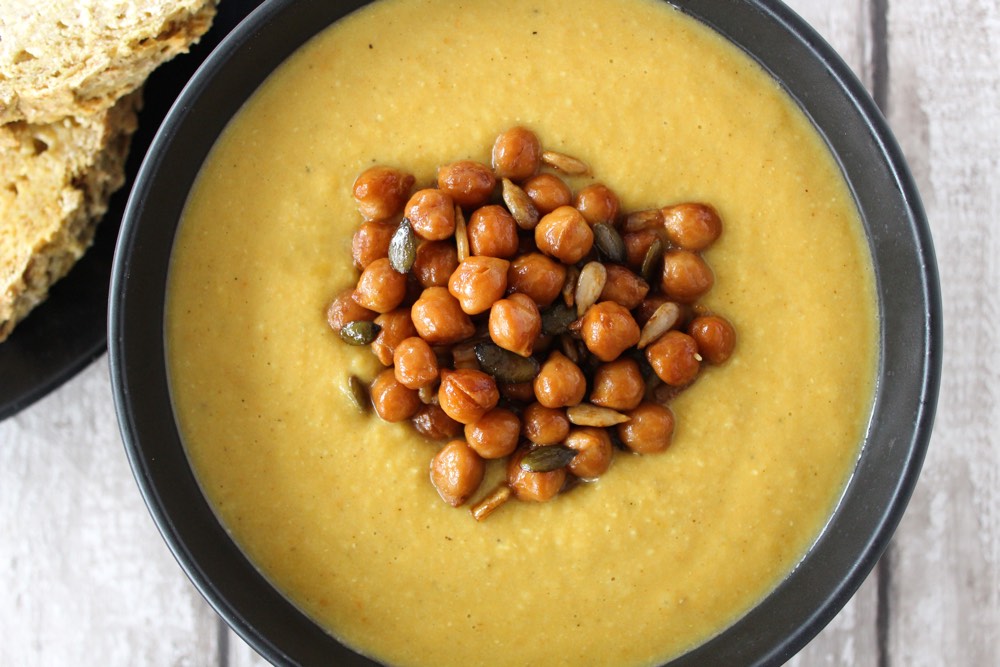 The soup is so easy to make. It's simply a case of pan frying the vegetables, then adding the remaining ingredients, simmering for 20 minutes then whizzing in a blender. I used my Optimum VAC2 Vortex Blender and boom, within seconds it was silky smooth.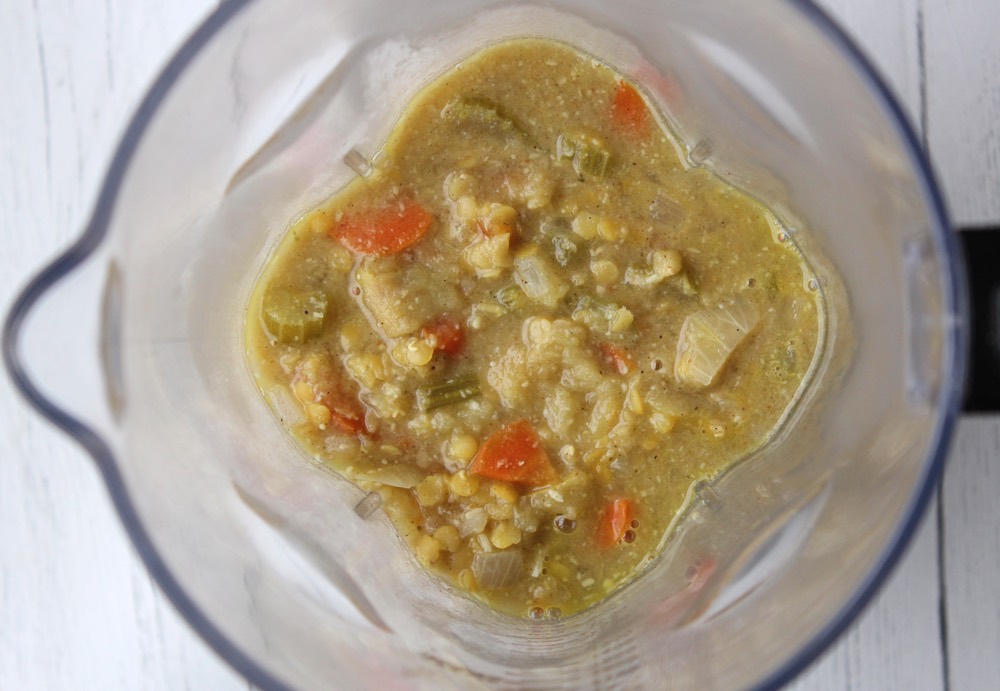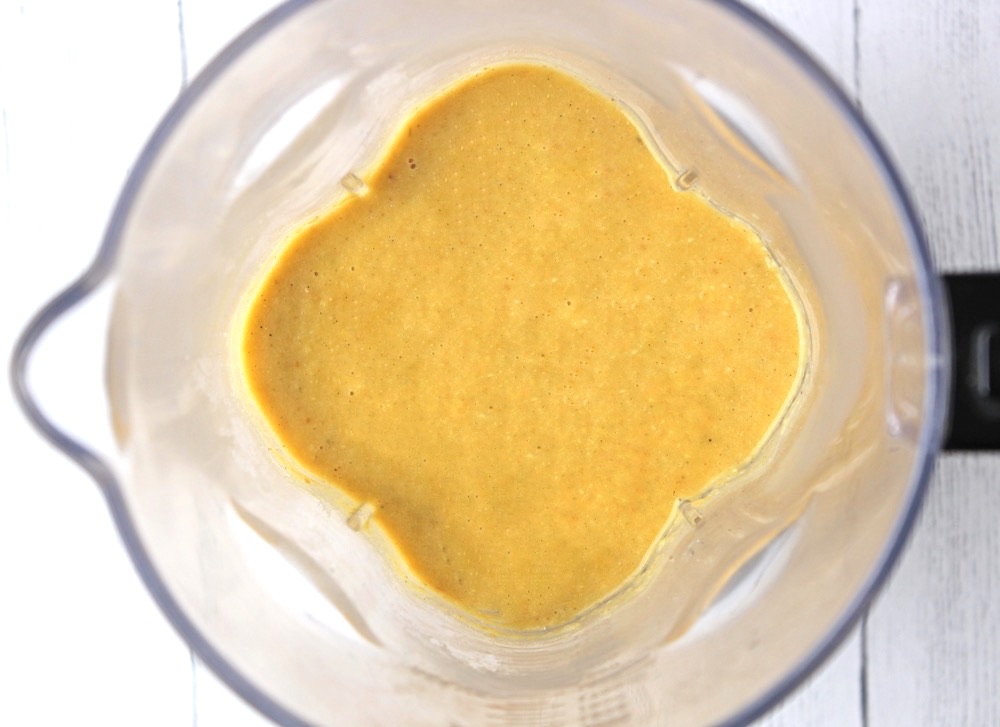 I love adding lots of toppings to my soups. Not only do they add interesting flavours and textures, but they also boost the nutrient profile of the soup and make it more filling. Inspired by my Creamy Butternut Squash Soup with Maple-Glazed Chickpeas, I chose to top this soup with some chickpeas and seeds glazed in tamari soy sauce, which gave them a rich, umami flavour that complimented the spices in the soup.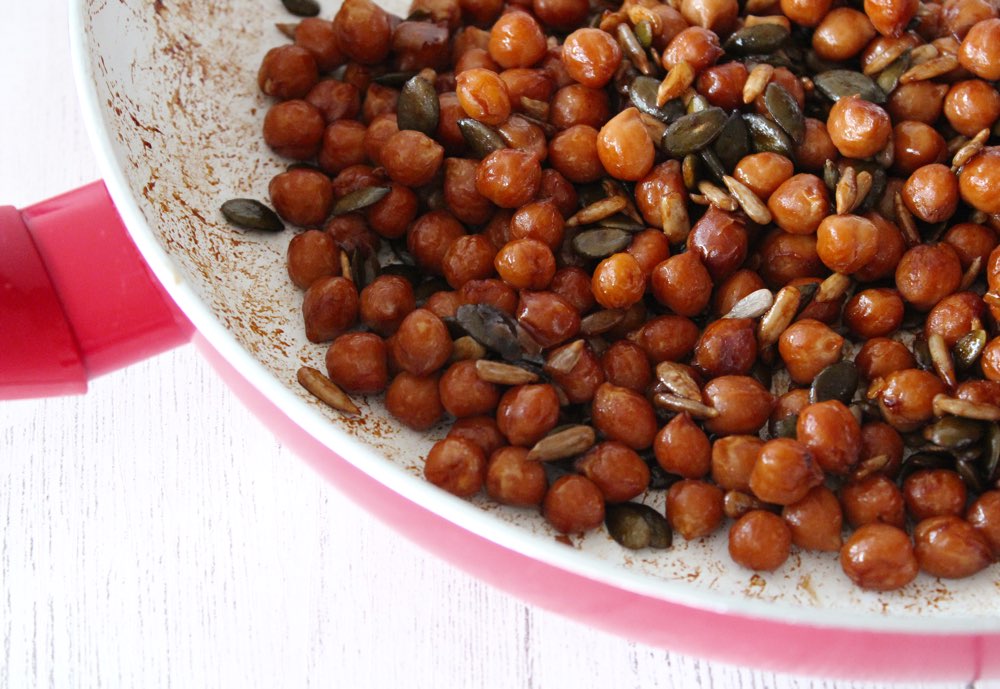 Delicious!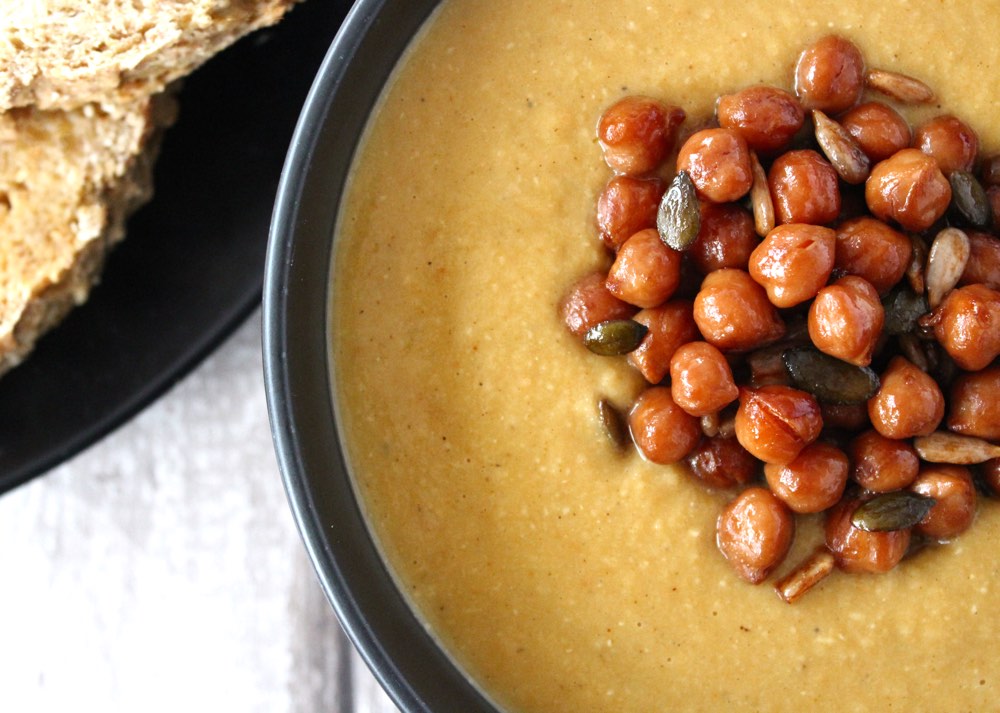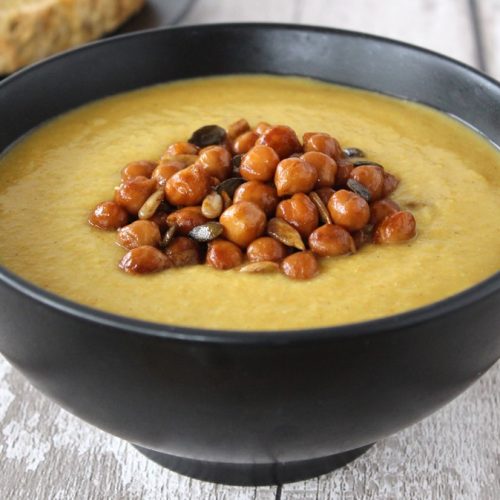 Spiced Apple and Lentil Soup with Tamari-Glazed Chickpeas
This soup is a great winter warmer. It's creamy, filling and flavoured with warming spices. Topped with tamari-glazed chickpeas and seeds, and accompanied by a slice or two of wholegrain bread, this soup is substantial enough to serve as a main evening meal. It also makes a delicious, nutrient-rich lunch option. Pack into a wide-necked flask for a warming lunch 'on the go'.
Ingredients
1

TBSP

olive oil

1

large onion

chopped

2

medium carrots

halved lengthwise and thinly sliced

3

celery stalks

trimmed and sliced

1

large apple

cored and chopped

2

tsp

minced garlic

2

tsp

garam masala

1

litre vegetable stock (broth)

(I use boiling water and 4 tsp vegetable bouillon powder)

130

g

/ ⅔ cup red lentils

70

g

(about ⅓ of a 200g / 7 oz block) of creamed coconut

roughly chopped

salt

to taste
Toppings
400

g

/ 14 oz can chickpeas

rinsed and drained

2

TBSP

pumpkin seeds

2

TBSP

sunflower seeds

1

tsp

olive oil

1

tsp

maple syrup

1

tsp

dried oregano

½

TBSP

tamari soy sauce
Instructions
Gently heat the oil in a large saucepan. Add the onion, carrot, celery and apple to the pan. Stir through, cover with a lid and leave to cook on medium-low heat for 4 minutes.

Meanwhile, place the lentils in a fine mesh sieve and wash under cold running water, agitating them with your hand until the water runs clear.

Add the garlic and garam masala to the saucepan, and continue cooking for 2 minutes.

Add the vegetable stock, lentils and creamed coconut to the pan. Bring to the boil then reduce the heat, cover with a lid, and simmer for 20 minutes.

When the lentils are tender, remove the pan from the heat. Leave to cool for a few minutes then transfer to a jug blender and whizz until smooth. Depending on the size of your blender, you may need to do this in two batches. Return the soup to the pan and gently heat through before serving. Season with salt, to taste.

For the toppings: Heat the chickpeas and seeds in a large frying pan (skillet) on medium heat. Drizzle in the olive oil and stir through. Add the maple syrup and oregano and stir through. Finally add the soy sauce and continue cooking until the liquids have evaporated, stirring regularly.

This soup will keep for up to five days in the fridge. I haven't tried it yet, but I'm pretty confident that it will freeze well too.
Pin for later ⬇️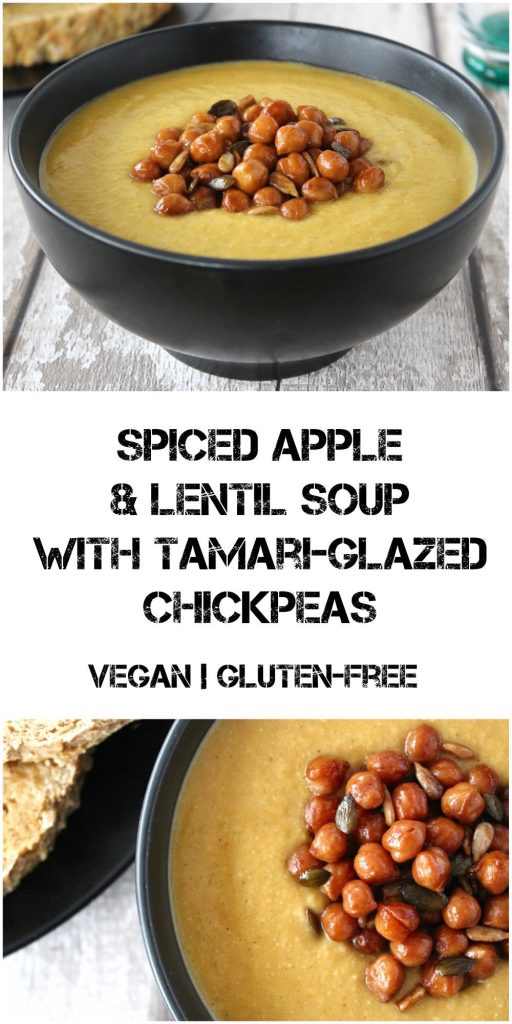 If you make this recipe, I'd love to hear your feedback and any suggestions for adaptations. Tag your photos with #bitofthegoodstuff on social media and they'll find their way to me. You can also connect with me on my social media channels here: Instagram, Twitter, Facebook, Pinterest.
With love,