In today's post, I'm sharing a recipe for the perfect Winter warmer – Creamy Butternut Squash Soup with Maple-Glazed Chickpeas 💛 With its delicious, sweet flavour and golden orange hue, this soup is so bright and cheery that it's bound to put a smile on your face. It also happens to be packed full of immune-boosting nutrients to help keep those pesky Winter bugs at bay.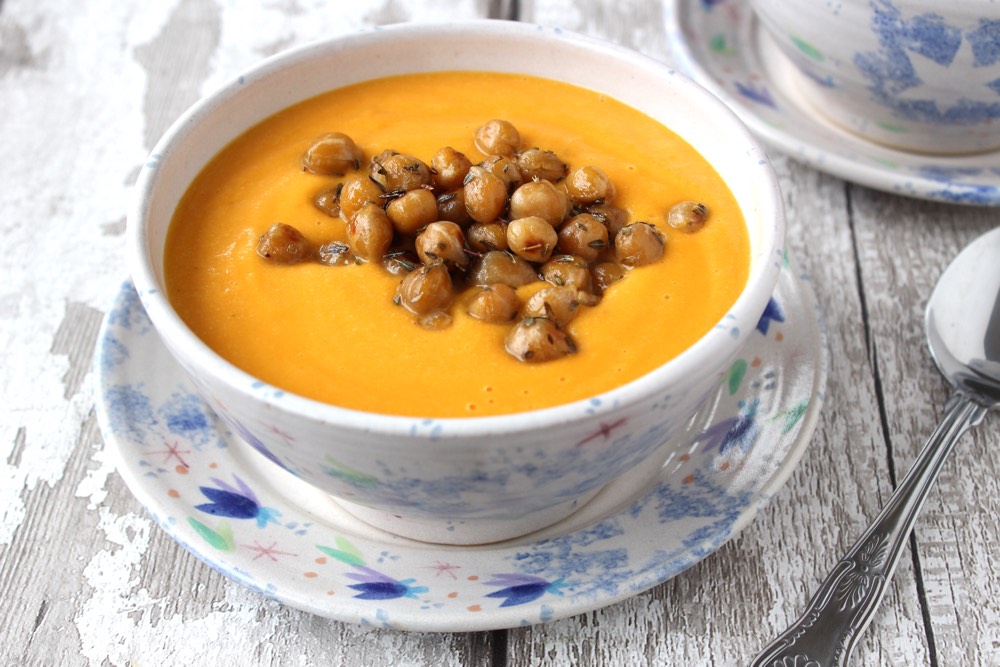 Butternut squash is a fantastic immunity-booster. Of all the winter squashes, it contains the highest amount of vitamin C. It's also packed with the vitamin A antioxidants alphacarotene and betacarotene. Just one cup of cooked squash provides 52% of the recommended daily amount (RDA) of vitamin C and 457% of the vitamin A RDA! (Source)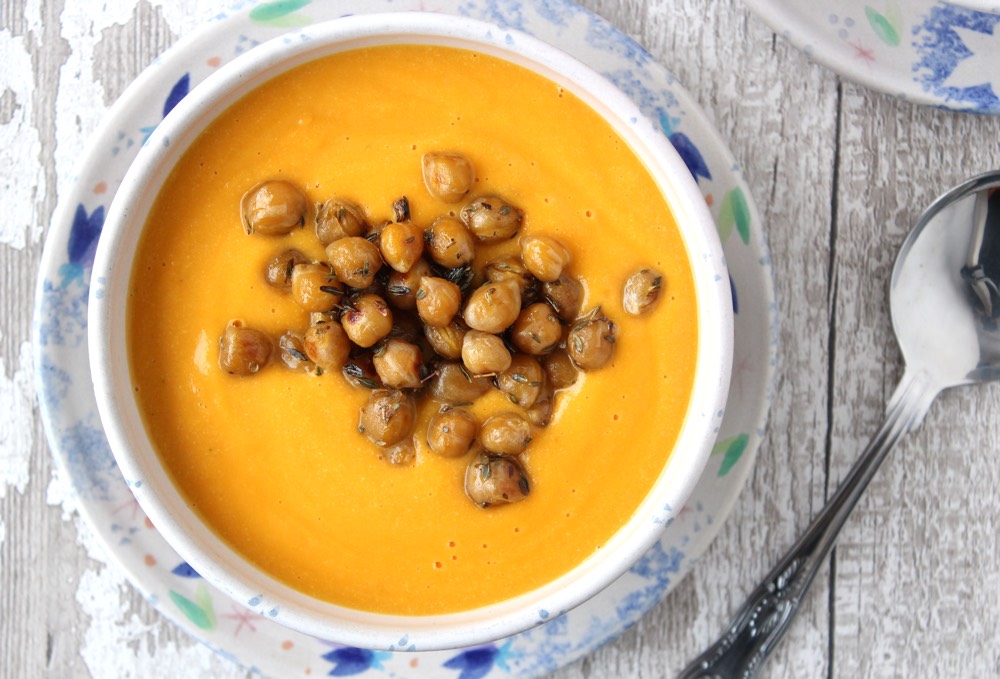 I love blending some cashews into this soup to make it thick and creamy. The cashews also provide protein and heart-healthy fats, which help us to feel full and satiated. Simmering the cashews in the soup softens them, making them easy to blend smooth in a high-speed blender. I used my new Optimum VAC2 Vortex Blender and it literally took a few seconds to blend it silky smooth.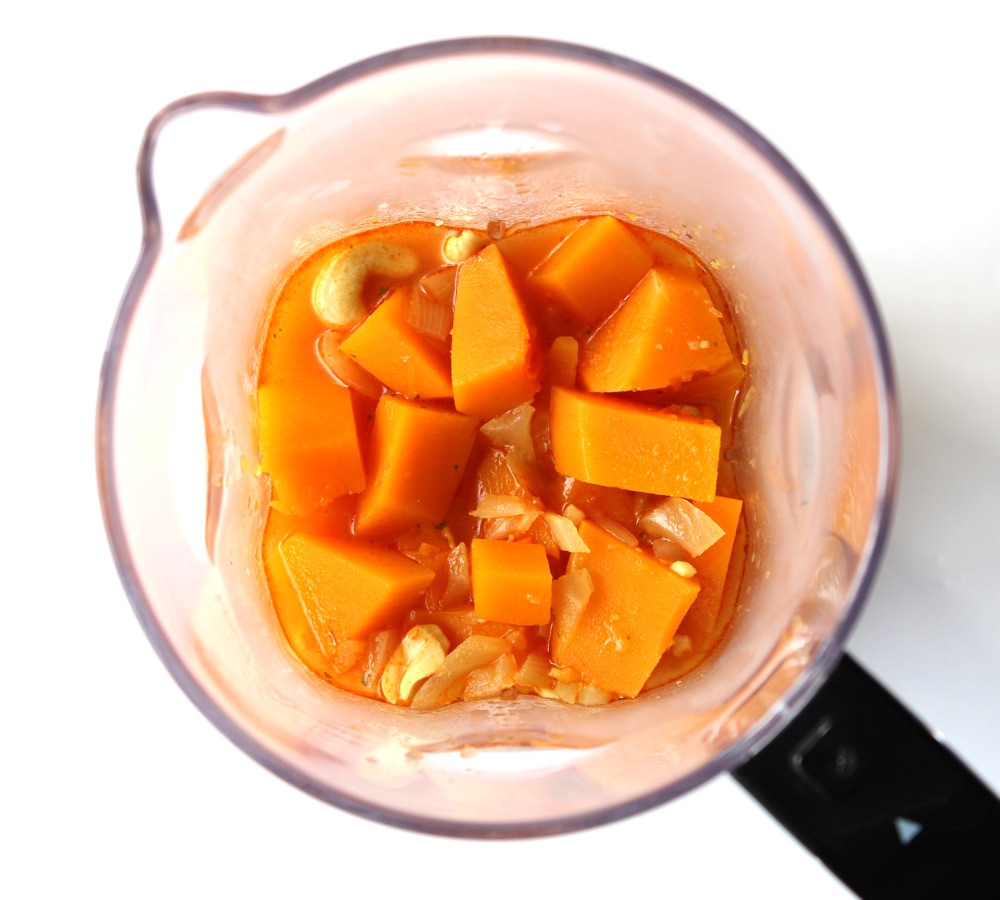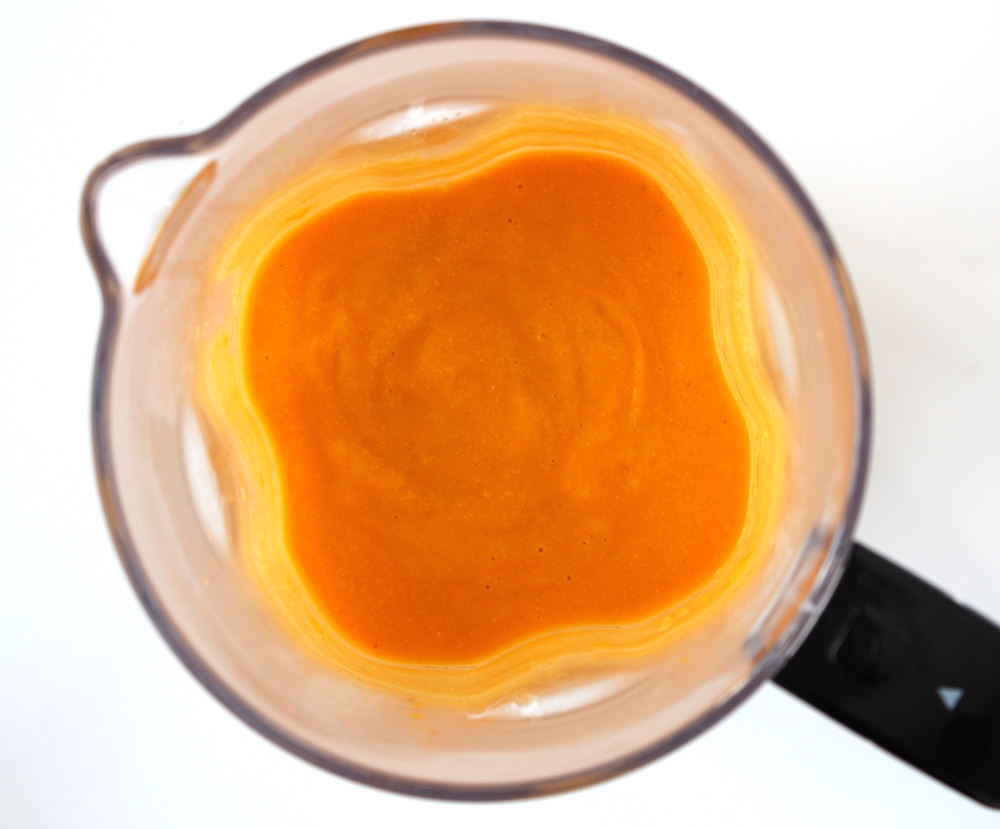 My family loves to serve this soup as a weekend lunch or weeknight supper. The Maple-Glazed Chickpeas with Oregano that I posted last week, make the perfect topping.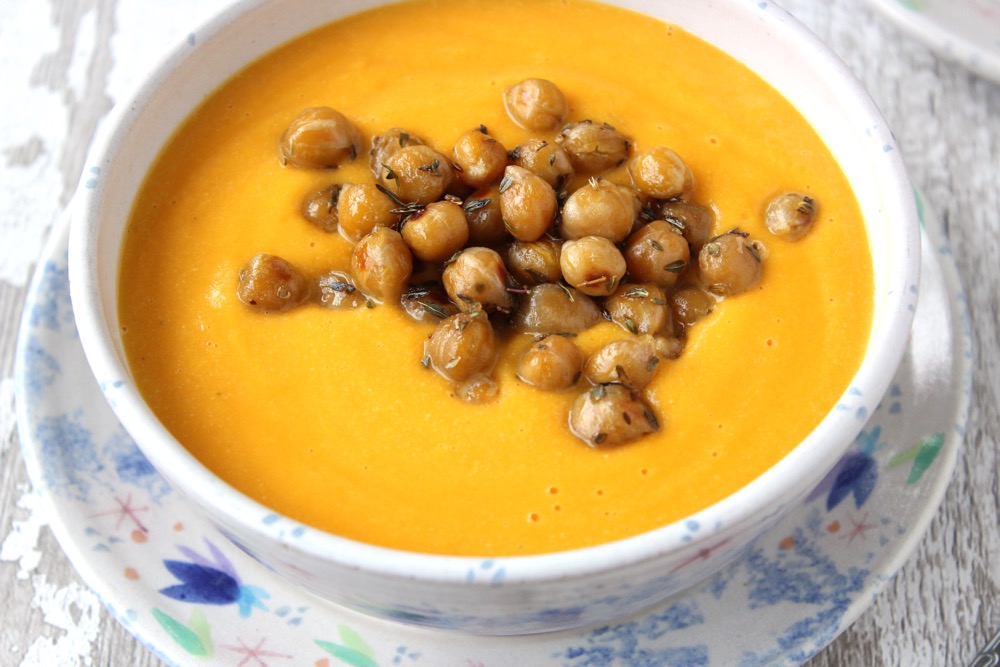 [print_this]
This soup is cheery, flavourful and packed full of immune-boosting nutrients. The addition of cashews makes it thick, creamy and filling. We love to top it with Maple-Glazed Chickpeas (recipe here). These only take eight minutes to make, so we prepare them while the soup is simmering or cooling.
Serves: 4
Hands on time: 15 minutes Ready in: 30 minutes
Ingredients
½ TBSP olive oil
1 large onion, finely chopped
2 garlic cloves, minced (or 1 TBSP frozen chopped garlic)
750ml / 3 cups vegetable stock (broth)
800g / 5 cups butternut squash, chopped into small, bite-size pieces
1 TBSP tomato puree (paste)
72g / ½ cup cashews
salt & freshly ground black pepper, to taste
Suggested topping:
Maple-Glazed Chickpeas with Oregano
Method
1. Gently heat the oil in a large saucepan. Cook the onion until it starts to soften (about 4 minutes). Add the garlic and cook for a further minute.
2. Add the vegetable stock, squash, tomato puree and cashews to the pan. (This is meant to be a thick soup, so the liquid should just be sufficient to cover the squash). Bring to the boil, then reduce the heat, cover with a lid and simmer for 15 minutes or until the squash is tender.
3. Leave to cool slightly then transfer to a high speed jug blender (due to the quantity of soup, I recommend blending half at a time). Start blending on low speed, then increase to high speed until silky smooth.
4. Transfer the soup back to the pan and gently heat through. Season with salt and freshly ground pepper, to taste.
5. This soup will keep for five days in the fridge. I haven't tried it yet, but I'm pretty confident it will be freezable too.
Notes
If you use less squash, remember to reduce the amount of vegetable stock (broth) so that the soup stays thick and creamy.
[/print_this]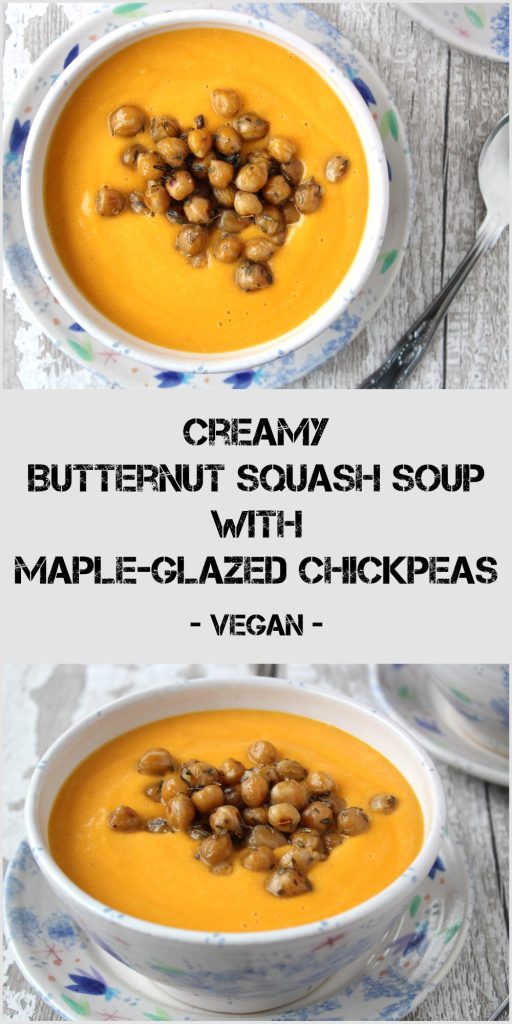 As you can probably imagine, it's pretty tricky taking food photos this time of year as the days are so short and the weather's so changeable! It was certainly a fun challenge taking these soup photos. As I was shooting them, the sky suddenly clouded over, which totally changed the look and feel of the photos. Compare the photo below to the ones above. It looks pretty different, doesn't it? It's dark and gloomy, but kind of atmospheric too.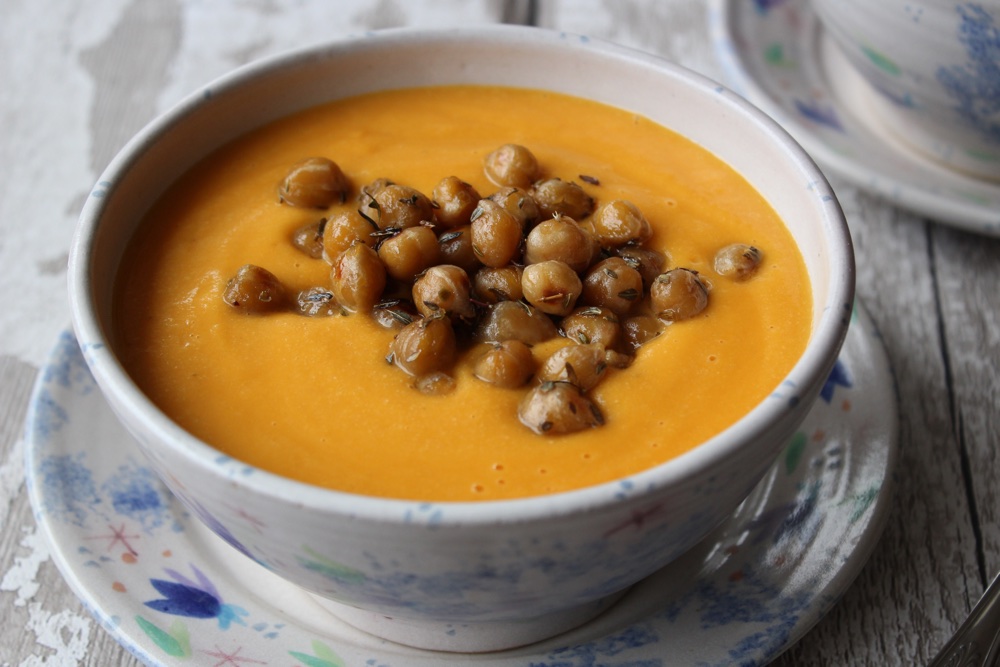 Have you been enjoying home-made soups this winter?

SaveSave
SaveSave
SaveSave
SaveSave