* This recipe was originally posted in March 2015. The page was updated in October 2019.
Have you ever tried making your own energy balls? It's so easy! You simply throw all the ingredients in a food processor, whizz for a few seconds then shape the mixture into balls. It couldn't easier!
What I especially love about these balls is that they taste decadent, yet they're packed full of nutrient-rich ingredients that are not only going to increase our energy levels, but also boost our health in general. Each ball is filled with protein, heart-healthy fats, complex carbs, fibre, plus a whole host of minerals and antioxidant compounds. It's amazing just how much goodness you can fit into one little ball!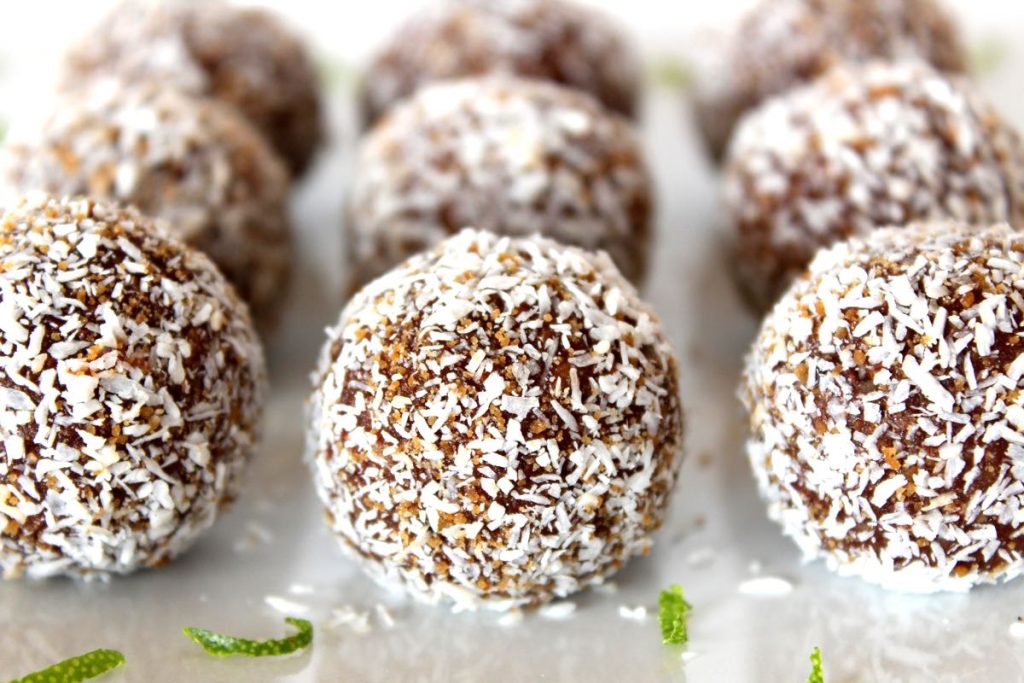 And not only does it work out much cheaper to make your own rather than buying the branded versions, but it also means that you get to flavour them however you wish! In today's recipe, I'm using one of my favourite flavour combinations – cocoa and lime. I love anything chocolatey, but especially when it's combined with a citrus flavour like lime. It help cuts through the richness of the chocolate, and adds a delicious fresh, zesty taste to every bite.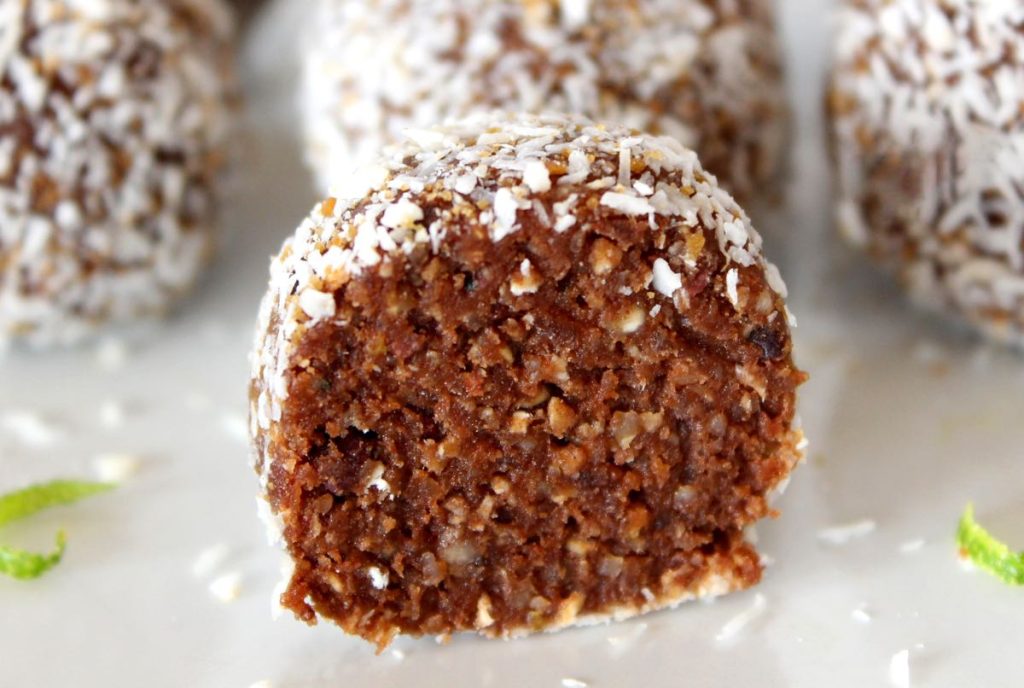 Since I originally posted this recipe back in 2015, I've made literally hundreds of these balls to share with friends, family and vegan festival goers, and they've proven to be a big hit with everyone that's tried them. Even little kids have given them a thumbs up, which has made me super happy! These balls make a great after-school snack and (provided you carefully supervise the food processor part) children could easily help you make them. They could even experiment with their own flavour combinations!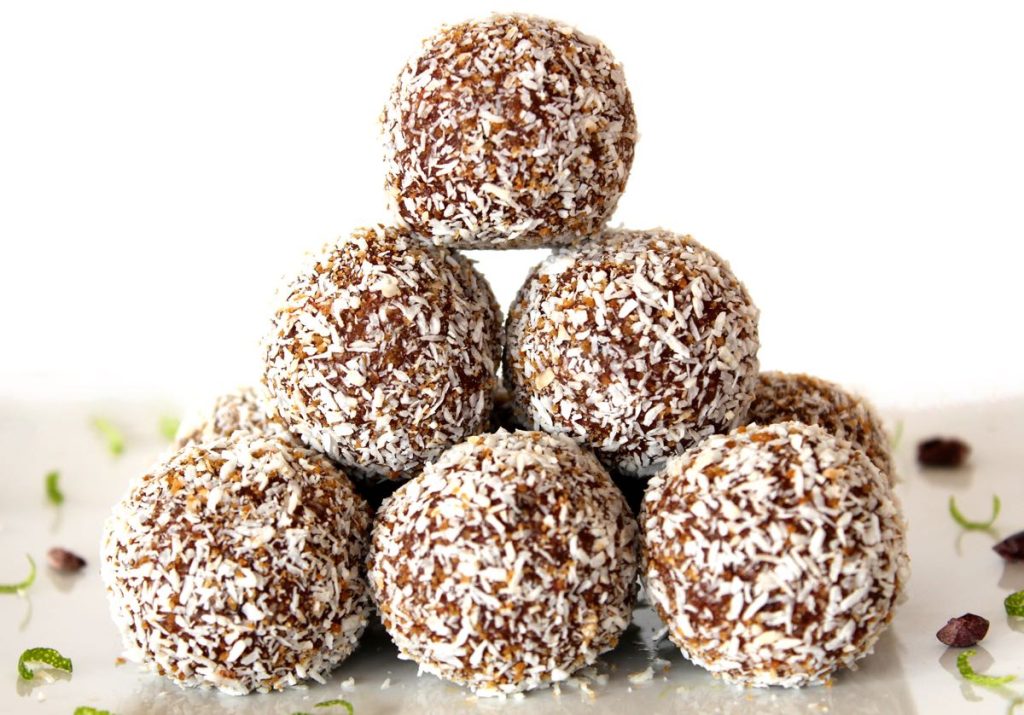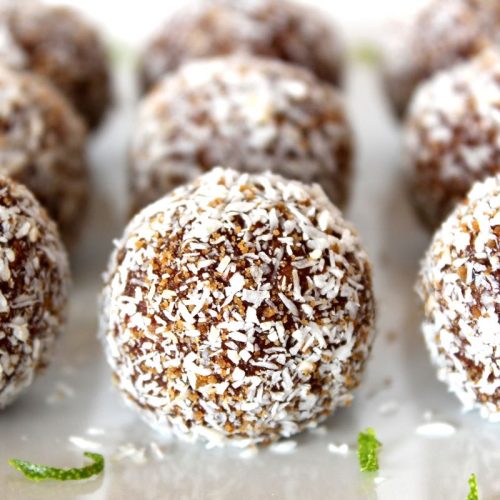 Cocoa Lime Energy Balls
These Cocoa Lime Energy Balls are chocolatey but not too rich, fresh and zesty thanks to the lime, and lighter than the classic energy ball as I've reduced the nuts and used oats instead. Delicious, nutrient-rich and energy boosting, these balls make the perfect snack. Their handy size makes them easy to transport and stash in your bag for snacking 'on the go'.
Ingredients
22

g

/ ¼ cup desiccated coconut

1

TBSP

coconut sugar

50

g

/ ½ cup rolled oats (quick oats, not jumbo)

43

g

/ ¼ cup cashews

35

g

/ ¼ cup walnuts

2

TBSP

cacao or cocoa powder

120

g

/ ½ cup soft sticky dates, pitted

½

– 1 tsp zest from an unwaxed/organic lime

2

TBSP

freshly squeezed lime juice

1

tsp

maple syrup

pinch

of salt

2

TBSP

cacao nibs, optional
Instructions
Mix together the desiccated coconut and sugar in a shallow container.

Place the oats, cashews and walnuts in a food processor and whizz into crumbs. Add the cacao/cocoa powder, dates, lime zest, lime juice, maple syrup and salt. Process until the dates are broken down. Add the cacao nibs, and continue processing until the mixture comes together in a ball. Taste test and add a touch more cacao/cocoa, lime zest or sweetener, if desired.

Scoop level tablespoons of the mixture. Roll into balls, then roll in the coconut sugar mixture. Repeat until all the dough is used. Chill in the fridge (ss they chill, they will firm up).

Stored in an airtight container, these energy balls will keep for a week in the fridge, or for weeks in the freezer.
Pin for later ⬇️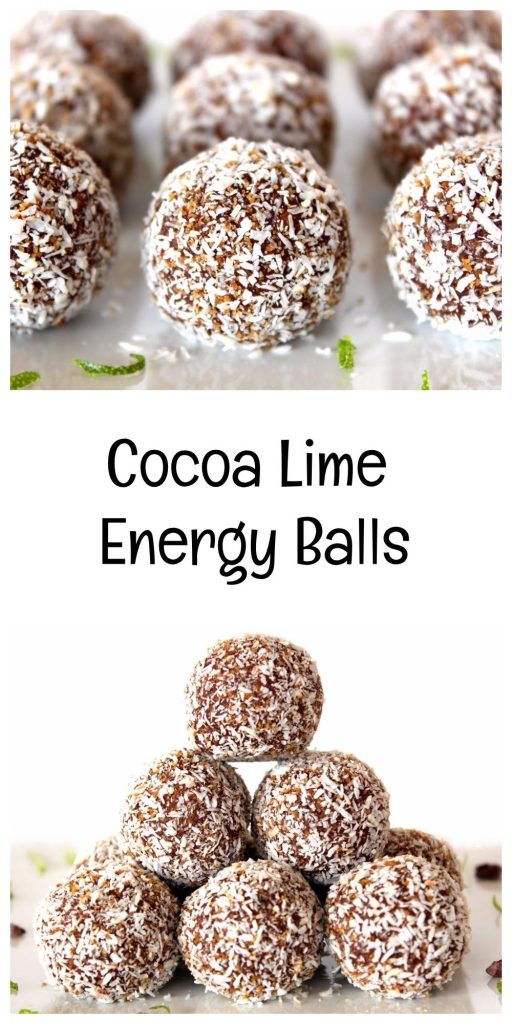 If you make these Cocoa Lime Energy Balls (or any other recipes on my blog), I'd love to hear your feedback and any suggestions for adaptations! Tag your photos with #bitofthegoodstuff on social media and they will find their way to me. You can also connect with me on my social media channels here:
Instagram, Twitter, Facebook, Pinterest.
With love,

——————————–