I'm so excited to be sharing today's recipe with you… it's for a creamy vegan Mac and Cheese that's really simple and quick to make. When I first made the sauce, I was amazed at how good it tasted, especially considering how basic the ingredients are. I had a hard time stopping myself from spooning the whole lot into my mouth straight from the blender!
And not only is it delicious, but it's healthy too! 🌟 For me, this Mac and Cheese is comfort food at its finest. It's been a winner with my family and I hope you enjoy it too!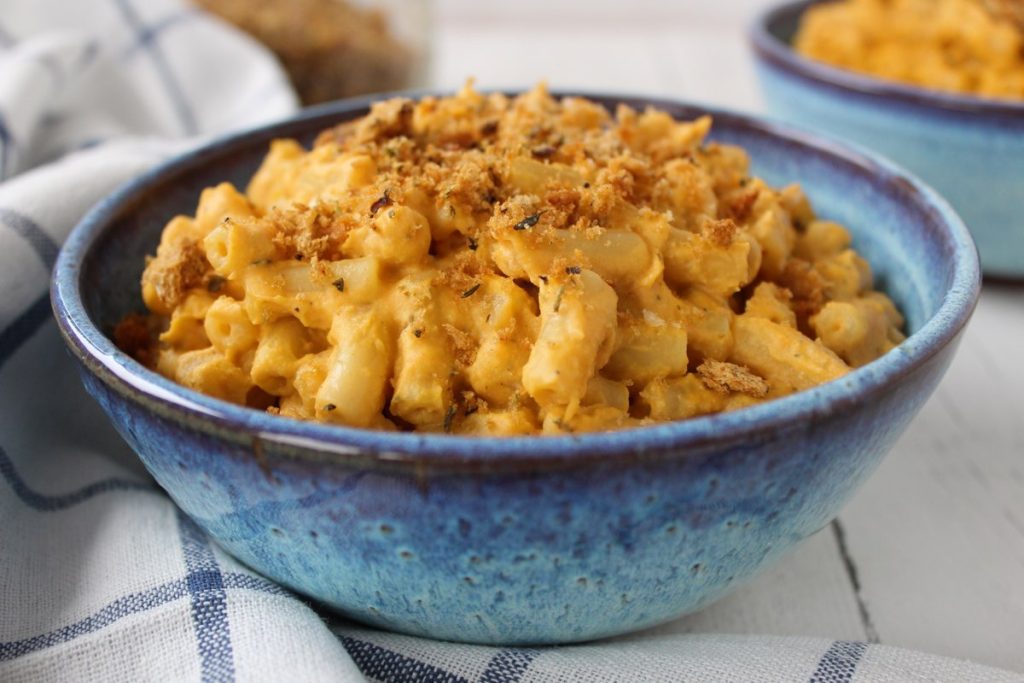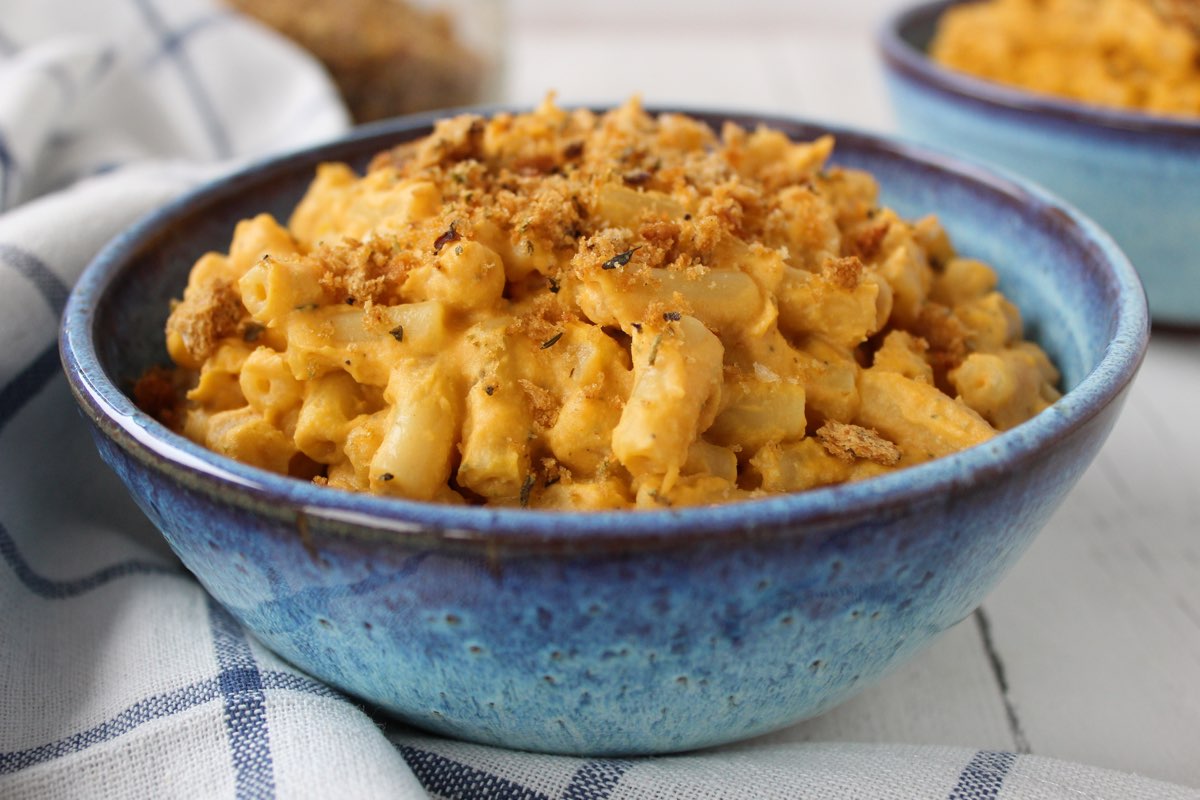 There are a number of ways to make plant-based alternatives to dairy cheese sauce. For example, you can blend potatoes or squash with vegetable broth, or you can make a béchamel-style sauce with plant milk and vegan 'cheese'. Over the years, I've experimented with them all, however to this day, blended cashews remains my favourite (it's the one I use for the cauliflower Mac 'n' Cheeze recipe in my cookbook).
It is also probably the easiest vegan cheese sauce to make. It's simply a case of throwing the ingredients in a high speed blender and whizzing smooth. I used my Optimum VAC2 Vortex blender and it literally took a few seconds to transform into the silkiest smooth sauce!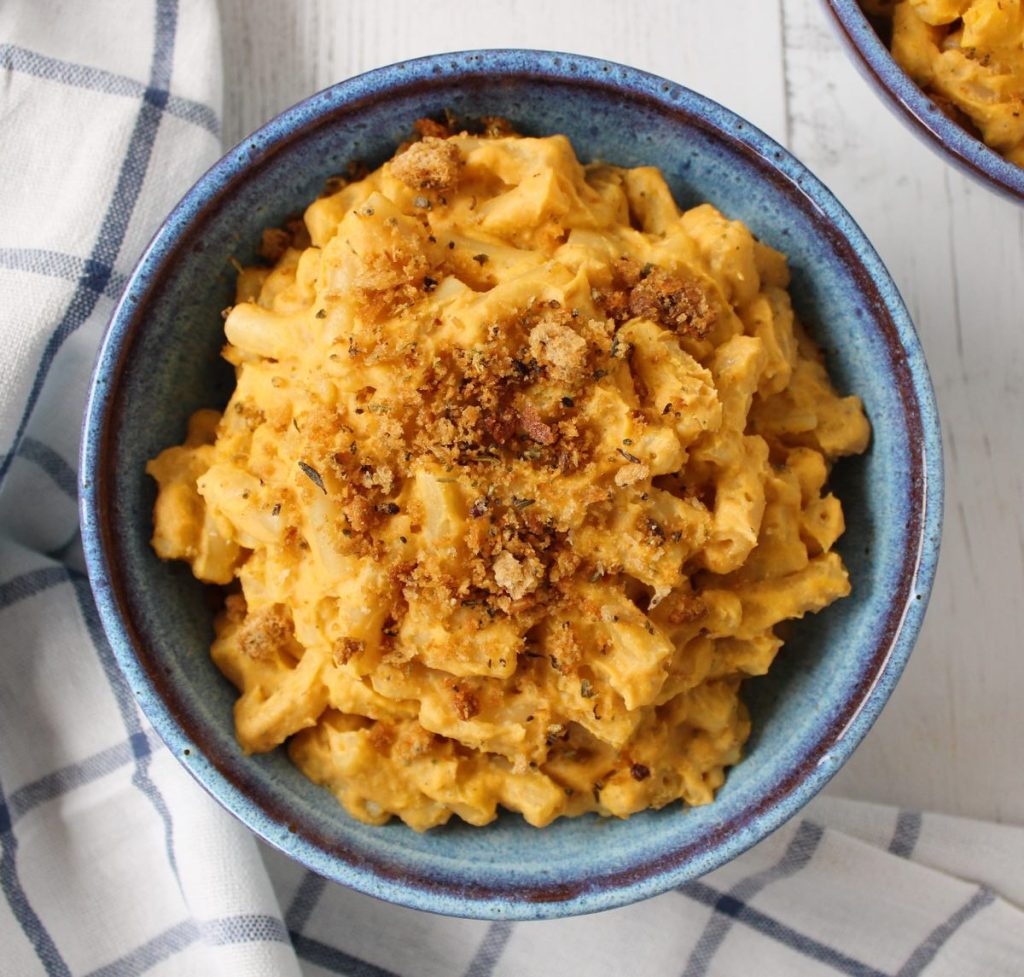 And what I especially love about this sauce is that it tastes decadent and creamy, yet it's packed full of nutritional goodness! Cashews are a great source of heart-healthy monounsaturated fats, plus they provide protein, fibre and minerals, such as magnesium and manganese.
Another 'secret' ingredient in the sauce is carrot. Not only does the carrot enhance the colour and flavour of the sauce, but it provides an abundance of antioxidant betacarotene.
The savoury 'cheesy' flavour in the sauce comes from nutritional yeast, which also happens to have an amazing nutrient profile. It's especially rich in protein, B vitamins and zinc. Here in the UK, nutritional yeast is currently available from the health food shops and some of the larger supermarkets. (I most often use the Marigold Engevita Nutritional Yeast Flakes with added B12).
The onion powder also adds an incredible 'cheesy onion' flavour. It's amazing stuff! Sadly, at present, onion powder isn't available in UK supermarkets, but you can buy it from independent health food shops or online. (I most recently bought mine from the recently-opened zero waste shop We are Undressed in Trowbridge).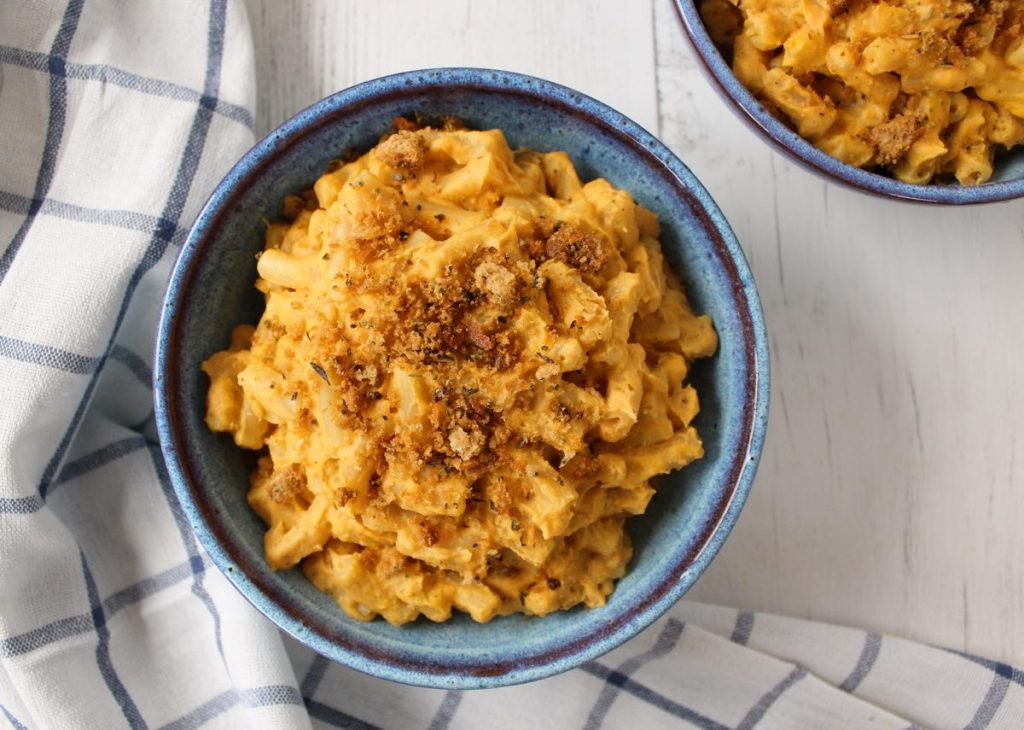 For this dish, a pasta tube or twist is best as it helps hold onto the sauce. You could either use a wheat pasta or one of the many gluten-free pastas now available. A current favourite of mine is Napolina's 50% / 50 % (50% durum wheat and 50% whole wheat durum semolina.) It's much higher in fibre than refined white pasta, but I find it isn't 'grainy' like 100% whole wheat pasta can be. Thus 50/50 gives the best of both worlds!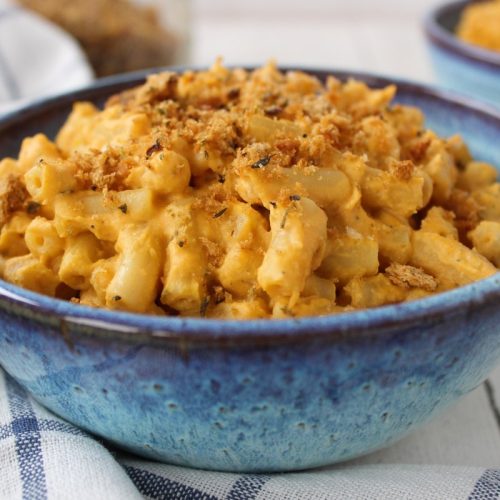 Creamy Vegan Mac and Cheese
This creamy vegan Mac and Cheese is really simple and quick to make. Not only is it delicious, but it's also packed full of nutritional goodness. For me, this is comfort food at its finest!
Ingredients
Cheese sauce
135

g

/ 1 cup cashews

160

g

/ 1 cup of carrot

thinly sliced

240

ml

/ 1 cup water

28

g

/ ½ cup nutritional yeast flakes

2

tsp

cider vinegar

2

tsp

onion powder

½

tsp

salt
Pasta
400

g

/ 14 oz pasta tubes or twists

(wheat pasta or use a GF pasta, if needed)
Instructions
Place the cashews in a heat proof bowl. Pour on boiling hot water and leave for 10 minutes to soften, then drain.

In a large pan, steam the carrot for 10 minutes, or until just soft (the thinner you slice the carrot, the quicker it will cook).

Remove the steamer from the pan, top up with boiling water and cook the pasta until al dente. Drain and return the pasta to the pan.

Meanwhile, place the cashews and 1 cup of water in a high speed blender and whizz until smooth. Add the remaining sauce ingredients – the cooked carrot, nutritional yeast, vinegar, onion powder and salt – and blend until silky smooth. Taste test, and add a touch more seasoning if desired.

Pour the sauce into a small saucepan and gently heat through, stirring regularly. Once the pasta is cooked, drain it and return it to the pan. Add the sauce and stir through.

Serve the pasta in warm bowls alongside your favourite green veggies*.

Any leftover sauce can be stored in the fridge for up to five days. It is also freezable. It thickens up over time, so whisk in a splash more water when re-heating.
Notes
*My family's favourite greens to serve with this dish are either roasted broccoli or Cavolo Nero (aka Lacinato kale), mushrooms and onions sautéed in soy sauce. We prepare the side dish while the carrots are steaming.
Pin for later ⬇️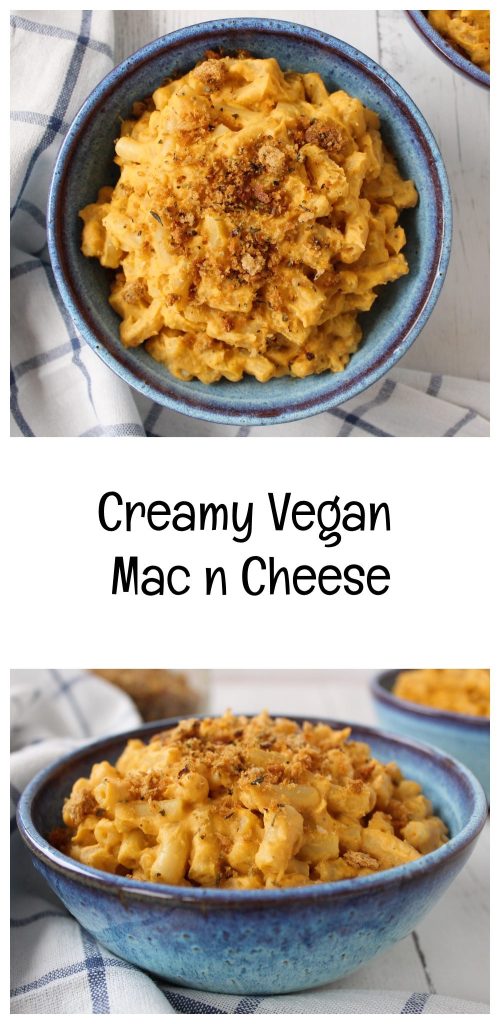 If you make this Creamy Vegan Mac and Cheese (or any other recipes on our blog), I'd love to hear your feedback and any suggestions for adaptations! Tag your photos with #bitofthegoodstuff on social media and they will find their way to me. You can also connect with me on my social media channels here:
Instagram, Twitter, Facebook, Pinterest.
With love,

———————————-