Hi everyone! In today's post, I'm sharing a quick guide on how you can make the most delicious roasted broccoli from a bag of frozen florets. It's tender, crisp round the edges and has a beautiful flavour, which is intensified with the lightest sprinkling of salt.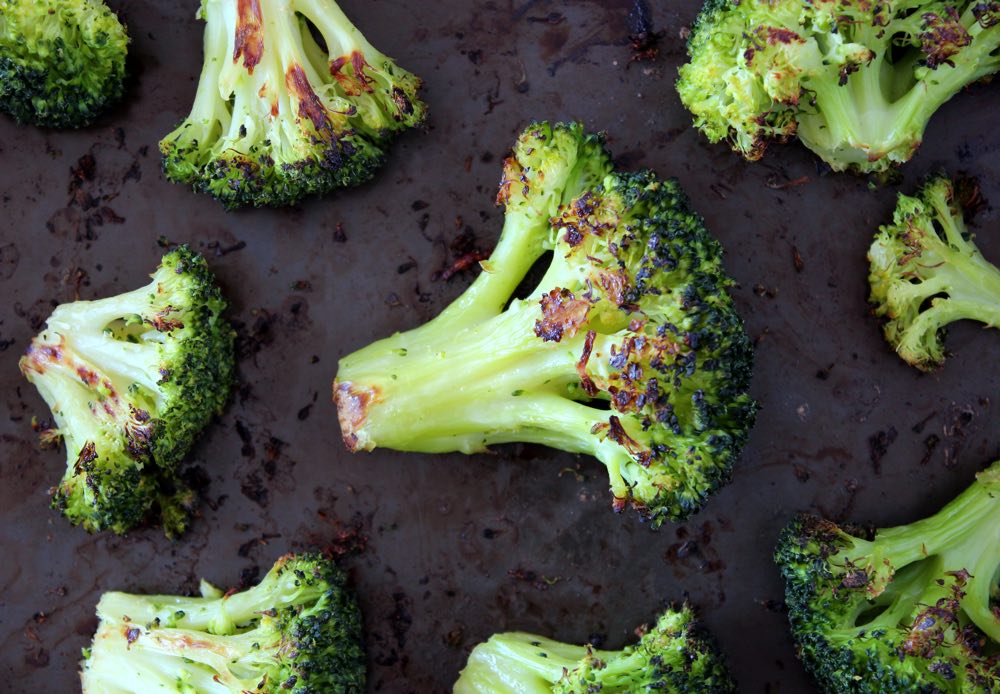 In 2019 I switched from buying fresh cruciferous vegetables (like broccoli and cauliflower) to frozen. Not only are they working out far more cost effective, but I find that I'm cooking with them a lot more. It's so easy to throw them in a curry or a roasting pan. There's absolutely no preparation required since they've already been chopped into handy sized florets.
Plus, I actually prefer the texture of roasted broccoli from frozen florets. When I roast fresh broccoli, I find that the stalks often stay quite tough. This isn't the case with frozen broccoli. The stalks roast to perfection.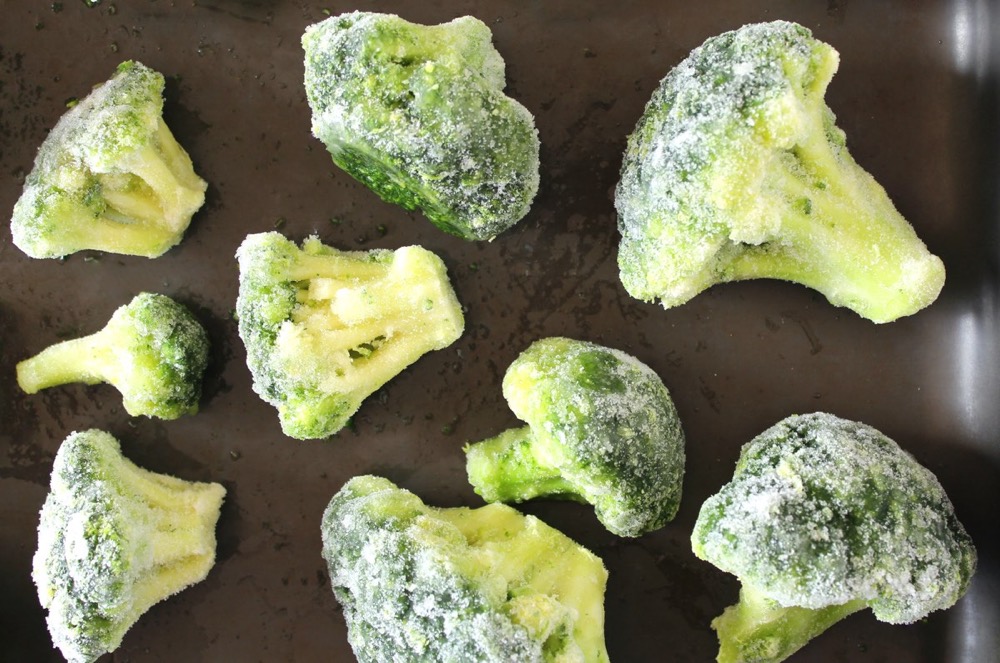 The key thing is to remember to drain off the water once the broccoli has thawed so that it roasts rather than steams (I set the timer on my oven to remind me). Then, you simply add a light spritz of oil and sprinkling of salt before returning the pan to the oven. That way, you'll get those tasty crispy edges and a more intense flavour.
Eating broccoli side dishes used to be a bit of a chore for me and my son Lucien as neither of us are keen on the flavour of plain, steamed broccoli. We did eat it, but more so because it was 'good for us' rather than for enjoyment. However, roasted broccoli is a whole different story. We just can't get enough of this stuff!
We make a pan of roasted broccoli at least a couple of times a week now to serve alongside meals that don't already have greens in them (such us our Creamy Vegan Mac n Cheese, Chinese 'Egg' Fried Rice, Spanish Omelette and Cranberry Glazed Cashew Nut Loaf), and we easily enjoy it as much as the main dish!
If you have family members that aren't fans of steamed, boiled or raw broccoli, then I would definitely encourage them to give this roasted version a try. It might just win them over!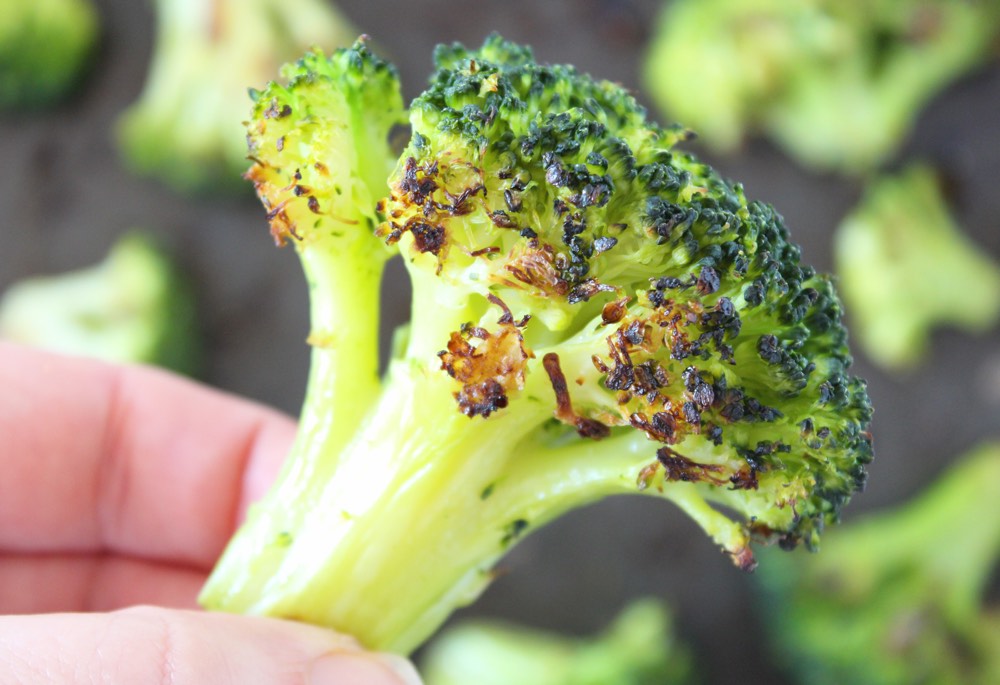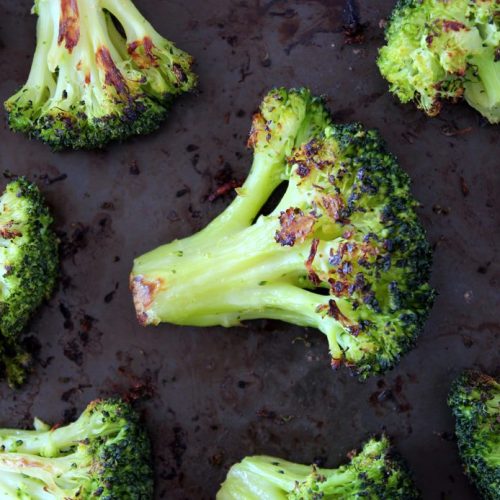 How To Roast Broccoli from Frozen
This roasted broccoli makes a delicious and nutritious side dish. We most often serve it alongside dishes that haven't already got greens in them, but I could happily eat it straight up on its own!
Ingredients
500

g

/ 5 cups frozen broccoli florets

olive oil

for spraying (approx 2g / 10 sprays)

pinch

of salt
Instructions
Pre-heat the oven to 210C (190C fan) / 410F.

Arrange the frozen broccoli florets in a roasting pan. Place in the centre of the oven for 10 minutes, or until the broccoli has thawed.

Tip the broccoli into a colander and drain over the sink. Tip the water out of the roasting pan.

Slice any extra large pieces of broccoli in half.

Return the broccoli to the pan. Spritz with an oil spray, stir through then add a light sprinkling of salt.

Return the pan to the oven and roast for a further 10-15 minutes, or until the broccoli has browned round the edges. Give it a stir half way through the cooking time.
Pin for later ⬇️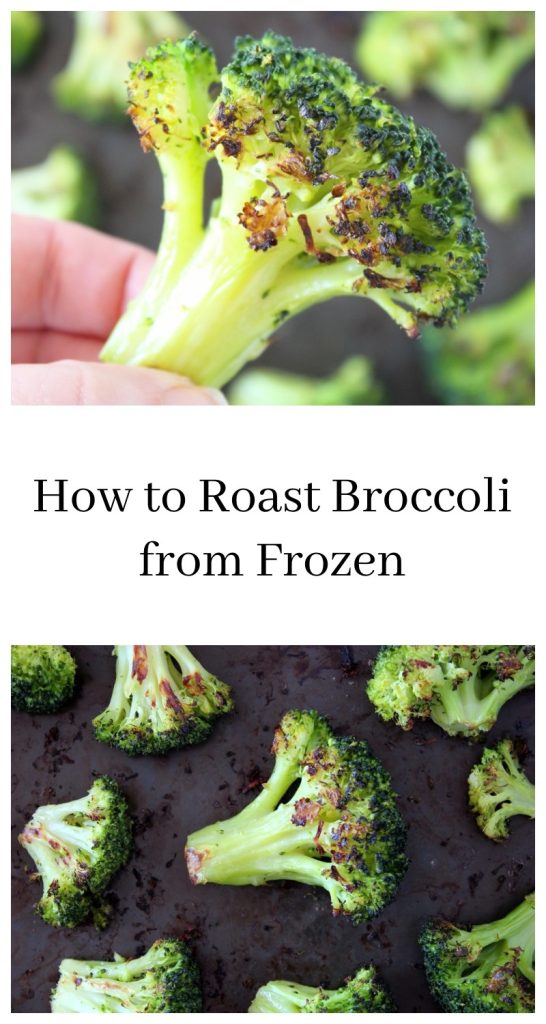 If you try this Roasted Broccoli (or any other recipes on our blog), I'd love to hear your feedback and any suggestions for adaptations! Tag your photos with #bitofthegoodstuff on social media and they'll find their way to me. You can also connect with me on my social media channels here: Instagram, Twitter, Facebook, Pinterest.
With love,