Today I'm sharing the recipe for a delicious plant-based curry that is filled with sunshine colour. The stars of this dish are butternut squash and red pepper, which are roasted in warming spices to bring a richness and depth of flavour. The sauce is coconut based, adding the touch of sweetness and creaminess that we associate with Sri Lankan curries. I've kept the recipe mild enough to suit all family members, but feel free to crank up the heat by adding some fresh chilli.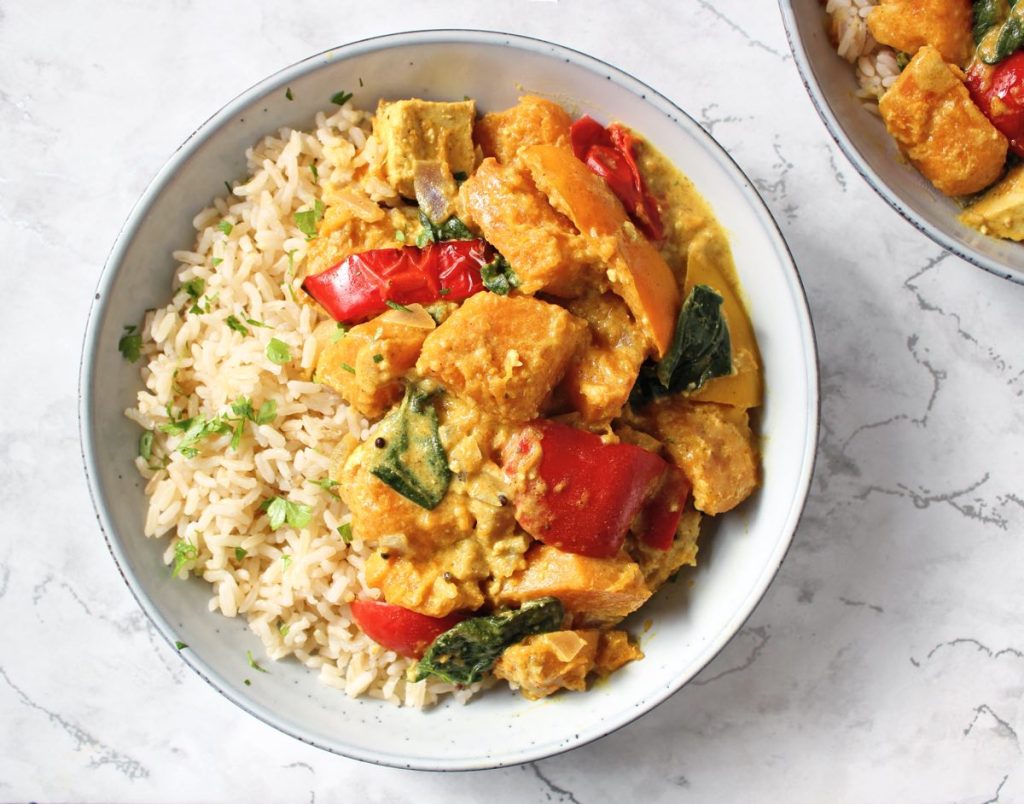 The inspiration for today's post was a recipe that I spotted in February's Vegan Life magazine. With its vivid oranges and reds, this curry looked so appealing! It also reminded me of Deliciously Ella's Sri Lankan Curry, which has been on my 'to try' list for ages now. Rather than buying new ingredients that I wouldn't normally purchase, I decided to use the recipes from Ella and Vegan Life magazine as inspiration to create my own version of this delicious-looking curry.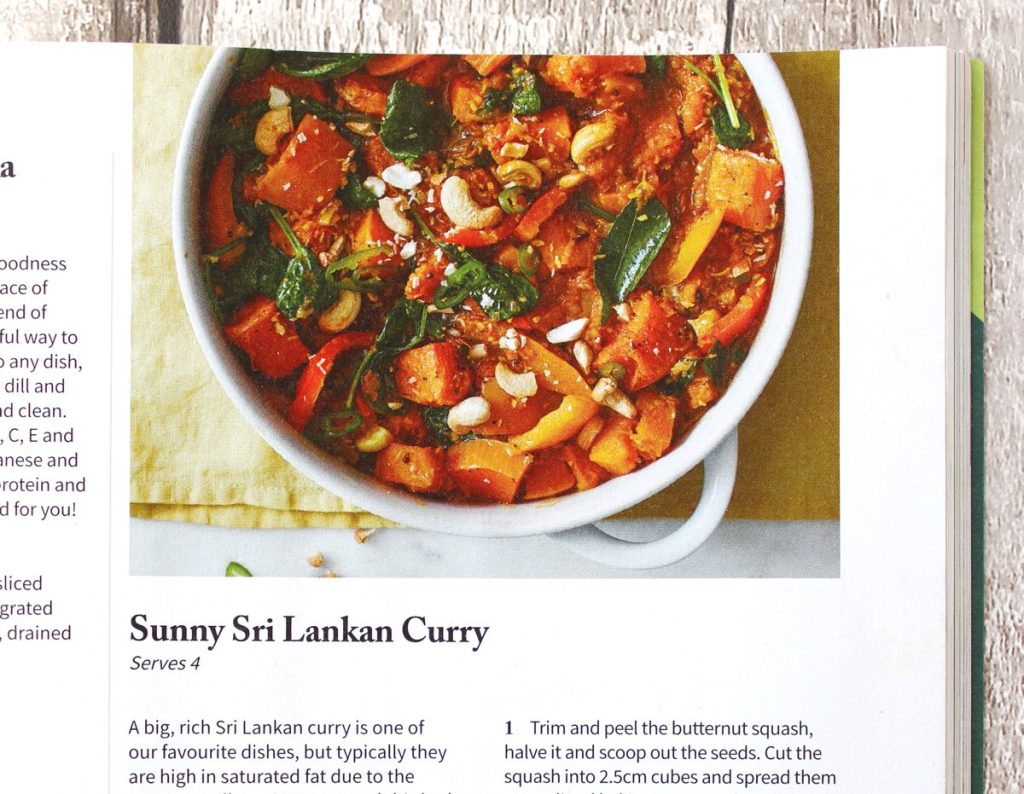 * Disclaimer: Vegan Life kindly sent me a complimentary copy of this magazine
And I was so happy with how it turned out! The colours and flavours of this curry are beautiful!! I used a mix of spices that I always have on hand (turmeric, chilli, cinnamon, curry powder and mustard seeds) which gave the dish the warm, sweet and spicy flavour that I associate with Sri Lankan-style curries. I also chose to add some marinated tofu to increase the protein content. The texture and flavour of the tofu worked really well in this curry, so I will definitely use it again in the future!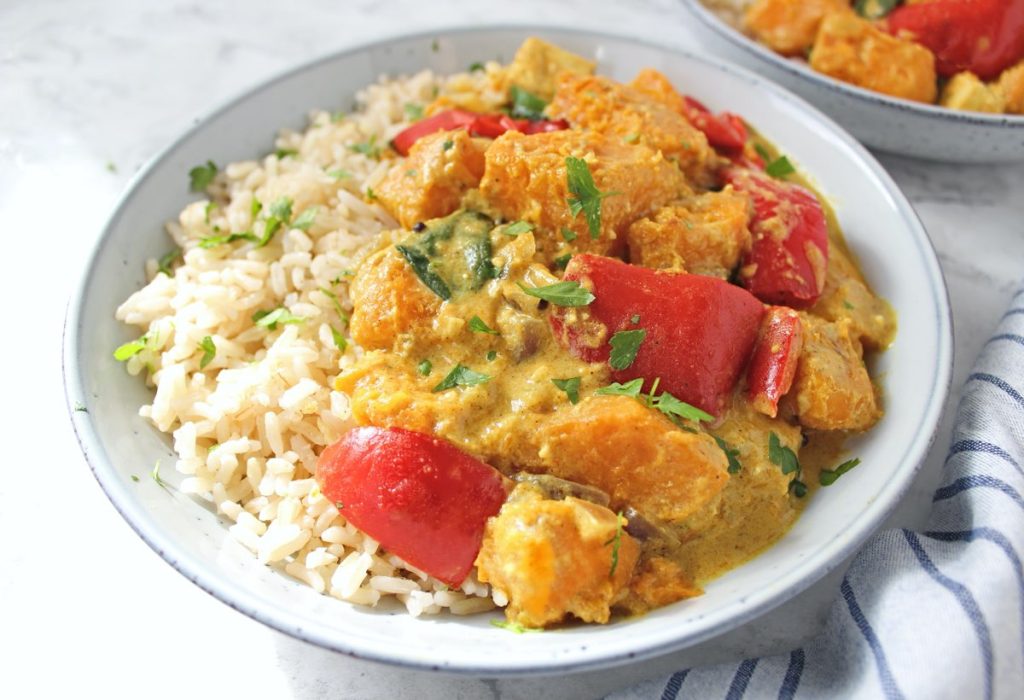 Since I first made this curry last month, I've gone on to make it twice more already! It's been a big hit with family and friends, so I know I'll be making it many more times in the future. This recipe is a keeper! I hope you enjoy it as much as we do!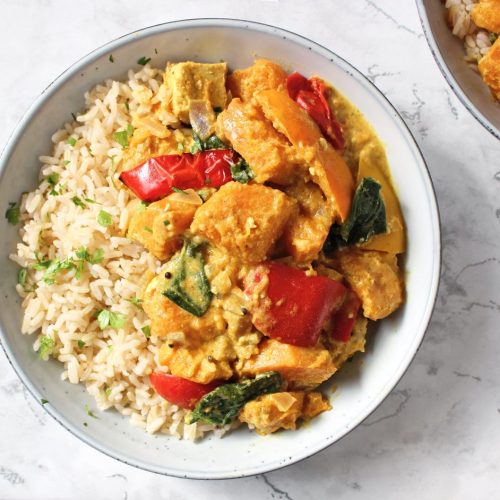 Sunny Sri Lankan Curry (Vegan)
Filled with beautiful sunshine colour and delicious flavours, this curry is sure to be a crowd pleaser! It's easy to make and suitable for preparing in advance. I've kept it mild enough to serve to children, but feel free to ramp up the heat by adding some fresh chilli. We love to serve it on a bed of brown rice.
Ingredients
800

g

/ 5 cups butternut squash

peeled and sliced into bite-size chunks (no bigger than 1 inch / 2.5cm)

1½

TBSP

extra virgin olive oil

½

tsp

ground turmeric

½

tsp

mild chilli powder

½

tsp

ground cinnamon

1

tsp

mild curry powder

1

tsp

black mustard seeds

1

large red onion

diced

2

tsp

minced garlic

2

tsp

minced ginger

200

g

/ 7 oz marinated tofu

or other protein source, sliced into chunks [See note *]

400

ml

/ 14 oz can coconut milk

120

ml

/ ½ cup vegetable stock (broth)

2

red bell peppers (or use a mixture of colours)

deseeded and sliced into chunks

2

handfuls (about 60g) of baby spinach

salt

to taste
Instructions
Preheat the oven to 430F / 220C (200C fan). Line a large roasting tin with non-stick baking paper.

Arrange the squash in the roasting tin and sprinkle the spices (turmeric, chilli powder, cinnamon and curry powder) and 1 TBSP oil on top. Give it a good stir to ensure the squash is thoroughly coated in the spices then roast for 20 minutes.

Meanwhile, gently heat ½ TBSP oil in a large saucepan. Add the mustard seeds and cook until they start to pop. Stir in the onion and cook for a couple of minutes until it starts to soften (add a splash of water if it starts to stick). Add the garlic and ginger (and fresh chilli, if using) to the pan, and continue cooking for one minute. Finally add the tofu chunks (or other protein source), the coconut milk and vegetable stock. Bring to the boil then reduce the heat to low, partially cover with a lid and gently simmer for about 10-15 minutes.

Once the squash has roasted for 20 minutes, add the bell pepper to the roasting tin and stir through. Continue cooking until for another 10 minutes or so, until both the squash and pepper are tender.

Tip the roasted vegetables into the saucepan and stir through to coat in the coconut milk. Simmer for a couple of minutes to allow the flavours to meld. Finally, add the spinach and stir through until it wilts.

Taste test and season with salt, if desired.

Any leftovers can be stored in the fridge for up to three days (be sure to check the storage instructions for the tofu or other protein source that you are using).
N.B. The nutritional profile above is approximate,
and will vary depending on the specific ingredients you use.
Pin for later ⬇️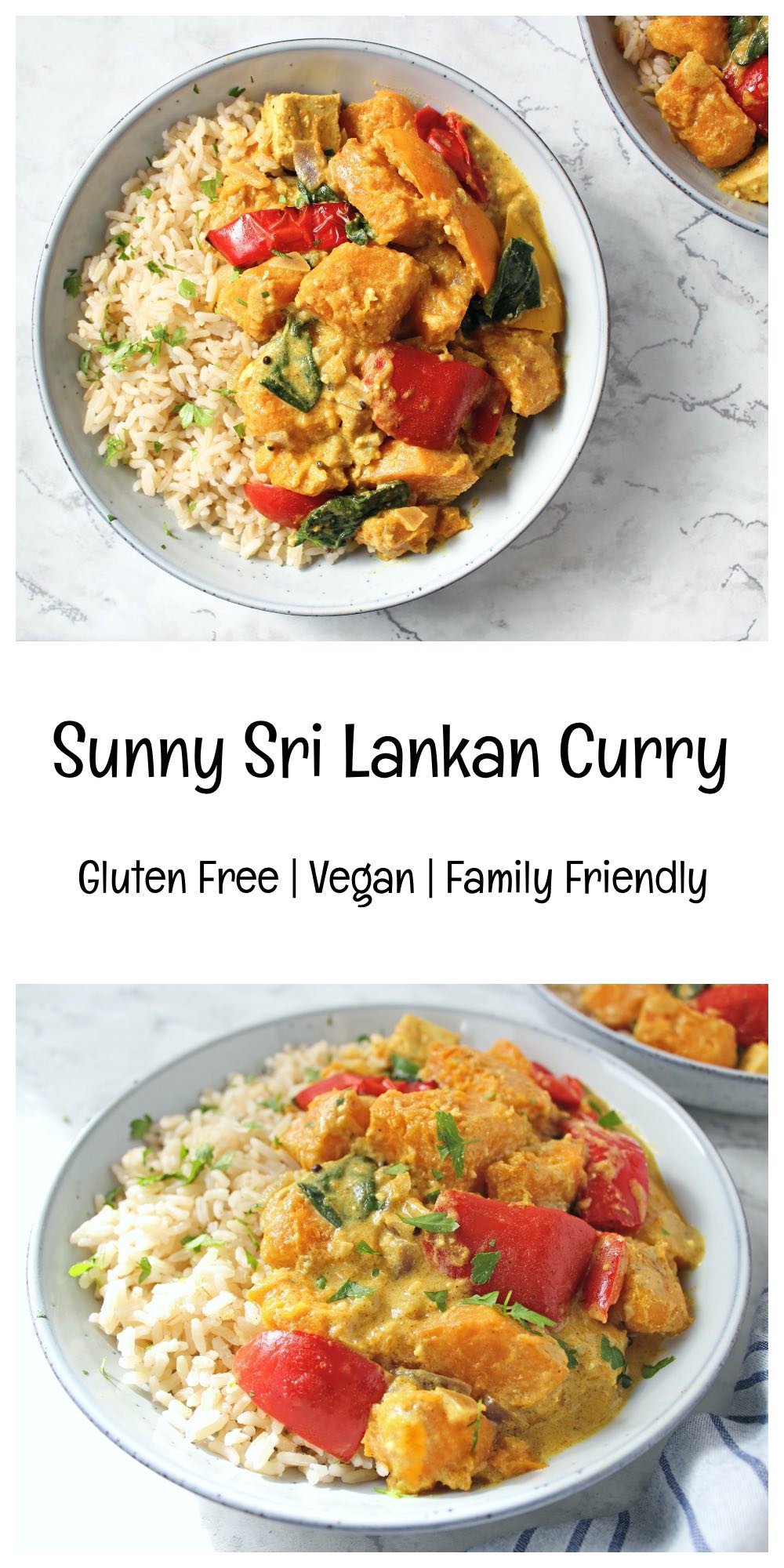 If you make this curry (or any other recipes on our blog), I'd love to hear your feedback and any suggestions for adaptations! Tag your photos with #bitofthegoodstuff on social media and they will find their way to me. You can also connect with me on my social media channels here:
Instagram, Twitter, Facebook, Pinterest.
Big thank you to the Vegan Life magazine and the lovely Ella Mills for today's recipe inspiration! ✨
With love,