* This recipe was originally posted in March 2014. The page was updated in February 2020.
It's Shrove Tuesday tomorrow and I am really looking forward to making a big pile of my family's favourite vegan crepes. They are so easy to make and use basic pantry ingredients. We don't even use an egg replacer! I've always loved French-style crepes but I love this vegan version even more. They taste amazing and they're cruelty-free too ❤️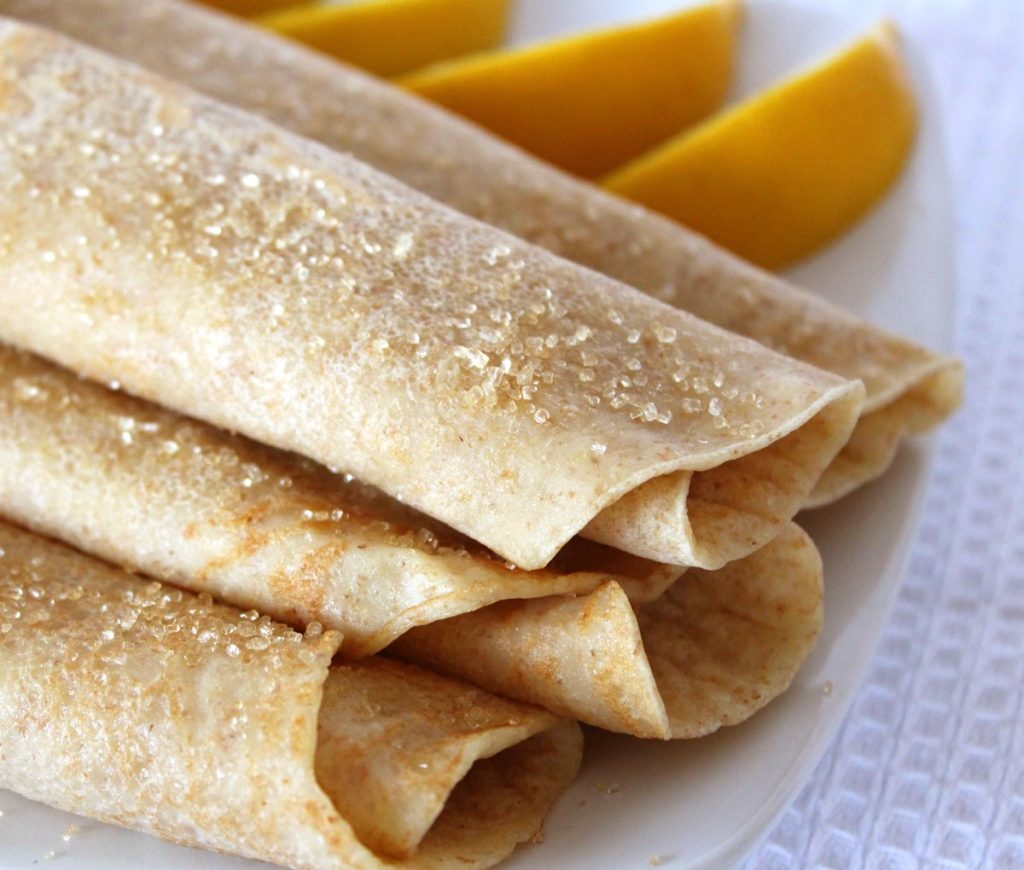 It's a common misconception that eggs are an essential ingredient in pancakes. I've been making eggless pancakes for years, and I've not had one pancake fail yet! If anything, I find the vegan crepes (especially if made with soya milk) are more robust than the traditional ones. I'm utterly rubbish at tossing pancakes, so I much prefer a slightly more robust batter that can easily be flipped over with a slotted turner [affiliate link].
These crepes are delicious served as a weekend breakfast, dessert or treat. The traditional way to serve them is with lemon and sugar. You could use 'regular' sugar, but my all-time favourite is coconut sugar [affiliate link]. It has the most beautiful, caramel-like flavour which works so well in crepes.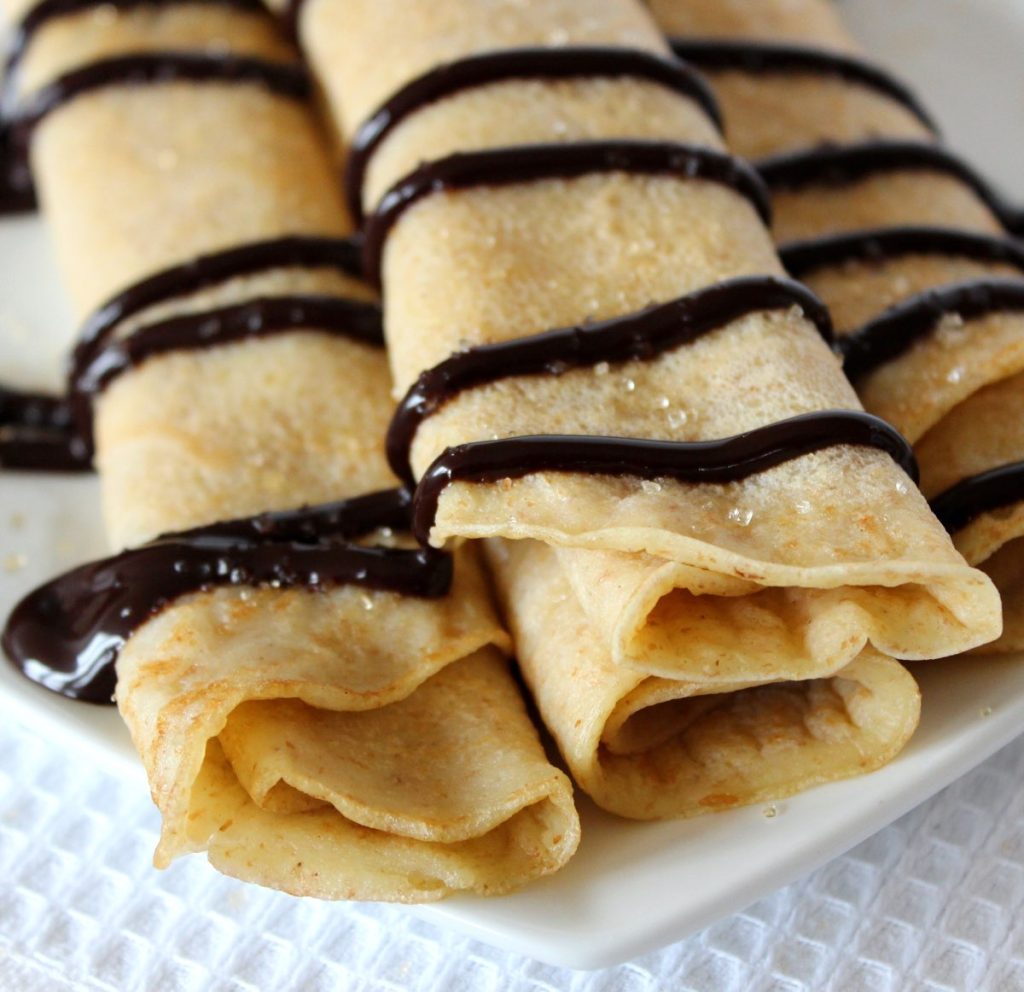 Another delicious way to serve them is with a drizzle of chocolate sauce. In our cookbook, I share our favourite home-made chocolate sauce which takes just seven minutes to whip together. Another family favourite is Nature's Store Hazelnut & Cocoa Spread. It tastes just like Nutella but it's vegan! In the UK, it's currently available in Sainsbury's, Tesco and Ocado. I especially love it as a crepe filling with sliced banana. It's so good!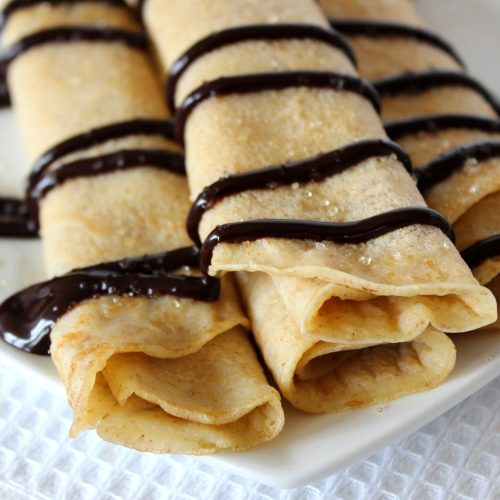 Vegan Crepe-Style Pancakes
These crepe-style pancakes make a lovely treat for weekend breakfasts. They are also perfect for Shrove Tuesday, served with a squeeze of lemon juice and a sprinkling of sugar. Coconut sugar is especially good!
Ingredients
Dry ingredients
110

g

/ ¾ cup plain (all purpose) flour

70

g

/ ½ fine wholemeal (whole wheat flour)

(we use chapatti flour)

1

tsp

baking powder

¼

tsp

salt
Wet ingredients
240

ml

/ 1 cup soya milk

see Notes*

160

ml

/ ⅔ cup water

1

TBSP

organic rapeseed (canola) oil (or other neutral tasting oil), plus extra for frying

1

TBSP

maple syrup

(omit for savoury pancakes)

1

tsp

vanilla extract

(omit for savoury pancakes)
Instructions
Sift the dry ingredients into a large bowl, preferably one with a pouring spout. Tip any remaining wheat germ from the sieve into the bowl. Make a well in the middle and pour in the wet ingredients. Whisk to combine. Add a little more milk, if needed, to make a thin, pourable batter.

If possible, use two large non-stick frying pans (skillets) to halve the cooking time. Brush the bottom of the pan with oil and heat on medium high. To check it's hot enough, flick some drops of water into the pan. If the water sizzles, it's ready.

Pour ⅓ cup of batter into the centre of the pan and swirl to thin out. Leave the pancake to firm up. When the underside is lightly browned (about 1½ minutes), loosen the edges using a slotted turn then flip over. Cook for a further 30 seconds or so, until the second side is browned. Transfer to a warm oven while you cook the remaining pancakes.

Add your favourite toppings and serve. Any leftover pancakes can be stored in the fridge for up to three days. Gently heat through before serving.
Notes
The batter can be made up to 24 hours in advance and stored in the fridge. It may thicken up over time, so whisk in a splash more milk before cooking.
Soya milk is our preferred milk for these crepe-style pancakes as the batter doesn't require resting time. It also makes robust pancakes that are easy to flip over. For this recipe, I don't recommend substituting the soya milk with other types of non-dairy milk.
Pin for later ⬇️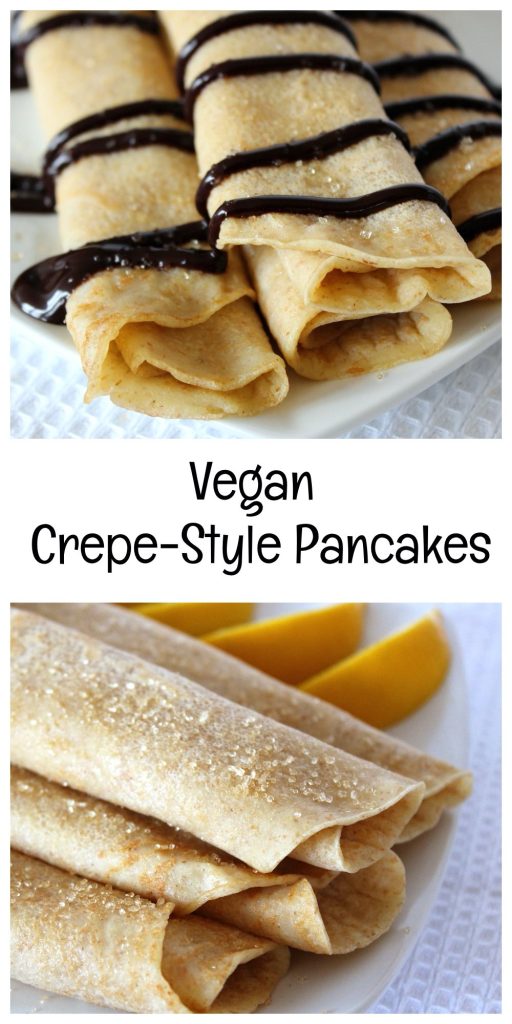 If you make these pancakes (or any other recipes on our blog), I'd love to hear your feedback and any suggestions for adaptations! Tag your photos with #bitofthegoodstuff on social media and they will find their way to me. You can also connect with me on my social media channels here:
Instagram, Twitter, Facebook, Pinterest.   
With love,