This year we had a bumper crop of fruit on our apple tree. Thanks to the late September sunshine, within the space of two weeks the apples transformed from green and small to red and huge! We must have picked at least a hundred apples so far. And with this amazing bounty, we've been able to indulge in lots of delicious apple treats.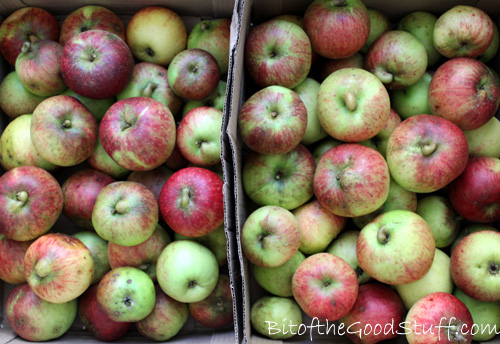 For this month's Suma entry, I thought I'd share one of our all-time favourite Autumnal desserts – Apple Crumble ♥ I've lost count of the number of crumbles I've made this past month, but it could be getting on for ten!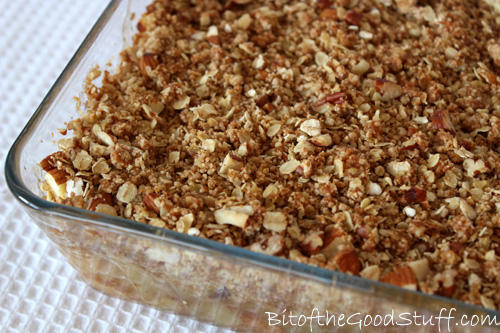 As well as oats and wholegrain flour, I love to add some pecans and almonds into the crumble, which gives it a delicious crunch. Traditionally, this dessert has a fair amount of cane sugar and dairy butter in it. However, instead of cane sugar, I prefer to use coconut sugar and maple syrup as they add a delicious, caramel-like sweetness and beautiful golden hue to the crumble.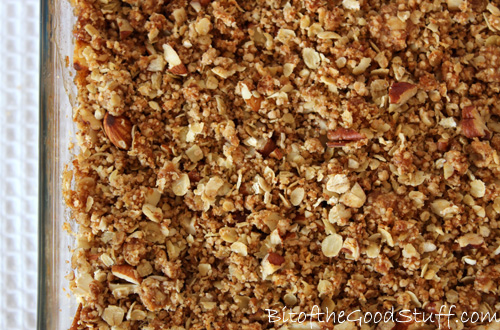 Instead of dairy butter, I use coconut butter (the aroma-free kind) or a non dairy spread. Through Suma, I discovered the Tiana Organic Coconut Cooking Butter and I'm loving it! It's really versatile and you can use it for all kinds of cooking and baking. I made some scrumptious pasties with it last week. Unfortunately they were devoured before I could take any pics, so I'll re-create them soon and post the recipe.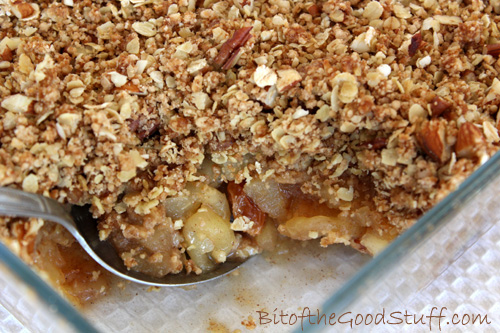 BTW, those lidded Pyrex glass dishes are really handy for cooking, storing and transporting the crumbles. I took a couple with me to Essex recently to share with our relatives. Stored in a thermal bag, six hours after I'd baked them they were still warm!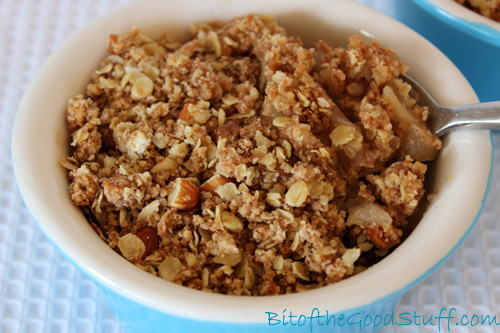 [print_this]
This healthy twist on the classic Apple Crumble is packed with delicious flavours and crunchy texture. We love to serve it in colourful ramekins, either on its own or with a drizzle of non dairy cream, yogurt or custard. It's delicious eaten warm or cold. Lil' L and I actually prefer it cold as the topping firms up in the fridge for extra crunchiness!
Serves 6
Hands on time: 25 minutes   Cooking time: 35 minutes
Ready in: 45 minutes
Ingredients
1 kg / 35 oz cooking apples (e.g. Bramleys), peeled, cored and sliced (about 7 medium apples)
1 tsp ground cinnamon
60g / 2 oz / 1/3 cup sultanas
3 TBSP fruit juice (or water)
3 TBSP maple syrup (or agave syrup)
Crumble Topping:
100g / 3½ oz / ¾ cup fine wholemeal (whole wheat) or chapatti flour (use a GF flour mix, if needed)
1 tsp baking powder
½ tsp ground cinnamon
60g / 2 oz / 4 TBSP aroma-free coconut butter (e.g. Tiana) or non dairy spread (e.g. Pure)
75g / 2½ oz / ¾ cup rolled oats (use certified GF oats, if needed)
4 TBSP coconut sugar (or unrefined caster sugar)
2 TBSP maple syrup (or agave syrup)
30g / 1 oz / ¼ cup pecans, chopped
40g / 1½ oz / ¼ cup almonds, chopped
Method
Preheat the oven to 180C (160C fan) / 350F / Gas 4.
Place the sliced apples, cinnamon, sultanas, juice and syrup in a large saucepan. Partially cover with a lid and simmer for 15 minutes until the apples are soft and fluffy. Taste test and add more sweetener, if needed.
Meanwhile, prepare the topping: Place the flour, baking powder, cinnamon and coconut butter in a food processor and pulse until the butter is fully incorporated. Tip into a bowl and stir in the oats, sugar, syrup and nuts.
Spoon the apples into a 1.5 litre / 1½ quart ovenproof dish. Sprinkle the crumble on top. Bake for 20 minutes or so, until the topping is golden.
Stored in an airtight container, it will last up to a week in the fridge, or for weeks in the freezer.
[/print_this]
Products used in this recipe (UK stockists)
Pyrex Rectangular Lidded Dish, available from Amazon (currently discounted to £3.50)
Magimix Food Processor
Tiana Coconut Cooking Butter, available from Suma, health food shops and online
Biona Organic Coconut Sugar, available from Suma, health food shops and online
Suma Organic Sultanas, available direct from Suma, via Amazon, and independent health food shops (love that they come in recyclable packaging!)
Clarks Original Maple Syrup, available from Tesco, Asda, Sainsbury's, Morrisons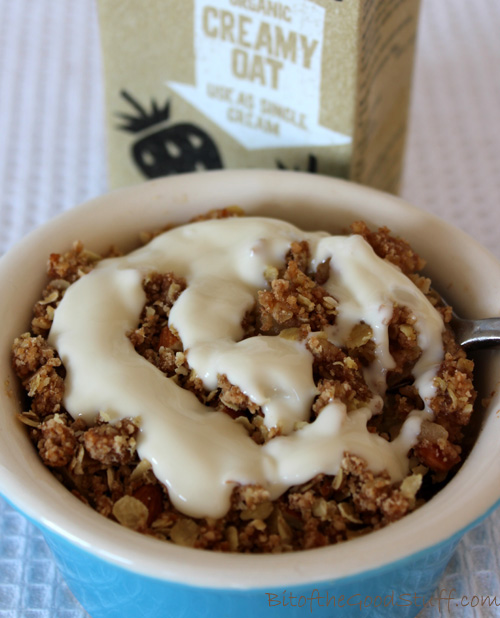 What's your favourite fruit crumble? For me, it's a close call between apple and plum 🙂
Have you made any crumbles this Autumn/Fall? If you've posted any recipes, please do share below xx