In today's post I'm sharing a recipe for a delicious pie that's just perfect for serving in the cold weather months. It's an adaptation of a recipe published by the Vegetarian Society back in 1995. We first tried this pie last month and it was a big hit with the family. Since then, we've already eaten it a couple more times as special weekend dinners. While it looks pretty impressive, it's really easy to make and requires less than 30 minutes hands on time.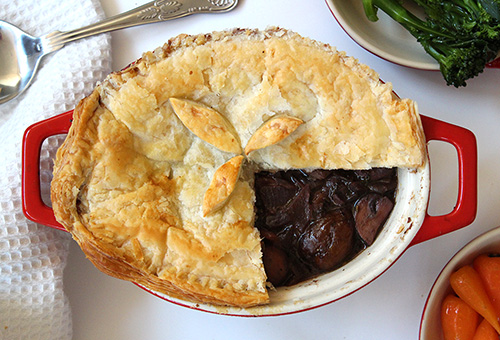 The original recipe states that it serves 4-6 people but we must be greedy guzzlers as we devoured the whole pie between the three of us. When I made it again, I increased the filling quantities just to make sure there was enough for 4.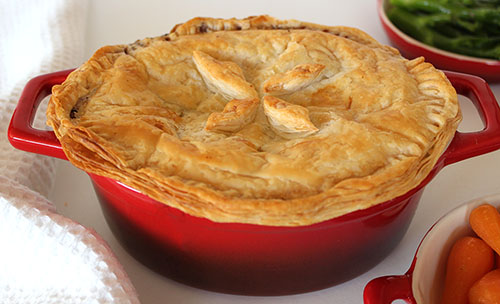 The base of the filling is a rich gravy, flavoured with red wine, stock, herbs, mustard and soy sauce. Since I don't drink wine, I buy one of these dinky-sized 187l bottles.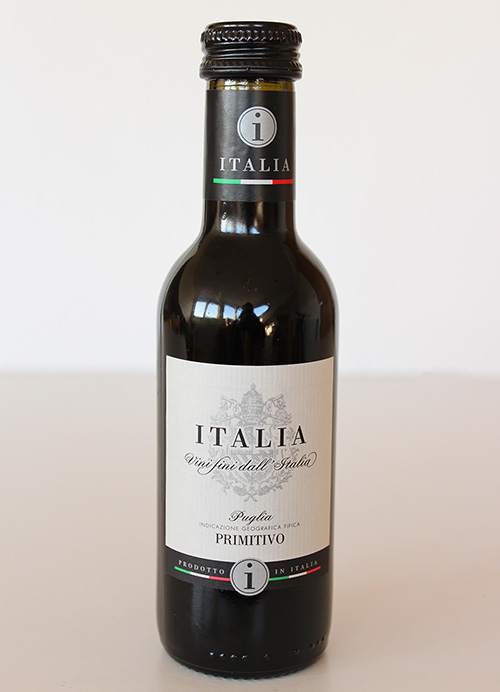 As you may already know, not all wines are vegan, or even vegetarian. When filtering wine (or beer) some companies use products such as isinglass (from fish bladders), gelatin, egg whites or sea shells as filtering agents. Companies can also add products such as dairy and honey into the final recipe. Fortunately there are plenty of vegan wines and beers available in our shops.
UK supermarkets are getting better at labelling their wines vegetarian or vegan. At the present time, the Waitrose, Sainsbury's and Ocado websites are the easiest to use, as they state if a wine is suitable for vegetarians and/or vegans in their lifestyle/dietary choice tabs. There is also Barnivore, an online directory which lists all vegan beers, wines and spirits.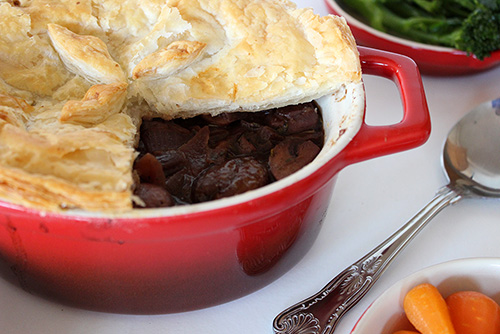 The original VegSoc recipe calls for 250g chestnuts, however the most common brand of cooked chestnuts in the UK (Merchant Gourmet) comes in a 187g pack. Since chestnuts are quite expensive, rather than buying a second pack and only using a portion of it, I reduced the quantity of chestnuts and bumped up the volume of chestnut mushrooms instead. I also added some thinly sliced carrot for an extra dimension of texture and flavour.
If you're gluten-free, Jus-Rol are now selling a GF Vegan puff pastry sheet. I spotted it for sale in Tesco and Ocado. I haven't tried it myself yet but, if you have, I'd love to hear what you think of it.
[print_this]
This pie is perfect for serving in the cold weather months. It makes a lovely special weekend dinner. It's easy to make but sure to impress your dinner guests. Recipe adapted from this Vegetarian Society recipe
Serves 4
Hands on time: 25 minutes    Ready in: 70 minutes
Ingredients
25g / 1½ TBSP vegetable spread/vegan butter
3 small red onions (250g), thinly sliced
1 medium carrot (100g), very thinly sliced
250g / 3 cups chestnut mushrooms, quartered or halved (depending on size)
180g / 1 heaping cup pre-cooked chestnuts, halved
187ml / ¾ cup vegan red wine
300ml vegetable stock (broth)
2 bay leaves
1 tsp each dried sage, dried thyme
½ tsp dried parsley
2 tsp Dijon mustard
1 TBSP tamari or reduced-salt soy sauce
freshly ground black pepper, to taste
1 puff pastry sheet (about 300g), thawed if frozen (use GF puff pastry, if needed)
soya milk, for glazing
Method
1. Pre-heat the oven to 220C (200C fan) / 425 F
2. Melt the vegetable spread/butter in a large frying pan and cook the onions on medium heat until lightly browned.
3. Add the mushrooms and cook for a further 4 minutes.
4. Add the chestnuts, red wine, stock (broth), bay leaves, dried herbs, mustard and tamari/soy sauce.
5. Bring to the boil, then reduce the heat and simmer for 20 minutes, or until the liquid has reduced somewhat.
6. Remove the bay leaves.  Add black pepper to taste.
7. Spoon the mixture into a large pie dish or four individual/mini pie dishes.
8. Place the pastry on top. Leave a good margin hanging over the sides as the pastry will shrink as it cooks. Use a fork to press the pastry onto the rim of the dish to seal it. Use any leftover pastry to cut out some leaf shapes and arrange on top of the pie. Brush the pastry with soya milk. Pierce a couple of holes in the pastry to allow the steam to escape.
9. Bake for about 20 minutes or until golden.
10. If baked in a large pie dish, I recommend removing the pastry top, placing on a chopping board and slicing into four equal pieces. Spoon the filling onto plates and arrange the pastry on top. This way, you can cut the pastry neatly without it pushing down into the filling and becoming soggy.
11. Serve the pie with one or two veggie side dishes. We love to serve it with steamed baby carrots and steamed tenderstem broccoli tossed in a little soy sauce, or some sweet potato wedges. I also think potato mash or butter bean puree could work well with it.
Notes
The pie filling can easily be made in advance. Half an hour before you plan to serve, simply warm through, add the pastry topping and bake for 20 minutes.
The pie can also be re-heated. I've found the quickest way to do this is to remove the pastry lid and bake this on a tray in the oven for 15-20 minutes (that way it crisps up again). Meanwhile, gently heat through the filling in a saucepan covered with a lid.
The pie will keep for a couple of days in the refrigerator.
[/print_this]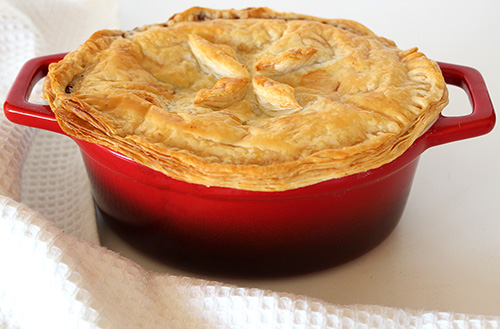 By the way, there's just *1 day* left to take advantage of my special January book promotion. Purchase a book via my bookshop, enter code VEGANUARY at the checkout and you will receive 20% off both the book AND delivery (worldwide)! The book's been getting great reviews both in my bookshop and on Amazon. I've also had lots of repeat orders, which is fantastic! I'm thrilled to hear how much people are enjoying the book and I've loved seeing all your #BitoftheGoodStuff creations on social media 😀  Thank you everyone 🙏❤️