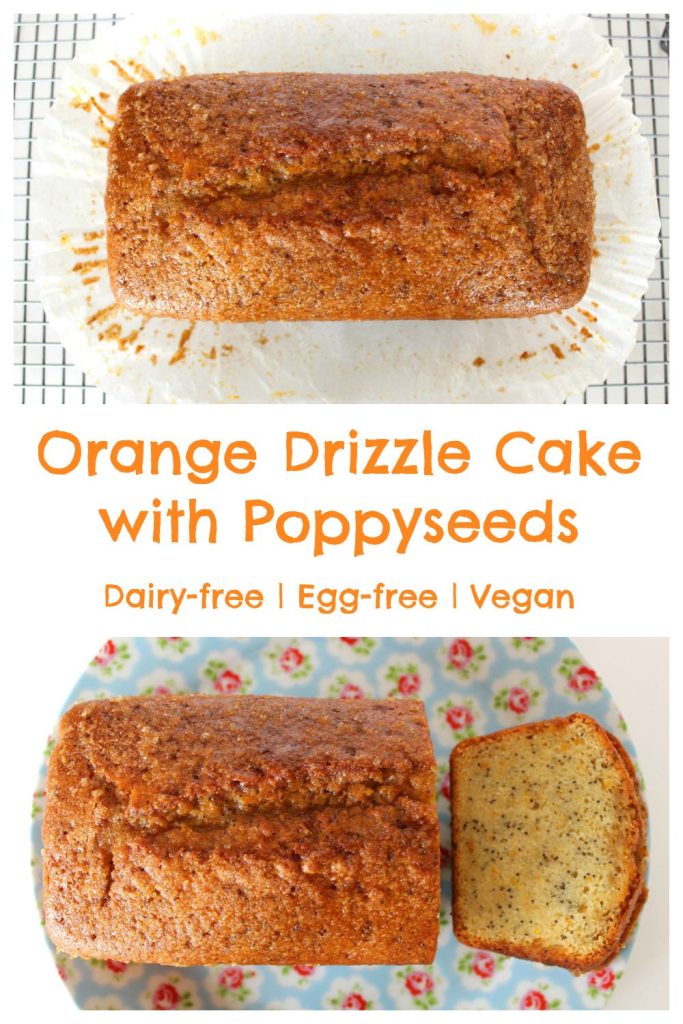 Back in 2013, I shared the recipe for a Lemon Drizzle Cake that I baked for my mum for Mother's Day. It proved to be a big hit with my readers and, four years later, it's still one of the most popular recipes on my blog!
Though I made it specifically with my mum in mind, the Lemon Drizzle quickly became my husband's favourite cake. It's the one he's requested every birthday…  even though his birthday is a week before Christmas and Lemon Drizzle feels like a Spring-time cake (well, to me anyway!) Recently, however, I made an adaptation of the Lemon Drizzle and, after tasting it, my husband declared that THIS one may just be his new favourite!
With a few little tweaks, I transformed the Lemon Drizzle into an Orange Drizzle speckled with poppy seeds  It still has the beautiful, moist consistency and light texture, but the flavour is of course orange rather than lemon. Rather than 'zingy' like the Lemon Drizzle, this one is more sweet and fruity. It reminds me of summer and sunshine. So maybe Lemon Drizzle will be my spring-time cake, and Orange Drizzle will be the summer-time version. But, of course, you can eat it whenever you like. I know we'll be eating it in December 😉
Oh, and this cakes smells amazing as it's baking. It fills the house with this beautiful orangey aroma!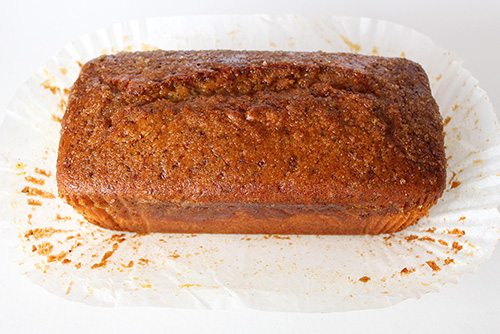 I've made this cake at least five times in the past few weeks. I've given it as gifts, taken it on our travels when visiting family, and shared it with friends on coffee mornings. It's always received great compliments. It's also been road-tested and approved by my mum. I took it to her on our last visit to Dorset and she really enjoyed it! When I got home, she'd already emailed asking for the recipe.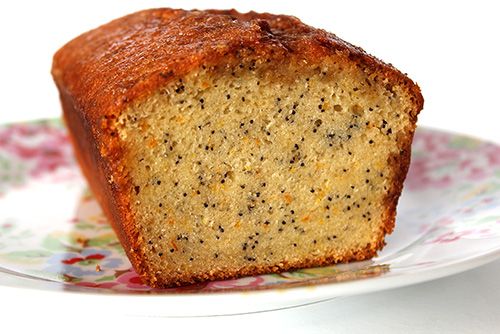 I hope you love this recipe as much as we do!
[print_this]
This cake makes a lovely treat to share with friends and family. It's simple to make and uses basic pantry ingredients. It stores well and will last up to a week in the refrigerator (or cool room). If anything, I find it tastes even better a day or two after it's been baked. It freezes well too.
Serves: 8-10
Hands on: 15 minutes     Ready in: 2 hours
Ingredients
200g / ¾ cup + 3 TBSP unrefined cane sugar (I use golden caster sugar)
40g / 2 TBSP maple syrup
70g / ⅓ cup organic rapeseed (canola) oil or other neutral-flavoured oil
240ml / 1 cup soya milk
2 tsp apple cider vinegar
1 tsp orange extract
30ml / 2 TBSP freshly squeezed orange juice
zest of 1 unwaxed/organic orange
250g / 1¾ cups white spelt flour or plain (all purpose) flour
2 tsp baking powder
1⁄4 tsp salt
1 TBSP poppy seeds
Drizzle
2 TBSP freshly squeezed orange juice
2 TBSP Demerara (or turbinado) sugar
Method
1    Grease and line a 2lb loaf tin with non-stick baking paper (or use a non-stick loaf liner). Preheat the oven to 190C (170C fan) / 375F.
2    In a mixing bowl, whisk together the sugar, syrup, oil, milk, vinegar, orange extract and orange juice until fully combined. Stir in the orange zest.
3    Sift one third of the dry ingredients (flour, baking powder, salt) into the bowl and whisk to combine. Repeat with the remaining two thirds, whisking each time. Stir in the poppy seeds.
4   Tip the mixture into the prepared tin. Place on the middle shelf in the oven and bake for 50 minutes, or until a skewer inserted into the middle comes out clean.
5    Whisk together the drizzle ingredients. When the cake is baked, pierce all over with a skewer. Distribute the drizzle evenly over the top of the cake. Allow to cool in the tin for at least an hour (it will firm up as it cools), then transfer to a wire rack.
6    Once completely cooled, slice and serve or transfer to an airtight container. The cake will keep for a week in the refrigerator. It also freezes really well.
[/print_this]
I'm sharing this recipe with the Suma Blogger's Network. Big thank you as ever to the lovely folk at Suma for all the support and encouragement they give me. If you'd like to see what the other Suma bloggers have been up to, check out this Pinterest board.
Here in the UK, it's Mother's Day on Sunday so, if anyone would like to bake their mums a cake, this Orange Drizzle would be a great option (or you could go for the trusty Lemon Drizzle).
Happy Mother's Day to all the mums out there!  ❤️