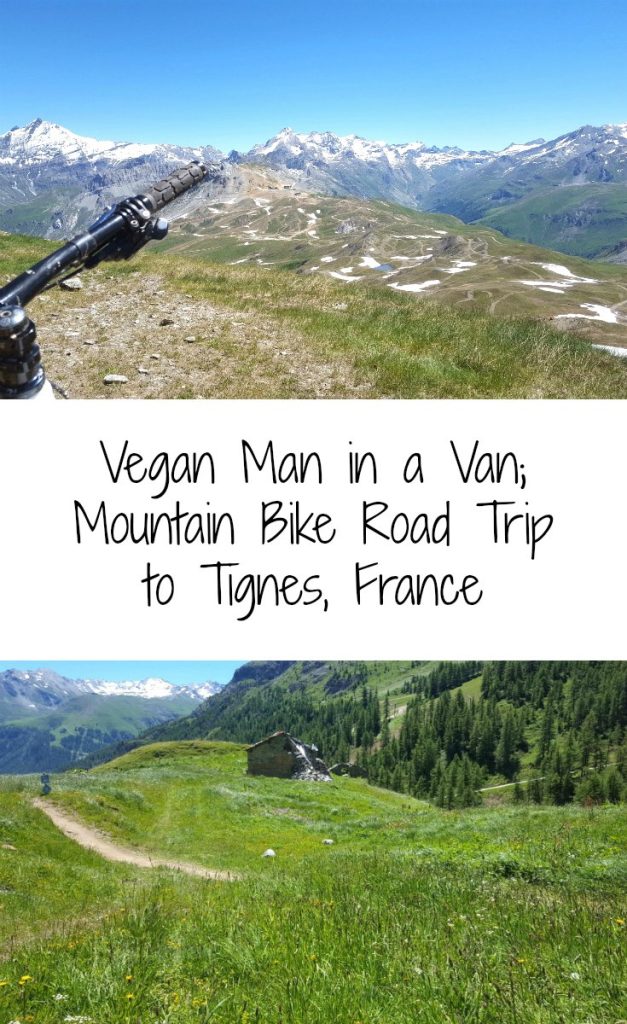 I've been reading Sharon's Bit of the Good Stuff blog for several years and always enjoyed the practical guidance and recipes that have helped me to follow a plant-based diet. Sharon's blog is an inspiration, demonstrating that following a vegan diet isn't difficult and this movement grows, it gets easier and easier to eat in this way. Once you're in a routine, eating day-to-day is easy. We all have our tried and tested mealtime favourites. We know where we can go for vegan-friendly lunches and snacks.
I've found it more challenging when I step outside of this routine, perhaps working away from home or visiting new places. However, with a little extra thought and preparation, it's not hard to overcome any potential difficulties and continue to eat healthy, plant-based food wherever you are.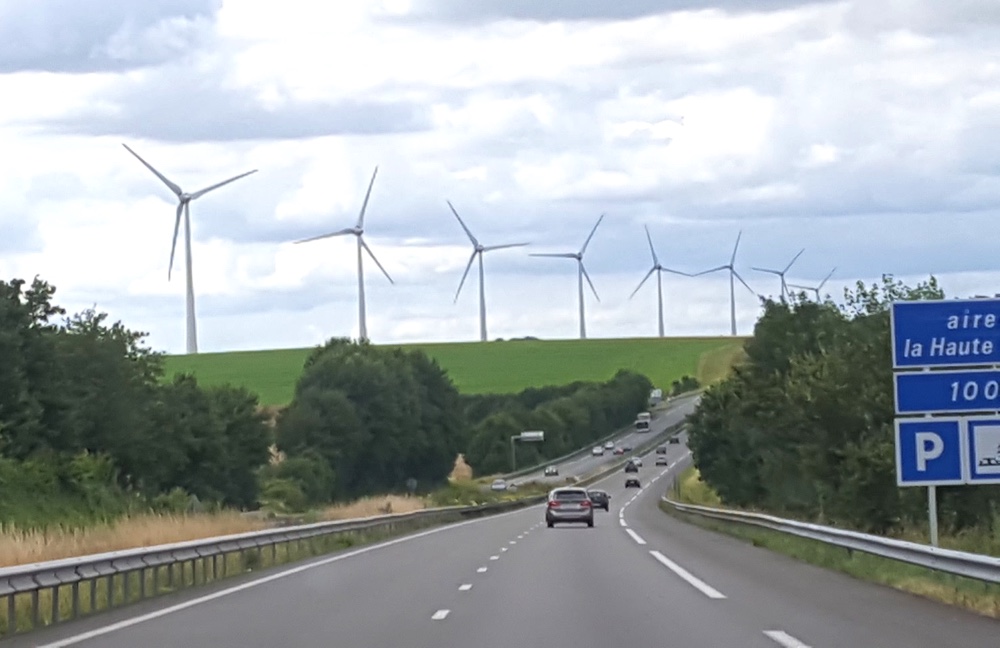 Last July, I took a road trip to France with a few (non-vegan) friends and below I share a few reflections on what was a fantastic trip. The tips I offer on going on a road trip are perhaps obvious enough but, hopefully, some of these words might show how it is to maintain your plant-based diet, even when you're the only Vegan in the Van…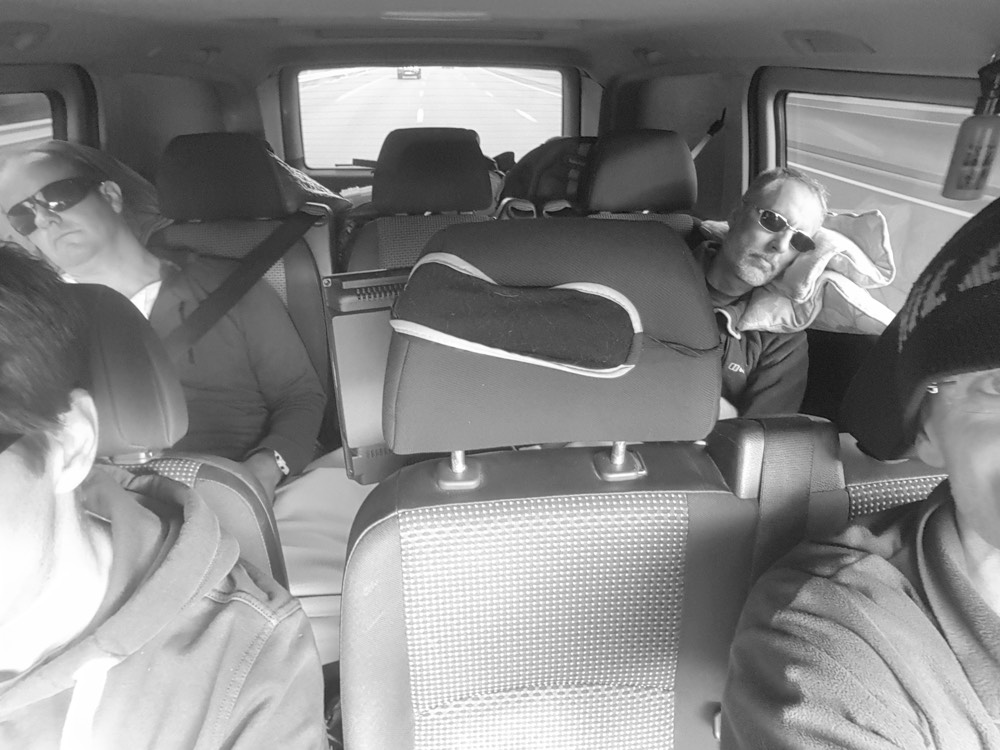 Tignes
The plan was simple enough; four guys taking shifts to drive a van through the night to arrive in the early hours of Thursday morning and make the most of a long weekend in the mountains. Tignes is in the high alps, located at an altitude of around 2000 metres and nestled between higher peaks that scrape 4000 metres.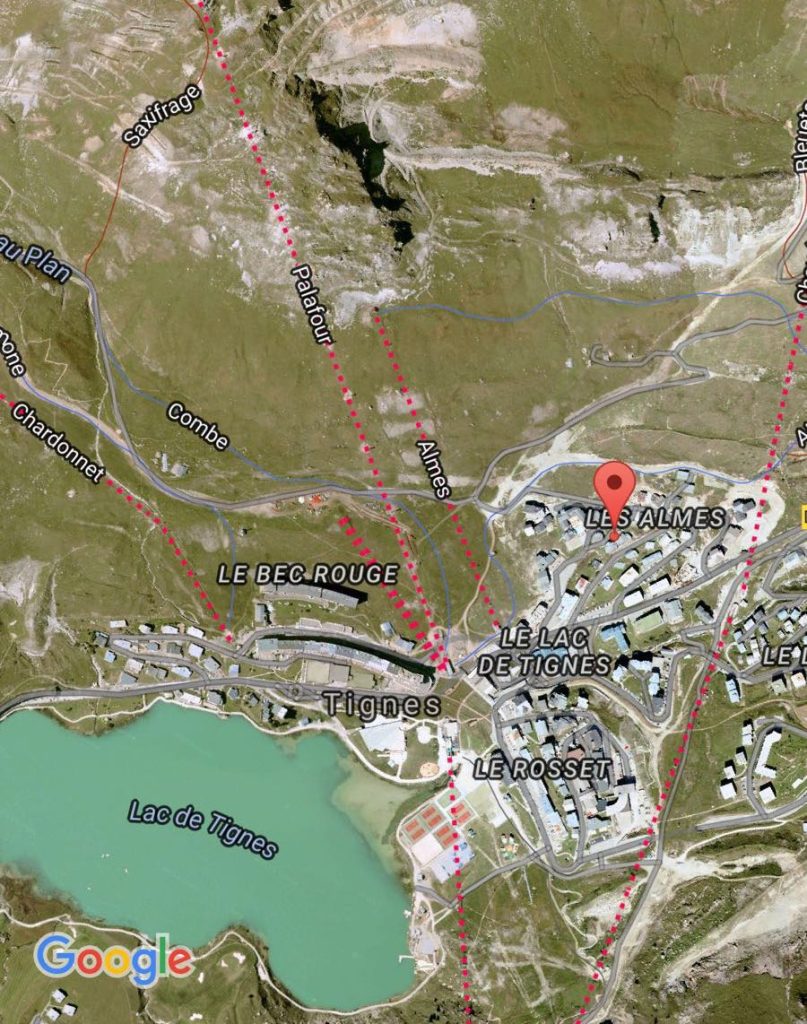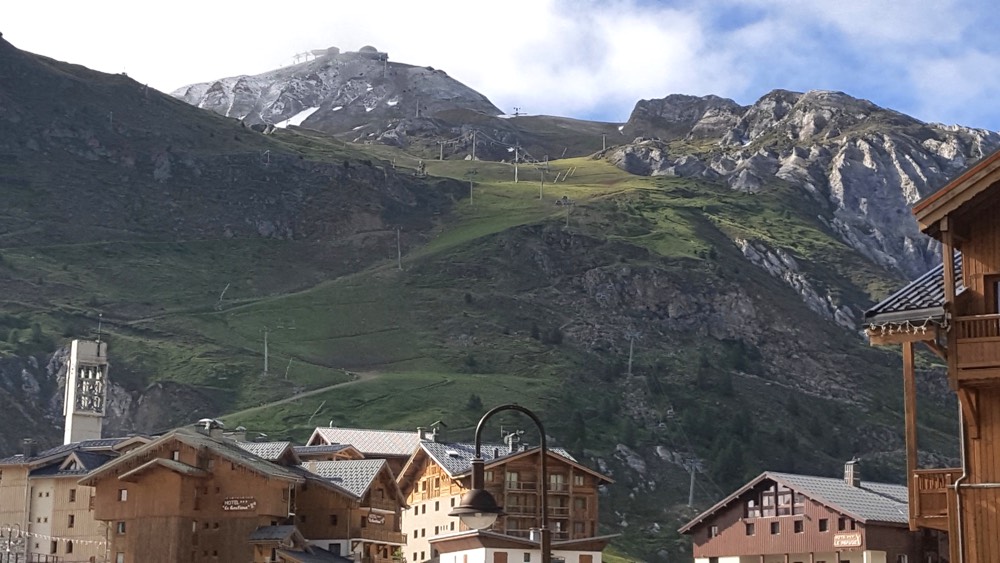 Aside from the stunning Alpine scenery Tignes has the added attractions of miles and miles of mountain bike specific trails and the FREE use of the chair lifts and gondolas that take you high into the mountains.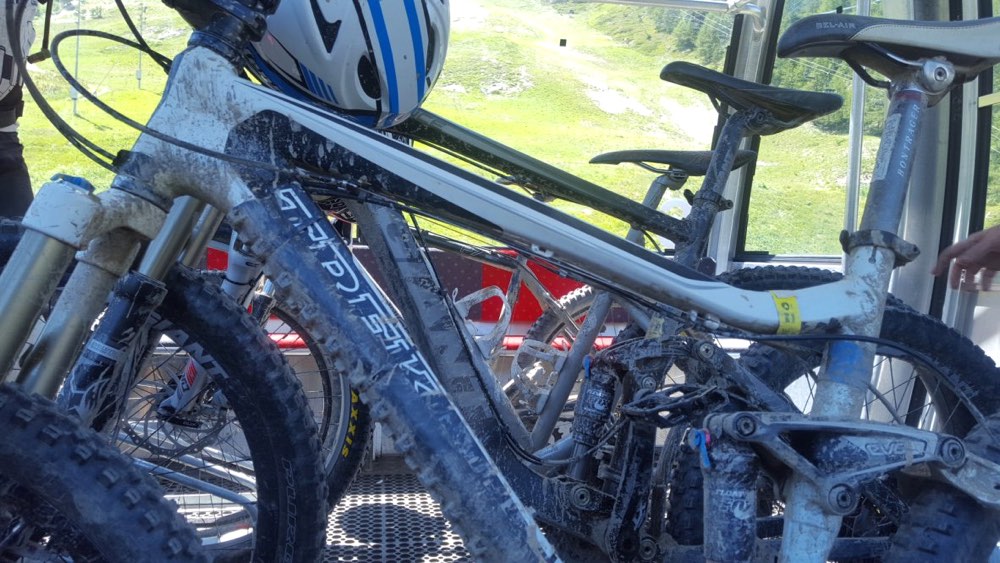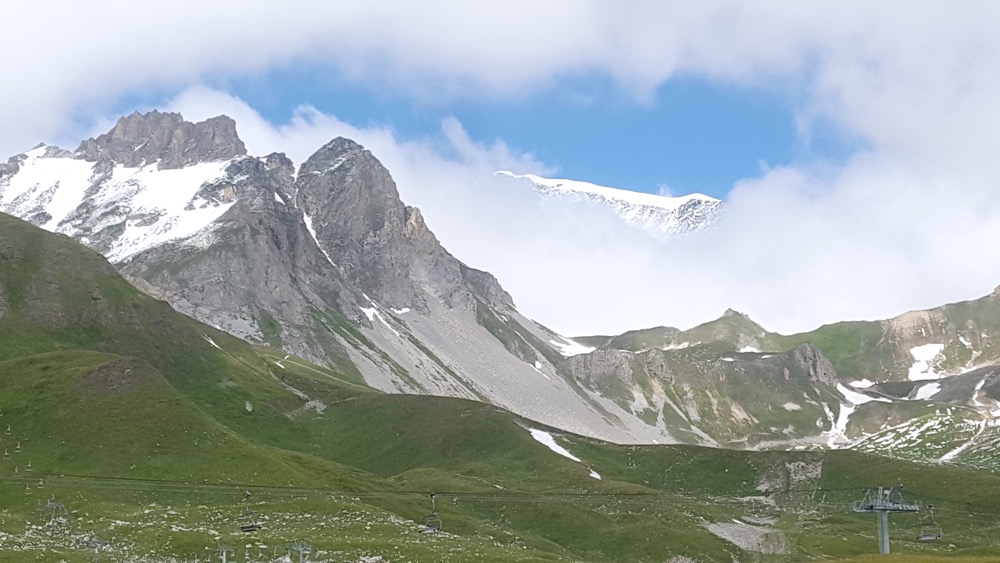 But this post isn't about mountain bikes! Sharon's asked me to share my experiences and any tips I have for travelling as a vegan to France. Here goes…
Take Food With You…
OK, obvious enough this one but, if you're going to be driving for 10 hours, you're going to need a good supply of snacks to keep you feeling good (and alert if it's your turn to drive). A little preparation pays dividends here. I made myself some avocado sandwiches; lovely. I recommend sandwich fillings that stick together nicely, don't spill out down your shirt (or onto the upholstery of your car) and don't mind getting a little warm if it's a long journey. Nuts and dried fruit make an ideal snack; easy to pack and they don't melt when the sun comes out!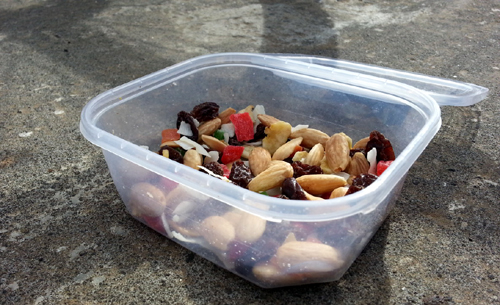 I have found that good vegan energy bars aren't as easy to get abroad as they are here; those available in supermarkets tended to be very sugary cereal bars. I took Nakd and Trek Bars with me; great for the journey and for stuffing in my backpack on a long ride!
Once you get to your destination, I found it useful to have a few tins of vegan soups and stews as a handy back-up (I took a few from the Amy's Kitchen range). If you don't take any provisions with you, it's not hard to find pasta, tomato sauce and fresh veggies in the local supermarket to make a simple meal. Non-dairy milks are easy to get hold of too, as are oats for breakfast.
And Drinks Too!
More ambitiously (!?) I also took a flask of green smoothie. Throw ice-cubes in the blender to make it nice and cool and keep it fresh for the journey. Talking of drinks, take loads of water. The air-conditioning in cars and planes dries you out pretty quick so keep on drinking. Being properly hydrated also helps to keep you alert. Sometimes it's not another espresso that you need to revive you, it's a bottle of water!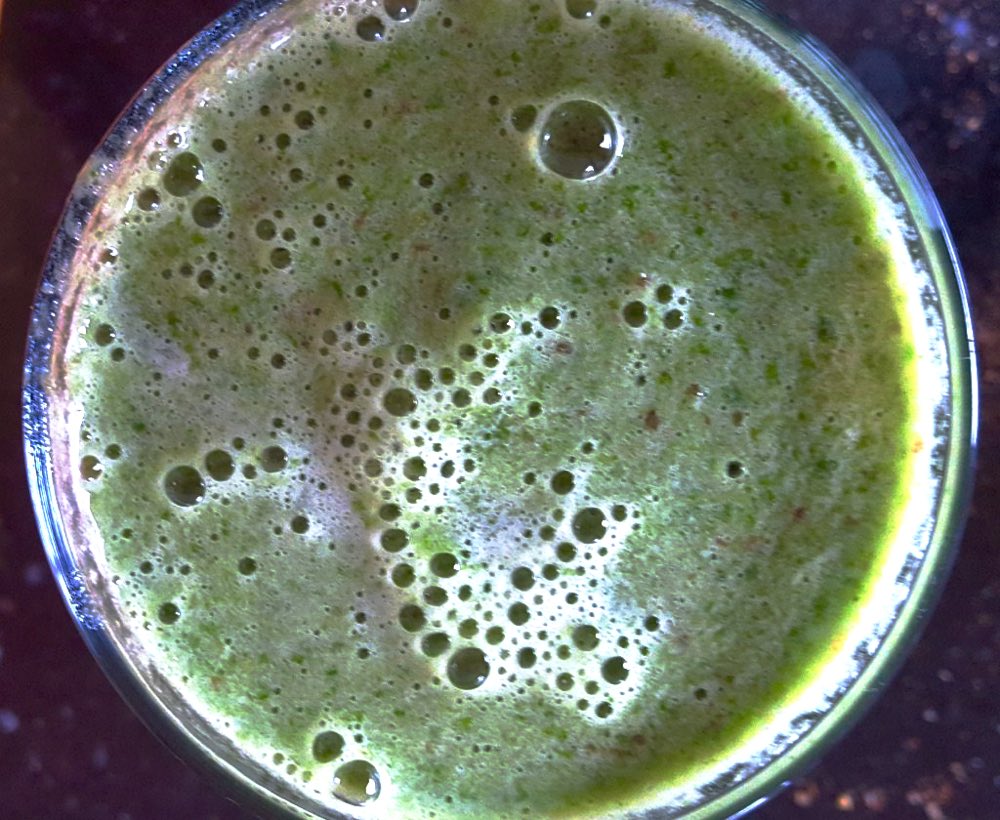 Service Stations
I find motorway service stations something of a nutritional desert, irrespective of whether or not you're plant-based. Stuffed with high-calorie low-nutritional value food, don't rely on them as part of your eating plan. For me, service stations are strictly for van fuel, toilets and (in France) excellent for coffee. Even the vending machines do you a proper coffee! Just be sure you've got a pocket full of Euro loose change that you can feed the machines with at 3am!
Arrival
It's 0800hrs, Thursday morning, and our van rolls into Tigne. The side door slides open and we're greeted by an icy blast of mountain air; it's around zero degrees and there's snow in the air. To be honest, this wasn't quite what we'd imagined for the middle of July! We closed the door and headed off to find our accommodation; a self-catering apartment in the middle of town.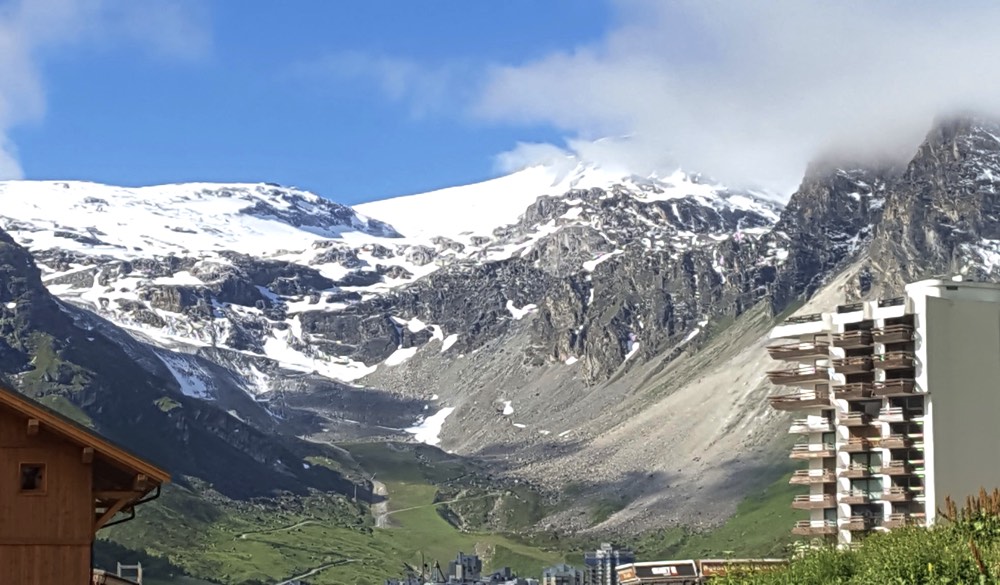 Breakfast
Breakfasts were easy; I took oats, nuts, dried fruit and long-life soya milk with me to ensure a reasonable start to the day. Riding bikes in the mountains is hard work, even when you're headed downhill for most of the day so it's important to get some decent food in you at the start of the day. By day two of the trip the other guys had ditched the croissants, cheese and ham and were sharing my oat-fuelled breakfasts. They were genuinely interested in what I was eating, and why.
I don't make porridge as such; I pour soya/almond/rice/whatever plant-based milk onto my oats, let them soak and that's it. A bit like Sharon's 'Overnight Oats', without the overnight bit… If you're in a hotel that provides breakfast, you might want to think about bringing your own cereal and soya milk. French hotel breakfast can be a bit cheese, ham and pastry orientated but there's usually a good trough of fruit that you can get stuck into. And the coffee is good. Be sure to pocket a banana or two for later!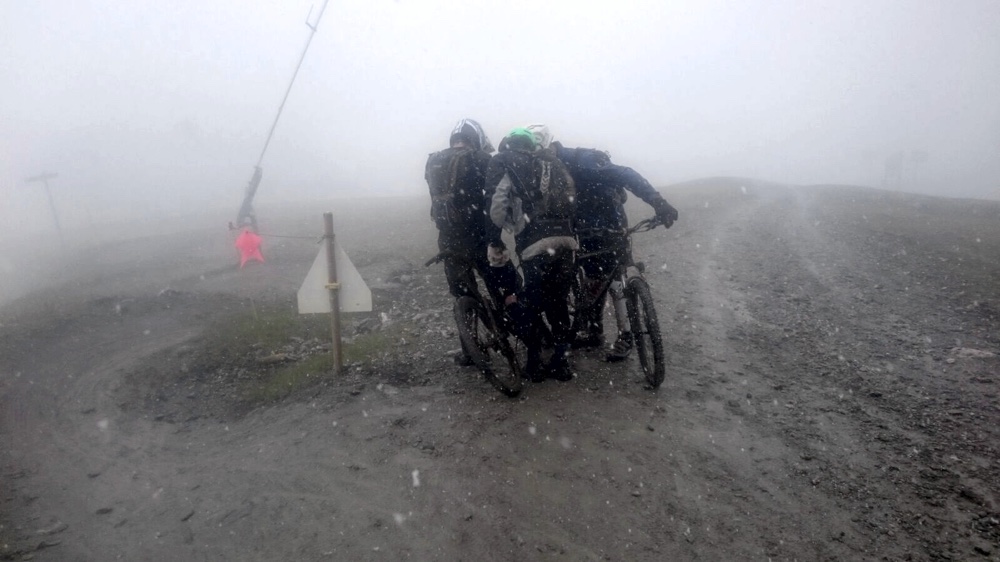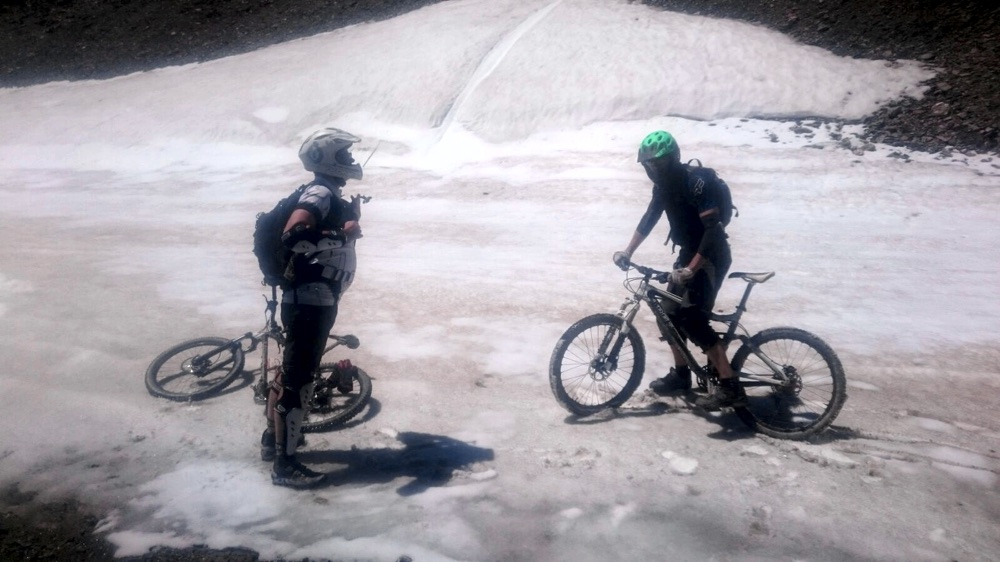 The bike trails in Tignes are fantastic. We arrived at the start of the summer season, before the schools have broken up; as a result, queues for the chair lifts are very short and you can maximise your riding time. The downside of arriving early in the season is the weather; during the first afternoon the lift took us up into a blizzard and the highest trails were closed due to snow fall! 
Thankfully the weather can change very fast and day two was bright and sunny.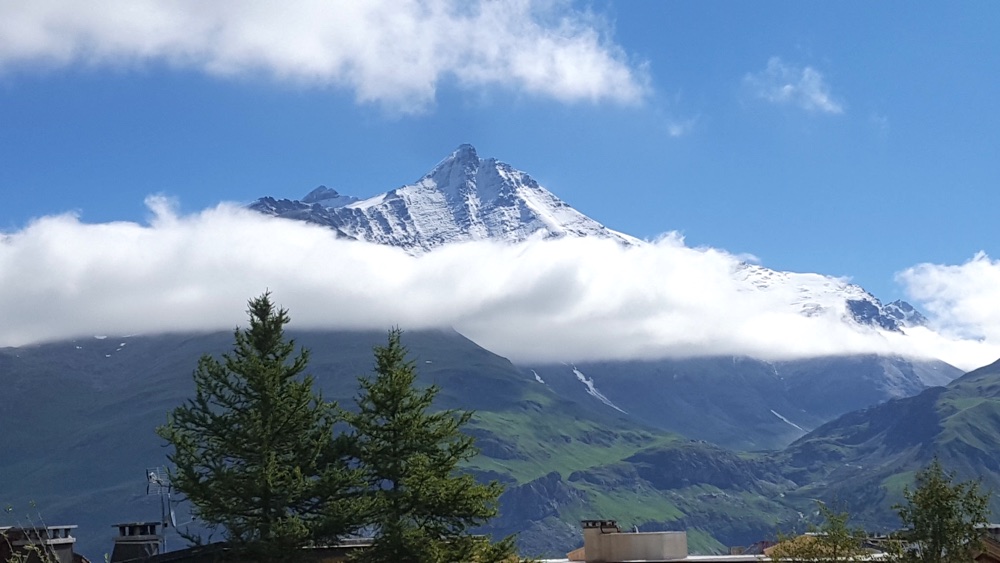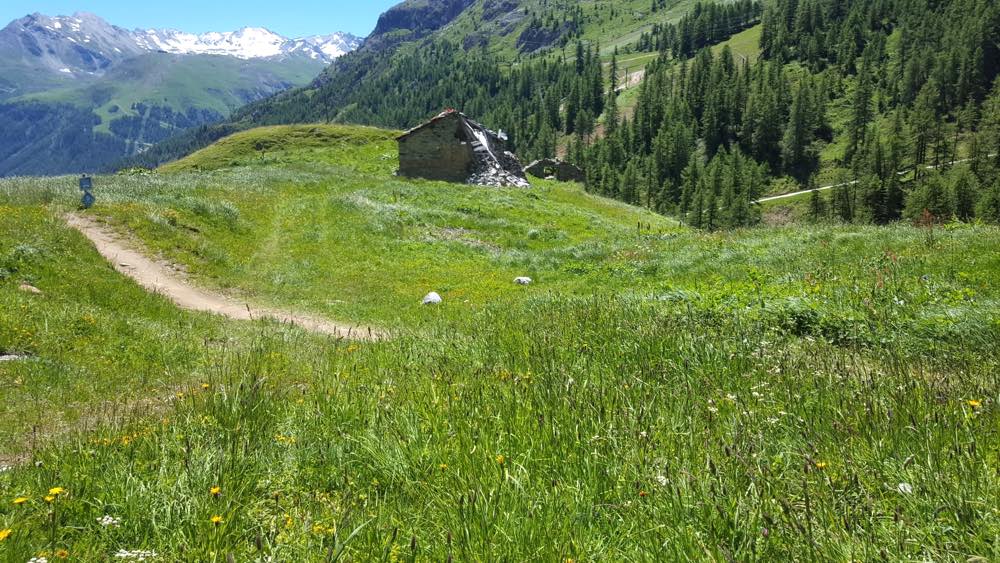 Lunch
By early afternoon we were hungry and thirsty as we rolled back into town after a morning hammering the trails in the mountains like the pro-riders that we all dream we are… My original plan was to dip into a local grocery store, get some bread, fruit, nuts and knock up a quick lunch. In reality, the group invariably gravitated toward a bar where the prospect of a cold beer beneath a sun shade was overwhelmingly attractive.
I guess this is the part of where it could get difficult as the vegan guy in the group. I don't want to go and sit under a tree by myself eating an avocado… but I don't want my eating choices to get in the way of everyone else. As it turned out, even the least promising looking menus offered something with some minor adaptions. There's always a leafy salad and chips.  Adapt a panini by asking for no cheese. My French is very limited but 'sans fromage' (without cheese) is a useful place to start. And it's probably worth remembering that you're not the first vegan in France; everyone I spoke to was really helpful. You might not end up with the most healthy plant-based lunch but you're not going to starve; and I think that's OK for a few days.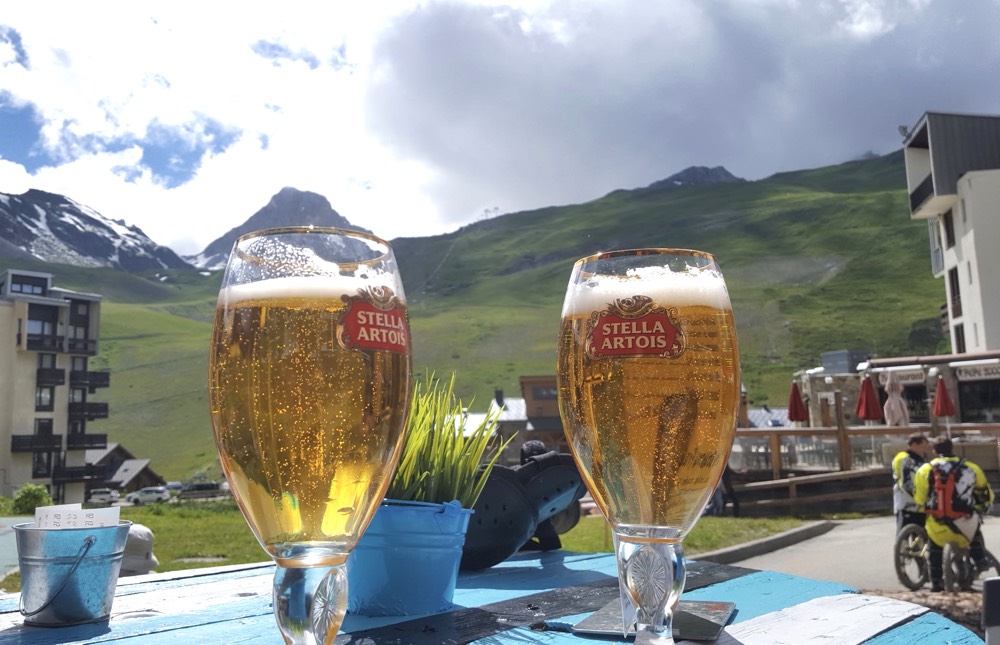 Dinner
Evening meals were easy; we cooked up big bowls of pasta and rice that we'd brought with us and added heaps of stir-fried vegetables from the market down the road. Actually, that didn't happen but it was the original plan! Instead, after the reality of a day in the mountains followed by an early evening beer, cleaning and repairing bikes, rinsing out kit and taking a shower, no one really fancied cooking; even if cooking was essentially just boiling up some water. So once again we went out to get something to eat. And once again it was easy enough to find something to eat; even vegan burgers! Pizza and pasta restaurants are a good bet; it's easy enough to get a pizza without cheese on if you ask for it.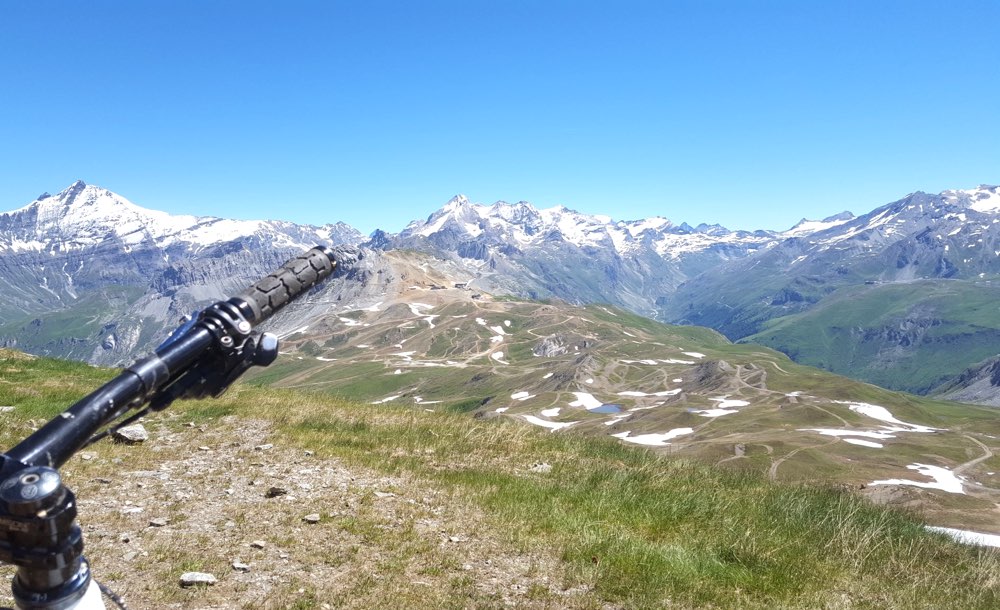 Conclusions
The mountain biking was superb and left us high on adrenaline and endorphins at the end of every day. The scenery is spectacular; I love the mountain environment. Tignes, as a resort, is a great place for a mountain bike trip; there are plenty of trails, the lifts are open (and free!) and there's lots of really good value accommodation available.
Maintaining a plant-based diet isn't hard if you do a little preparation. It was great to have some food packed for the journey and to bring a couple of tins as a fall-back option. Eating-out is harder, in the sense that you're not necessarily going to have many choices available. Be prepared to ask for some simple modifications to a dish; just removing cheese opens up your options.
I should acknowledge the support of my friends too, all of whom have subsequently bought a copy of Sharon's excellent book, and have hopefully seen first hand that eating plants is a healthy way to live.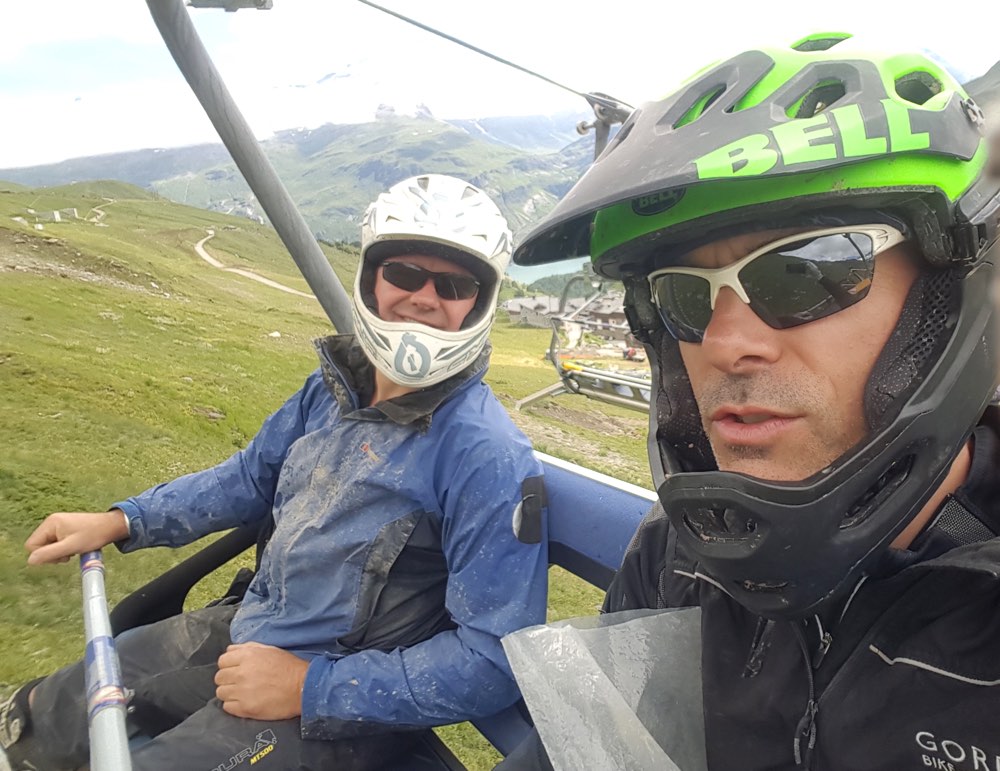 Enjoy the summer, wherever you may be travelling,
Mark