In this month's Vegan Life magazine, one recipe that instantly caught my eye was Niomi Smart's Banana Mocha Ice Cream Cups.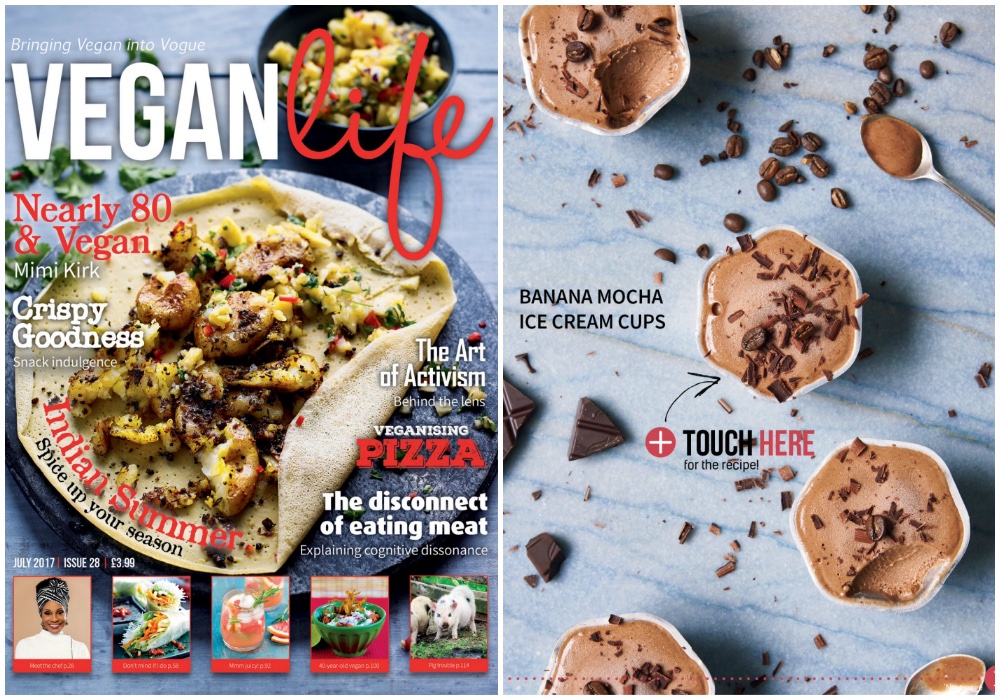 I love chocolate banana ice cream! It's so simple and cheap to make (costing literally a few pence per serving), yet it feels like a real treat. It also happens to be packed full of healthy ingredients, including an array of minerals and antioxidant goodness.
Healthy, decadent, cheap and quick. No surprises why this is one of my favourite desserts to make!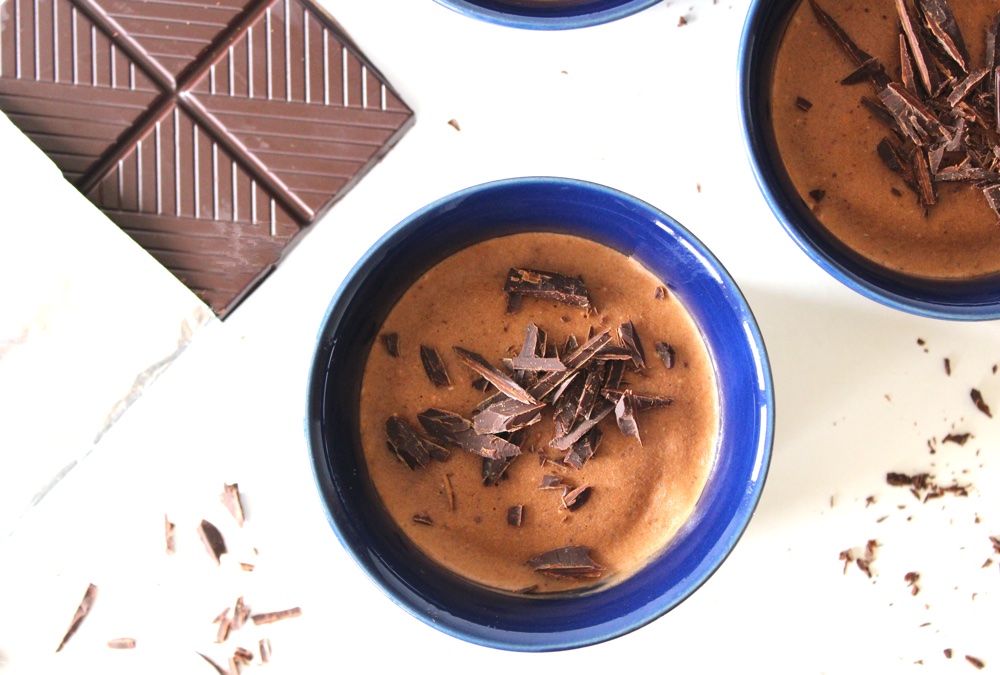 I've been making banana ice cream for a few years now, and have learnt a few tricks along the way to make the process even quicker and easier. For example, I used to slice the bananas and arrange them in single layers in freezer bags prior to freezing, however I've since discovered that bananas can be sliced from frozen using a sharp knife. These days, I simply pop whole bananas in the freezer stacked in plastic containers with a layer of parchment paper in between to stop them sticking together.
For ice cream desserts, I've also learnt to reduce the amount of milk that I add to the bananas so that it can be served instantly as soft-serve. When I'm in the mood for banana ice cream, the last thing I want to do is wait two hours for it to freeze.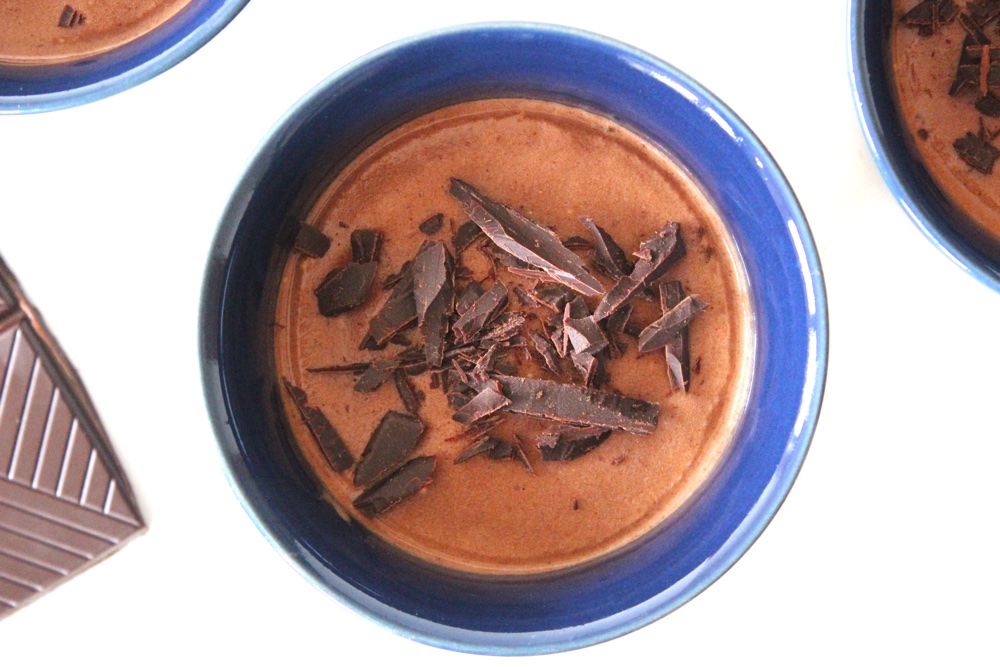 For a more 'grown up' banana ice cream dessert, I love the idea of adding some strong coffee into the blend to create a mocha flavour (as per Niomi's recipe in Vegan Life). You could even serve it in an Espresso Cup to make it look extra fancy. If serving to children, however, it's probably best to forego the coffee otherwise they may be up all night buzzing from the caffeine!
One of my personal favourite (kid-friendly) additions to banana ice cream is nut butters. Almond, hazelnut and peanut butters all add a gorgeous flavour as well as lending some extra creaminess to the blend.
[print_this]
These chocolate banana ice cream cups are simple and cheap to make, yet they look and taste decadent. They contain lots of healthy goodness, including an array of minerals and antioxidants. Both kid- and adult-approved, these cups make a great dessert.
Serves 4
Hands-on time: 5 minutes    Ready in: 5 minutes
Ingredients
3-4 very ripe frozen bananas
60ml / ¼ cup non-dairy milk
26g / 4 TBSP cacao or cocoa powder
1 tsp vanilla extract
1 TBSP maple syrup
2-3 TBSP almond, hazelnut or peanut butter, optional
Suggested toppings:
dark chocolate, thinly sliced into shards
Method
1. Slice the frozen bananas into coins.
2. Whiz the bananas in a food processor to break them up. Add the remaining ingredients and blend for a couple of minutes until smooth. Stop now and then to scrape down the sides and re-distribute the bananas around the bowl. For a while it may look like it's not going to blend smooth but be patient, it will! Taste test and add a touch more sweetener, if desired.
3. Divide between four ramekins. Decorate with dark chocolate. Serve immediately as soft serve, or place in the freezer to firm up. If left for two hours or more, the ice cream will freeze solid so leave at room temperature for 15 minutes before serving to allow it time to soften.
[/print_this]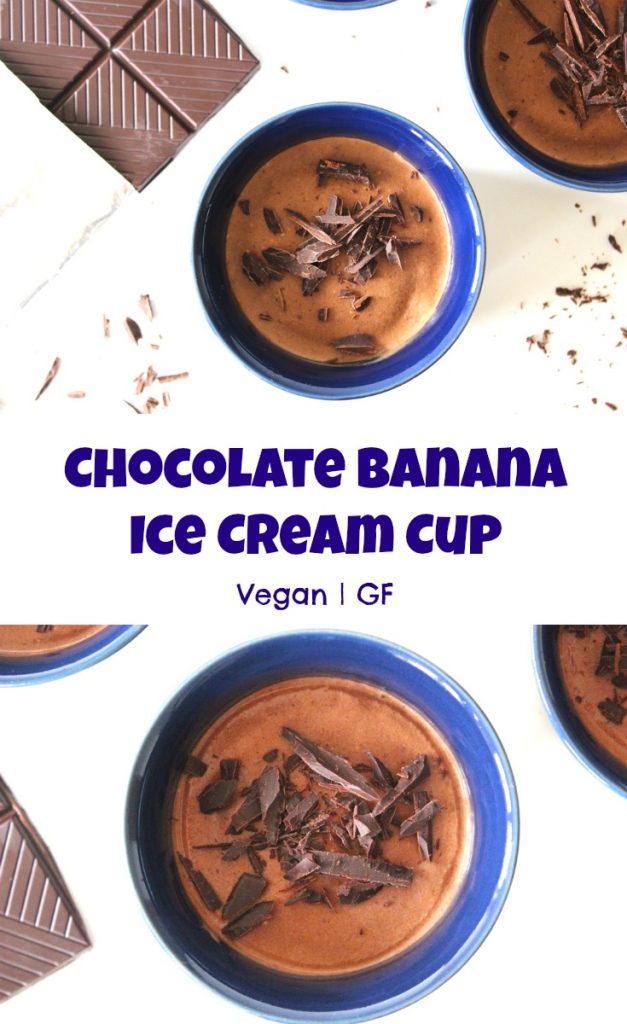 As well as banana ice cream for dessert, I love eating it for breakfast too! You'll find one of my all-time favourite ice cream breakfast bowls – banana, mango, cinnamon and chia – on page 33 of the Bit of the Good Stuff cookbook. I've made this bowl so many times already this summer! I find it's the perfect cool-down breakfast after a hot morning run.
Another favourite is this Chocolate Banana Ice Cream Bowl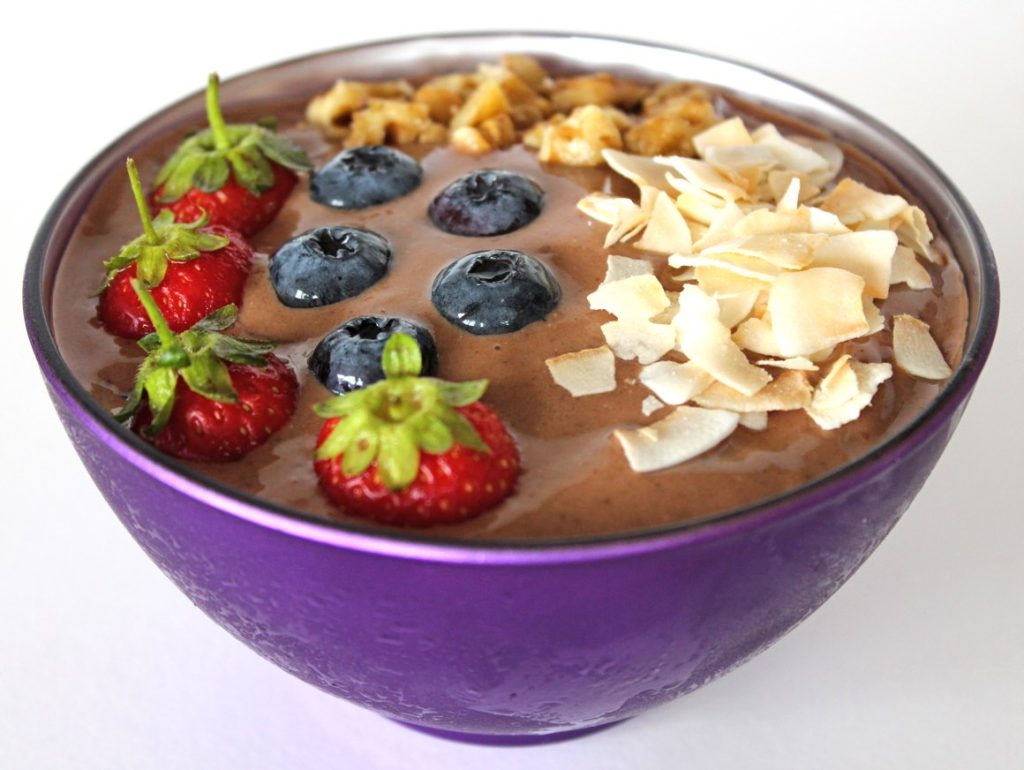 Do you make banana ice cream? If so, I'd love to hear about your favourite add-ins and flavours. If you've posted any recipes, be sure to share the link below.
Next on my list to try are raspberry and toffee/caramel 😋