For me, soups are one of the best cold-weather comfort foods. They're warming, satisfying and leave me feeling amazing on the inside. They're also simple to prepare. Only basic chopping skills are required to create a delicious soup!
The recipe I'm sharing today is a recent creation which has quickly become a family favourite. With its golden hues, warming spices and creamy texture, this soup is just perfect for the Autumn/Winter seasons. It's very filling, so can easily be served as a main meal. It's super cheap too. The ingredients cost a total of £3.06, which equates to just 77p per portion. Bargain!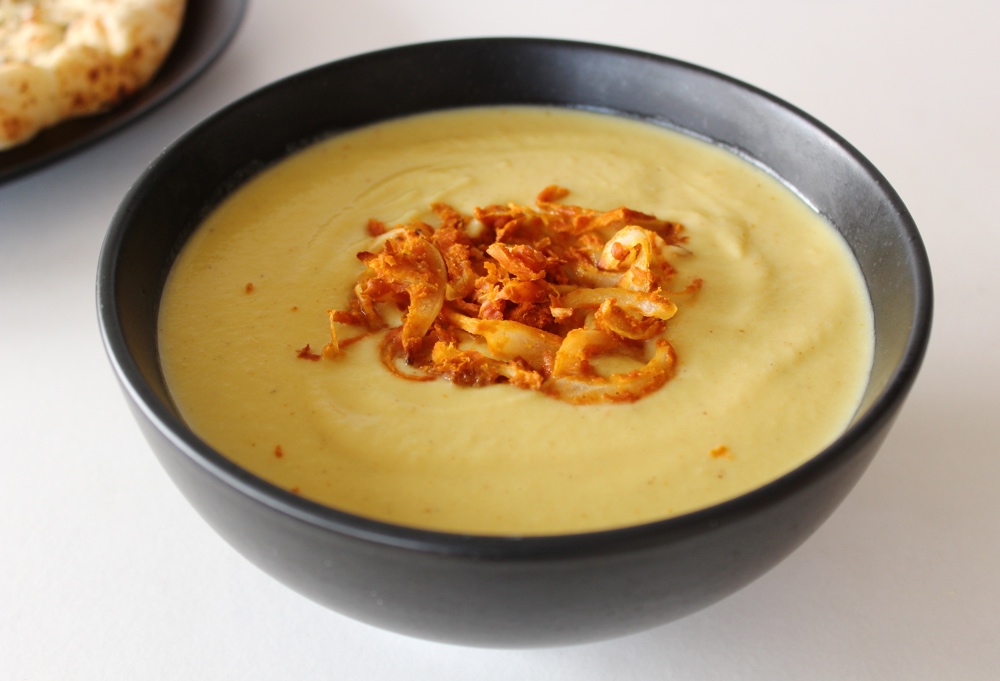 The inspiration for this soup was a recipe featured in the October issue of the Vegan Life magazine. I didn't have a number of the ingredients needed for the original recipe, so save buying new products, I simply adapted the recipe and used what I had in the pantry. The resulting soup was a big hit with the family. In fact, we enjoyed it so much that I've already made a second batch. We're loving it as a mid-week evening meal, but it would also be perfect for serving as a weekend lunch.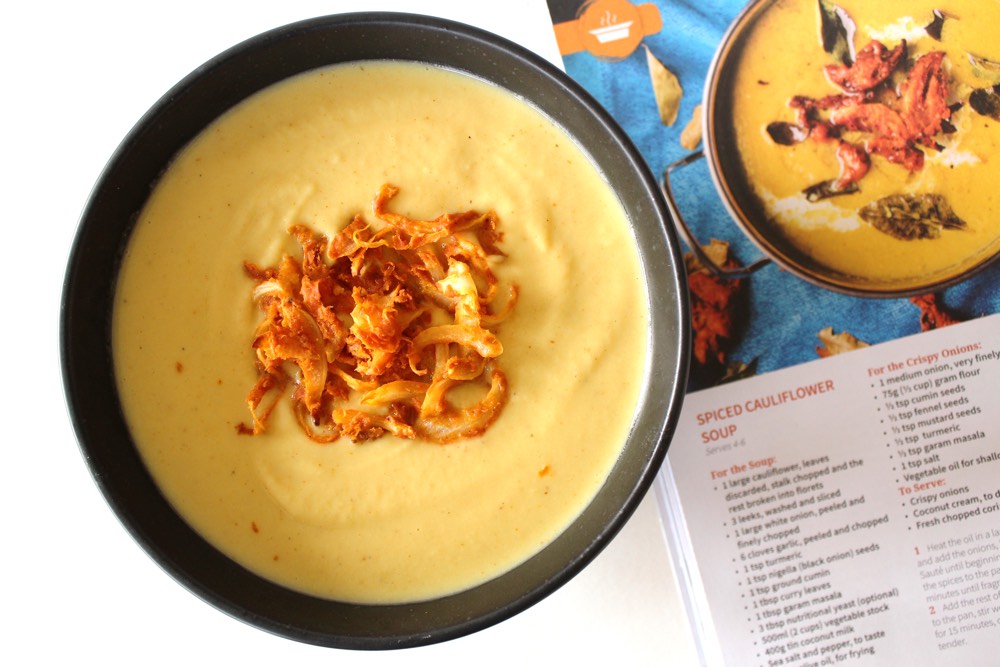 The main ingredient in this soup is cauliflower. Not only does this give the soup a lovely, silky smooth texture, but it also provides an array of nutrients. Cauliflower is especially rich in vitamin C. Just one cup of cooked cauliflower provides 46% of the vitamin C RDA. Along with other cruciferous vegetables like broccoli, Brussel sprouts, spinach and watercress – cauliflower is a powerful detoxifier. It is rich in antioxidant phytonutrients which boost immunity and reduce the risk of diseases, including common cancers (according to the research I've read). If you'd like to find out more, there's an interesting section on Cruciferous Disease Fighters, like cauliflowers, in Joel Furhman's book Super Immunity pp62-69.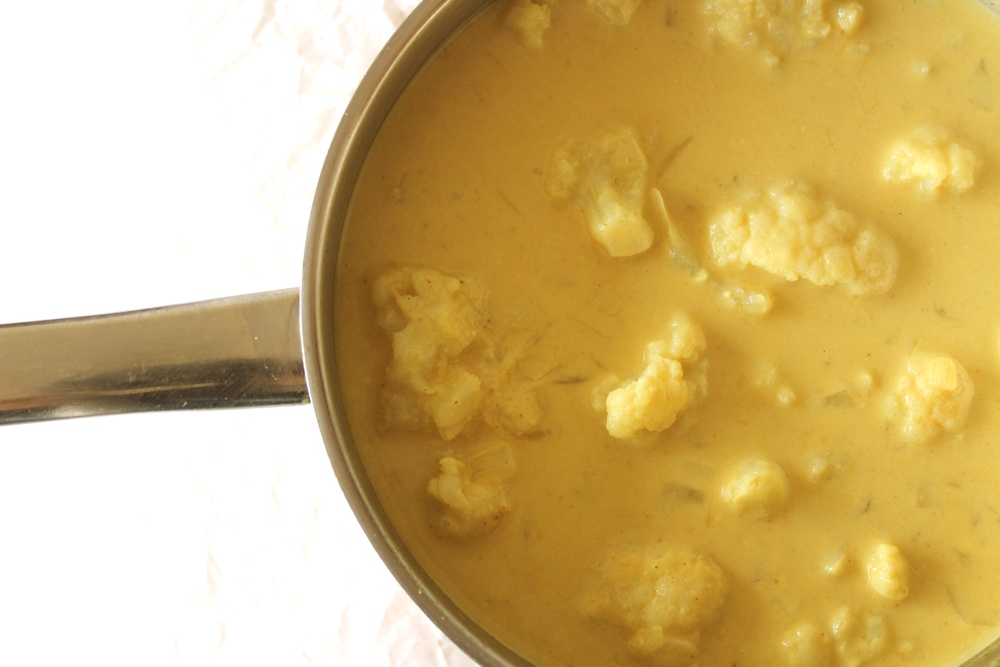 For the soup topping, I used a simplified version of my baked onion bhaji recipe. It doesn't take long to prepare and is definitely worth the effort as it adds another tasty dimension of flavour and texture to the dish. For extra crunch and nutrients, you can also sprinkle on some toasted pumpkin seeds, sesame seeds or help.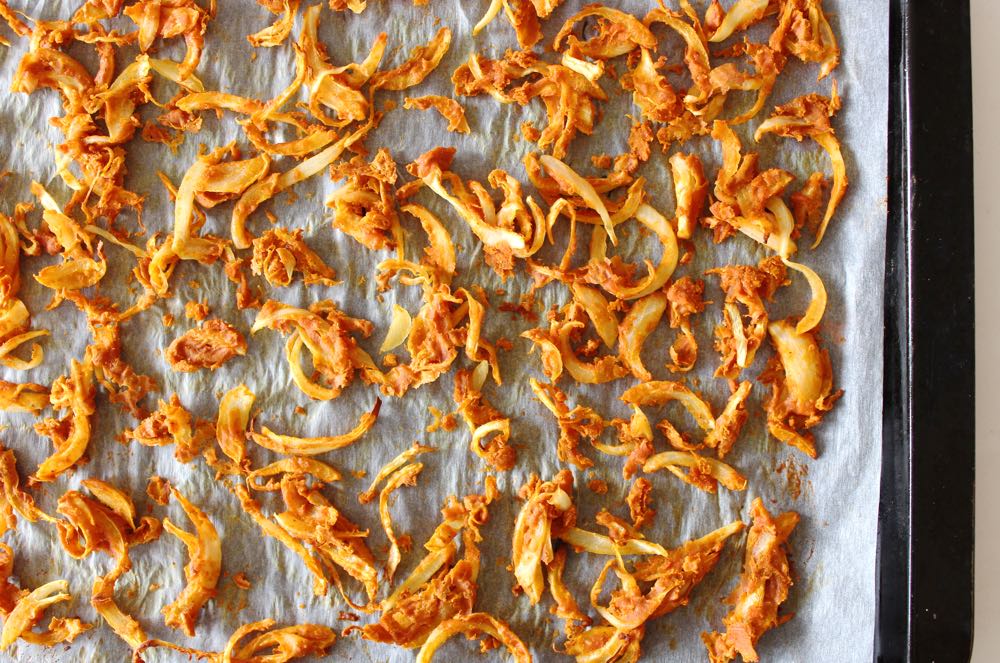 [print_this]
This soup is a delicious cold-weather comfort food. It's warming, filling and nutrient-rich. My family likes to serve it as a weeknight meal, alongside some vegan garlic & coriander naan. Any leftovers are heated through for lunches the following day. For lunch on the go, the soup can be stored in a wide-necked flask.
Serves: 4 (as a main)
Hands on time: 20 minutes    Ready in: 35 minutes
Ingredients
1 TBSP olive oil
2 medium onions, finely chopped
3-4 garlic cloves, minced
1 – 2 TBSP curry paste (use mild curry paste for children. I used Patak's Korma Curry Paste)
840g / 30 oz frozen cauliflower florets (or 1 large head of fresh cauliflower, chopped)
500ml / 2 cups vegetable stock (broth)
400g / 14 oz can coconut milk
salt and freshly ground black pepper, to taste
Onion bhaji sprinkles
1 medium onion, very thinly sliced
4 TBSP gram flour (aka besan/chickpea flour)
1 tsp curry paste (use mild for children)
¼ tsp salt
2 TBSP water
Additional topping ideas
pumpkin seeds, pan fried in a little oil
hemp seeds
sesame seeds
Suggested accompaniments
Indian naan (we love The Clay Oven Bakery Garlic & Coriander Naan, which we buy from Morrisons).
Method
Preheat the oven to 180C (160C fan) / 350F. Line a large baking sheet with non-stick baking paper.  Lightly coat the baking paper in oil using a pastry brush or spray.
Gently heat 1 TBSP oil in a large saucepan. Add the onion and garlic, and cook on low heat for 4 minutes or until the onion starts to soften. Add the curry paste and stir through. Add the cauliflower, stock and coconut milk. Bring to the boil then reduce the heat, cover with a lid and simmer for 15 minutes or until the cauliflower is soft. Leave to cool slightly, then transfer to a jug blender and whizz until silky smooth (you may need to do this in two batches depending on the size of your blender). Return the soup to the pan and gently heat through. Season with salt and pepper. Remove any children's portions then add some extra curry paste, if desired.
While the soup is simmering, prepare the bhaji topping. Add the gram flour, curry paste, salt and water to a bowl and stir until it forms a smooth paste. Add the onion slices and stir until thoroughly coated in the paste. Spread the onion slices in a single layer on the prepared baking sheet. Bake for 10 minutes. Using a slotted turner, loosen the onion from the baking paper and give it a stir. Return it to the oven and bake for another 5 minutes, or until the onion feels dry to the touch.
Ladle the soup into warm bowls. Sprinkle on the toppings and serve. Any leftovers will keep for up to five days in the fridge. It is also freezable.
[/print_this]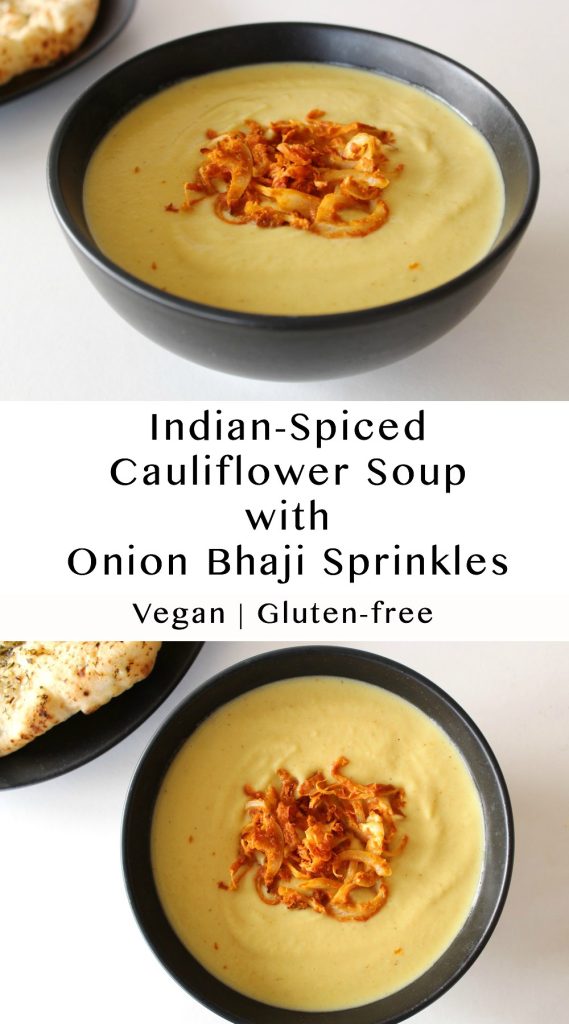 Happy Autumn everyone!

SaveSave
SaveSave
SaveSave
SaveSave
SaveSave
SaveSave
SaveSaveSaveSave
SaveSave
SaveSave
SaveSave
SaveSave