If you're looking for a special occasion dessert that is super easy to make but has the 'wow' factor, then today's recipe is for you! It's a rich chocolate torte, consisting of a silky smooth ganache set on top of a biscuit base. There is no baking involved and it only takes around 20 minutes to prepare. The hardest part is waiting for it to set before you can dive in!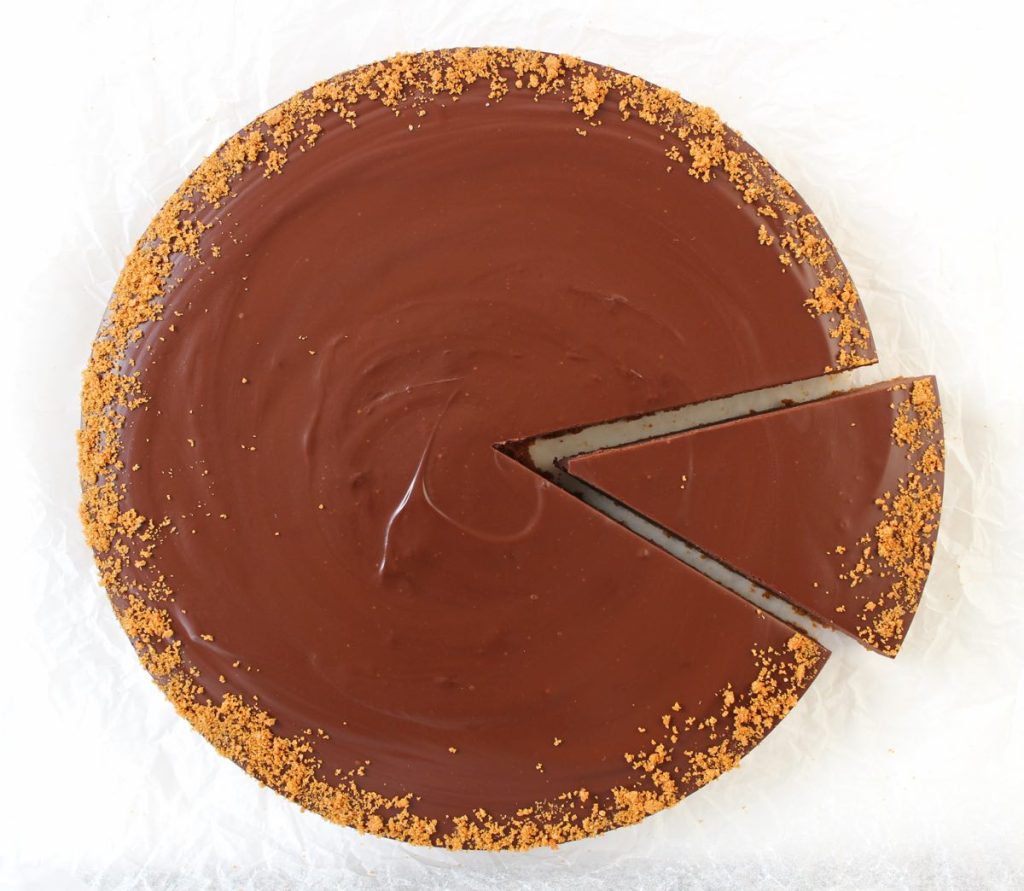 The inspiration for today's recipe was a Dark Chocolate & Coconut Tart that I spotted in this month's Vegan Life magazine. It looked so decadent and inviting! As I love playing around with recipes and creating my own take on them, I decided to switch the pastry for a biscuit base (to make it a 'no bake' recipe) and I experimented with different ingredients for the chocolate filling. I'm not personally a big fan of the chocolate coconut flavour, so I opted to use soya cream instead of coconut milk, and it worked really well!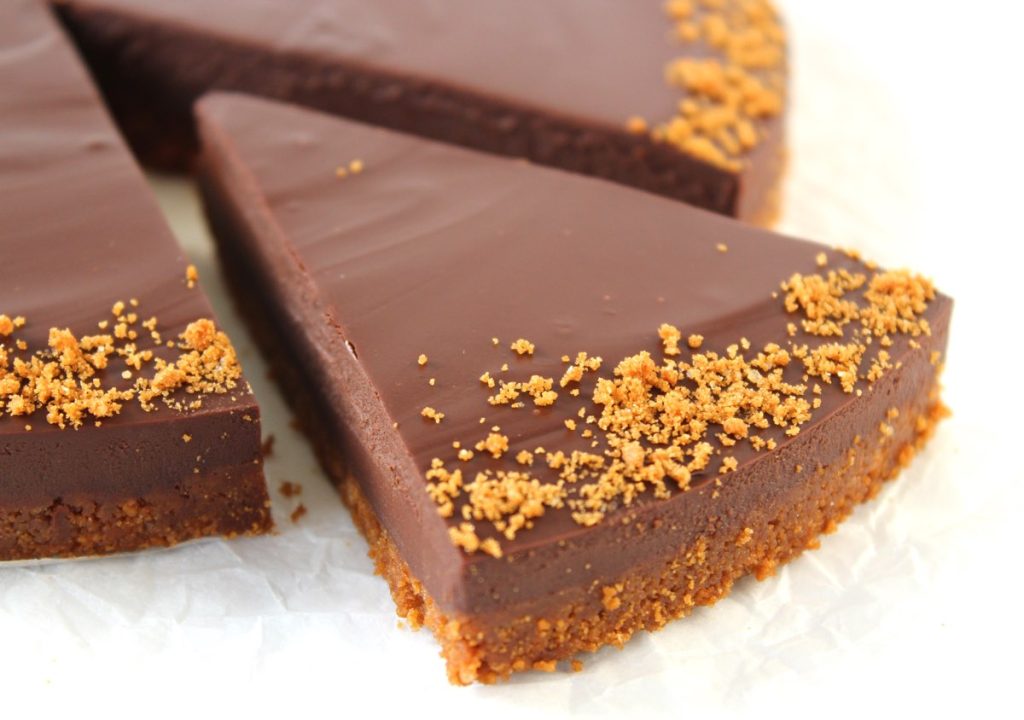 For the biscuit base (aka cookies for our overseas friends!) I chose to use Lotus Biscoff biscuits. The sweet caramel flavour of these biscuits worked beautifully with the rich dark chocolate ganache. I added a little sprinkle of Biscoff crumbs on top to finish off the torte and it looked so pretty… like little flecks of gold!
If you're gluten-free, you can easily switch the Lotus biscuits for a gluten-free biscuit/cookie instead. One of my favourites are the Nairn's Gluten Free Biscuit Breaks and I think their Stem Ginger Biscuit could work well in this recipe. I'll definitely have to give it a try.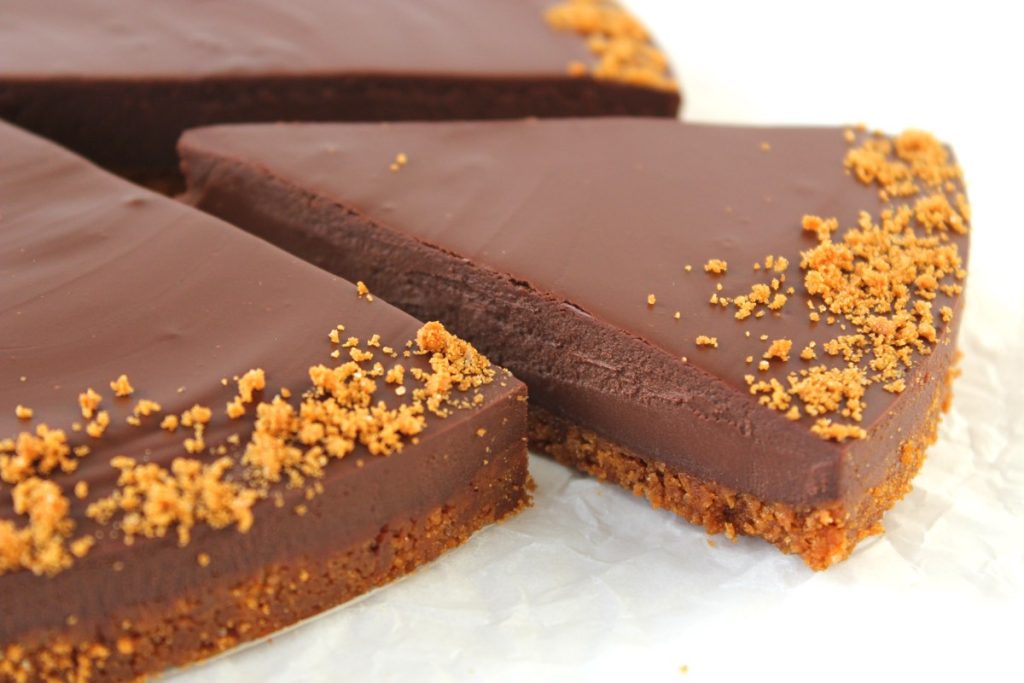 I made this torte to share with friends and family over the festive holidays and so far, it's going down a treat. Everyone that's tried it has given it a big thumbs up!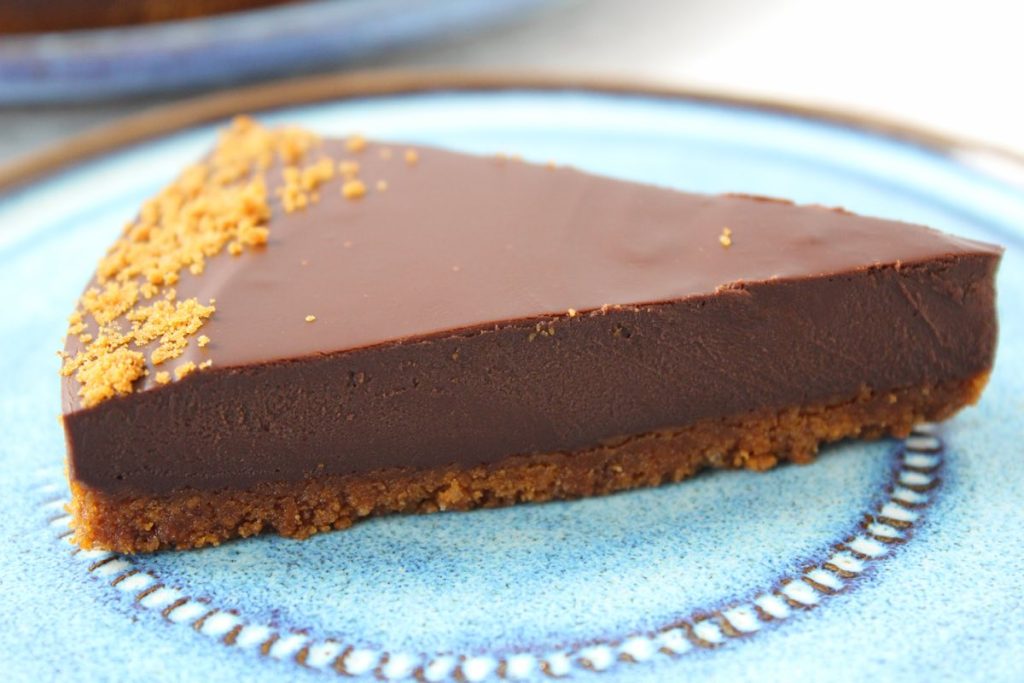 It is pretty rich and filling, so be sure to slice modestly. (The recipe below will easily serve twelve). I love to serve the torte with some fruit compote on the side. The fruit helps to cut through the richness of the chocolate. Cherry or raspberry compote are my favourites as I find their flavours pair really well with chocolate. Adding the compote also helps to 'dress' the serving plate (though I really need to work on my plating skills! 😂)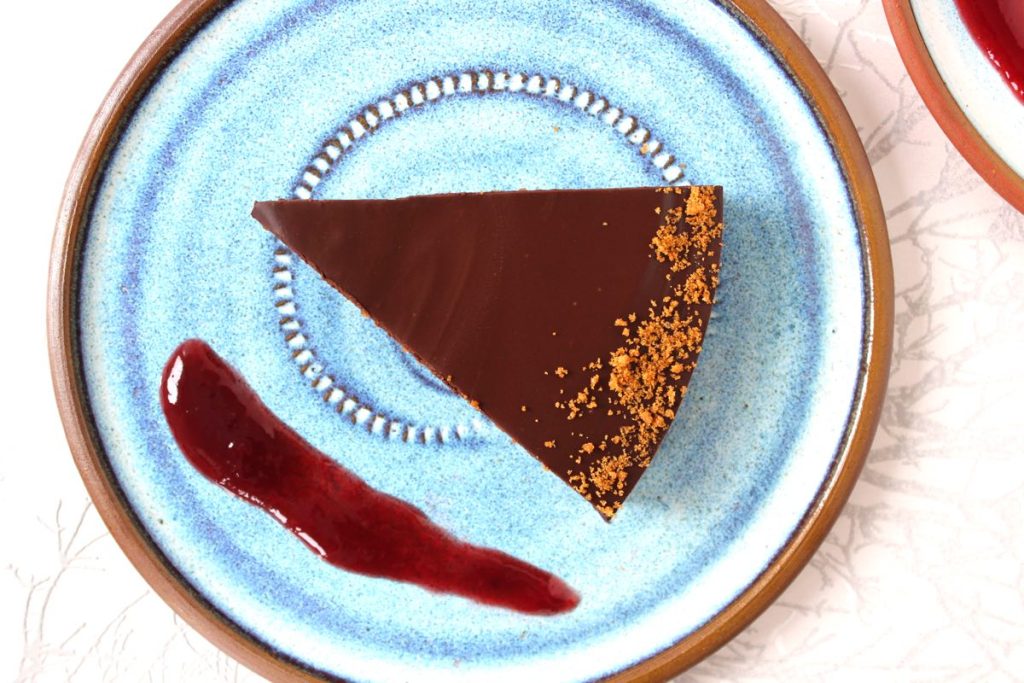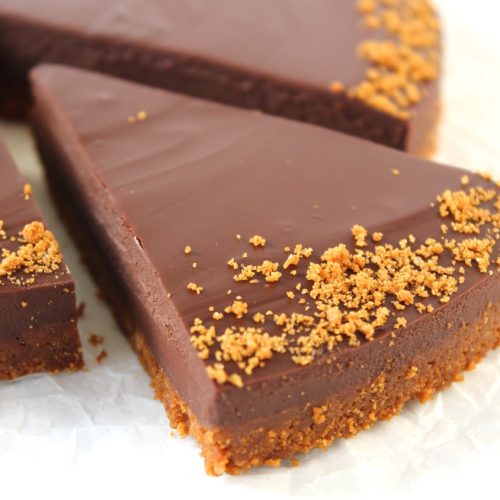 Easy Vegan Chocolate Torte [No Bake]
This vegan chocolate torte is perfect for special occasions. It is really easy to make but looks impressive! It is rich, so a little goes a long way. I love to serve it with some compote on the side as the fruit helps cut through the richness of the chocolate. Cherry and raspberry are my favourites.
Ingredients
Base
175

g

Lotus Biscoff biscuits

(or other vegan biscuits/cookies like digestives or ginger nuts. Use GF biscuits/cookies if needed)

75

g

/ 5 TBSP vegetable spread/vegan butter
Filling
300

g

/ 10½ oz dairy-free dark chocolate

chopped into small pieces

250

ml

/ 9 oz soya cream

(or other plant-based cream)

1

tsp

vanilla extract

(or use some orange extract if you'd like to make a chocolate orange torte)
Suggested Decorations
Lotus Biscoff biscuit crumbs
Suggested Accompaniments
cherry or raspberry compote
Instructions
Line the bottom of a loose-bottomed 20 cm / 8 inch flan tin with non-stick baking paper.

Whizz the biscuits in a food processor until they resemble sand (alternatively place them in a sealed bag and bash with a rolling pin). Transfer to a mixing bowl.

Gently melt the vegetable spread/vegan butter in a saucepan. Pour into the mixing bowl with the biscuit crumbs and stir through until thoroughly combined. Transfer to the tin and press down firmly using the back of a metal spoon. Place in the fridge while you prepare the chocolate.

Heat the cream in a medium size saucepan. When it starts to boil, remove from the heat. Stir in the vanilla extract and the chocolate. Continue stirring until the chocolate has fully melted. Taste test and add a touch more extract or some liquid sweetener, if needed.

Pour the chocolate filling over the biscuit base and tap the tin on the worktop to remove any air bubbles. Refrigerate until solid (about 1½ hours).

I like to decorate the torte with a sprinkling of Lotus biscuit crumbs round the edge and some cherry or raspberry compote on the side.

The torte will keep for 5 days in the fridge. It is also freezes well.
Pin for later ⬇️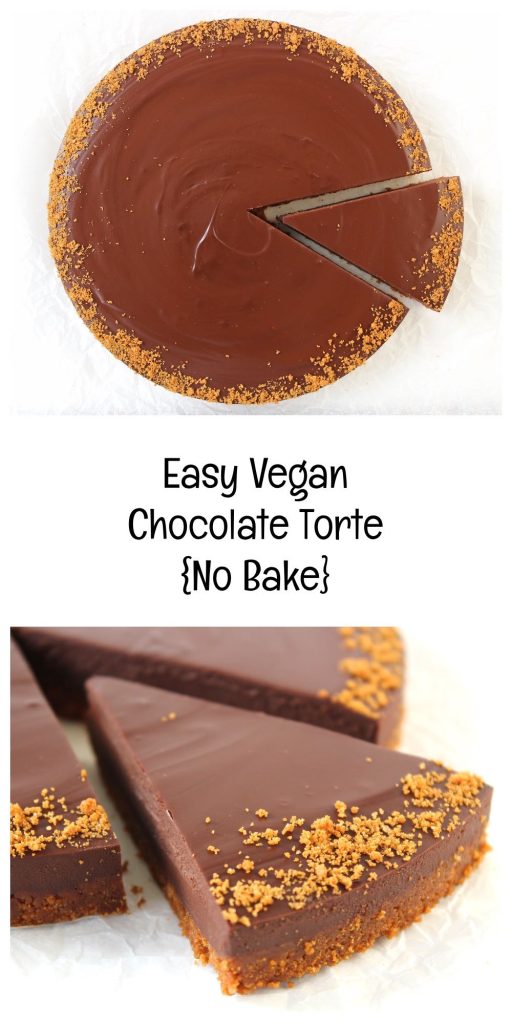 If you make this Easy Vegan Chocolate Torte (or any other recipes on our blog), I'd love to hear your feedback and any suggestions for adaptations! Tag your photos with #bitofthegoodstuff on social media and they will find their way to me. You can also connect with me on my social media channels here:
Instagram, Twitter, Facebook, Pinterest.
Big thank you to Vegan Life for inspiring today's recipe!
With love,