Happy New Year everyone! So here we are, in the year 2020. Wow! When I was little, 2020 seemed so futuristic. I imagined we would all be wearing shiny silver suits and flying around on hover boards 😂 Well, the reality hasn't matched up with my predictions, but life on planet Earth sure feels a bit crazy right now.
And when things start to feel a bit too crazy in the big wide world, I find it helpful to focus on the things that I can personally do (however small) to help bring about positive change. This month, I am supporting people that are giving Veganuary a try, whether they have pledged to go full vegan for the month or are dipping their toes into the world of plant-based eating. It feels an absolute honour to be part of a person's journey as they start to make the transition towards this more planet, animal and human health-friendly lifestyle 💚
Over 300,000 people have already signed up to take part in Veganuary, which is incredible! And that includes one of my personal heroes… Brian May! I've been following his vegan journey on Instagram and it's wonderful to hear how much he's enjoying it.
I especially love this passage that Brian wrote on Day 13 of #Veganuary…
One person going Vegan for a month is a very small thing. But from small seeds big peaceful Oak trees grow. Our grandchildren will need them.

Brian May
All of us really can make a difference! And if you've been considering joining in Veganuary but feel you may have missed the boat, it's not too late! You can still sign the pledge on the Veganuary website. And if you'd like some personalised plant-based nutrition coaching to help you along the way, don't hesitate to get in touch. Mark and I would be delighted to help you!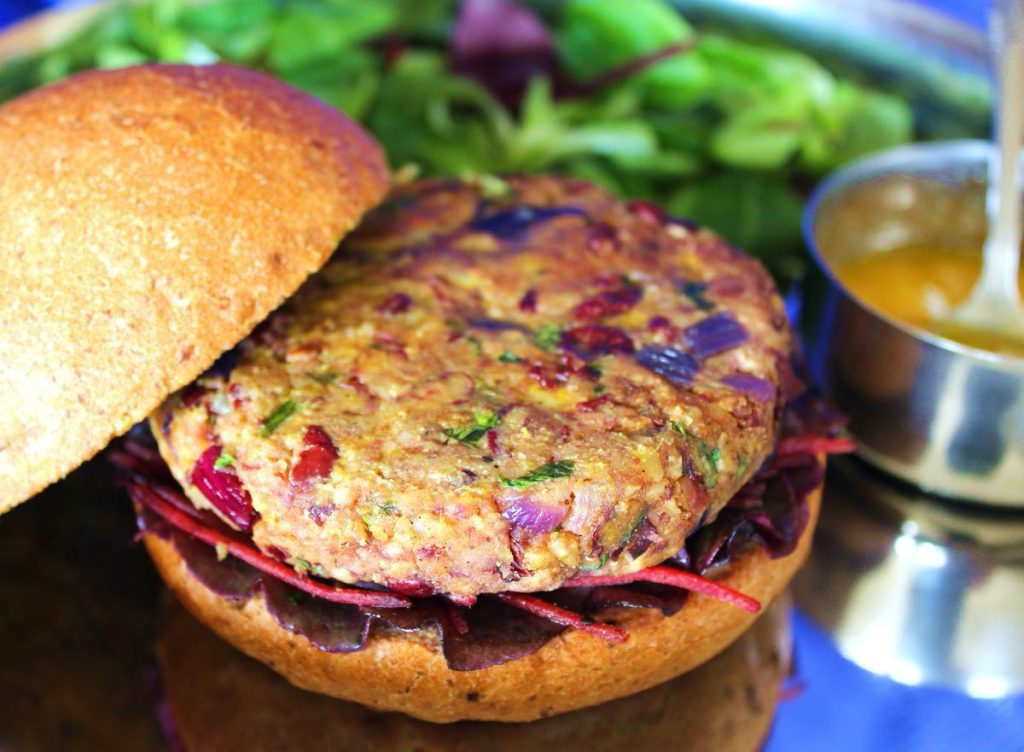 So after that long introduction, let's get onto a recipe! I thought I would kick start blogging in 2020 by sharing one of my family's all-time favourite burger recipes which features in the Bit of the Good Stuff Cookbook – the Gourmet Goa Burger (as we fancily named them as 'Indian-Spiced Burgers' sounded too boring 😂). This recipe has proved really popular with our lovely readers too! In fact, one reader asked me if I would sign this page of the book for her mum as it was her favourite burger recipe!!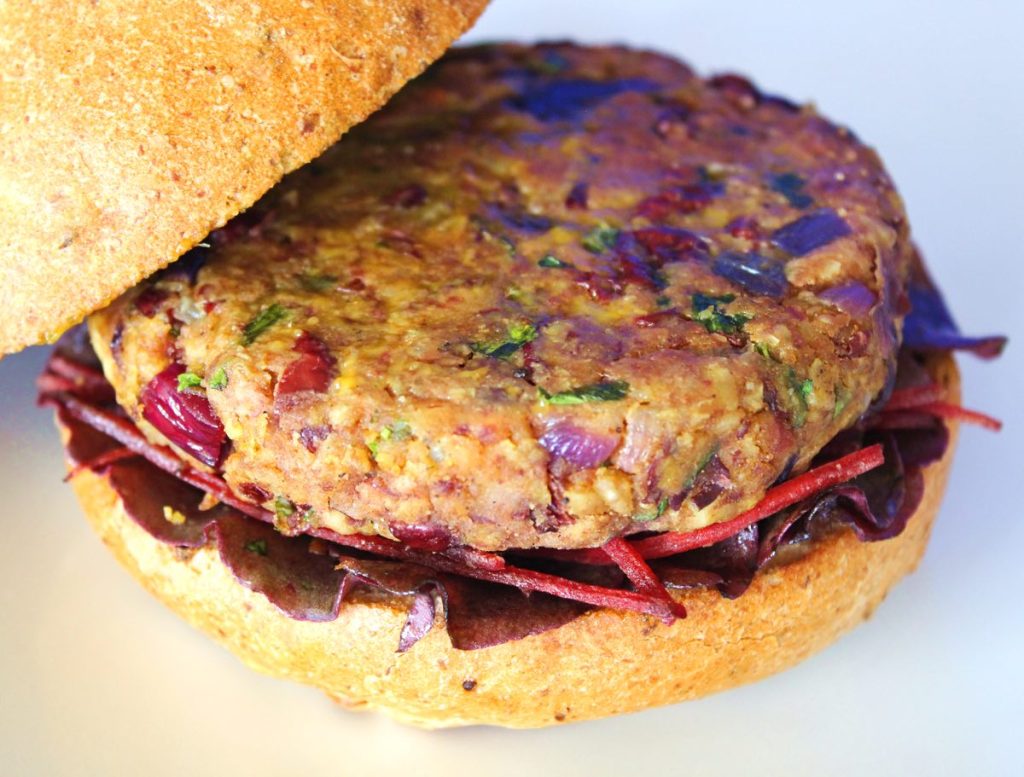 These burgers are flavoured with warming Indian spices and have a beautiful texture, thanks to the addition of cashews and oats. Some home-made burgers can be a bit soft and mushy, but not these ones!
And what I especially love about these burgers is that they are so quick and easy to make! You can make them from scratch in 30 minutes or less! In the time it takes to pre-heat our oven and cook the fries for our Friday night dinner, we've made the burgers and washed up too.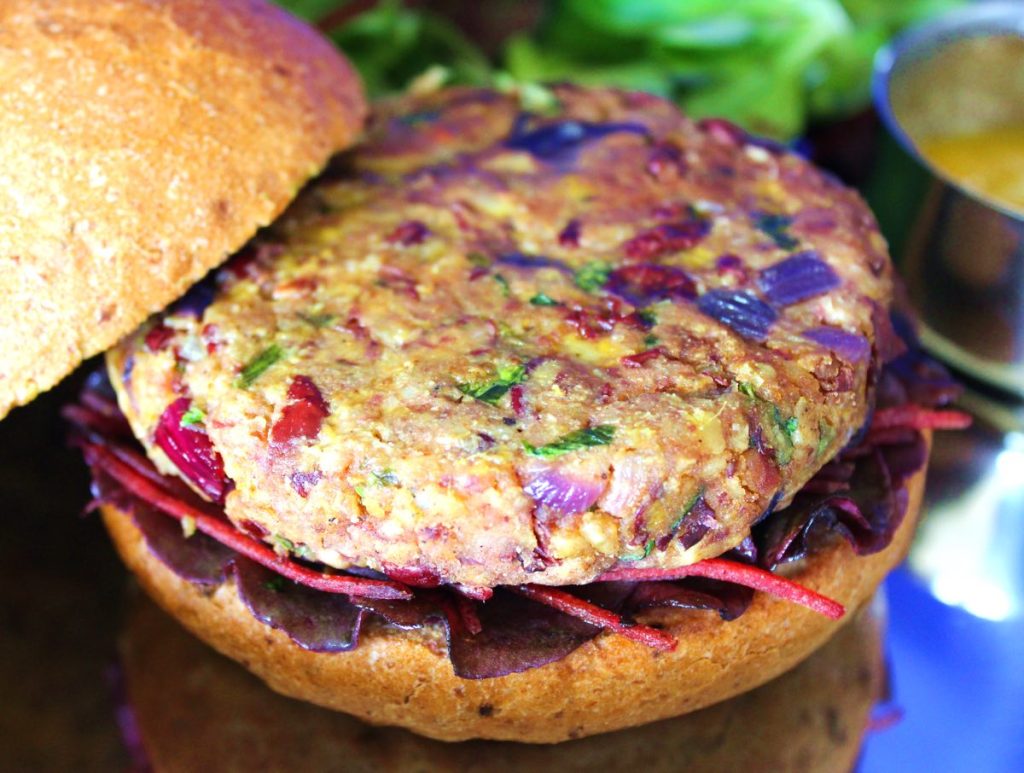 Fresh, tasty, healthy AND quick to make. Now that's my idea of the perfect fast food!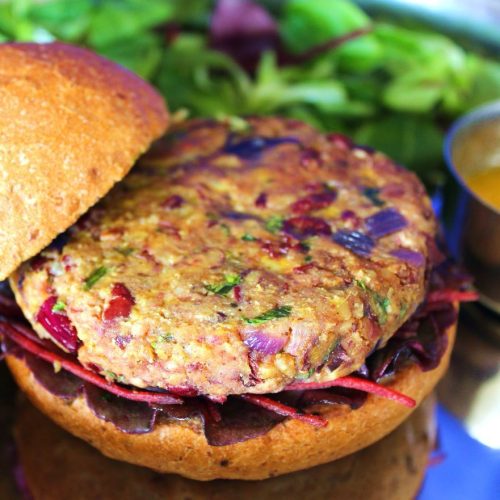 Gourmet Goa Burger
Once you've had a taste of home-made burgers, you'll never want to go back to the store-bought version. They taste so much fresher, the texture is way nicer and they're really easy to prepare. This colourful Indian-spiced burger is a firm family favourite.
Ingredients
1

TBSP

olive oil

divided

1

medium red onion (130g)

finely diced

2

tsp

minced garlic

1

TBSP

mild curry paste*

1

TBSP

natural peanut butter (or tahini)

75

g

/ ½ cup cashews

400

g

/ 14 oz can kidney beans

rinsed and thoroughly drained

50

g

/ ½ cup rolled oats (quick oats, not jumbo**)

2

TBSP

fresh coriander leaves (cilantro)

roughly chopped

½

tsp

salt
Instructions
Gently heat ½ TBSP oil in a large non-stick frying pan (skillet) and cook the onion for 4 minutes. Add the garlic and curry paste and cook for another minute. Stir in the peanut butter then remove the pan from the heat.

Roughly chop the nuts either using a knife with a curved blade or by pulsing them in a food processor.

Place the beans in a mesh sieve. Rinse under cold water then shake to remove all the water droplets.

Tip the beans into a large mixing bowl and roughly mash using a potato masher. Add the contents of the frying pan, along with the chopped nuts, oats, coriander leaves and salt. Stir until thoroughly combined. Press some mixture between your fingers. It should stick together. If if feels a little dry, add a touch more peanut butter or tahini and stir through. Taste the burger mixture and adjust the seasoning to suit.

Divide the mixture into four equal size balls. Firmly press the mixture together in your hands, then place on a chopping board and shape into patties.

Coat the bottom of the frying pan with the remaining oil and cook the burgers on medium-low heat for 6 minutes on each side, or until browned.

We love to serve these burgers in toasted buns with colourful salad leaves and a generous spoonful of sweet pickle, home-made mango chutney 􏰌􏰅􏰓􏰗􏰍􏰘or vegan mayonnaise.

Stored in an airtight container, the burgers will keep for two days in the refrigerator. They also freeze really well.
Notes
* I use Pataks Mild or Korma curry paste. If you prefer, or you can substitute curry paste with 1 teaspoon of good quality curry powder.
** I usually use Quaker Traditional Rolled Oats
Pin for later ⬇️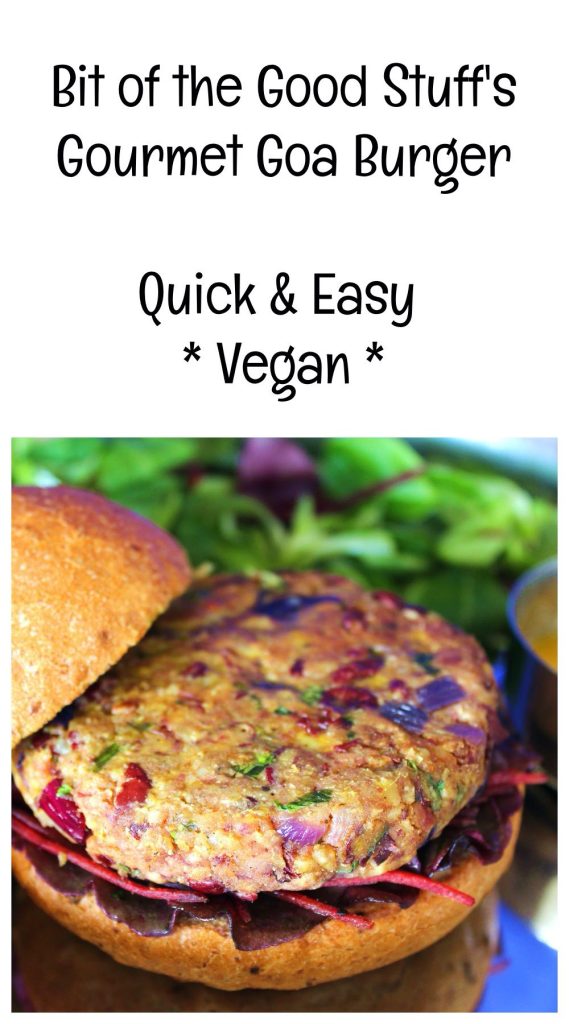 Have you taken the Veganuary pledge? If so, I'd love to hear how it's going for you!
Also, if you make these easy vegan burgers (or any other recipes on our blog), I'd love to hear your feedback and any suggestions for adaptations! Tag your photos with #bitofthegoodstuff on social media and they will find their way to me. You can also connect with me on my social media channels here:
Instagram, Twitter, Facebook, Pinterest.
With love,