In today's post, I'm sharing the recipe for a delicious plant-based alternative to halloumi. Simple to prepare, this Tofu 'Halloumi' is highly versatile. We love to add it to Greek-style salads, sandwiches, pittas, wraps and mezze platters.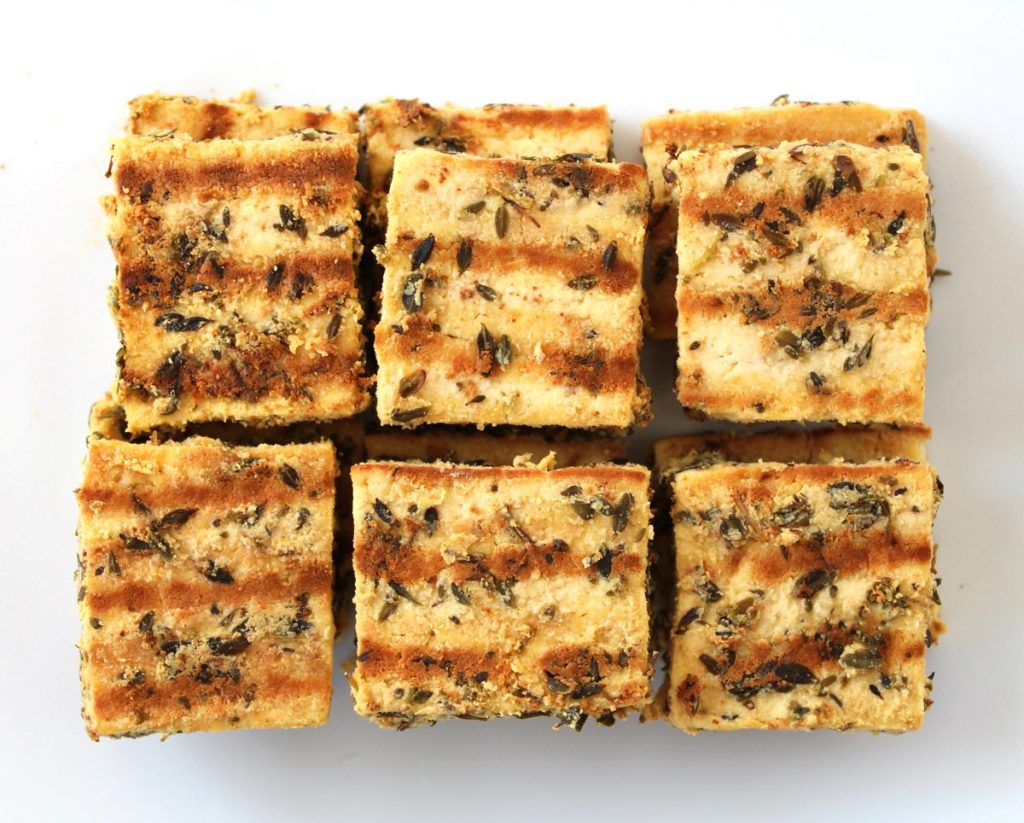 It was the Greek Vegan Deli guys that first introduced me to Tofu 'Halloumi' back in 2018 at Bristol VegFest. It was absolutely delicious!! Since then, every time I see the Greek Deli guys at a festival, I really look forward to tucking into their Tofu 'Halloumi', either stuffed into a pitta or as part of one of their incredible Greek platters.
I love Greek food and halloumi used to be one of my favourite cheeses. However, once I'd tried the tofu version, I was hooked. I loved it even more than the original!
And if I'd known just how easy it is to make, I would definitely have tried making Tofu 'Halloumi' a long time ago!
It involves three simple steps …
Pressing the tofu
Marinating it for an hour
Then grilling it for a few minutes.
Job done!
I especially love to use a griddle pan to get those beautiful grill lines.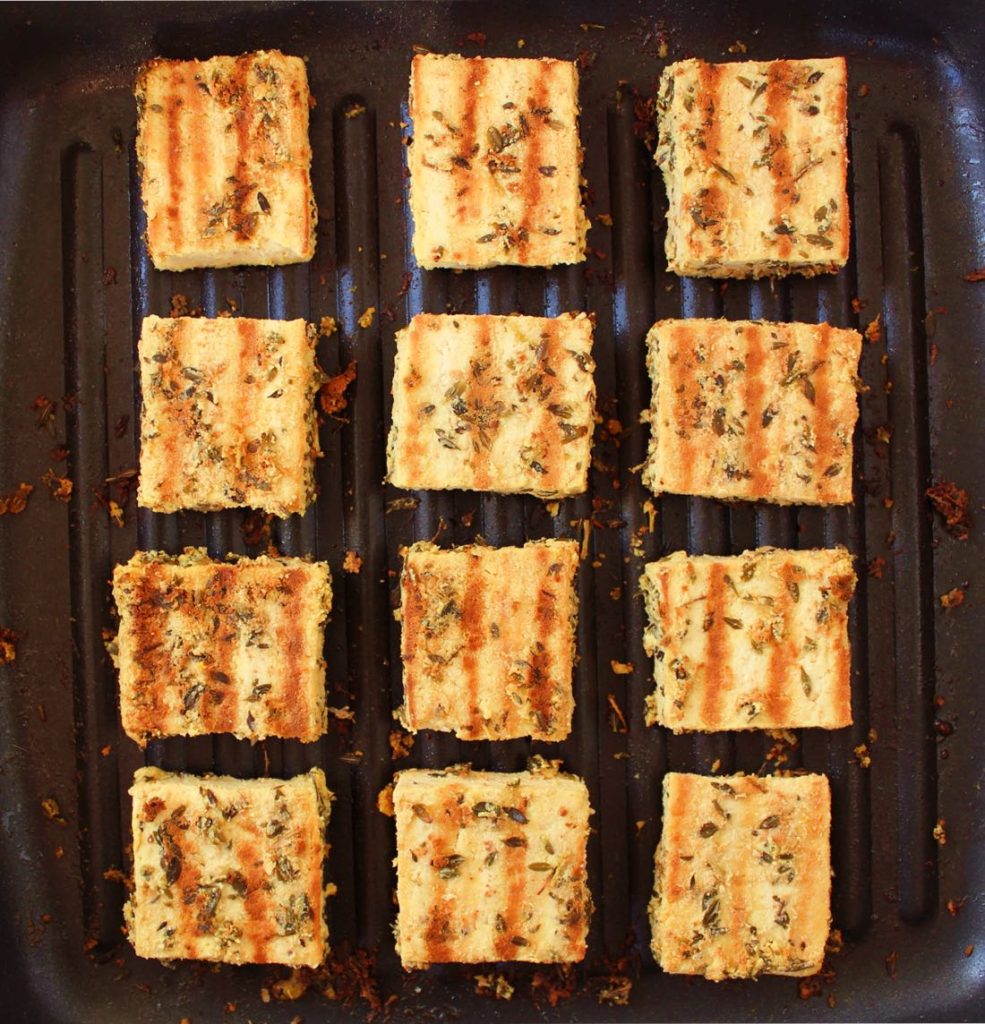 For the marinade, I used five ingredients that are basic staples my kitchen – nutritional yeast flakes, lemon, oregano, extra virgin olive oil and salt. The resulting tofu was so flavourful. It was salty, tangy, cheesy and herby – all the flavours I associated with Greek halloumi (for Cypriot halloumi you could switch the oregano for mint instead).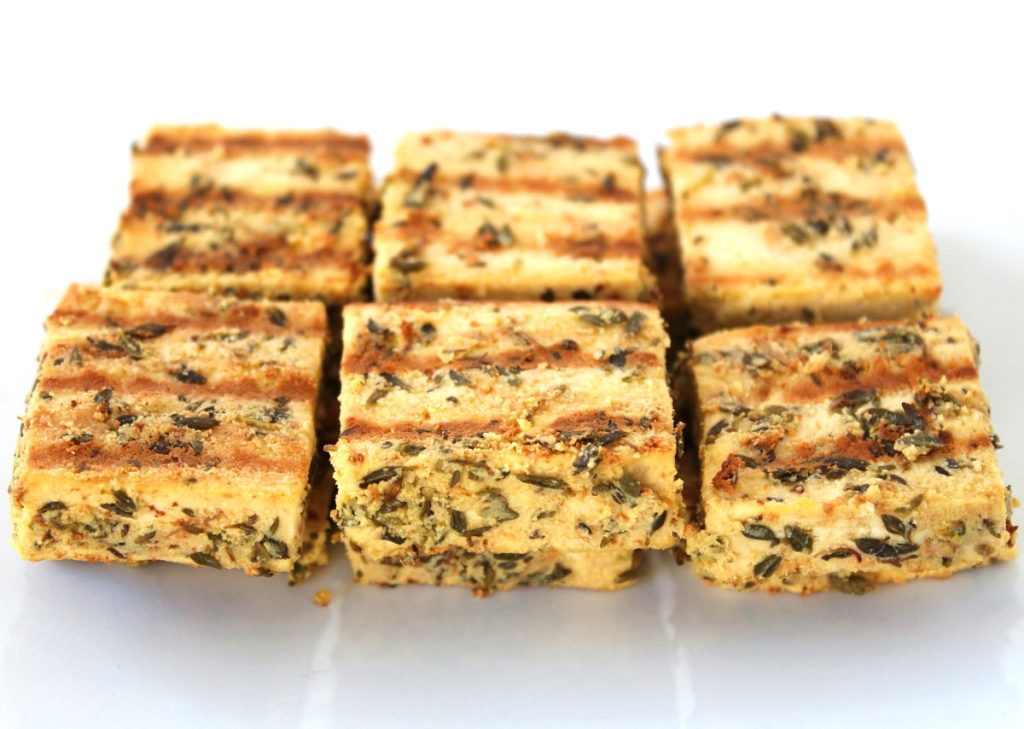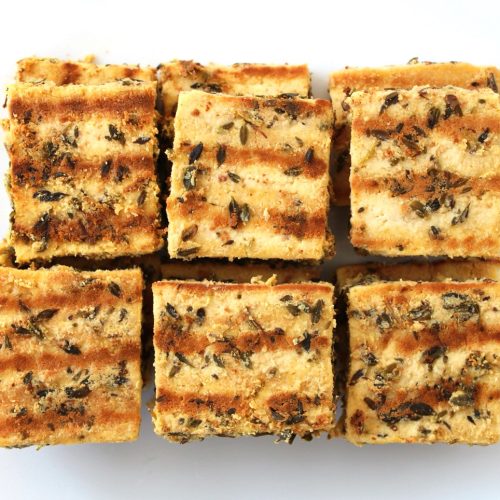 Tofu 'Halloumi'
This tofu is a delicious alternative to halloumi. It can be served warm or cold, and is perfect for adding to Greek salads, sandwiches, pittas, wraps and mezze platters.
Ingredients
1

block (about 400g / 14 oz) of super firm tofu*

4

TBSP

nutritional yeast flakes

2

TBSP

fresh lemon juice

1

TBSP

dried oregano

1

TBSP

extra virgin olive oil

½

tsp

salt
Instructions
Press the tofu for 30 minutes**. Slice into ½ inch (1.3 cm) thick rectangles.

Add the nutritional yeast flakes, lemon juice, dried oregano, oil and salt to a bowl and stir until thoroughly combined. The nutritional yeast should start to dissolve into the oil.

Add the tofu to a wide, shallow container and use a pastry brush or spoon to coat both sides in the marinade (it doesn't matter if you need to stack the tofu). Cover and leave for an hour to marinate. Alternatively you can leave it overnight in the fridge.

When ready to cook, spray a non-stick griddle pan or frying pan (skillet) with oil and pre-heat on medium-high. Add the tofu in a single layer and press down on it with a slotted turner spatula (you should hear it sizzle). Cook for 2-3 minutes until golden brown on the underside then flip over and repeat.

Stored in an airtight container, the tofu will keep for a couple of days.
Notes
* I used Cauldron Extra Firm Organic Tofu (available in the chiller cabinet in most big UK supermarkets). I like this tofu as it is set in calcium sulphate so it's an easy way to boost our calcium levels. According to their website, Cauldron Organic Tofu contains approximately 400mg of calcium per 100g (a quarter block). 
**Here's my preferred way to press tofu (since I don't have a tofu press): Place the tofu on a rimmed baking tray. Place a chopping board on top of the tofu, followed by a heavy object to weigh it down. The water collects in a pool round the tofu. After 30 minutes, drain off the liquid. Give the tofu a quick pat with kitchen paper to soak up any residual liquid, then it's good to go.
Pin for later ⬇️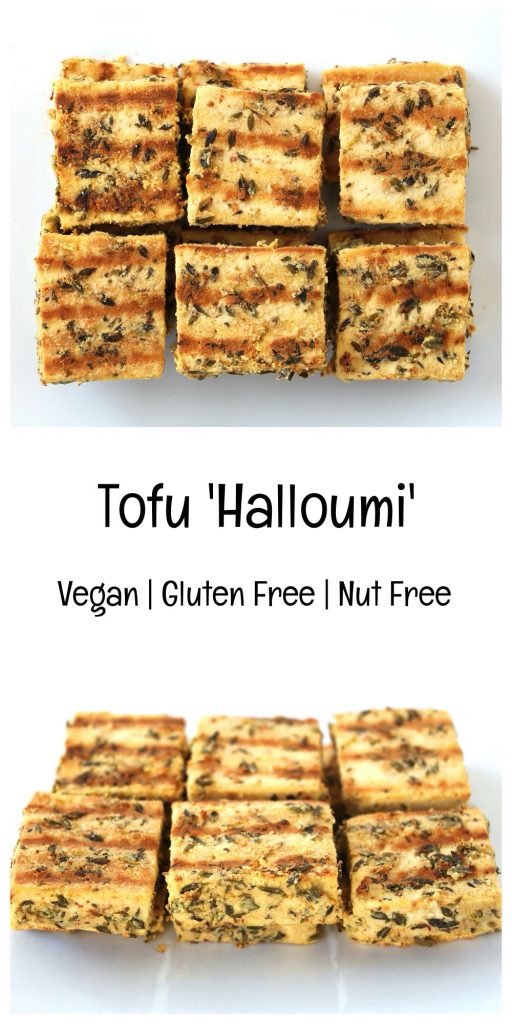 I'm really looking forward to seeing how you would use this Tofu 'Halloumi'. Today, I added it to a toasted sandwich with baby leaves and shredded beetroot, sun-dried tomatoes and mayo. It was so delicious! If you make it, remember to take a photo and tag it with #bitofthegoodstuff on social media as I'd love to see it! You can also connect with me on my social media channels here: Instagram, Twitter, Facebook, Pinterest.
With love,

——————————–
YOU MAY ALSO LIKE…
Chickpea Smash with Dill Pickles