*UPDATED AUGUST 2020* This review was originally written in January 2018. Over two and a half years later, and the Optimum VAC2 Vortex is still my family's 'go to' power blender. It gets used multiple times a week; sometimes multiple times a day! Below I give the lowdown on this brilliant blender and why we love it so much. 
One of the perks of being a Froothie ambassador is that I get the chance to test their new kitchen gadgets when they come on the market. As soon as it launched, the Optimum VAC2 Vortex Blender was creating quite a buzz on social media so I couldn't wait to get my hands on one and see what all the fuss was about.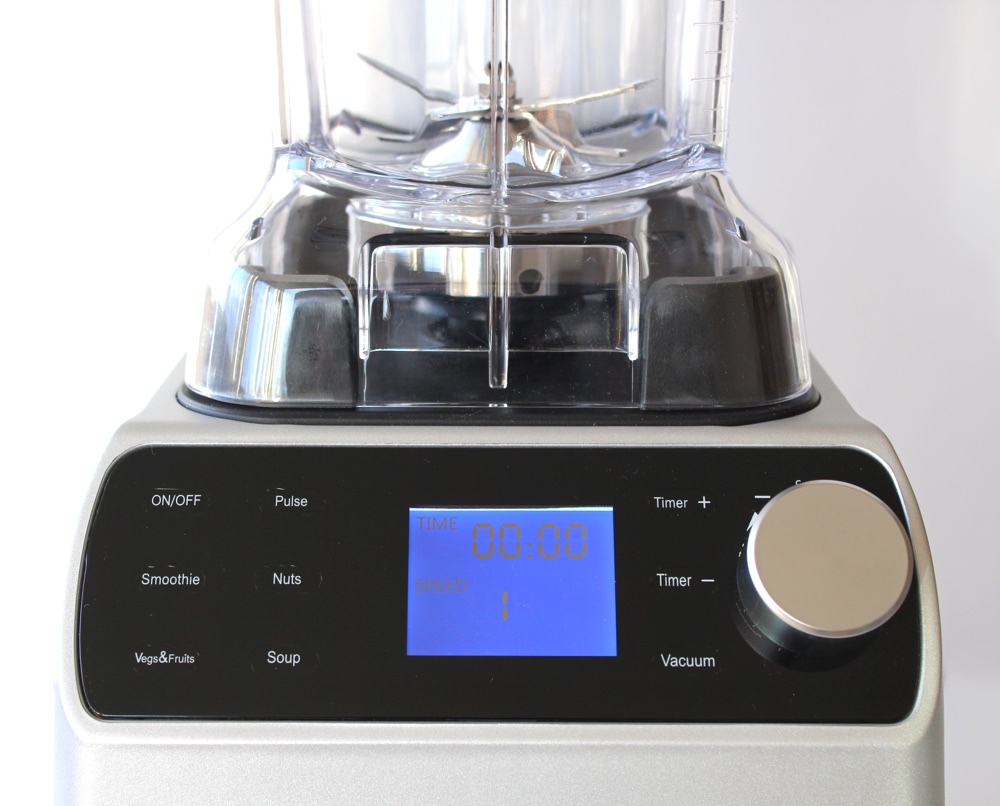 With its sleek, modern design, the Optimum VAC2 Vortex would look great sitting on any kitchen worktop. It comes in three colours – silver, black and red. On top of the base sits a 2 litre BPA-free jug.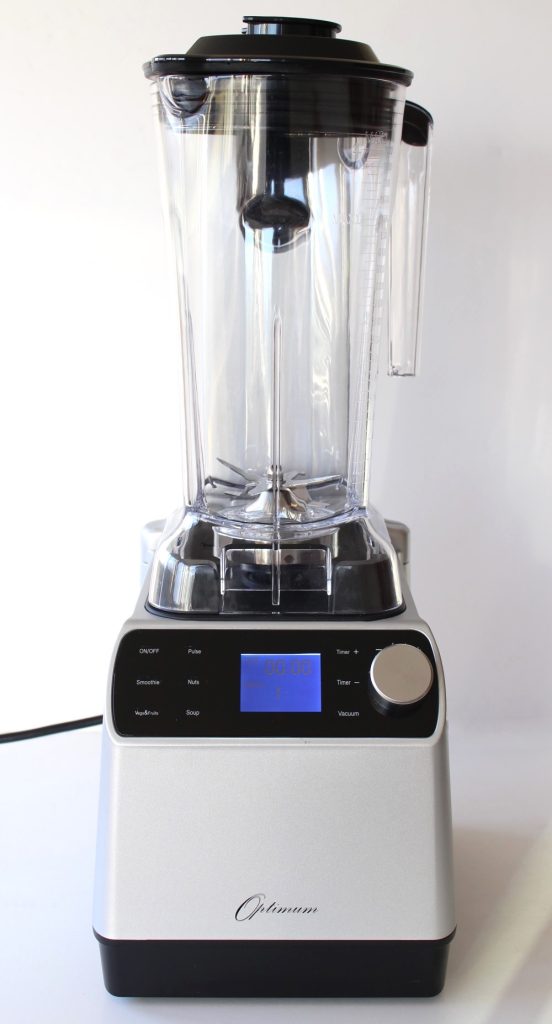 It is a very sturdy, quality piece of kit, which is what you want for a power blender. The last thing you need is for your blender to be shaking and rattling around as it blends.
There's an LED display panel which lights up blue when the machine is plugged in. There are four preset blending buttons – Smoothie, Vegs & Fruit, Nuts and Soup – as well as a Pulse button. You can also set your own blending time (using the timer + and – buttons) and speed (from 1-8) using the dial.
When making juices and smoothies, there is also the option to vacuum for 70 seconds prior to blending to extract the oxygen.
And what are the benefits of doing this you may ask?
Well, it helps …
minimise oxidisation for longer shelf life
preserve nutritional value
eliminate discoloration
I like making apple juice by blending home-grown apples with water (and other ingredients like mint, lime, ginger and so forth) but this kind of juice rarely lasts long before it starts oxidising and going a rusty brown colour. This seemed like the perfect juice to test the VAC2's vacuum function and compare it to a regular blender. To make the comparison fair, I peeled both apples and weighed them so the exact same amount was added to each blender.
Here's how the juices looked immediately after blending. The VAC2 Vortex blender is on the right in the picture.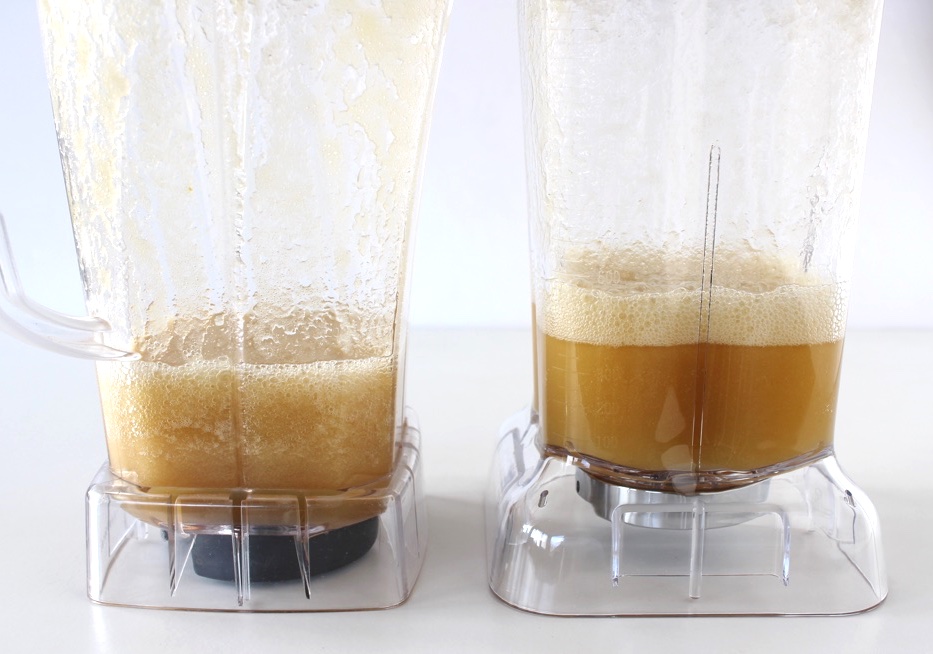 I poured the juices and left them on the worktop for a couple of days. This is how they looked one hour after blending…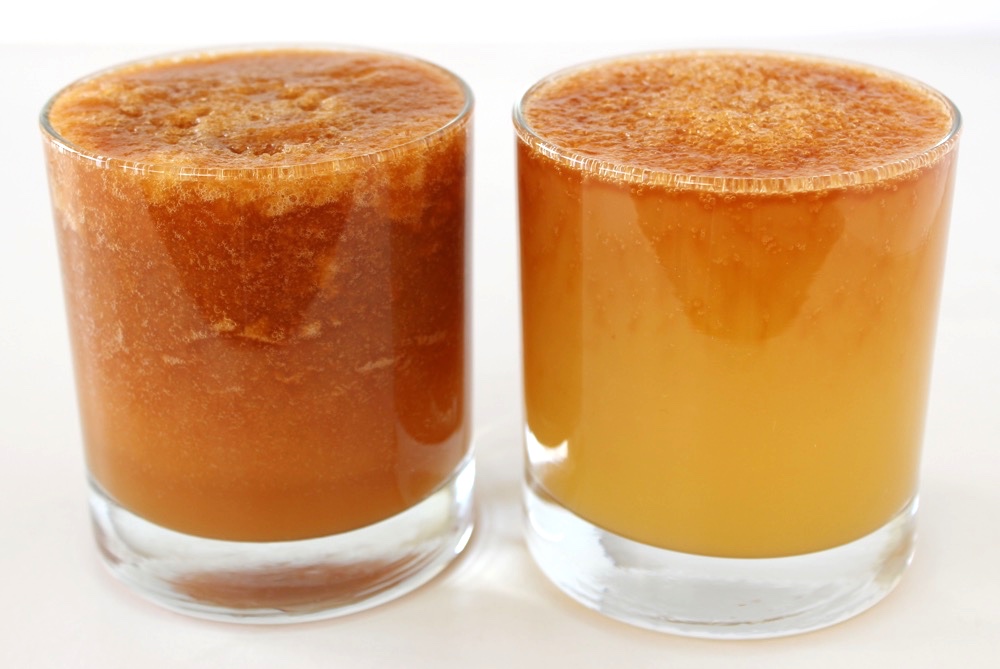 And here they are 24 hours later…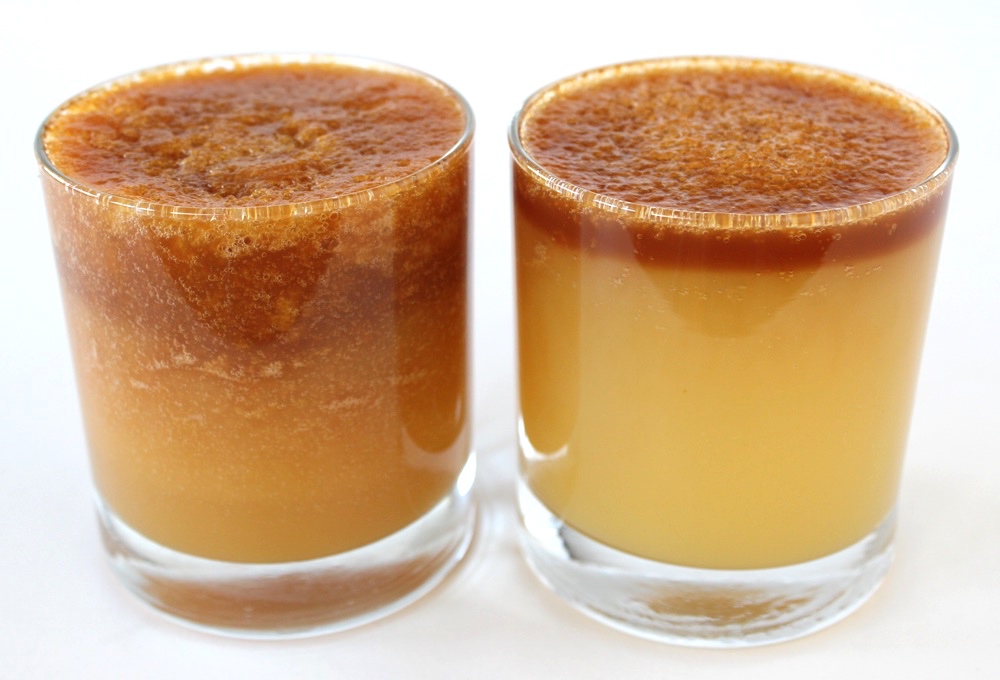 I was amazed at the difference. While the juice from the regular blender went a rusty brown colour and started to separate within minutes after blending, the juice blended in the VAC2 Vortex blender remained yellow and smooth in appearance (with just a thin layer of rusty bubbles on top where the juice is exposed to the air). 48 hours later and the juice still looked the same.
If you're really into juices/smoothies and are keen to preserve the nutrients, or want to make them ahead of time and not only preserve their nutrients but also their colour and smooth texture (avoiding layer separation), then a vacuum blender would be perfect for you.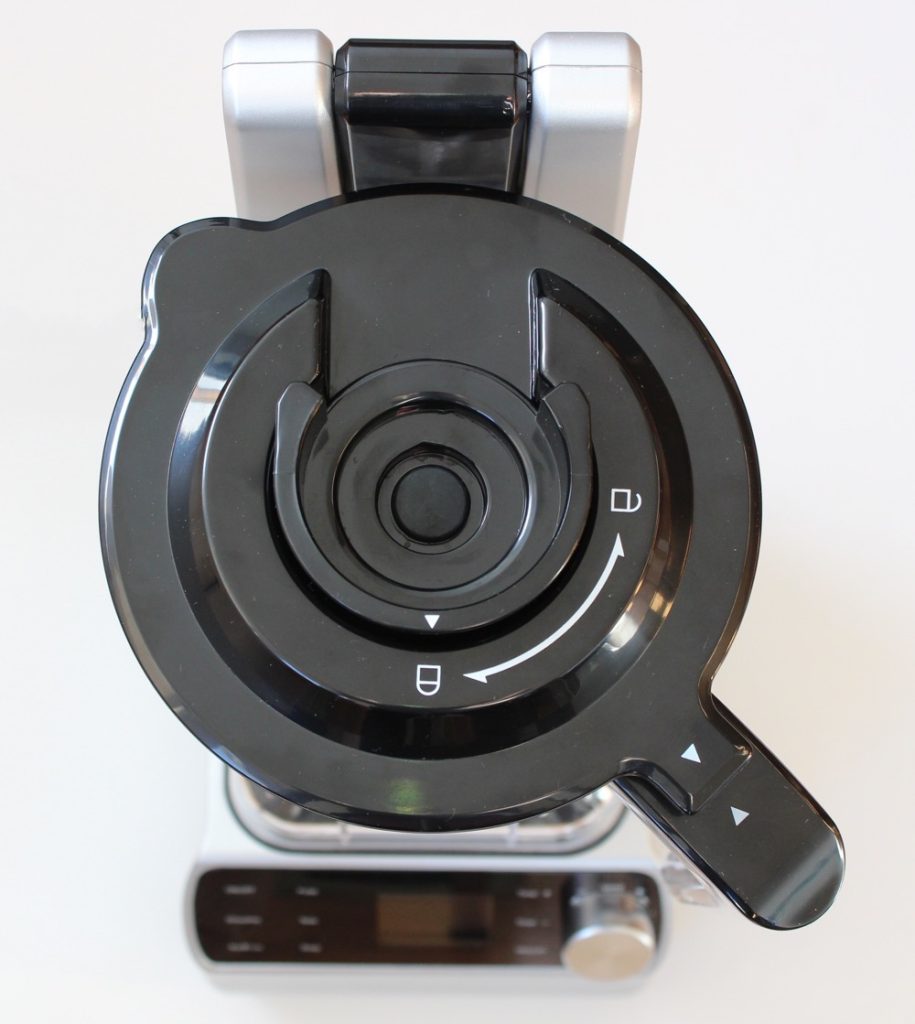 To use the vacuum function on the VAC2, you simply lower the vacuum outlet on top of the jug lid. Press the vacuum button followed by either the smoothie or vegs/fruit button and then the 'on' button. The machine will start rumbling as it vacuums the jug for 70 seconds (and you'll start to see bubbles moving up through the liquid) then it kickstarts the blending.
To make sure the vacuum outlet is fully sealed on the lid, I hold it down for a few seconds when the vacuuming starts. Once the blending is finished, press the valve button to release the vacuum and lift the vacuum outlet. Then, press the valve button on the small inner jug lid to release the vacuum, twist the small lid to open it then you'll find the big jug lid comes off easy.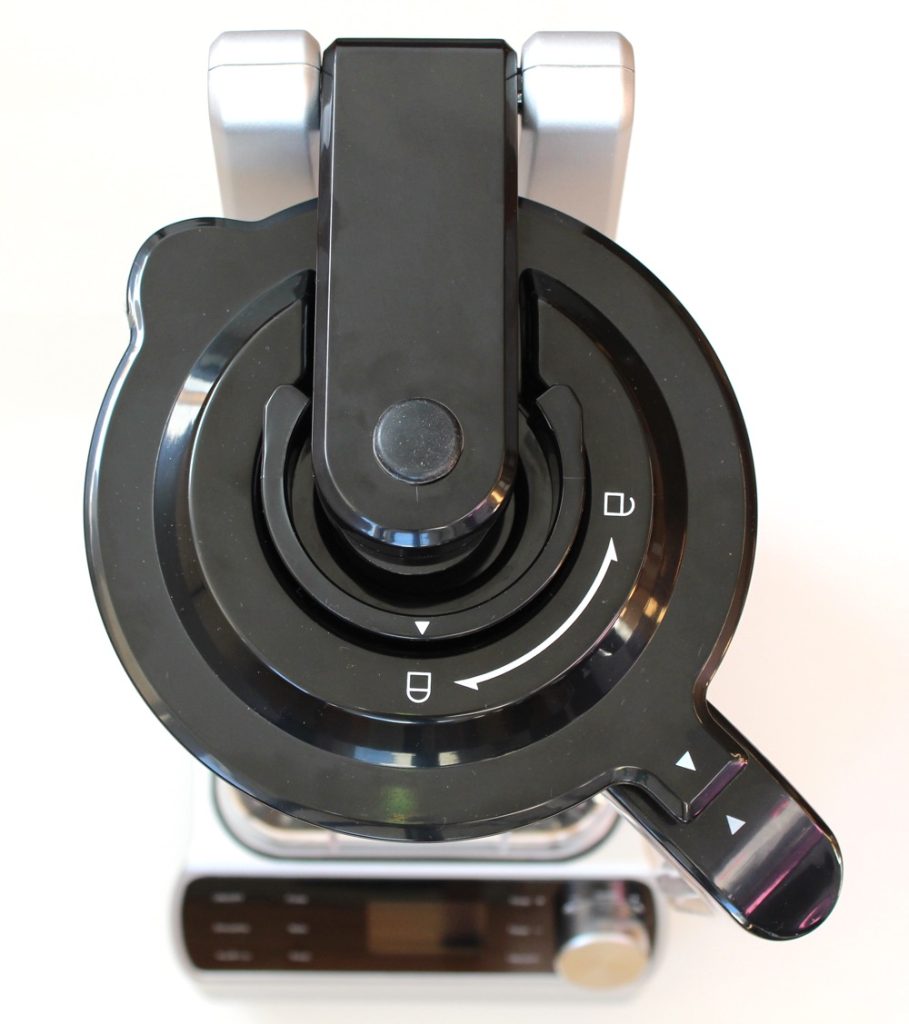 What I love about the Optimum VAC2 Vortex Blender
Power
This blender has a maximum motor power of 2238W. It's a beast of a machine. It roars into action and within seconds whatever fruit and veg I've thrown into the jug are transformed into a silky smooth liquid. There's no need to pre-soak cashews for sauces, cheeses and milk as this machine blends them smooth within a flash.
Blades
The VAC2 comes with 6 blades forged from premium quality stainless steel. This blade arrangement prevents dense foods from getting stuck at the bottom of the jug. They are super sharp so DO NOT stick your fingers in the jug (like I stupidly did one time).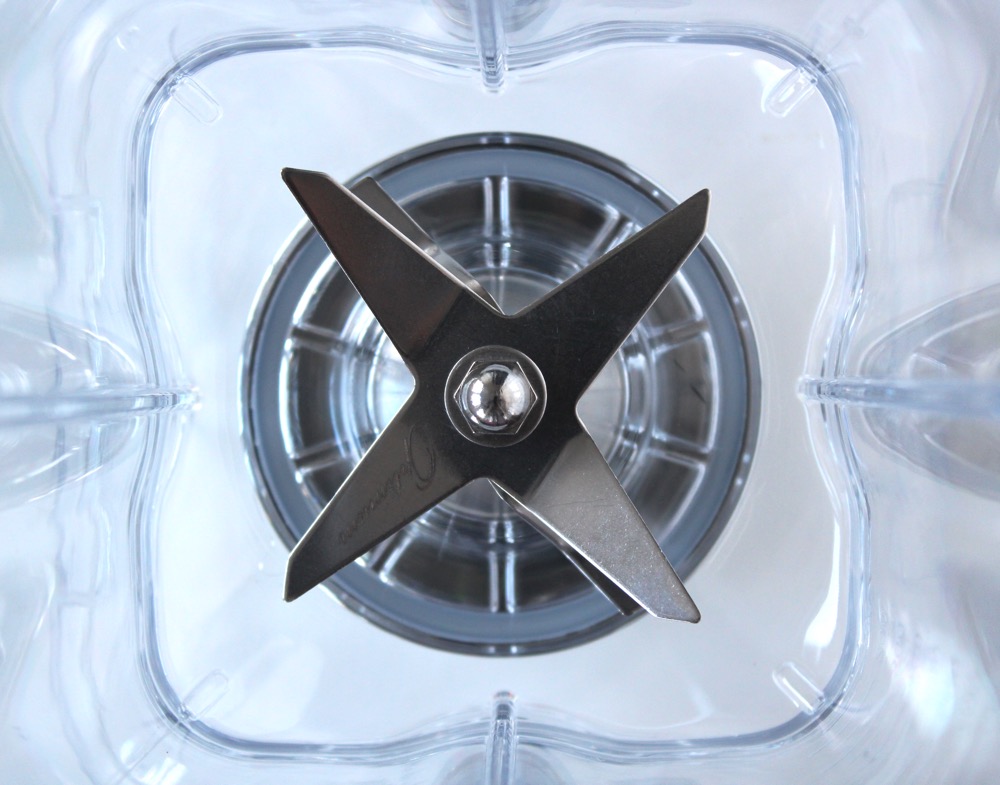 Flexibility
As well as a vacuum blender, you can also use the VAC2 as a regular blender. I also like the fact that you have the flexibility to set your own time and speed as well as using the presets.
Design
I love the design of this blender and its sturdy, quality feel. The blue backlit LED display is really cool too!
Tamper Tool
The blender comes with a tamper tool which is really handy when you're making fruit ice creams, thick sauces or anything where you need to push the ingredients onto the blade.
Vacuum Feature
I love how this blender locks in the nutrients, vibrant colour, flavour and smooth texture of juices and smoothies through its nifty vacuum feature.
Heat Feature
This blender can actually warm soups and drinks. The Soup preset button sets the timer to 6 minutes so I'm guessing this is sufficient time to blend a soup's raw ingredients and warm the soup. There are a number of raw and 'no cook' soup recipes in the book that comes with the blender.
Versatility
This is a versatile blender, which can be used for a whole variety of food and drink preparations, including…
Smoothies and juices
Plant and nut milks
Fruit ice creams
Chia puddings
Soups
Dressings and sauces
Spreads and dips
Grinding nuts and grains
Nut cheeses
Crushing ice
Any niggles with the VAC2?
The only thing that niggles me with this blender is the high pitched beeping noise that you hear every time you press a button. The manual time button increase and decreases in 5 second increments, so if you want to set the blender to one minute, that's 12 beeps!* Also, as you change the blender speed it beeps for each change from 1-8, so again a lot of beeping going on if you're someone (like me!) who likes to vary the speed up and down as you blend. The beeping won't bother every one, but personally I'd prefer the machine to not beep at all.

* UPDATE: I've found a nifty way round this which reduces the beeping and allows me full manual control… I press the 'minus' timer button, which presets the timer to 8 minutes and I press 'on'. I blend for as long as I wish, then press 'off'. Only 1 beep needed then for the timer!
While the blender itself is pretty noisy (83 DBA according to the manufacturer), it's a low level sound (like a roar) so I don't find it bothersome and it doesn't hurt my ears.
Price, 30 Day Trial Money Back Guarantee & Customer Support
The RRP for Optimum VAC2 Vortex blender is £499 with FREE DELIVERY.
0% Finance Available: Pay a 10% deposit then spread the payments over six months with 0% interest.
Froothie also offers a 30 Day Trial Money Back Guarantee (including Return Postage Costs). You can find more details about the Money Back Guarantee here.
The Froothie Customer Support & Warranty Team is available 24/7 to answer your queries.
Bit of the Good Stuff Reader Offer
The Optimum VAC2 Vortex blender comes with a Five Year Warranty as standard. However, if you purchase the blender via my ambassador link you will receive an extra Two Years Warranty (worth £45)!
That makes a total of ✨ SEVEN YEARS WARRANTY ✨
Five recipes I love making with my Optimum VAC2 Vortex Blender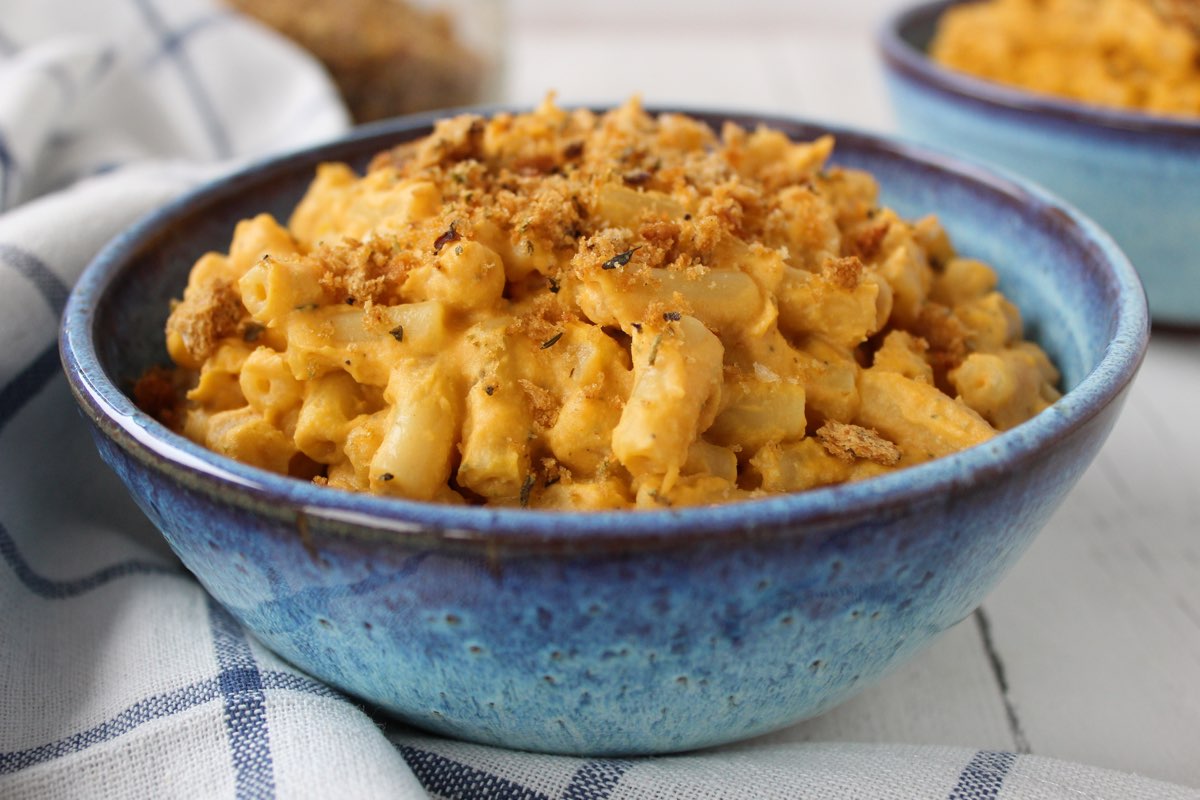 'Butter Chicken'… Vegan Style!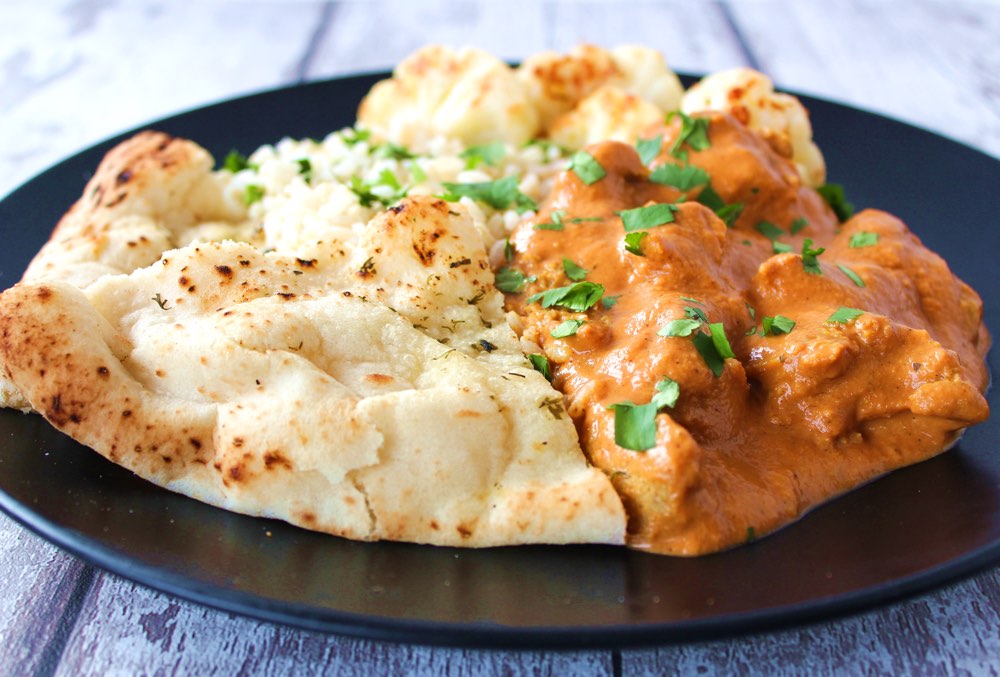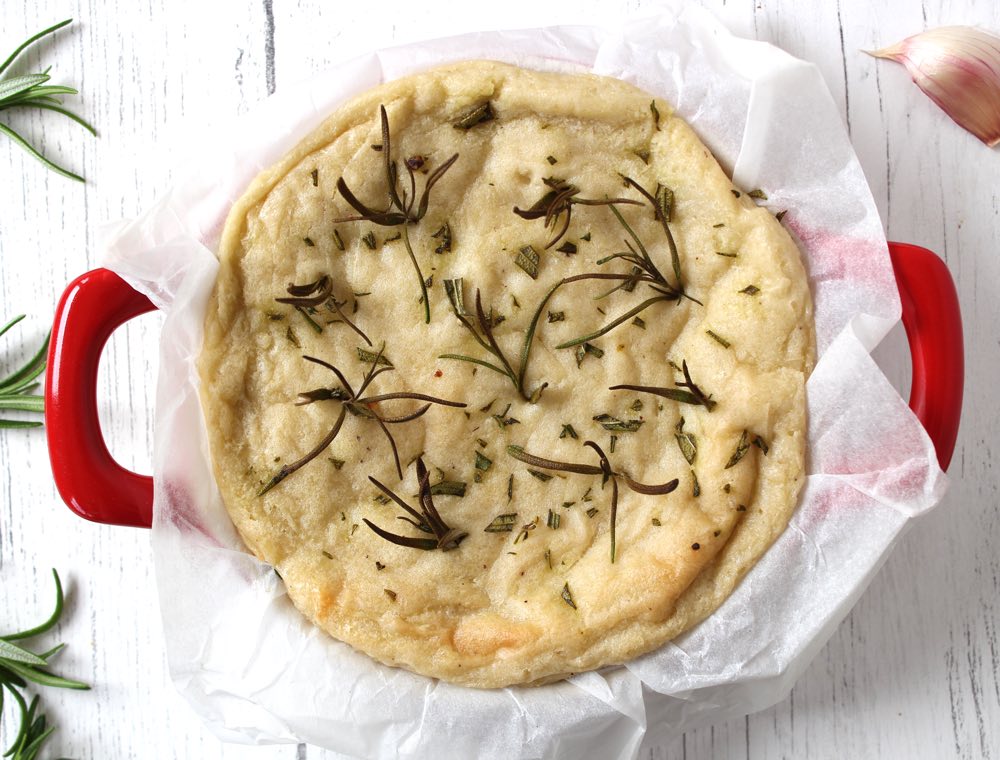 Creamy Butternut Squash Soup with Maple Glazed Chickpeas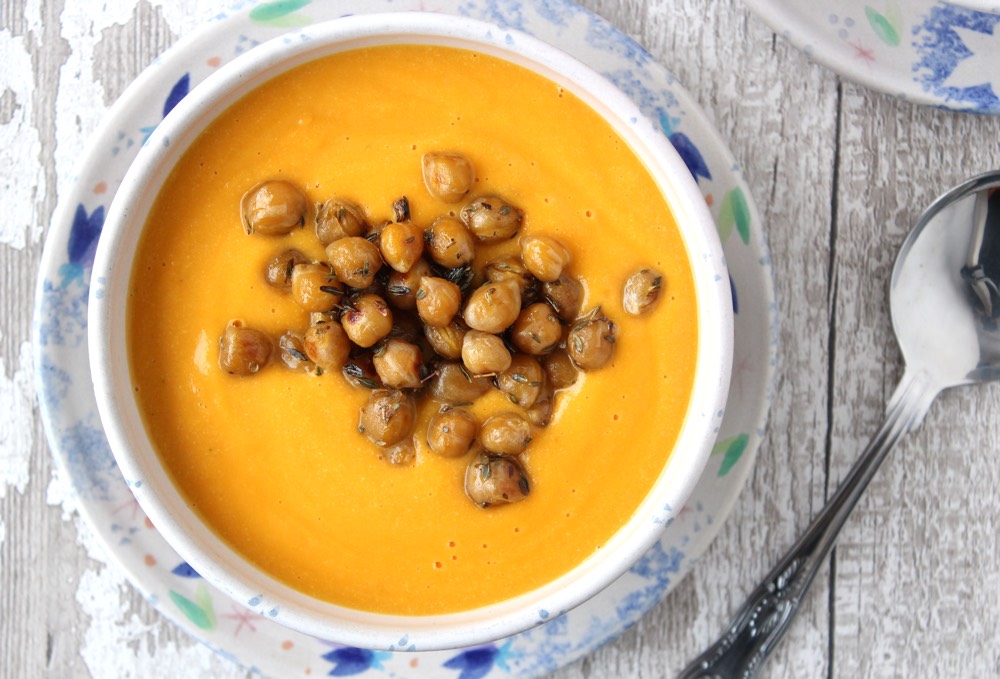 Spiced Apple and Lentil Soup with Tamari Glazed Chickpeas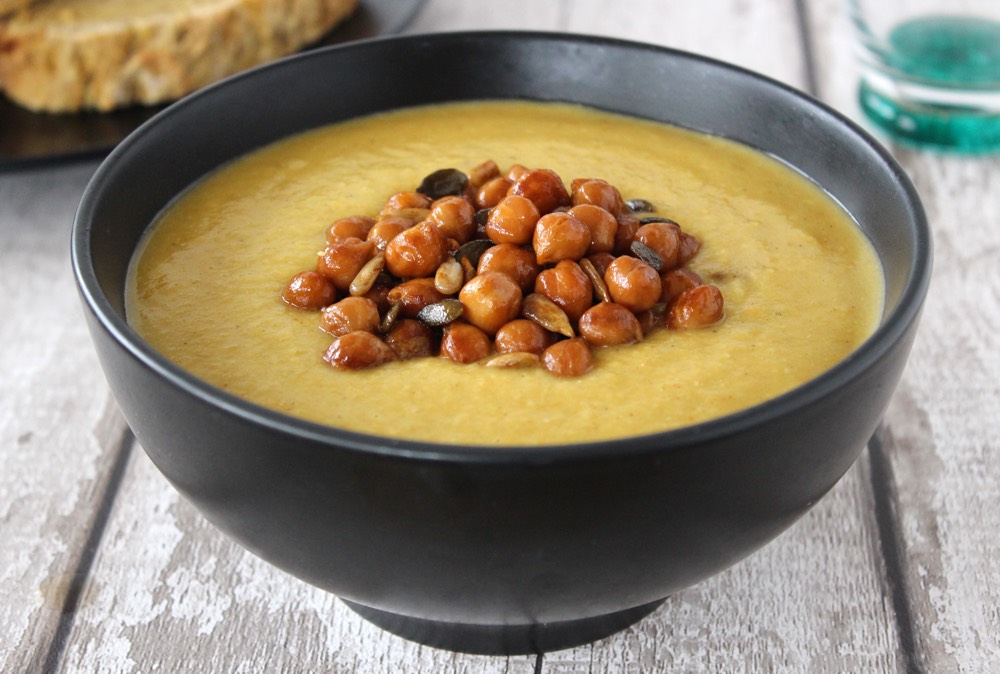 Happy Blending!

——————————–

Disclosure. As a Froothie ambassador, I received an Optimum VAC2 Vortex Blender to review but, as always, all views expressed in this post are my own. I receive a commission when readers purchase a product via Froothie using my ambassador code. Any monies received are re-invested back into the Bit of the Good Stuff, so many thanks in advance for your support.
SaveSaveSaveSave
SaveSave
SaveSave
SaveSave
SaveSave
SaveSave
SaveSave
SaveSave
SaveSave
SaveSave
SaveSave
SaveSave
SaveSave
SaveSave
SaveSave