If you're a mushroom lover (like me) then you are going to love today's recipe. It's a delicious Cream of Mushroom Soup that's really cheap and easy to make. You'll never want to reach for a canned mushroom soup again! This soup is thick and creamy, yet it is 100% plant-based and low fat. It doesn't even contain any plant-based creams! Instead, it's made with simple, pantry ingredients. Head below to check out the recipe.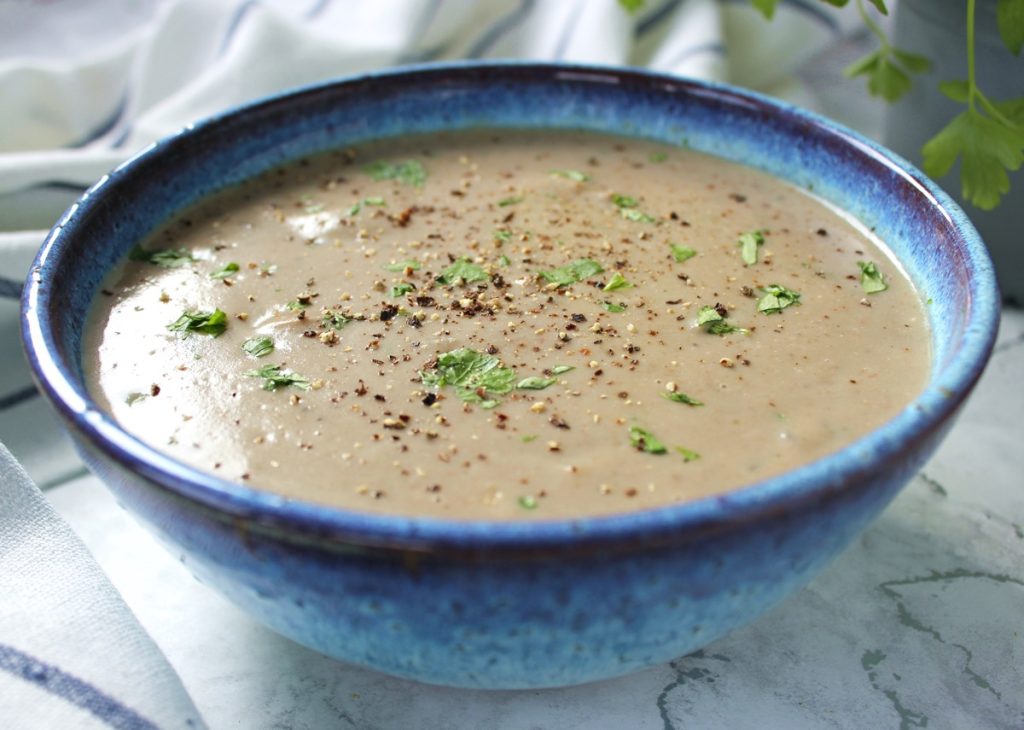 The inspiration for today's post, was an article that I spotted in this month's Vegan Life magazine entitled 'The Magic of Mushrooms'. In the article, Dietician Yvonne O'Halloran lists the incredible health-promoting benefits of mushrooms. And there are so many of them!
A Few of the Many Health Benefits of Eating Mushrooms…
🍄 While naturally low in calories, mushrooms are packed full of health-boosting vitamins, minerals and antioxidants. They are especially rich in B vitamins, copper and selenium.
🍄 Mushrooms contain a powerful antioxidant called ergothioneine, which helps lower inflammation in the body. (International Journal of Molecular Sciences 2017)
🍄 Mushrooms may be protective against Parkinson's, Alzheimer's, hypertension, stroke and cancer. They can also help lower cholesterol, act as an immune system enhancer and are anti-bacterial. (International Journal of Microbiology, 2015)
🍄 Mushrooms can protect the liver, are anti-diabetic, anti-viral and anti-microbial (International Journal of Molecular Sciences, 2017)
🍄 Mushrooms contain beta glucans, which are known to be anti-cancer, antioxidant and neuroprotective. (International Journal of Microbiology 2015)
🍄 Mushrooms are good for gut health as they contain chitin, hemicellulose, mannana, beta glucans and xylans which are prebiotics (food for our healthy gut bacteria). (Bioactive Carbohydrates & Dietary Fibre Journal)
It was wonderful to hear just how beneficial mushrooms are for human health as my family absolutely loves them! We eat mushrooms pretty much every day in our curries, chillis, burritos, tacos, pasta and rice dishes and on top of toast!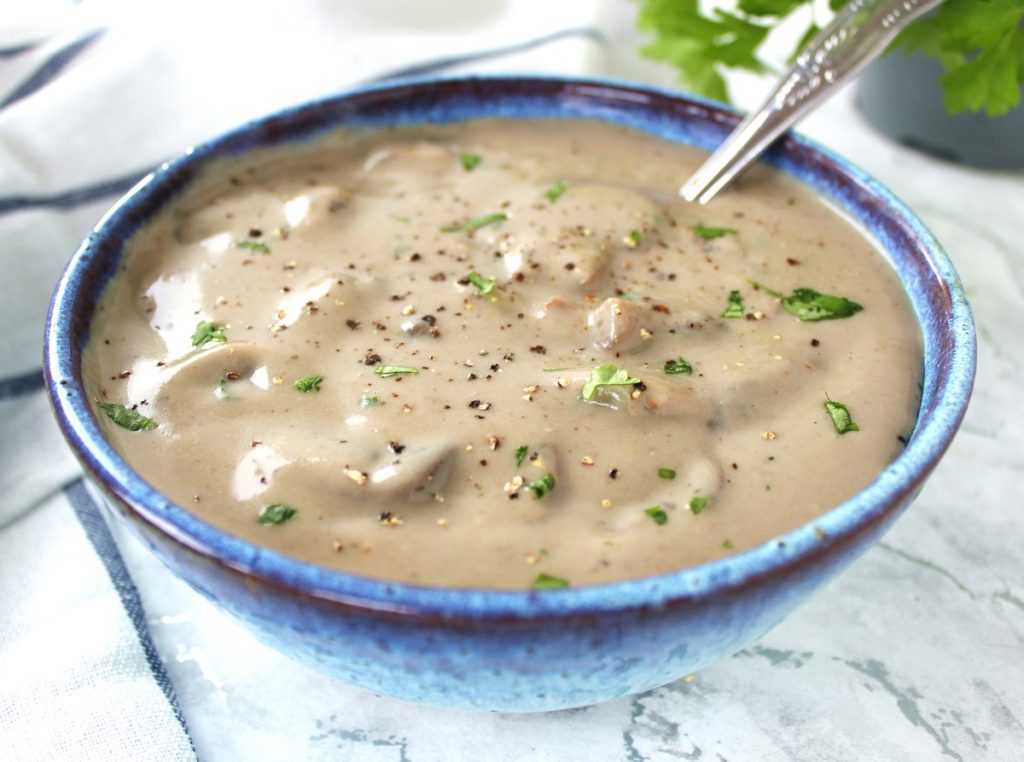 In the Vegan Life article, there was a gorgeous photo of a mushroom soup, and it reminded me just how much I used to love this soup – Campbell's Cream of Mushroom Soup was one of my favourite soups growing up. The photo in Vegan Life didn't have a recipe to accompany it, but it did inspire me to head into the kitchen and experiment with making my own vegan version of my childhood favourite.
I set myself the task of making a soup that was thick and creamy, but low in saturated fat. It also had to be made with ingredients that are cheap and easily attainable. It took me three attempts to create a recipe where I was 100% happy with both the texture and flavour, but here it is. And I am over the moon with it!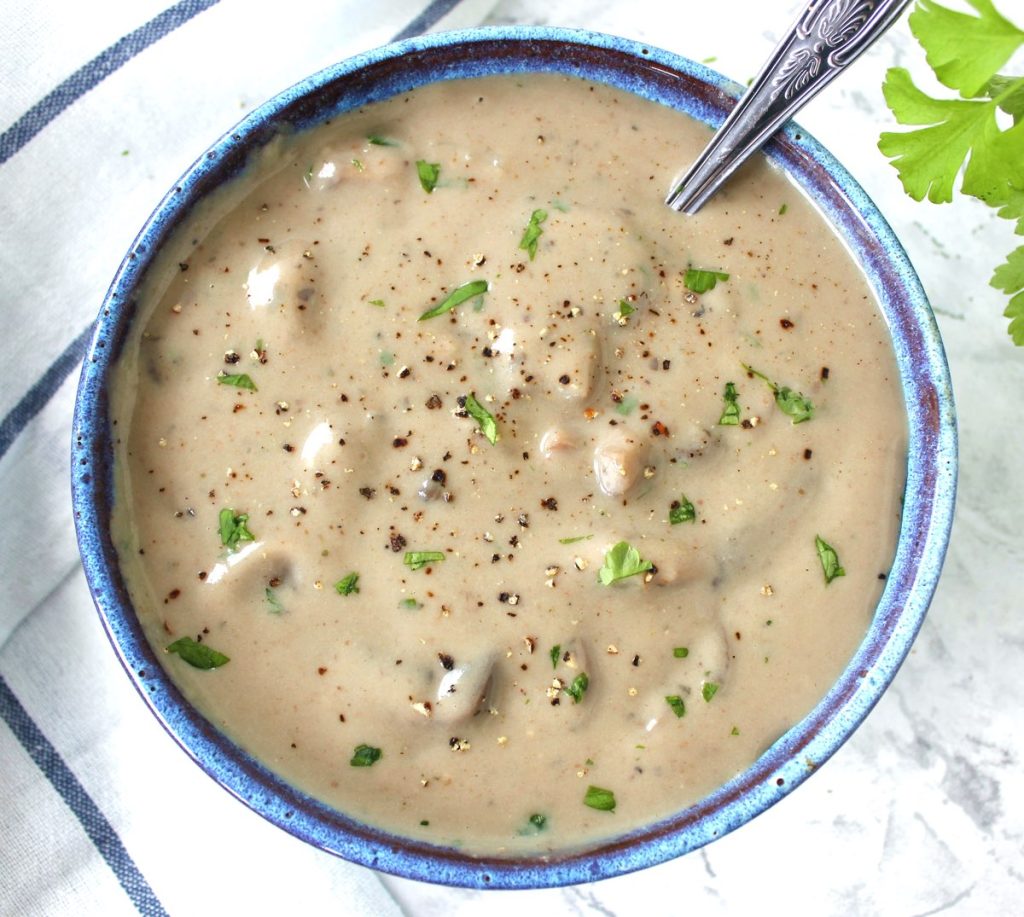 For me this is pure comfort food. It's delicious, filling and packed full of nutrients that are going to keep our hearts, minds and gut bugs happy! I hope you love it as much as I do!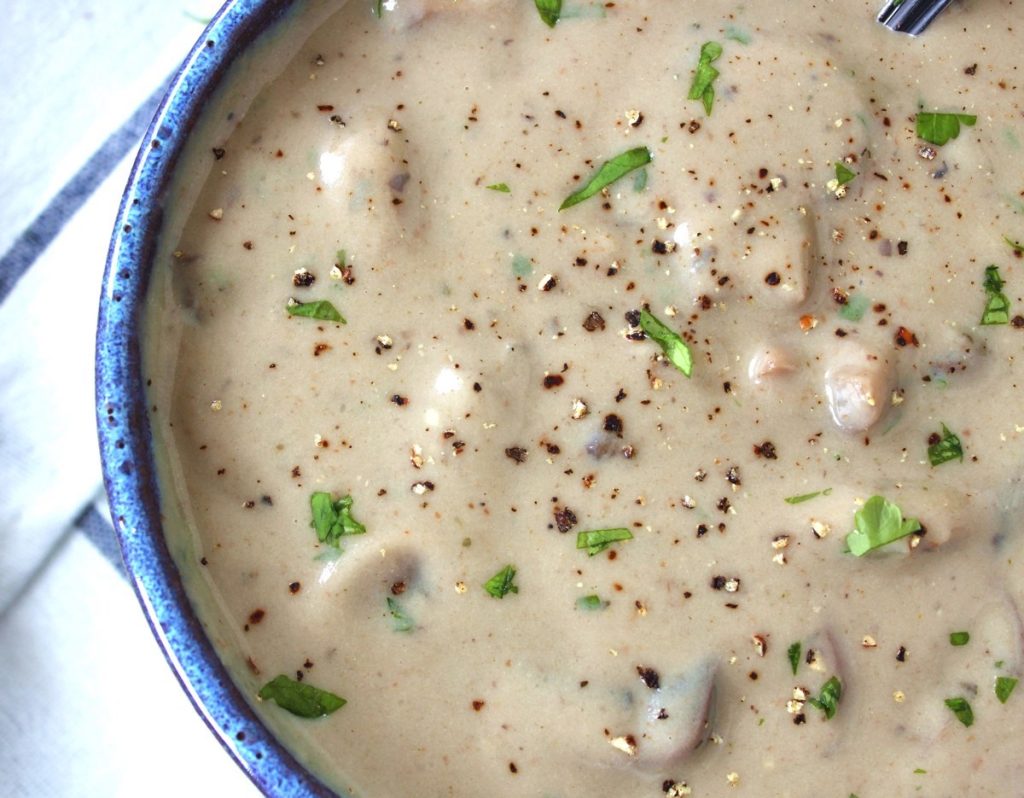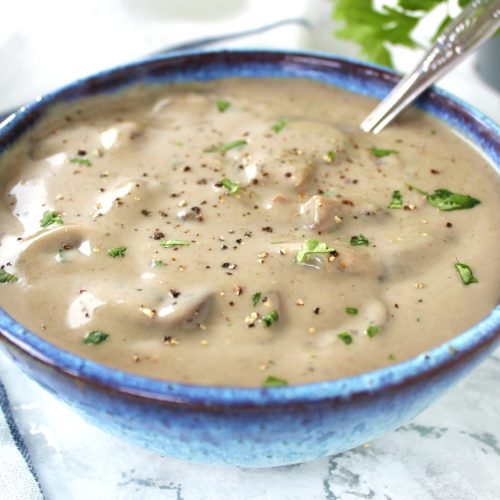 Cream of Mushroom Soup (Vegan)
This Cream of Mushroom Soup contains no dairy, but it is thick, creamy and absolutely delicious! Despite being low calorie, it is nutrient-dense and very filling. It makes a lovely lunch or light dinner. We love to serve it with a couple of slices of toasted whole grain bread.
Ingredients
2

TBSP

vegan butter or dairy free spread

(I used Flora Original)

1

medium white onion

finely diced

3

tsp

minced garlic

500

g

/ 18 oz mushrooms

sliced (I used chestnut (crimini) mushrooms)

½

tsp

dried thyme

½

tsp

dried tarragon

65

g

/ ½ cup whole wheat flour

(or sub with plain (all purpose) flour)

500

g

/ 2 cups plant milk

(I used fortified soya milk)

500

g

/ 2 cups freshly boiled water

3

tsp

vegetable bouillon powder

(I used Marigold; you could sub with a crumbled stock cube)

¼

tsp

freshly cracked black pepper

2

TBSP

fresh parsley

finely chopped
Instructions
Melt the butter in a large saucepan on medium heat. Add the onions and garlic and cook for 4 minutes, or until the onion has started to soften.

Slice the mushrooms and add them to the pan, along with the thyme and tarragon. Cook for 5 minutes or so, until the mushrooms have browned and started to release their liquid and shrink. Give them a stir now and then.

Whisk the flour and milk together in a jug until smooth, then pour into the saucepan. Add the freshly boiled water, vegetable bouillon power and black pepper. Bring to the boil and stir continuously for 1 minute, until the soup starts to thicken. Reduce the heat to low, partially cover with a lid and gently simmer for 10 minutes. Stir occasionally with a wooden spoon, to prevent the soup from sticking to the bottom of the pan.

Remove from the heat and stir in most of the parsley (leave some for a garnish). Taste test and add more freshly ground black pepper, if desired. Leave to cool for a couple of minutes (the soup will thicken as it cools).

Transfer half the soup to a jug blender (or use a bowl and immersion blender) and whizz until smooth, before adding it back into the pan and warming through.

Divide the soup between four warm bowls. Add a sprinkle of chopped parsley for garnish and serve. Any leftovers will keep for three days stored in an airtight container in the fridge.
Pin for later ⬇️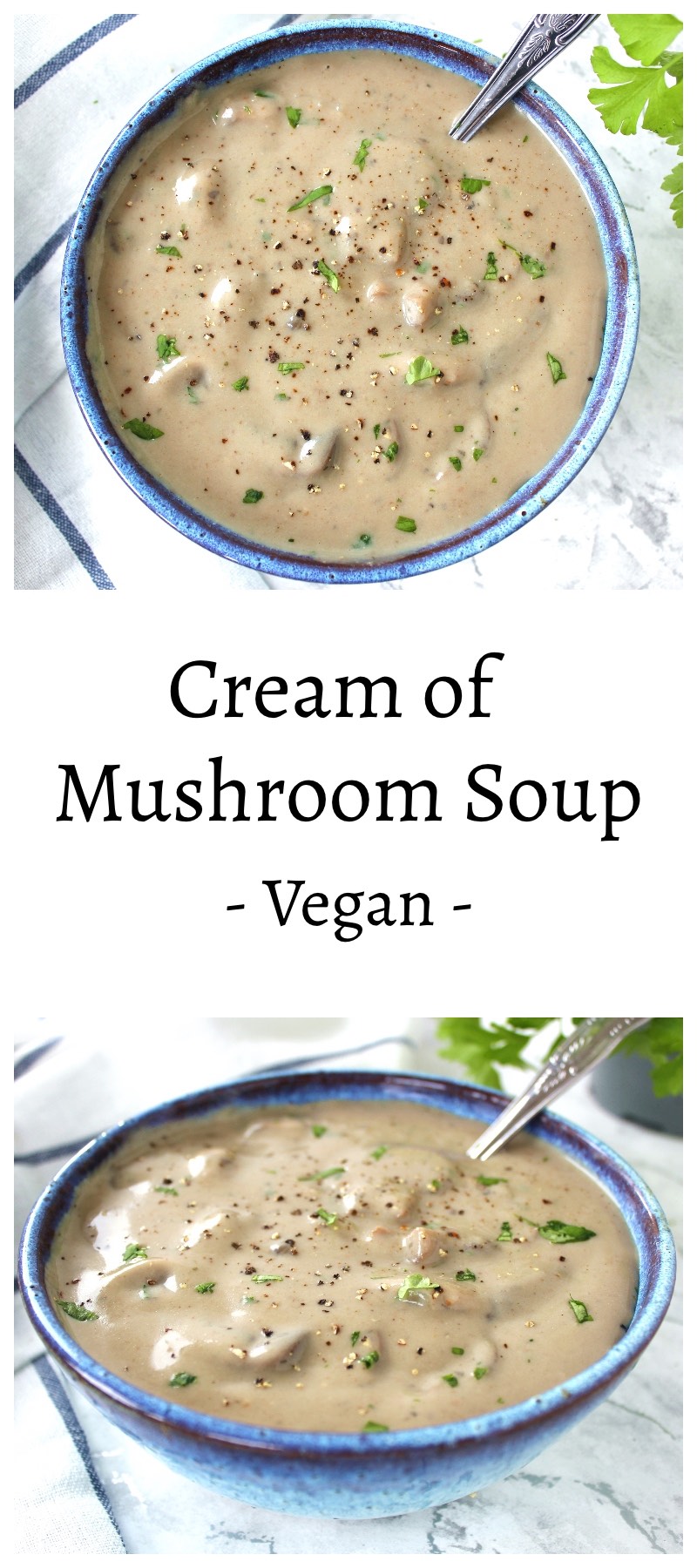 If you make this Cream of Mushroom Soup (or any other recipes on our blog), I'd love to hear your feedback and any suggestions for adaptations! Tag your photos with #bitofthegoodstuff on social media and they will find their way to me. You can also connect with me on my social media channels here: Instagram, Twitter, Facebook, Pinterest.   
With love,