Today I'm sharing a delicious miso soup that has quickly become my new favourite 'working from home' lunch. It takes just 10 minutes to prepare and is so warming and filling. It also happens to be packed full of nutritional goodness. This is one of those meals that makes me feel really energised… like I'm 'zinging' on the inside! It's been a big hit with the family too. I hope you enjoy it as much as we do!
The inspiration for today's post was a Turmeric, Black Pepper and Ginger Miso soup recipe that I spotted in this month's Vegan Life magazine. It contains turmeric and lime; two ingredients that I absolutely love… but had never considered adding to a miso soup. It turns out they work incredibly well, adding both extra flavour and nutrients to this already nutrient-packed soup!
Turmeric spice has been used medicinally for thousands of years. In fact, it has such powerful antioxidant, anti-inflammatory and health-promoting properties that Dr Michael Greger dedicates six pages of his book 'How Not To Die' to this incredible spice!
"We have seen how curcumin [the vivid yellow pigment in turmeric] may play a role in preventing or treating lung disease, brain disease, and a variety of cancers, including multiple myeloma, colon cancer, and pancreatic cancer. But curcumin has also been shown to help speed recovery after surgery and effectively treat rheumatoid arthritis better than the leading drug of choice. It also may be effective in treating osteoarthritis and other inflammatory conditions, such as lupus and inflammatory bowel disease" How Not To Die, p351
To take advantage of its powerful health-promoting properties, Dr Greger recommends we consume ¼ tsp of turmeric daily. Just a pinch of black pepper can significantly boost the bioavailability of the curcumin, so it is always worth combining the two.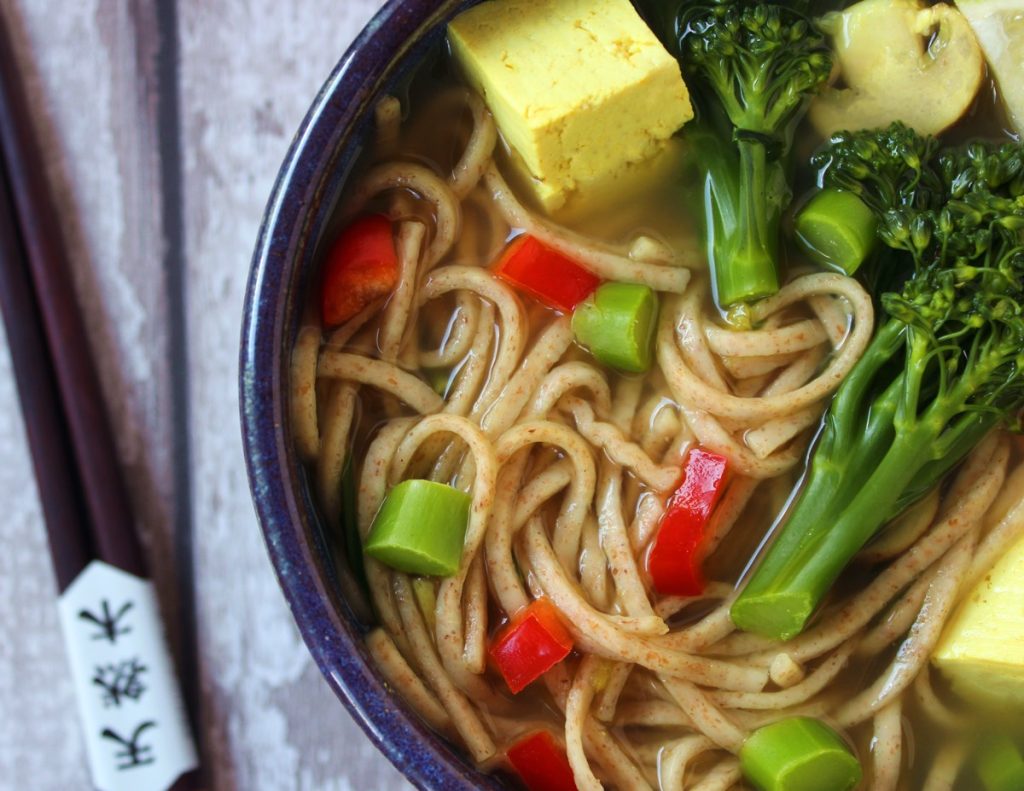 Lately, I've become quite a fan of turmeric. As well as adding it to curries and rice dishes, I often make turmeric lattes for my afternoon drink . Not only are they a delicious way to get my daily turmeric fix, but I find it an easy way to boost my calcium intake too.
During the colder months, I'm definitely going to be making more of this Golden Miso Soup though, to enjoy both as an afternoon drink and tasty lunch or light supper.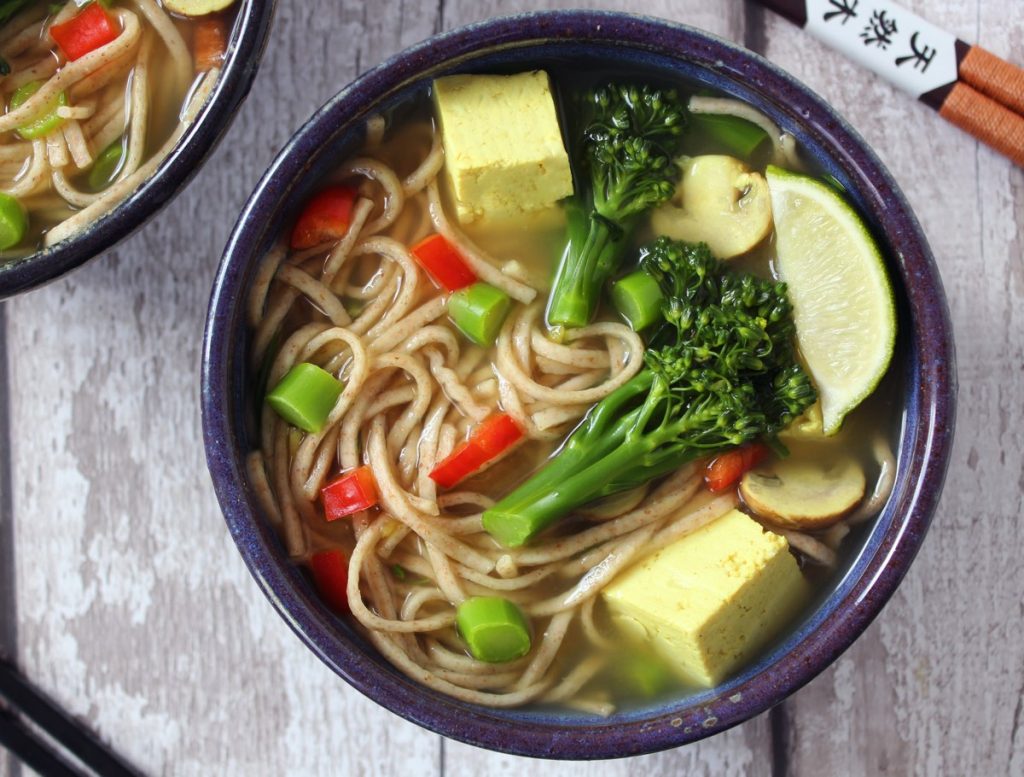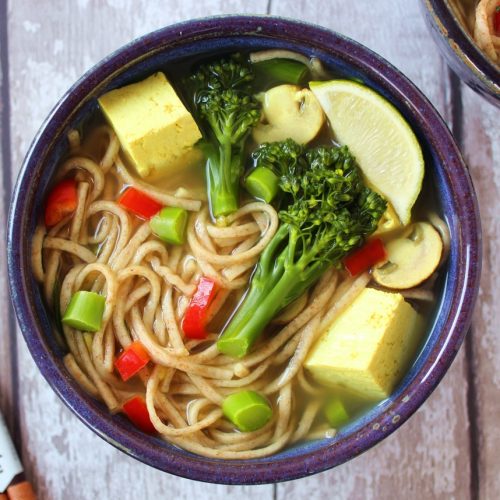 Golden Miso Soup
The broth in this miso soup is so delicious that you could easily use this alone as a warming, nutritious drink! Adding some fresh vegetables, tofu cubes and noodles, transforms it into a filling and nutrition-packed lunch or light dinner option, that can be prepared from scratch in just 10 minutes!
Ingredients
100

g

/ 3½ oz wholegrain noodles

(I use whole wheat)

750

ml

/ 3 cups water

½

tsp

vegetable bouillon powder

(or ½ vegetable stock cube)

2

tsp

ginger

finely grated or minced

½

tsp

ground turmeric

¼

tsp

ground black pepper

100

g

/ 6 medium tenderstem broccoli

stalks finely sliced

100

g

/ 5 medium chesnut mushrooms

½

sweet romano or red bell pepper

finely diced

150

g

/ 5½ oz tofu

drained and cubed* [See notes]

½

lime

freshly squeezed

1½

TBSP

white miso
Instructions
Prepare the noodles according to the instructions on the packet.

Meanwhile, bring 750ml water to a boil in a saucepan. Stir in the vegetable bouillon powder, ginger, turmeric and black pepper. Add the tenderstem broccoli, mushrooms, pepper and tofu, then reduce the heat to low. Stir in the lime juice and miso.

When the noodles are ready, add them to the broth to warm through. Divide the noodles between two bowls, ladle the broth and vegetables on top and serve.

The broth (without the noodles) can be stored in the fridge for up to three days. Gently heat through before serving.
Notes
* While miso soup traditionally contains silken tofu, any kind of tofu can be used in this recipe. We used Cauldron Organic Super Firm Tofu (which is set in calcium sulphate). 
Pin for later ⬇️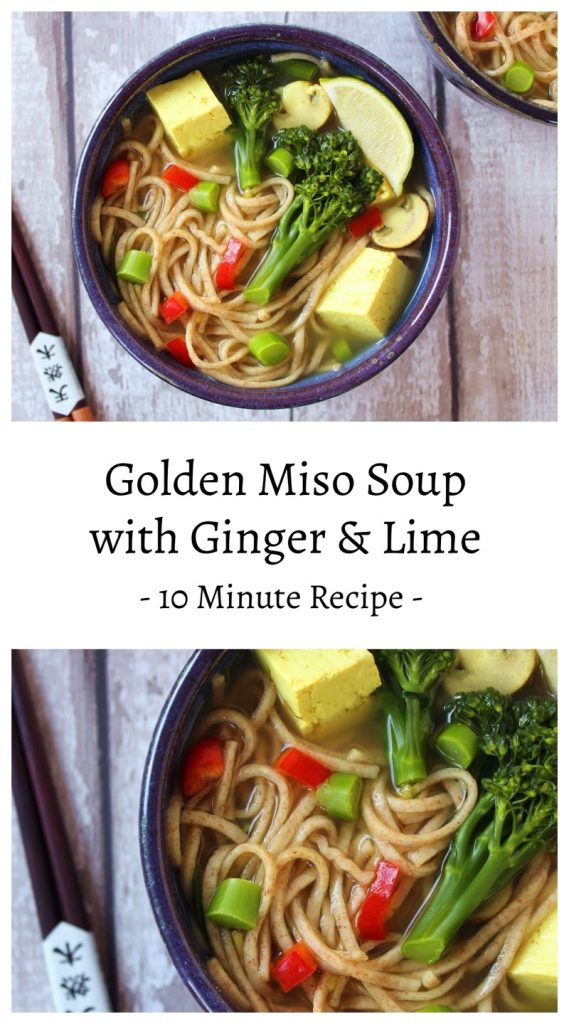 If you make this Golden Miso Soup (or any other recipes on our blog), I'd love to hear your feedback and any suggestions for adaptations! Tag your photos with #bitofthegoodstuff on social media and they will find their way to me. You can also connect with me on my social media channels here: Instagram, Twitter, Facebook, Pinterest.   
With love,

———————————-
YOU MAY ALSO LIKE…
Spiced Apple and Lentil Soup with Tamari-Glazed Chickpeas