Today, I'd like to share another of my family's favourite granola recipes. Filled with hazelnuts, pecans, cranberries and chocolatey goodness, this granola is perfect for this season.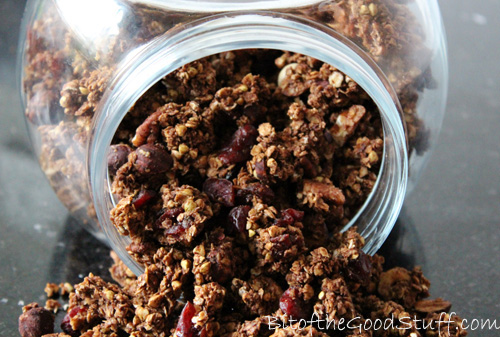 My garden is bordered by cob nut trees, and this year they produced the most amazing crop. I made a deal with the squirrels whereby I would collect nuts from the low hanging branches, and they could have the rest. They then got to work, burying nuts all over my lawn and flower beds, and in my plant pots. Invariably they forget where they've buried them and we end up with nut trees growing literally everywhere!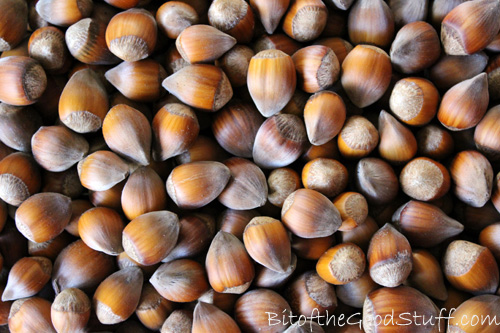 I'm not going to complain though. Nut trees are awesome!
And once they've matured, cob nuts are very similar in taste and texture to hazelnuts, so I put them to good use in yummy recipes, like this granola.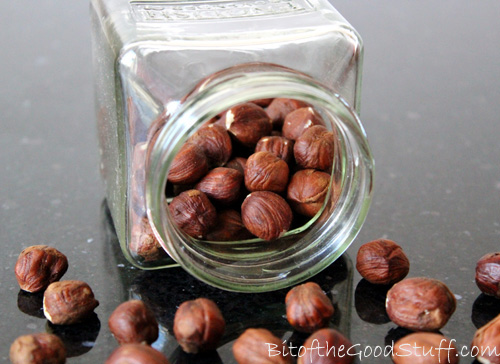 As I've mentioned in previous posts, Lil' L loves home-made granola, especially when it's formed into clusters. It's so easy to make. You simple press down the mixture as if you're making a thin granola bar then, once completely cooled, you break it into clusters.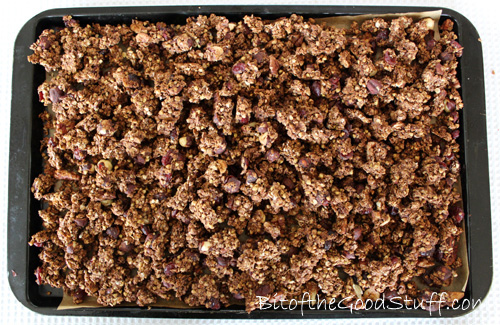 Our favourite sweetener for granola is maple syrup. This adds a delicious caramel-like sweetness, rather than a 'sugary' flavour. I use Clarks Original Maple Syrup, which is a blend of maple and carob syrups. It's widely available in the UK, and a fair bit cheaper than pure maple syrup. I really like its flavour and consistency, which is slightly thicker than the pure grade syrup.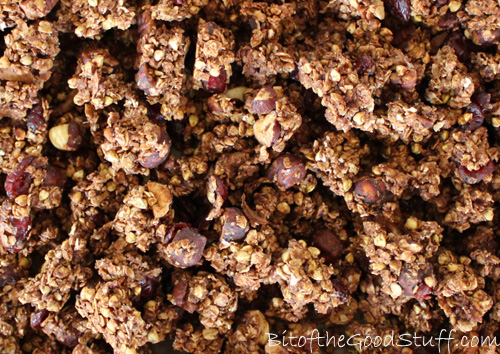 These granola clusters are wonderful for breakfasts, snacks and desserts. For breakfast, we like to serve them with natural non dairy yogurt (such as Alpro) or milk. For an omega-3 boost, I often add a light sprinkling of ground linseed and finely chopped walnuts before serving. I also sprinkle in a few extra cranberries to brighten up the bowl.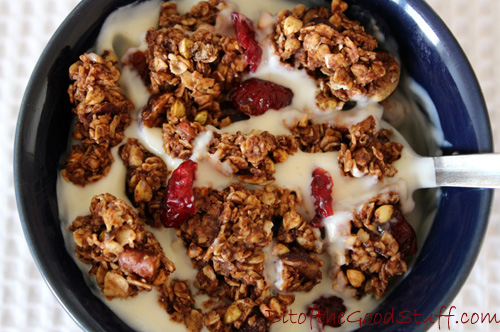 Layered with yogurt and fresh or frozen fruits, the clusters also make a delicious dessert or after-school snack. They look really fancy yet take literally seconds to throw together!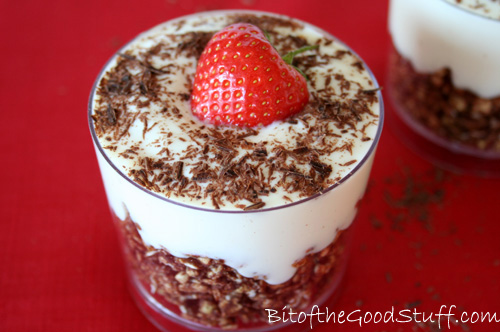 [print_this]
These granola clusters make a wonderful breakfast, snack or dessert. While they taste decadent, they are packed with healthy nutrient-rich ingredients including wholegrains, heart-healthy fats, minerals and vitamins. For a fancy treat, layer up the granola with yogurt and fruits to make a parfait. Despite taking only seconds to prepare, it looks really beautiful and is bound to impress family and friends.
Makes around 12 servings
Hands on time: 10 minutes Cooking time: 40 minutes
Ready in: 60 minutes
Ingredients
300g / 10½ oz / 3 cups rolled oats (use GF oats, if needed)
100g / 3½ oz / ½ cup buckwheat, rinsed and drained
4 TBSP cocoa powder
3 TBSP coconut sugar (or unrefined caster sugar)
¼ tsp salt
75g / 2½ oz / ½ cup hazelnuts
65g / 2¼ oz / ½ cup pecans
70g / 2½ oz / ½ cup dried cranberries
150 ml / 5¼ fl oz / ½ cup maple syrup (or agave syrup)
2 tsp vanilla extract
3 TBSP virgin coconut oil, liquefied
Method
Get prepared
Preheat the oven to 150C (130C fan) / 300F / Gas 2.
Line a large baking tray (38 x 26cm / 15 x 10 inches) with non-stick baking paper.
If your coconut oil is solid, place in the oven in a heat proof bowl for a couple of minutes until it has liquefied.
Roughly chop the nuts.
Ready, set, go!
In a large bowl, mix together the oats, buckwheat, cocoa powder, sugar and salt. Stir in the nuts and cranberries*. Pour in the maple syrup and vanilla extract, and stir until all the grains are coated. Add the coconut oil and stir until thoroughly combined.
Spread the granola out evenly on the prepared baking tray. Press down firmly so that the mixture sticks together as if you were making a thin granola bar. Bake for 40 minutes. Remove from the oven and allow to completely cool.
The granola will firm up on cooling. Break up the granola into clusters and transfer to an airtight jar. Stored in a cool place, the granola should keep for weeks.
*If you'd like to preserve the colour and nutrients of the cranberries, add them to the granola once its baked.
[/print_this]
Products used in this recipe (UK stockists)
Mornflake Superfast Oats, available in Asda, Morrisons, Tesco and The co-operative (Gluten-free oats are available from the 'Free From' aisle in major UK supermarkets and health food stores)
Tesco Buckwheat (found in the wholefoods section) (Buckwheat is also available in health food stores and online)
Biona Coconut Sugar, available from health food stores and online
Dried Cranberries (sweetened with pineapple juice), available from the wholefoods sections in Tesco and Waitrose
Clarks Original Maple Syrup available in Tesco, Asda, Morrisons and Sainsbury's
Essential Organic Virgin Coconut Oil (available in health food stores and online)
Enjoy! xx
Postscript
Sirilipons … 'Secret' nibbling eh? I wondered where the bottom right hand corner had gone. It looks like a giant mouse has been at it. You are so busted!