When I first started blogging, I recall there was a wave of health food bloggers posting recipes for 'Healthier' Monkey bread.  I had absolutely no idea what 'Monkey bread' was or why it had such a funny name!
Wikipedia soon filled me in…
Monkey bread, also called monkey puzzle bread, sticky bread, African coffee cake, golden crown, pinch-me cake, bubbleloaf and monkey brains is a sweet, sticky, gooey pastry served in the United States for breakfast.  The bread is made with pieces of sweet yeast dough which are baked in a cake pan after first being covered in melted butter, cinnamon and sugar. It is traditionally served hot so that the baked segments can be easily torn away with the fingers and eaten by hand.
Sounds yummy doesn't it?  However, traditional Monkey Bread isn't particularly healthy.  It contains A LOT of fat and sugar.  In contrast, the 'healthified' versions often use bread or pizza dough as their base, and are glazed with healthier alternatives to butter and refined cane sugar.
One Sunday, I decided to have a go at making some Apple and Cinnamon-Spiced Healthy Monkey Bread as a 'special breakfast'.  It was a huge hit with Lil' L and M and,  I must admit, I'm rather partial to it too.
The 'authentic' way to serve Monkey Bread is to invert it onto a plate…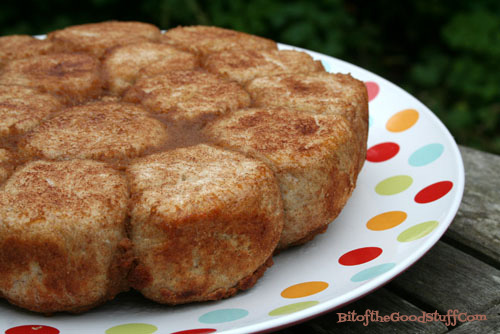 However, we prefer to eat it straight from the pan.  Hands get less messy, and you can use the balls to mop up any syrup left in the pan. 😉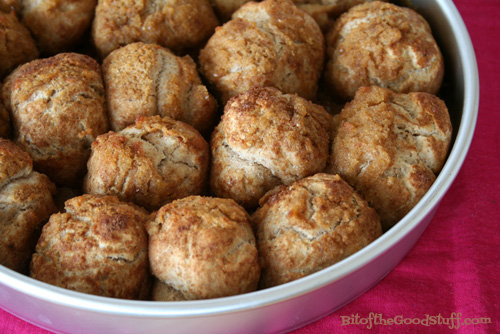 If you're lucky enough to have a breadmaker, then this recipe requires very little effort at all.  You simply throw all the dough ingredients in the machine and press a button.   I've had my breadmaker for a couple of years now and it's been fantastic!  I reckon it's easily paid for itself in terms of the amount of times we've chosen to stay in rather than going to Pizza Express!
Today, I made some Monkey Bread as an after-school treat for Lil' L and his friend, and I made it by hand to see how it compared to the bread-maker version.  To be honest, making dough by hand doesn't require THAT much effort.  It takes less than 15 minutes, which isn't too bad at all.  Plus kneading dough is great exercise for the arms.
Below I've given instructions for making the Monkey Bread by hand and in a breadmaker.  If you're planning to eat it for breakfast, you can easily prepare the dough the night before and chill it in the fridge.  In the morning, simply remove the dough from the fridge about 20 minutes before you need to use it.
[print_this]
Makes 18-20 dough balls (serves 3-4)
Hands-on time: 10-30 minutes (depending on whether you make the dough in a breadmaker or by hand)
Dough resting time: 1 hour
Cooking time: 25-30 minutes
Dough
½ tsp fast action/easy blend yeast
300g / 11oz / 2¼ cups wholemeal (wholewheat) bread flour or chapatti flour (I use the latter)
½ tsp sea salt
170ml / 5¾ fl oz / ¾ cup lukewarm water
1 tbsp olive oil
Cinnamon Sugar
1 tbsp coconut sugar (or use granulated sugar)
1 tsp ground cinnamon
Apple Cinnamon Syrup
1 organic apple, cored and chopped (I keep the skin on)
2 tbsp virgin coconut oil (or you could use non dairy margarine, like Pure)
2 tbsp maple or agave syrup (I often use Clark's Original Maple Syrup)
1 tbsp coconut sugar (or brown sugar)
1 tsp ground cinnamon
Method
Prepare the dough.
– In a breadmaker: Throw all the ingredients in the pan and select 'pizza dough'.  The programme should take around 45 minutes.  When it signals that it's ready, leave the dough in the machine for a further 20 minutes or so to rise.
– By hand: Place the yeast, flour and salt in a large bowl.  Add the warm water and oil.  Mix well with a spoon, then bring it together with your hands until you have a sticky dough.  Knead for 5-10 minutes, until the dough is smooth.  Place the dough in a lightly oiled bowl, cover with a damp tea cloth or oiled cling film (plastic wrap), and leave in a warm place for about an hour until it has doubled in size.  If your house is cool (like ours) then cover with oiled foil and leave in the oven at 40C / 100F for an hour.  When the dough is ready, remove from the oven, knead for a couple more minutes then set aside.
Preheat the oven to 200C / 400F / Gas 6.  Brush or spray a 23 cm / 9″ loose bottom pan with oil.
Prepare the cinnamon sugar: In a small bowl, combine the sugar and cinnamon.
Prepare the apple cinnamon syrup: First blend the apple into a smooth puree.  I find the easiest way to do this is to place the apple pieces in a bowl and use a hand blender (stick / immersion blender).  Place the apple puree, coconut oil, syrup, sugar and cinnamon in a small pan and gently heat until the oil has melted.
Pull off small amounts of dough and roll them into balls about 2½ cm / 1″ in diameter.  Roll them in the cinnamon sugar and place in the oiled pan.  Repeat until all the dough has been used.  Evenly space out the balls in the pan (they will expand when baking).  If you have any cinnamon sugar left over, add it to the syrup pan.
Spoon the apple cinnamon syrup evenly over the top and in between the dough balls.  Place in the preheated oven and cook for 25-30 minutes.
Serve warm, either inverted onto a plate or straight from the pan.
[/print_this]
I hope you enjoy it as much as this little monkey 😉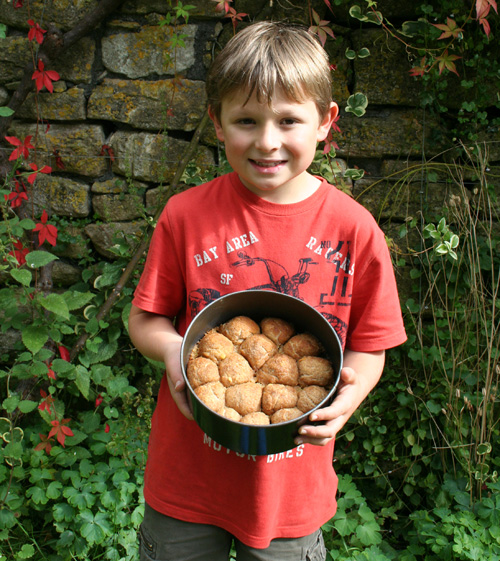 Good Hemp Seed Giveaway Results!
Before I go, I'd like to announce the winners of the Good Hemp Seed Giveaway.  The eligible entries were placed in chronological order and 3 winners were randomly selected using Random.org.
I'm delighted to announce that the winners are…
1. Emma
2. Samantha
3. Penniless Veggie
Please email your postal addresses and I'll arrange for the gifts to be sent to you asap.
Have a great weekend everyone! xx