The black bean (aka 'turtle' bean), is a small, shiny bean that's highly popular in Latin American cuisine. Here in the UK, though, this little bean tends to get neglected in favour of its big red brother, the kidney bean. It's a shame because its flavour and texture is way superior to its big brother (in my opinion!) For me, the black bean has a beautiful smoky flavour and 'meaty' texture that makes it the perfect bean to add to our home-cooked Latin American dishes.
I think it's high time we gave this fantastic bean the recognition it deserves!
One of my favourite ways of serving black beans is in a richly flavoured soup. For children, the soup can easily be blended to produce a smoother soup.
For lunch or a light dinner, we like to serve this soup with a couple of segments of toasted wholegrain tortilla.  For a main dinner, we love a slice or two of freshly baked cornbread.
[print_this]
Serves 4-6
Hands on time: 15 minutes    Ready in: 45 minutes
Ingredients
1 TBSP olive oil
1 medium onion, finely diced
2-3 garlic cloves, minced
1 large carrot, finely diced
1 large sweet potato, peeled and diced
1 tsp ground cumin
1 tsp smoked paprika
1 tsp dried oregano
½ tsp chilli powder (use mild chilli for children)
145g / 1 cup canned or frozen sweetcorn
400g / 14oz can chopped tomatoes
600 ml / 2½ cups vegetable stock (broth)
2 x 400g / 14oz cans black beans, rinsed and drained
salt, to taste
cayenne pepper, to taste
2 TBSP nutritional yeast flakes, optional (adds savouriness and extra nutrients)
Suggested garnish:
fresh coriander leaves (cilantro)
red pepper or chilli, finely chopped
Method
 1. Gently heat the oil in a large saucepan. Add the onion, garlic, carrot, sweet potato, cumin, paprika, oregano and chilli powder. Stir to combine, then cover with a lid and leave to sweat on a low heat for 5 minutes.
2. Add the sweetcorn, tomatoes and stock to the pan. Bring to the boil then reduce the heat, partially cover with a lid, and simmer for 20 minutes. When the vegetables are tender, stir in the beans.
3. Remove half of the soup from the pan. Allow to cool slightly, then blend smooth in a jug blender. Return it to the pan and gently heat through.  (Note: small children may prefer their soup completely smooth. In this case, simply add more soup to the blender).
4. Season the soup with salt, to taste.  If you'd like to give the soup a spicy kick, first remove any children's portions then add a pinch of cayenne pepper.
5. Allow to cool slightly, then stir in the nutritional yeast (this helps to preserve its nutrients).
6. This soup is delicious served with a side serving of toasted tortilla segments and/or corn bread. Any leftovers can be stored in the fridge for 3 days. The soup may thicken over time, so simply add a touch more water or vegetable stock. It also freezes well.
[/print_this]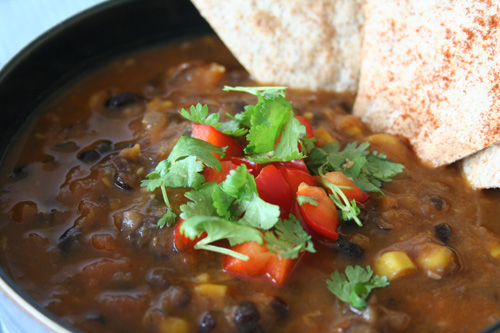 Enjoy!

Do you cook with black beans? If so, what's your favourite recipes? If you've published any recipes online, do post the links below x
SaveSave
SaveSave