The recipes I most often share are firm family favourites that I've been refining over a number of years. So when I get inspired to create a new recipe that I want to blog now rather than in 5 years time, I end up obsessively testing it again and again over the course of a week or so to play catch up with the tweaks and refinements.
This week, the obsession has been these little guys…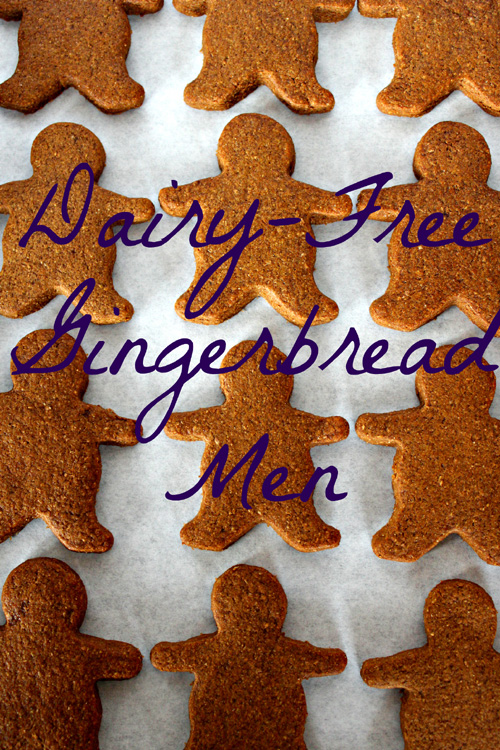 When Amy mentioned gingerbread under my waffles post, it reminded me that I hadn't made gingerbread men in years. I decided it was high time I dusted off my old recipe notes and gave them another whirl.
So far this week, I've made 72 gingerbread men! Family and friends have kindly been helping me out with the testing. Lil' L's taken them to school, Mark's taken them to work, and I've shared them with friends over coffee (not the classiest of cookies but hey it made them smile).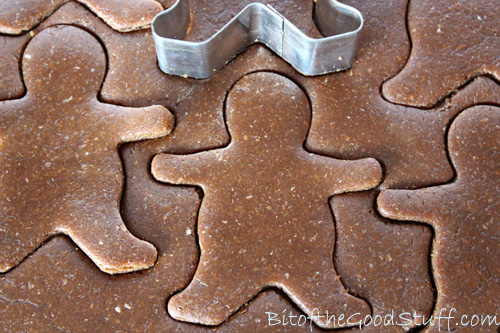 All the batches got great feedback, but Mark thought they could be a bit 'gingerier' so the next batch had an extra ½ tsp of ginger. I've tested different thicknesses (the thicker men were the winners), different sugars and different oils/butters. All worked fine, so I'm guessing the recipe is pretty adaptable. I also tested different cooking times and I personally preferred the longer time as it made them firmer and crunchier round the edges.
Readers have also had great success using gluten-free flour to make these gingerbread men. Check out the Comments section below to see their feedback.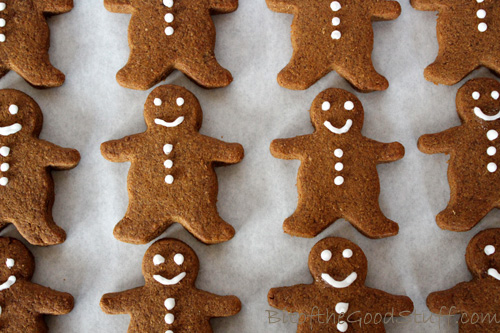 Even though I've eaten a ridiculous amount of gingerbread men this week, I'm still totally in love them and will be happily munching my way through more this weekend. Fortunately, as cookies go, these are pretty healthy as they're wholegrain, plus they've got an extra boost of iron from the molasses. As well as coffee, they're delicious with a cup of ginger tea. This has got to be the ultimate winter warmer. I can literally feel myself warming up from the inside out as I sip a cup ♥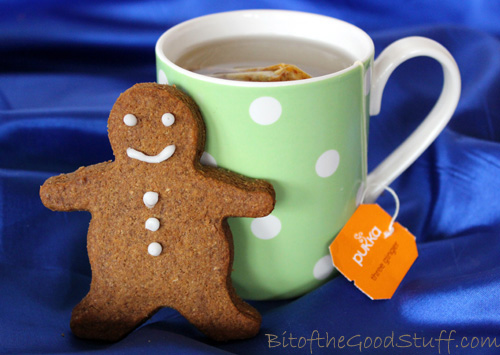 [print_this]
Makes about 18 cookies (depending on cutter size)
Hands on time: 20 minutes   Chilling time: 1 hour (can be left up to 2 days)
Cooking time: 10-12 minutes    Ready in: 1 hour 35 minutes
Ingredients
100g / ½ cup organic rapeseed (canola) oil, dairy-free spread or aroma-free coconut butter
85g / ½ cup soft brown sugar or coconut sugar
4 TBSP molasses (black treacle or blackstrap)
2 TBSP non dairy milk
280g / 2 cups fine wholemeal (whole wheat pastry) or chapatti flour (see Comments section below for reader feedback on gluten-free options)
½ tsp bicarbonate of soda (baking soda)
½ tsp salt
1½ – 2 tsp ground ginger
1 tsp ground cinnamon
Pinch of ground nutmeg
Method
Place the oil/spread/butter in a pan with the sugar, molasses and milk. Gently heat over a low heat. As it warms, whisk to combine.
Sift the flour, bicarbonate of soda, salt, ginger, cinnamon and nutmeg into a large bowl. Give it a mix to make sure it is combined. Pour in the contents of the pan and stir until it comes together to form a dough. This will take some elbow grease as it's a stiff dough. (If you're using coconut butter, you may need to add 1-2 TBSP more milk to form a smooth non crumbly dough).
Shape the dough into a ball, wrap in clingfilm (plastic wrap) and chill for 1 hour. The dough can be chilled for up to 2 days but, if left for more than 1 hour, remove from the refrigerator 10 minutes before rolling.
When ready to bake, preheat the oven to 180C (160C fan) / 350 F. Line 2 large baking sheets with non-stick baking paper.
Place the dough on a silicone mat or lightly floured work surface. Place a sheet of non stick baking paper on top and roll to a thickness of ½ cm (just under ¼ inch). Press out the dough using a metal cookie cutter and transfer to the prepared baking sheet. Combine the dough scraps into a ball and roll out again. Repeat until all the dough is used.
Place in the oven and bake for 10-14 minutes. (I check mine after 10 minutes and then bake for another 2-4 minutes as I like mine firmer and crunchier). Leave to cool and firm up for a few minutes, then transfer to a wire rack to completely cool. The cookies will last about a week in an airtight container, or for weeks in the freezer. If freezing, place in a single layer in a freezer bag. Press out all the air before tying or zip locking.
Freshly baked, these gingerbread men are crispy round the edges with a soft centre. Over time, they become softer and chewier, but delicious nonetheless.
[/print_this]
If you try the recipe and make any adjustments, do let me know. I always love to hear your feedback!
love