Today I'm sharing a recipe for a delicious chocolate treat that would be perfect for sharing in the upcoming festive season.
Say hello to the Giant Chocolate Biscoff Butter Cup…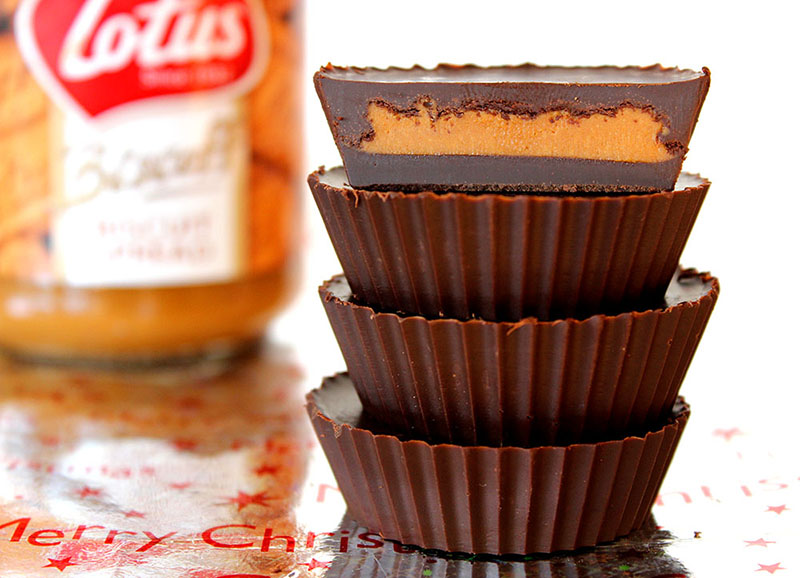 This mix of melt-in-your-mouth dark chocolate and biscoff cookies in butter form is a match made in heaven. Whether you're vegan yourself, or looking for a chocolatey gift for a vegan/dairy-free loved one, these cups are bound to impress. And the fact that you made them yourself is sure to win you extra brownie points.
I have always loved those little Lotus Speculoos biscuits that that you get with a cup of coffee on continental Europe (known to our US friends as 'Biscoff Cookies'). That crisp snap as you bite into it and that unique flavour are two reasons why I'm so fond of it. The fact that it happens to be vegan makes me love it even more.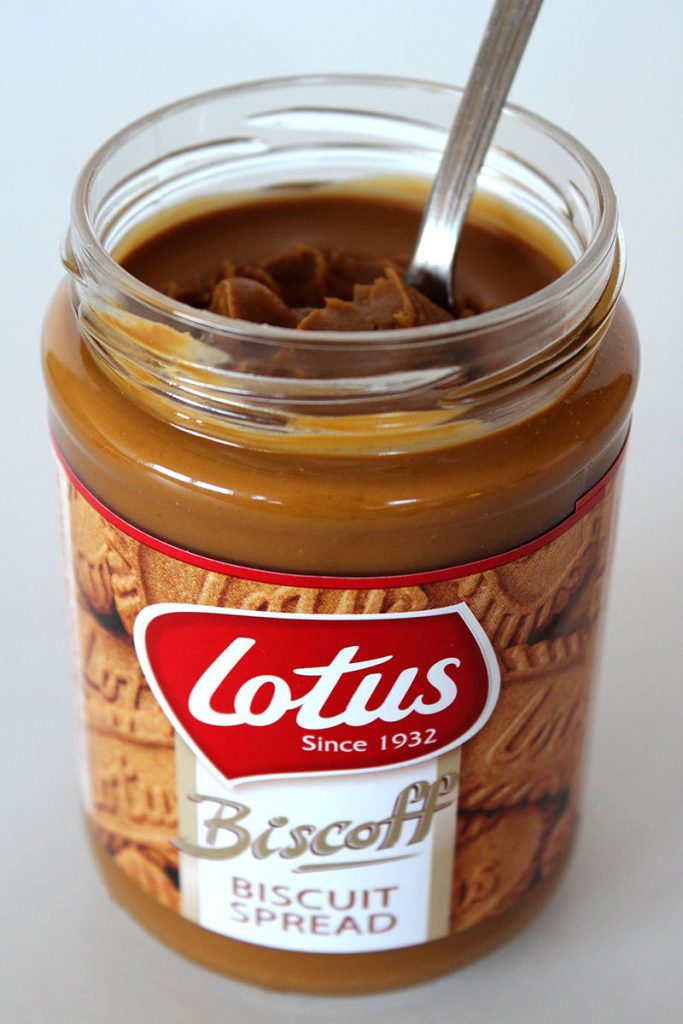 So you can imagine how excited I was when I spotted Lotus Biscuit Spread (aka Biscoff Cookie Butter) in Waitrose (next to the peanut butter jars). My favourite coffee biscuit… in butter form AND it's suitable for vegans!!!
Okay, so I know it's not a health product, but I'm not adverse to the occasional sugary treat especially in the festive season. And I was intrigued to see how it tastes. As soon as I got home, I stuck my spoon in to test it and, oh my word, it tastes JUST like the biscuit!!! A smooth, creamy version of the biscuit 😍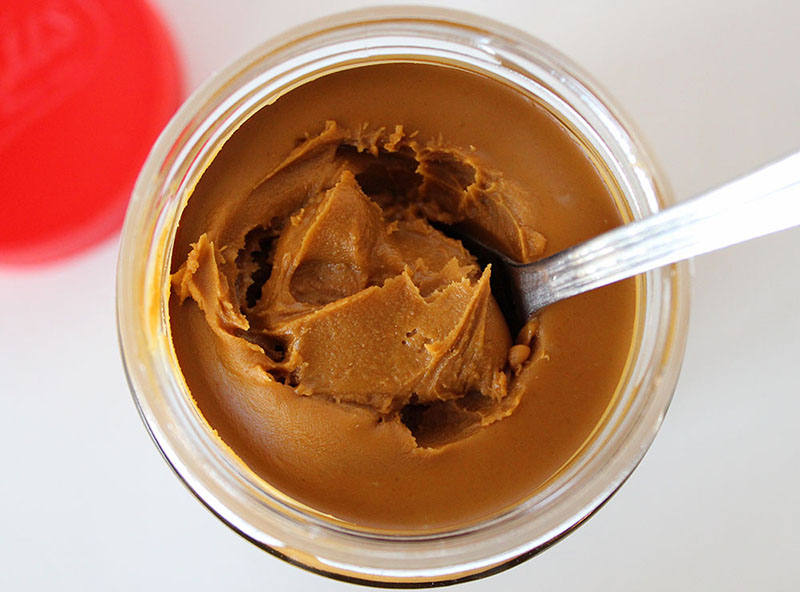 And I knew the perfect recipe to use it in…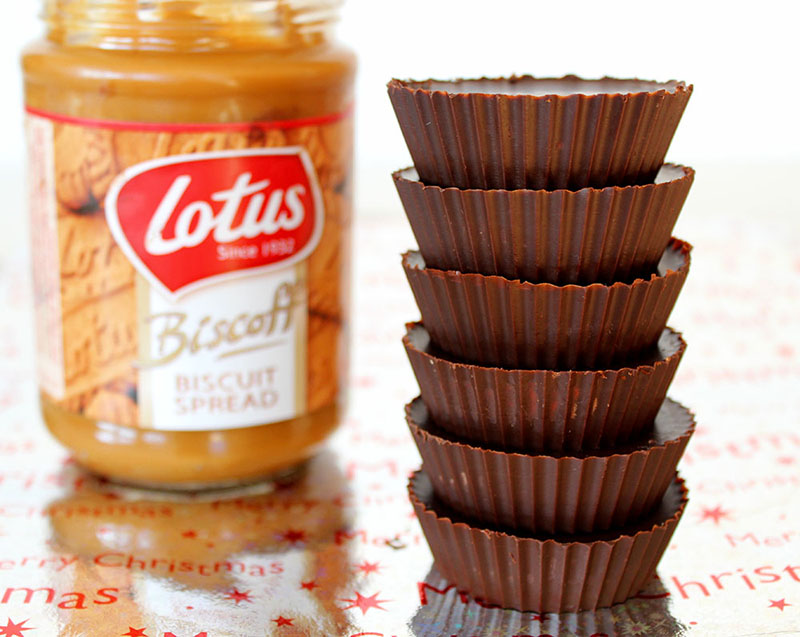 … a nut-free alternative to my giant peanut butter cups! (p175 in the Bit of the Good Stuff Cookbook).
They are so easy to make! It's simply a case of melting dark chocolate, pouring it into a silicone cupcake mould (or paper cases) and filling it with the biscoff cookie butter. The hardest bit is waiting for them to set before you can tuck in.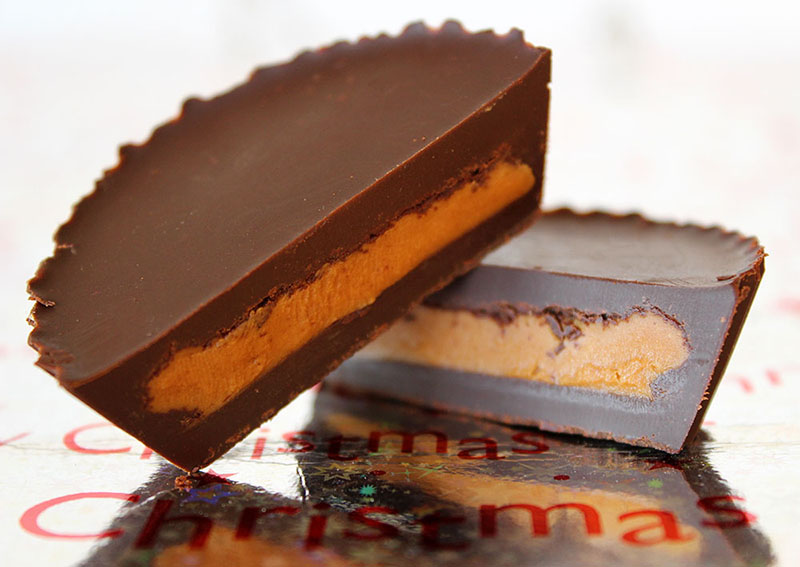 I've made two batches so far this week and they've been a big hit with everyone that's tried them. These treats will definitely have wide appeal. They'd also make a great home-made Christmas gift, packaged in a chocolate box or in a festive cellophane bag. If you really want to go for the 'wow' factor, you could use a shaped mould, like the heart-shaped one I use for my peanut butter cups.
[print_this]
These Biscoff butter-filled chocolates are incredibly easy to make, yet look so professional that they're bound to impress. I use a silicone cupcake moulds. If you don't have any, you can always use paper cases. Pop them in a muffin tray to help retain their shape.
Makes: 8 chocolates
Hands on time: 25 minutes Ready in: 60 minutes
Ingredients
200g / 7 oz 70% dark chocolate, chopped into small pieces (I used Waitrose Continental Plain Chocolate)
approximately 112g / 12 tsp Biscoff Biscuit Spread (aka Biscoff Cookie Butter)*
Method
Place half of the chocolate pieces in a heat-proof bowl set over a pan of gently simmering water (make sure the water doesn't touch the bowl). When the chocolate has fully melted, remove from the heat.
Spoon about 2 tsp melted chocolate into each mould. Tilt the moulds so that the chocolate coats the sides to a height of abut 1 cm / just under ½ inch. Leave the remaining chocolate in the bowl (you will use this later).
Pop the moulds in the fridge until the chocolate is solid (about 8 minutes).
Add the remaining half of the chocolate pieces to the heat-proof bowl over the pan of water. Gently heat until the chocolate melts.
When the chocolate base is set, spoon a small amount of Biscoff cookie butter into the centre of each mould (I use about 1½ tsp per mould). Spread to level. Run a teaspoon round the edge of the mould to create a tiny gap. Spoon melted chocolate on top and swirl to fill in the sides. Tap the mould on the worktop to release any air bubbles.
If you have any chocolate left over, pour it onto a piece of baking paper to create a chocolate 'puddle'. You can keep this in the fridge for another recipe.
Chill the chocolates until completely solid. Stored in an airtight container, these treats will keep for weeks. If your house is warm, store them in the fridge.
* In the UK, Lotus Biscuit Spread is available in all the major supermarkets.
[/print_this]
If you make this recipe, I would love to see your creations! Tag them on Instagram, Facebook or Twitter with #BitoftheGoodStuff and they'll find their way to me.