Today's post is for anyone who, like me, STILL hasn't started their Christmas shopping. I can't be the only one left surely?
Rather than traipsing round the shops, checking labels to see whether products are cruelty-free, I find it so much easier and less time-consuming to buy the products direct from vegan-friendly businesses, whether that be at Christmas markets or from online shops. I especially love to support the independents, family-run businesses and charities.
In this post, I'll give you the low down on a few of my favourite places to buy vegan gifts. I've also hand-picked some goodies that would make great Christmas gifts for your loved ones.
First up, we have The Vegan Kind ❤️ As you probably know, I'm a big fan of The Vegan Kind, which is run by Karris and Scott in Glasgow. As well as their monthly subscription boxes, they recently launched an online shop which sells lots of vegan goodies that would be perfect as Christmas gifts. Here are some of my top picks…
Vegan Experience Gift Box  £29.95
This box include 13 carefully selected, quality vegan items. The box comes beautifully packaged and a gift message can be added.
Faith in Nature Gift Set  £16.99
I love Faith in Nature products and regularly use their shampoos and body washes. They are made with 100% natural fragrance and are free from parabens and SLS.  I'm sure any girl would be happy to receive one of their gift sets which contains a Faith in Nature Wash Bag, Shower Gel 250ml, Hand Wash 300ml and Body Lotion 150ml.
Human+Kind Gift Box  £29.95
I was introduced to Human+Kind through the TVK subscription box and their products are fantastic quality. I love the packaging design too. The Bathroom Bliss set includes Grapefruit Bodywash 250ml, Wash-Off Facial Cleanser 40ml, Body Soufflé 50ml, Day+Night Cream 30ml, and Hand+Elbow+Foot Cream 50ml.
Vegan Bracelet  £8 (RRP £10)
For the proud vegans in your life, this beautiful elasticated bracelet is hand made in Scotland using hematine beads. It comes packaged in a gift bag.
Vegan Christmas Selection Box  £12
The legendary TVK vegan Christmas selection box is back! The 2016 box includes a large Loving Earth Creamy Coconut bar, Almighty Foods Golden Blonde bar (my personal favourite chocolate bar of 2016!), Sarelle bar, Mini Vego bar and Jeavons Smooches (mini pack).
[Image credit @laura_vegan_life]
Vegolino Nougat Praline Chocolates  £4.49
New for 2016 from the makers of the infamous Vego bar, these nougat praline chocolates are utterly delicious and would make an indulgent addition to festive stockings and hampers.
*Order from The Vegan Kind by 19th December for delivery before Christmas (UK)*
If you're looking for vegan chocolate goodies, you must check out the family-run online business Vegan Town ❤️ They have the biggest selection I've ever come across.
Vegan Treat Box  £20
For big and little kids alike, Vegan Town's treat box would make a fantastic Christmas gift. The box typically contains 10-14 goodies, which can include chocolate bars, fudge, toffee, cookies and spreads. Lil' L received one of these boxes for his birthday in October and he's still working his way through it. It's one of those gifts that keeps on giving.
Rudolph Round Up!  £2.99
Ananda's Round Up is a gourmet, vegan version of a wagon wheel. Light and fluffy marshmallow is sandwiched between a delicious chocolate biscuit and coated in fine Belgian chocolate… finished with a dollop of cherry and berry jam. It would make a delicious addition to any festive stocking or hamper.
Goupie: A Taste of Christmas  £4.49
Goupie is a scrumptious handmade treat, created with a family recipe going back generations. Distinctive triangle chunks of chewy chocolate indulgence, with a hint of crunch. The special A Taste of Christmas flavour is loosely based on a minced pie with aromatic cinnamon and ginger paired with candied fruits and nuts; before being neatly wrapped in a 54% Belgian chocolate. This is what I'm buying all my neighbours! I might sneakily buy a box for myself too hehe.
*Order from Vegan Town by 20th December for Christmas delivery (UK)*
And for the raw chocolate lovers, how about treating them to a Chocolate Making Starter Kit (£17) from Elements for Life ❤️ so they can have fun creating their own chocolates? Each kit includes 100g Ecuadorian Arriba Raw Cacao Powder, 120g Ecuadorian Arriba Raw Cacao Butter, 100ml Sweet Freedom, natural fruit syrup, a Reusable Silicone Chocolate Mould (you have 2 designs to choose from) and recipes. I've bought numerous kits for friends and family over the years and they've always been a hit.
This Raw Chocolate Taster Bag (£13) would also make a lovely Christmas gift. It features three of my favourite Elements for Life products – Raw Cacao Hot Chocolate, Cacao Nibs and a slab of Yummy Scrummy (best raw chocolate brownie ever!)
*Order from Elements for Life by 20th December for Christmas delivery (UK)*
Make a purchase from the Viva! shop and you'll be supporting one incredible UK charity that works tirelessly in support of animals, the planet and human health ❤️ They have a whole array of products in their shop that would make wonderful Christmas gifts. Here are a few that I've got my eye on…
Zebra Love Vegan Wallet   £29.99
Check out the design on this purse. Isn't it striking? It's delicately printed onto soft vegan 'leather' by Create and Case. Measuring 10cm x 20cm, it features a zipped coin compartment, two open compartments and numerous handy card slots.
Vegan Bangle  £12
This beautiful, hand-stamped aluminium bangle is made by LoveLibbyX. It is fully adjustable, so will fit most wrist sizes.
Dusky Wildlife Cake Tin Set  £30
This cake tin set would make the perfect gift for anyone that loves baking. The gorgeous, dusky wild animals and geometric pattern print is the design of Bristol-based artist Tom Frost.
Magpie Dusky Wildlife Espresso Cup Set  £18 (was £22.50)
And for the coffee lovers, how about this beautiful porcelain espresso cup set which comes in a matching recyclable gift box? The Dusky set includes four famously nocturnal British animals: the Otter, Owl, Hare and Fox.
*Order merchandise from Viva! by 18th December for Christmas delivery (UK)*
Harper's Bizarre are my favourite candles ever! ❤️ They have the most amazing range of scents (with incredible lasting power). At the Bristol VegFest earlier this year, I must have been at the HB stall for an hour smelling all the different scents and struggling to choose one. I wanted them all! Amongst my favourites are Wolfwood, Jaffa Cake and Washing Line. I also love their Christmas range. Last year I was lucky enough to receive one in my December TVK box. It had the most wonderful festive scent… truly the epitome of Christmas.
The candles are priced at £8 each, or 3 for £20. They each have 20 hours of burning time.
*Order from Harper's Bizarre by 16th December for delivery before Christmas (UK)*
Lots of small, independent vegan businesses sell through Etsy so, if you're looking for something a little unusual or hand-crafted, this is the place to go. For the plant-powered cyclists, check out the range by VeloCulture ❤️ which upcycles inner tubes and transforms them into wallets, coin purses, belts, wash bags and pencil cases. My husband needs to switch his old leather wallet for a new vegan one, and this could be just the job…
*Check on the individual Etsy store pages for order deadlines for Christmas*
My husband likes to design his own T shirts and whenever he wears this one, it puts a smile on my face. The design is available for the public to purchase on Spreadshirt and you can choose to have it printed on all kinds of paraphernalia – T shirts, bags, mugs… even underpants! It could make a great gift for the humorous vegan in your life.
*Order from Spreadshirt by 16th December for delivery before Christmas (UK)*
For any friends or family members that are interested in trying some vegan cooking or are long-time vegans looking for meal inspiration, why not give them a copy of my new cookbook? 😉  Shameless plug I know, but the book is getting great feedback from vegans and omnivores alike and, just a month from the launch, I'm already starting to get repeat customers (always a good sign!) If you purchase the book via my bookshop, a donation will be made to Tower Hill Stables Animal Sanctuary. The Vegan Kind also stocks my book in their shop so, if you're already making some purchases over there, it could be worth adding my book to save on P&P.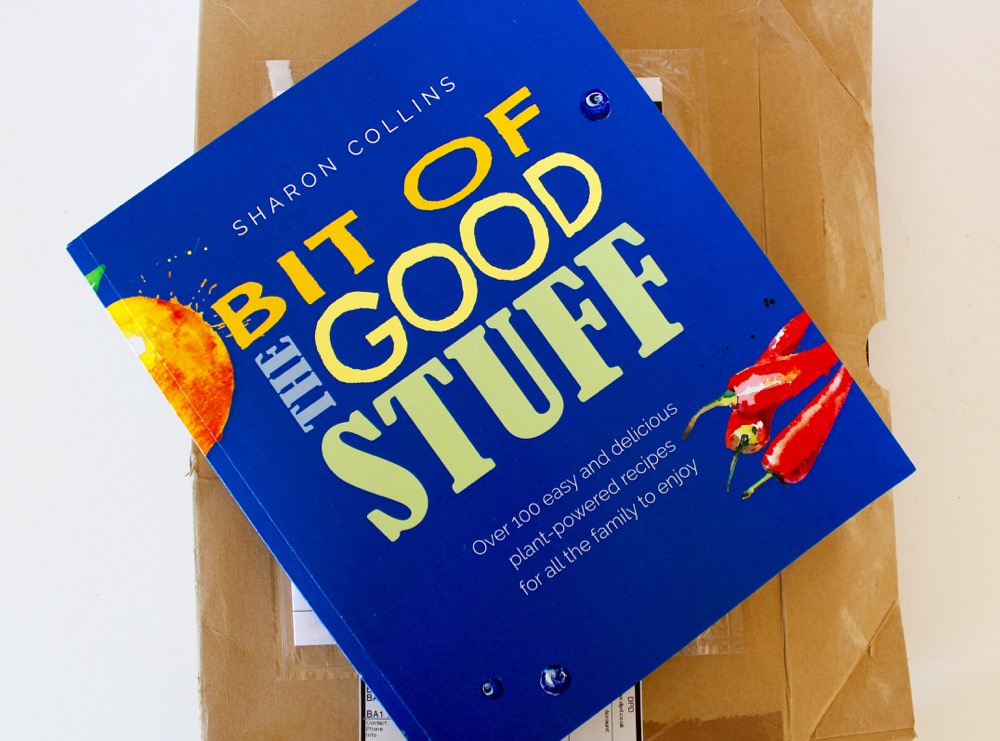 *Order from the Bit of the Good Stuff bookshop by 20th December for delivery before Christmas (UK)*
And for the ultimate compassionate gift, why not sponsor an animal at a sanctuary on behalf of a loved one? At the Tower Hill Stables Animal Sanctuary, sponsorships begin at just £10 and you will receive a photo, personalised letter and certificate.
Have you spotted any great last-minute gift ideas for vegans? If so let me know as I'd love to check them out!
Happy shopping!