In today's post, I'm sharing a recipe for a delicious baked treat – Lemon Berry Crumble Slices. These slices consist of a fluffy lemon sponge, studded with juicy berries and topped with crumble. They use basic pantry ingredients and are simple to make, yet they're bound to impress your family and friends!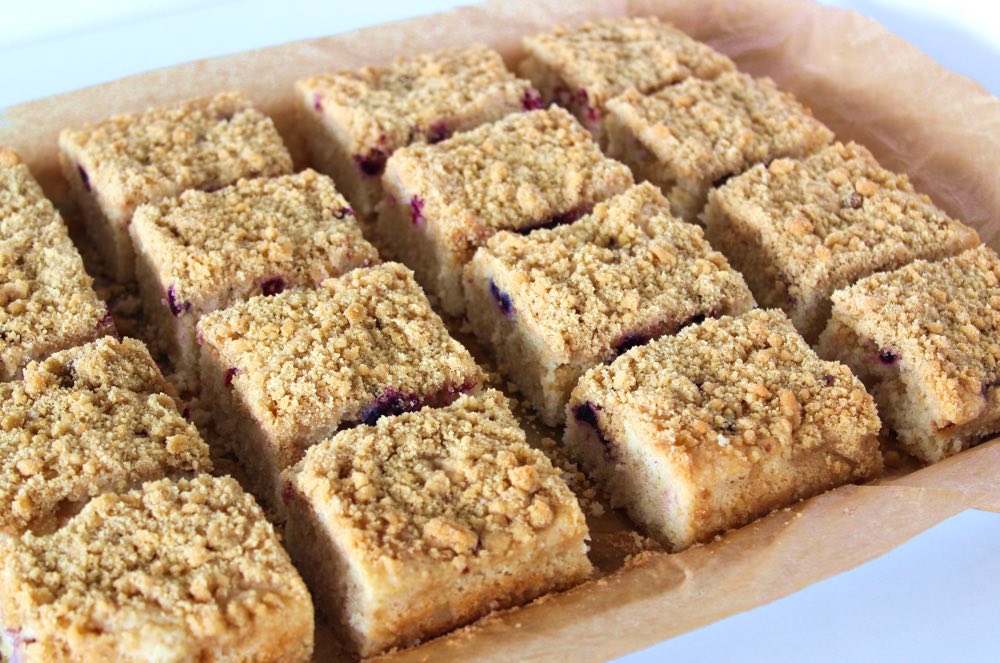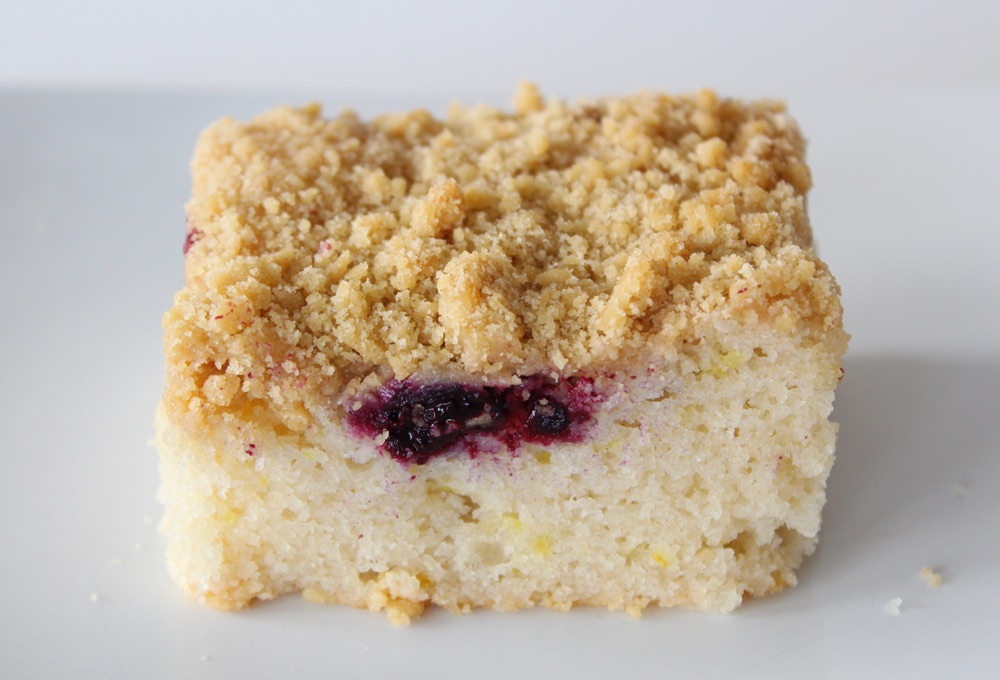 The August edition of the Vegan Life magazine landed on my doorstep just before we set off on our family summer vacation, so I tucked it into my luggage and looked forward to reading it when we arrived in the Dordogne.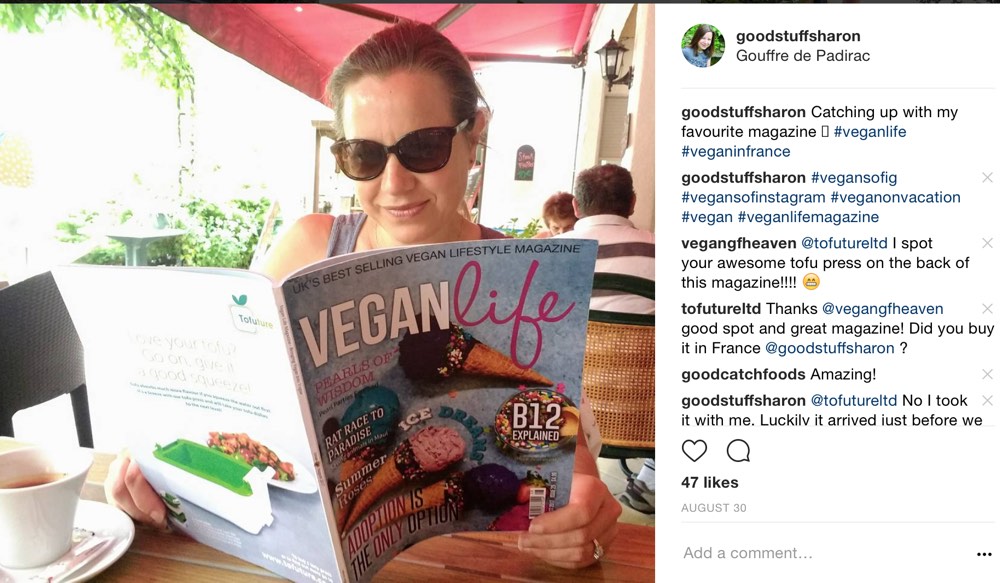 One of the first articles that caught my eye was an interview with Mellissa Morgan (aka Ms Cupcake). Canadian born, Mellissa now lives in London and runs the infamous Ms Cupcake bakery in Brixton. I love Mellissa's kooky, fun style and vivacious character. Whenever I see photos of her (especially in those wacky cupcake hats!), they always bring a smile to my face.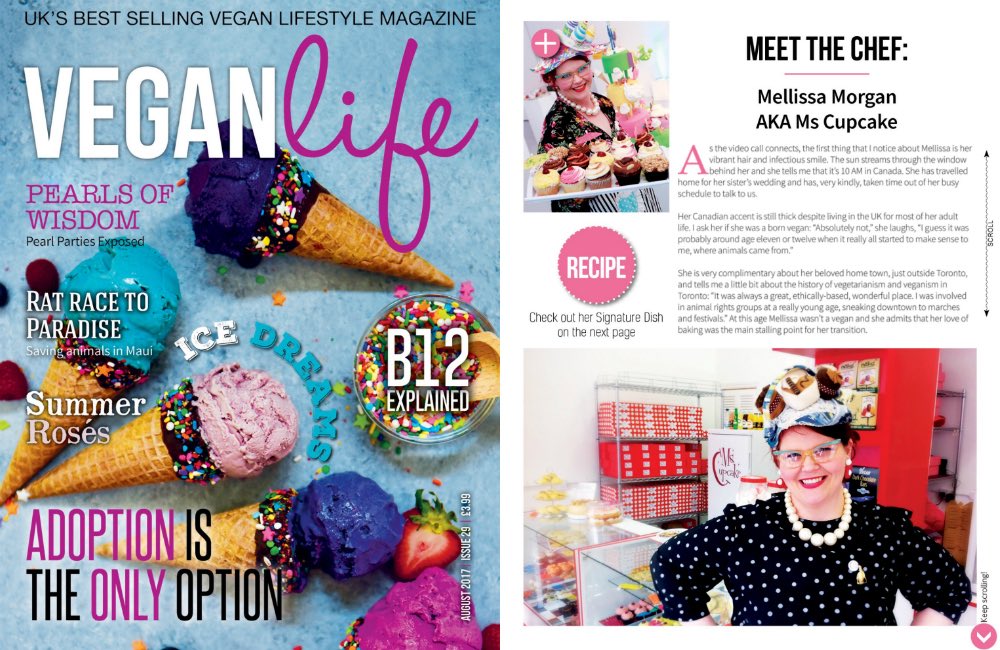 Along with the interview, Mellissa also shares her Signature Dish… the Lemon Blackberry Square. It sounded delicious and, since I'd never tried a crumble-topped sponge before,  I was intrigued to find out how it would taste. I bookmarked the page and when we arrived back in England, I headed into the kitchen and got baking.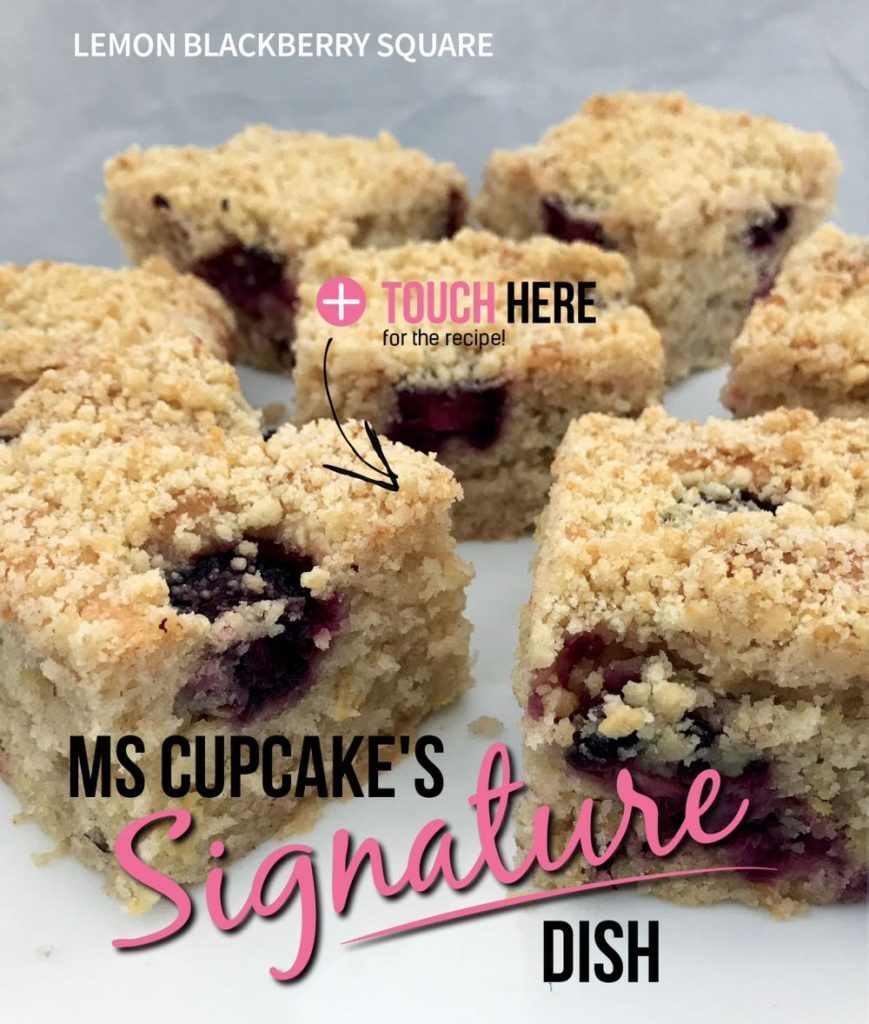 This cake is baked in a large rectangular pan; what we would call a 'Traybake' here in the UK. (I'm not sure if they're called the same elsewhere).  I love traybakes as they're a convenient way to bake a large amount of cake in one go, so perfect for parties, buffets, cake sales, or when you want to stock the freezer with cake ready for friend and family visits.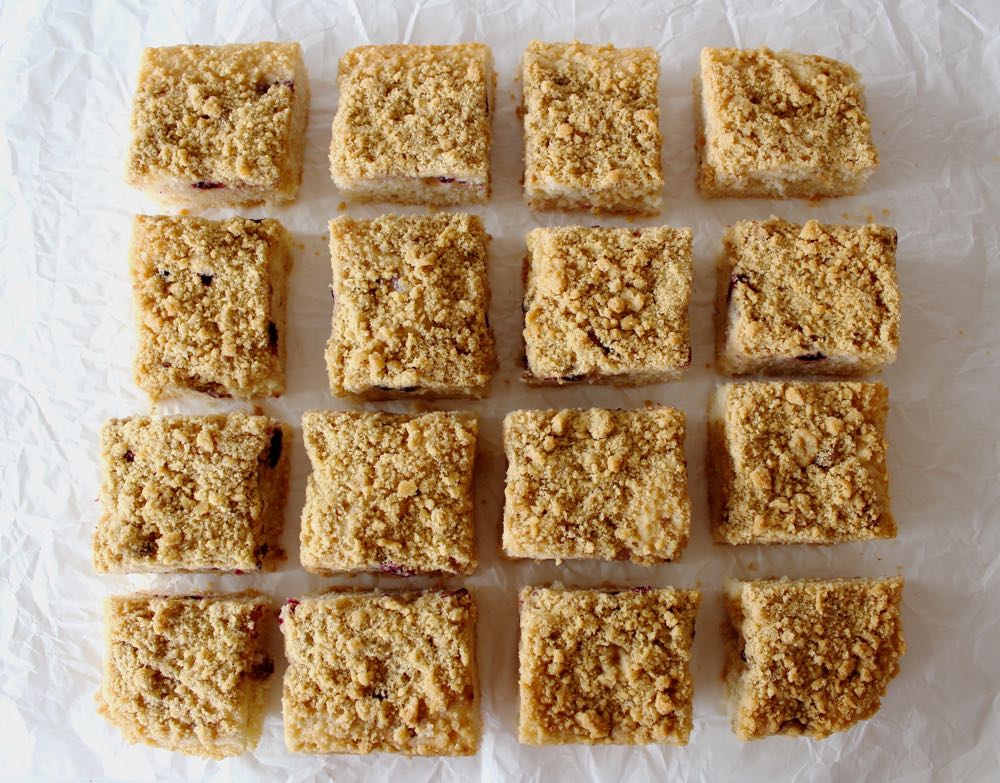 I've made this traybake twice already this month, and it's been a huge hit with everyone that's tried it. The sponge layer is light and fluffy, with a beautiful, zesty lemon flavour. I would never have thought of putting crumble on top of sponge, but it works really well, especially with that layer of juicy berries in-between. The first time I made the cake, I didn't feel that there was quite enough berries so second time round, I increased the quantities. Also, on Mellissa's suggestion, I doubled the quantity of crumble. Like her, I'm a crumble-lover, and this was definitely a good move! Below, I share Mellissa's recipe with my light adaptations.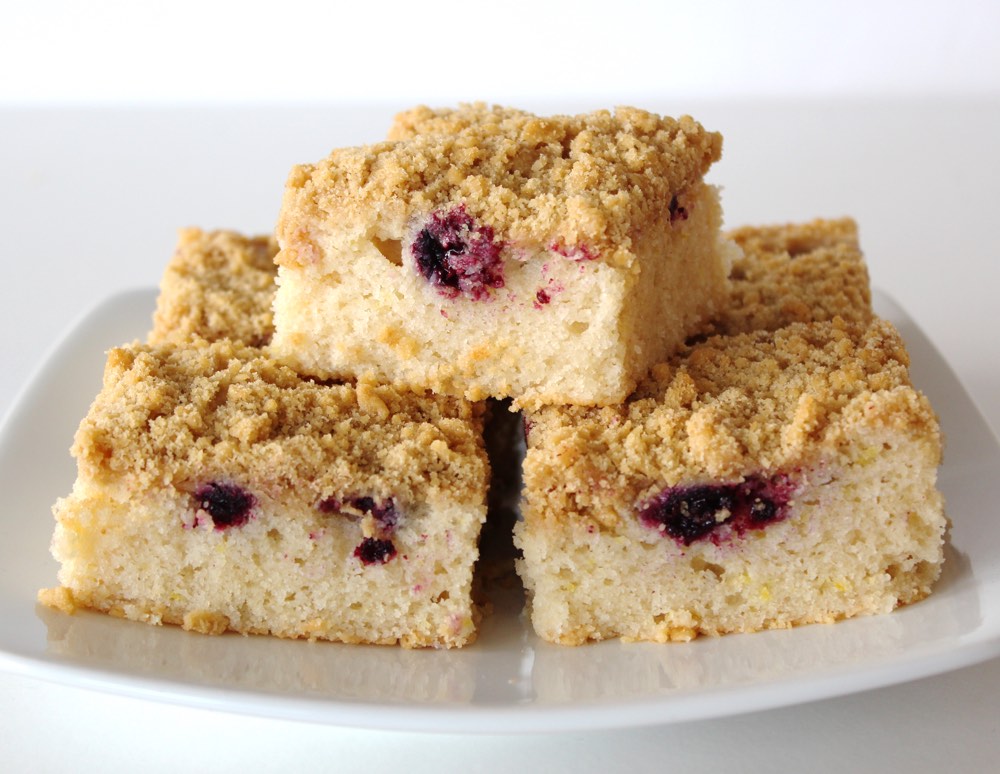 [print_this] This recipe has been lightly adapted from Ms Cupcake's Signature Dish published in Vegan Life magazine Issue 29. It's a delicious treat, consisting of a zesty lemon sponge studded with juicy summer fruits (berries, cherries, blackcurrants) and topped with crumble. It yields a large quantity of cake, so perfect for parties, buffets, cake sales or when you want to stock your freezer with cake ready for friend and family visits.
Makes: 20 slices
Hands on time: 25 minutes   Ready in: 2 hours 30 minutes
Ingredients
Crumble mix
200g / 1½ cups plain (all-purpose) or self-raising flour
100g / ½ cup brown or demerara sugar
100g / ½ cup dairy-free spread / vegan butter
Cake mix
450g / 3¼ cups self-raising flour
200g / 1 cup unrefined sugar (I used caster sugar)
zest of 2 unwaxed/organic lemons
⅓ tsp bicarbonate of soda (baking soda)
1 tsp vanilla extract
300ml / 1¼ cups soya milk
200ml / 1 cup sunflower oil (or other flavourless oil)
80ml / ⅓ cup freshly squeezed lemon juice
145g / 1 cup fresh or frozen blackberries, blackcurrants and/or cherries. (I used Sainsbury's Frozen Black Forest Fruits)
Method
1  Line a 33cm x 23cm (13" x 9") baking pan with non-stick baking paper. Preheat the oven to 180C (160C fan) / 350F.
2  Make the crumble: In a bowl, mix together the flour and sugar. Rub in the dairy-free spread/vegan butter using your finger tips. Set to one side.
3  In a separate bowl, add the flour, sugar, lemon zest and bicarbonate of soda, and stir through to combine.
4  Add the vanilla extract, soya milk, oil and lemon juice to the dry ingredients and stir until thoroughly combined (but do not over mix). Spoon the mixture into the prepared tin.
5  Slice any large berries into halves or quarters. Distribute the fruit evenly in the pan and lightly press them into the cake batter.
6  Sprinkle the crumble evenly on top.
7  Bake for 30 minutes, or until a skewer inserted through the middle comes out clean.
8  Leave the cake in the tin until completely cool, then slice. I divide mine into 20 slices, measuring 7cm x 6cm.
9  Stored in the refrigerator, the cake will keep for 5 days. It also freezes well.
[/print_this]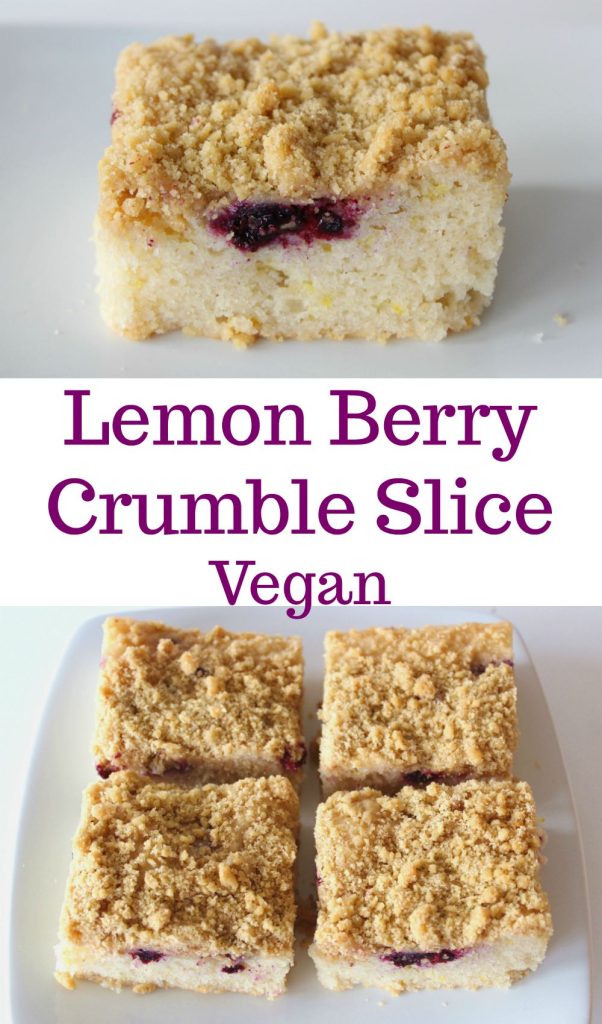 Big thank you to Ms Cupcake and Vegan Life for sharing this lovely recipe.
Happy baking everyone!