Last Easter, I spent a glorious two weeks with the family on the Canary Island of La Palma. It was one of the most beautiful hiking destinations I've ever visited. In today's post, I thought I'd share a few highlights from the trip, as well as details of our favourite vegan eats.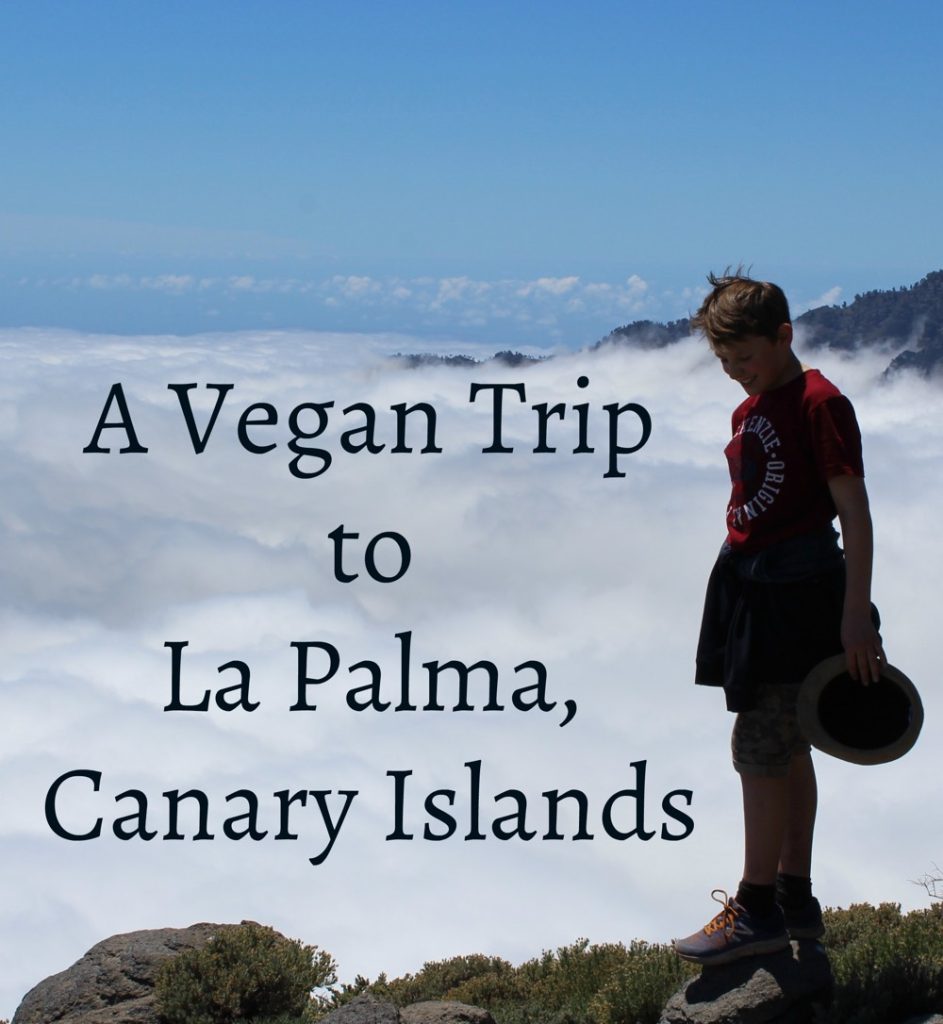 Having already visited Lanzarote on multiple occasions, in 2017 we decided to explore another Canary island. La Palma was our island of choice. Its designation as a "Starlight Reserve" really appealed to me as I adore star-filled skies, yet rarely get to experience them. La Palma is also known to be a 'walkers paradise' so I was looking forward to spending time in nature, breathing in the fresh air and exploring new sights.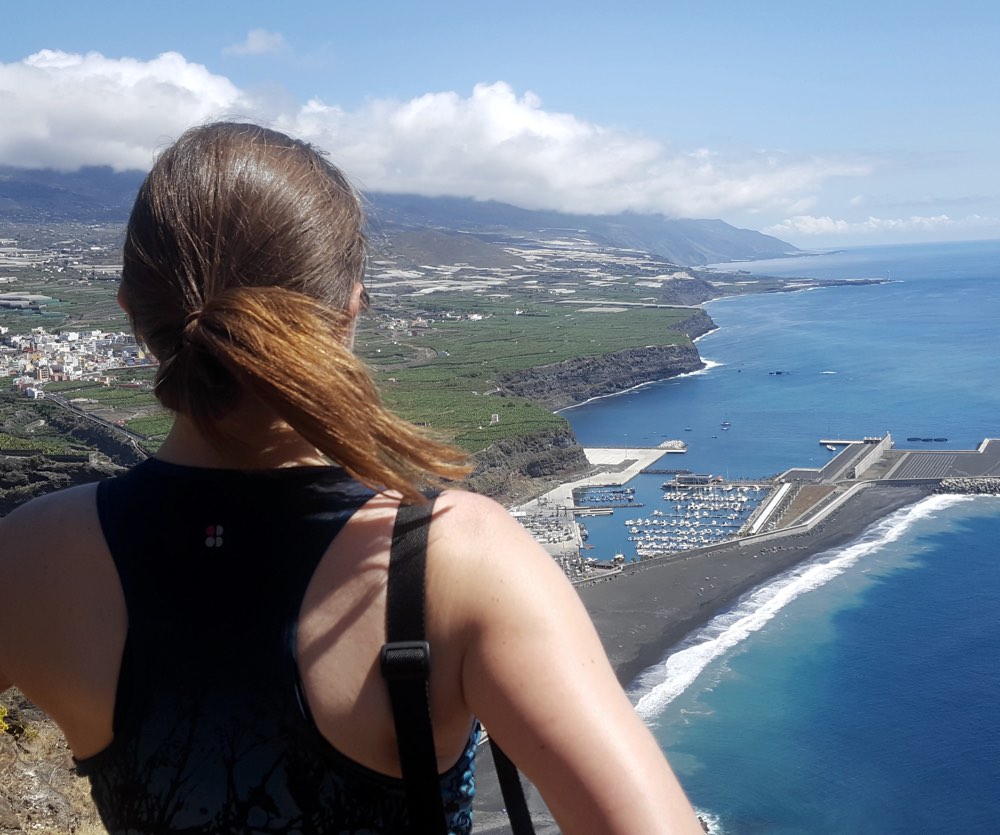 I was intrigued by the landscape colours of La Palma. Unlike Lanzarote which is mostly volcanic rock, with black/brown/orange being the dominant colours, La Palma appeared to be mostly green from the images I saw on the internet.
See all the green in the forefront of the photo below? Those are banana plantations! Another great feature of La Palma and amazing to see.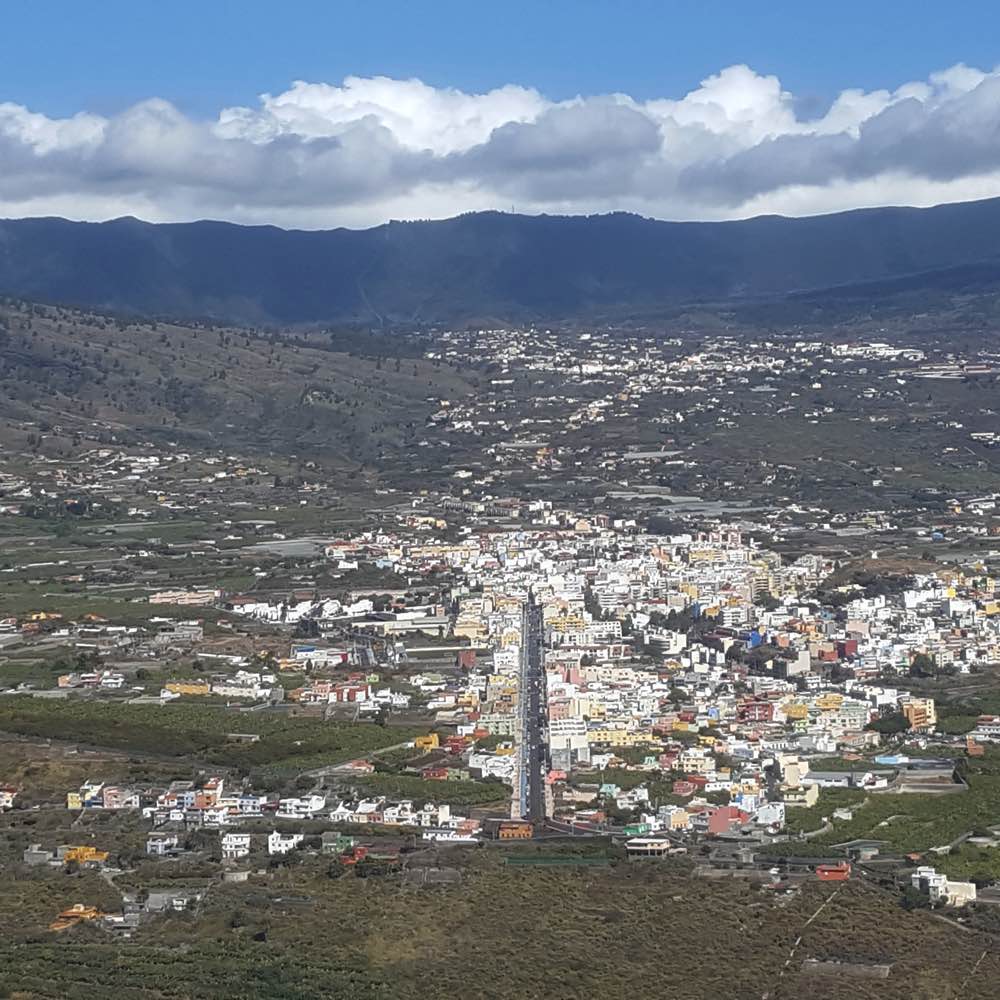 Upon the recommendation of Andrew Locking from the blog Andrew's Walks, I purchased a copy of Walk! La Palma before we headed to the island. Andrew's accounts of the hiking routes on La Palma are so helpful and his photos are stunning. If you're considering a vacation on La Palma, I'd highly recommend checking out his posts (to view them, click here and select 'La Palma' in the Area drop-down menu). After reading them, I was even more excited to be heading to the island.
And it did not disappoint.
The scenery is breathtaking.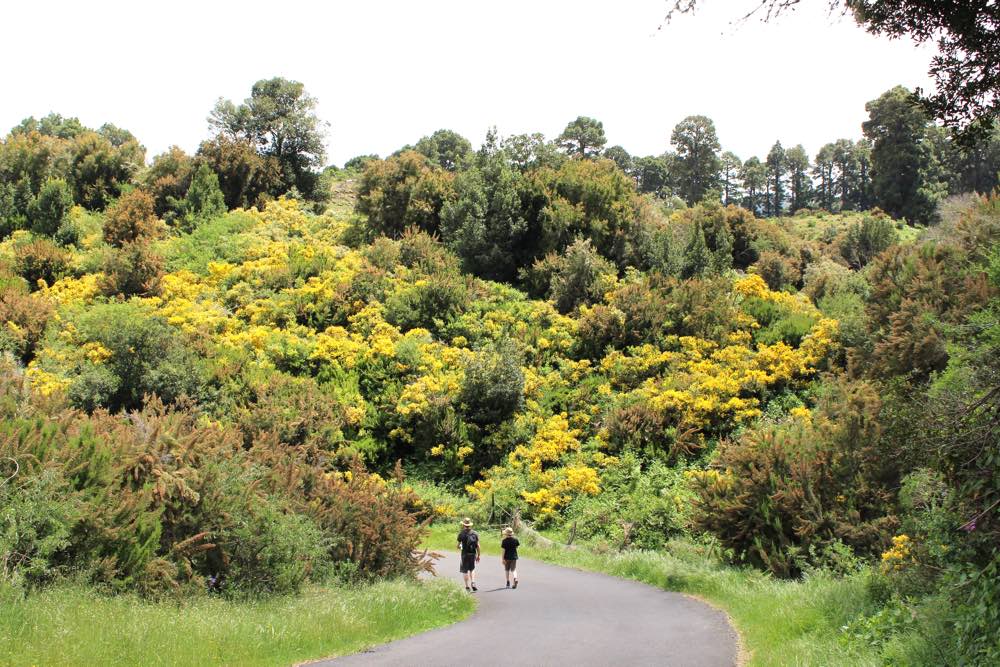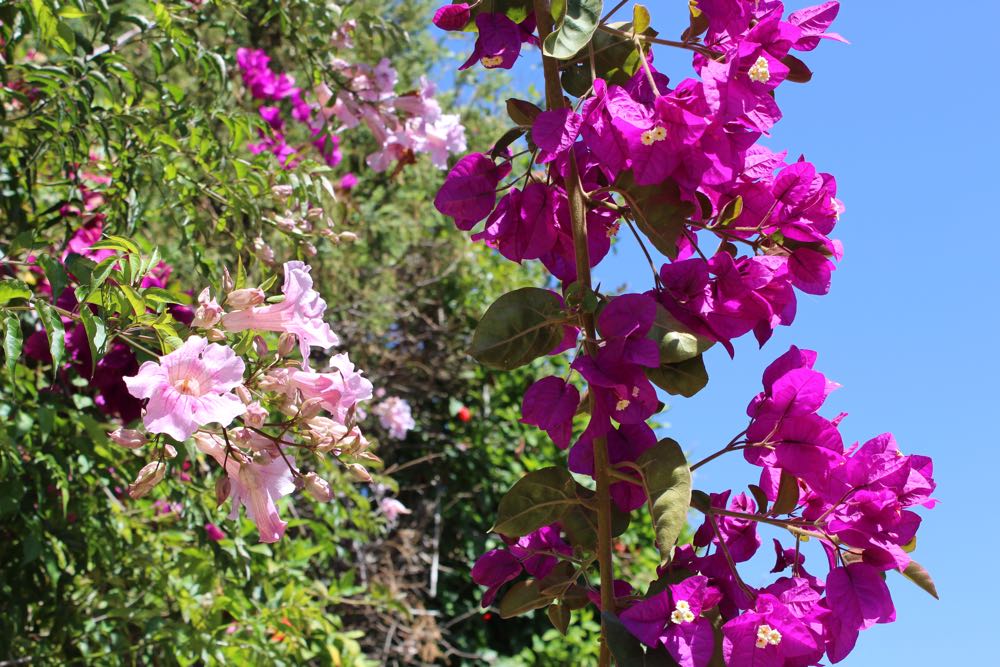 And the landscape is really varied too.
There are black beaches…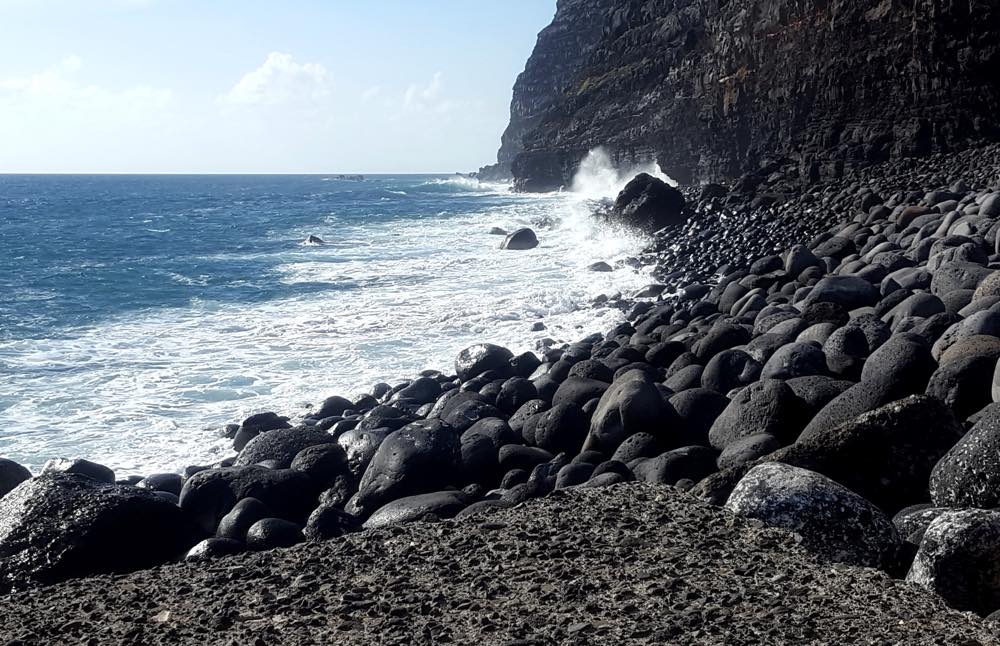 … lush green forests…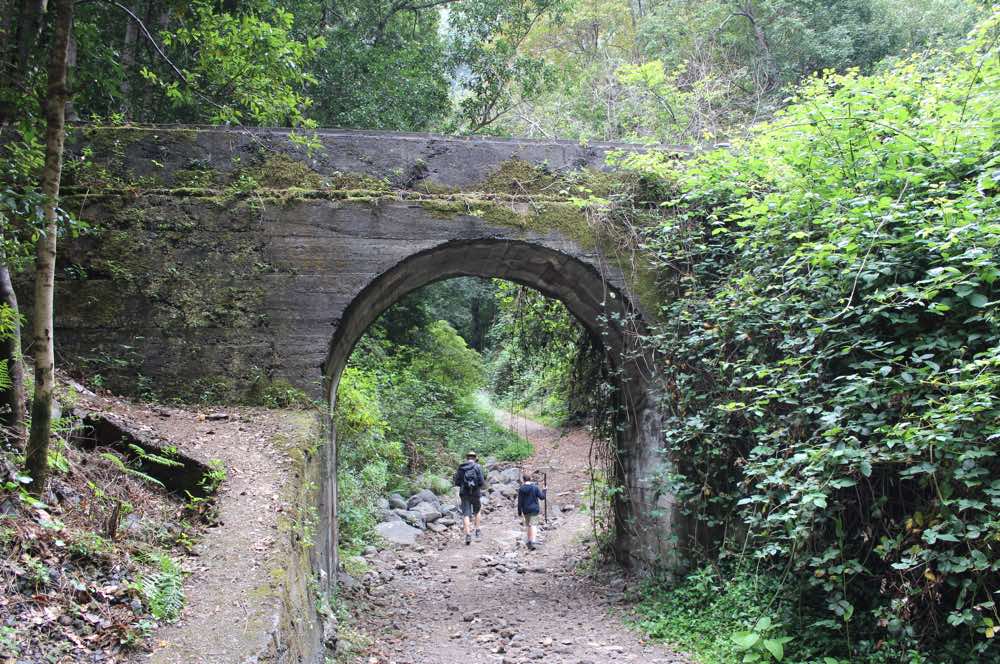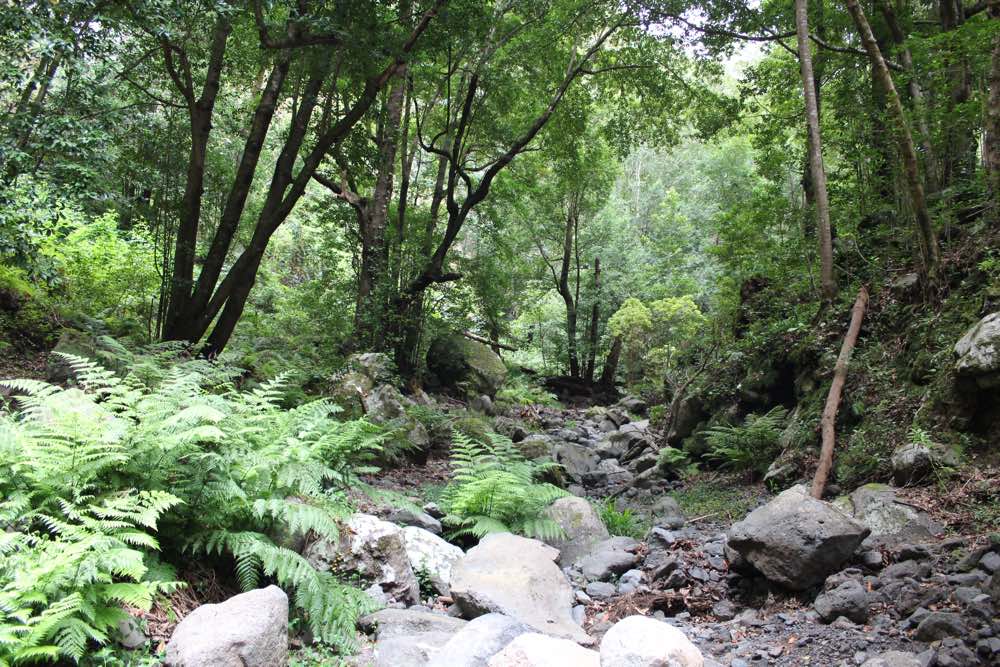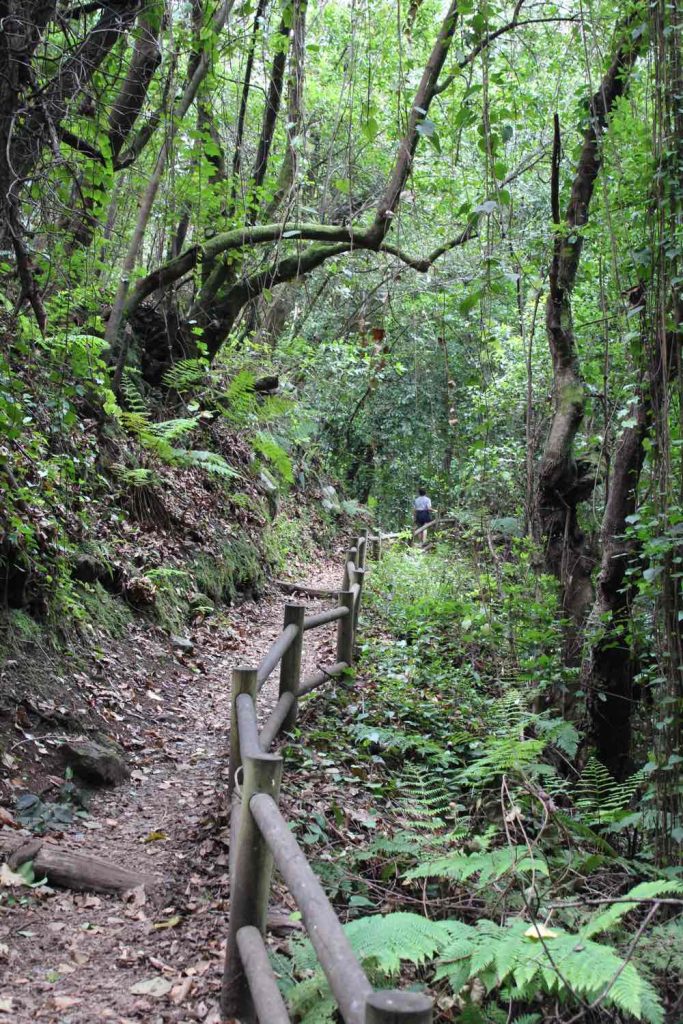 … beautifully scented pine forests…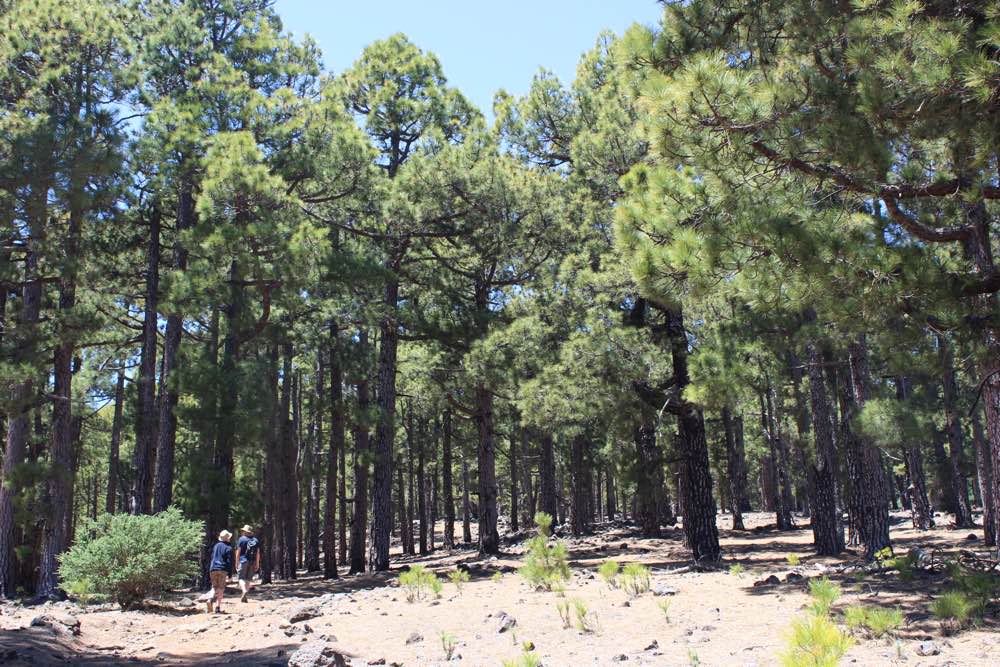 … and swathes of wild flowers.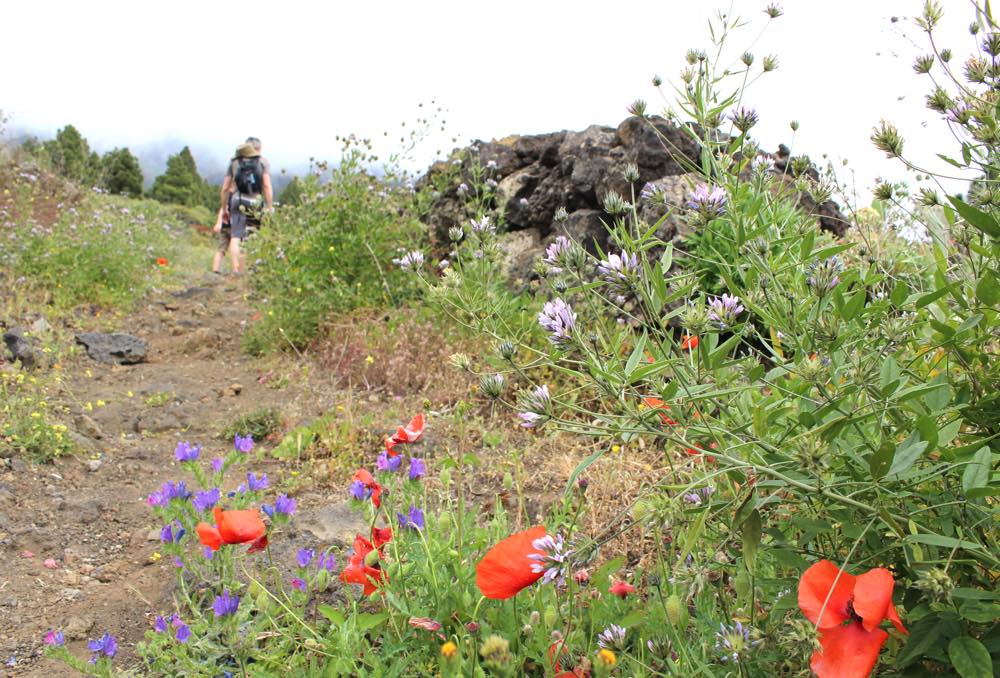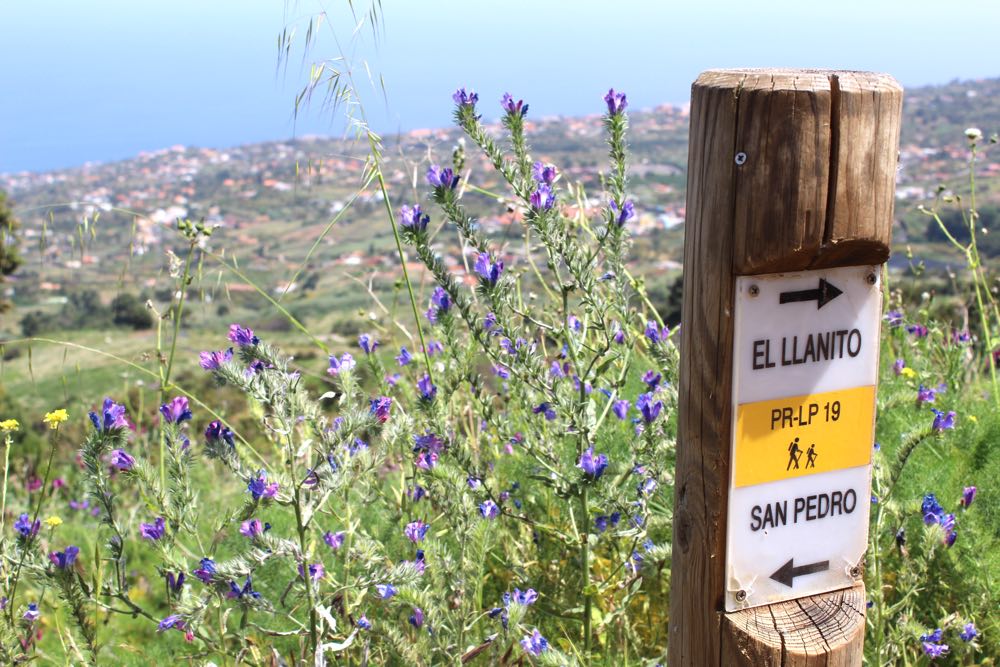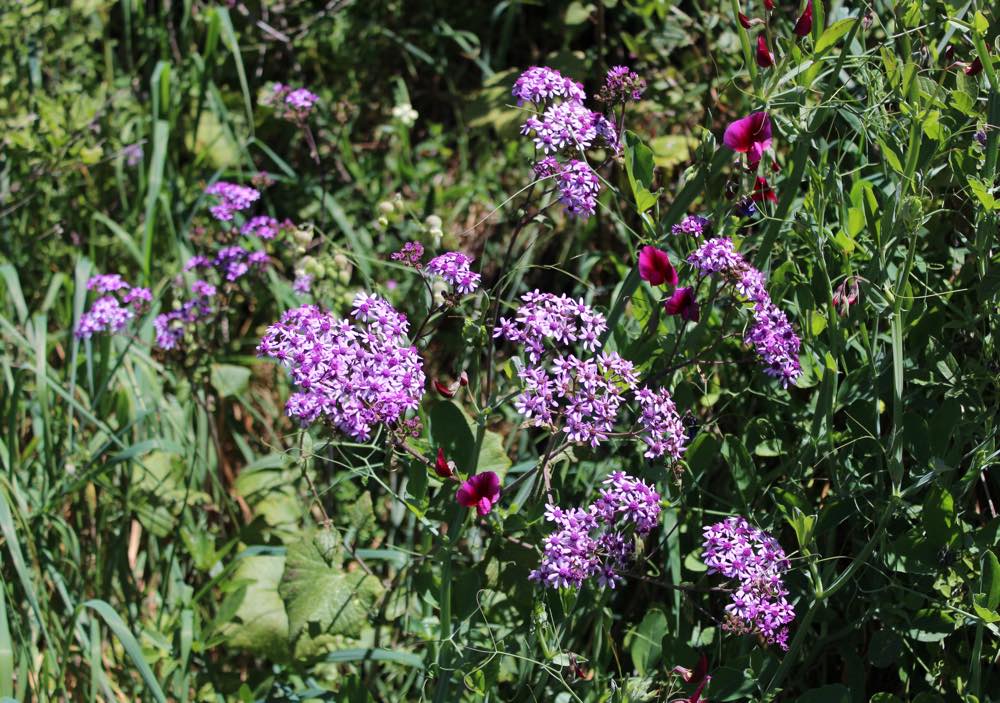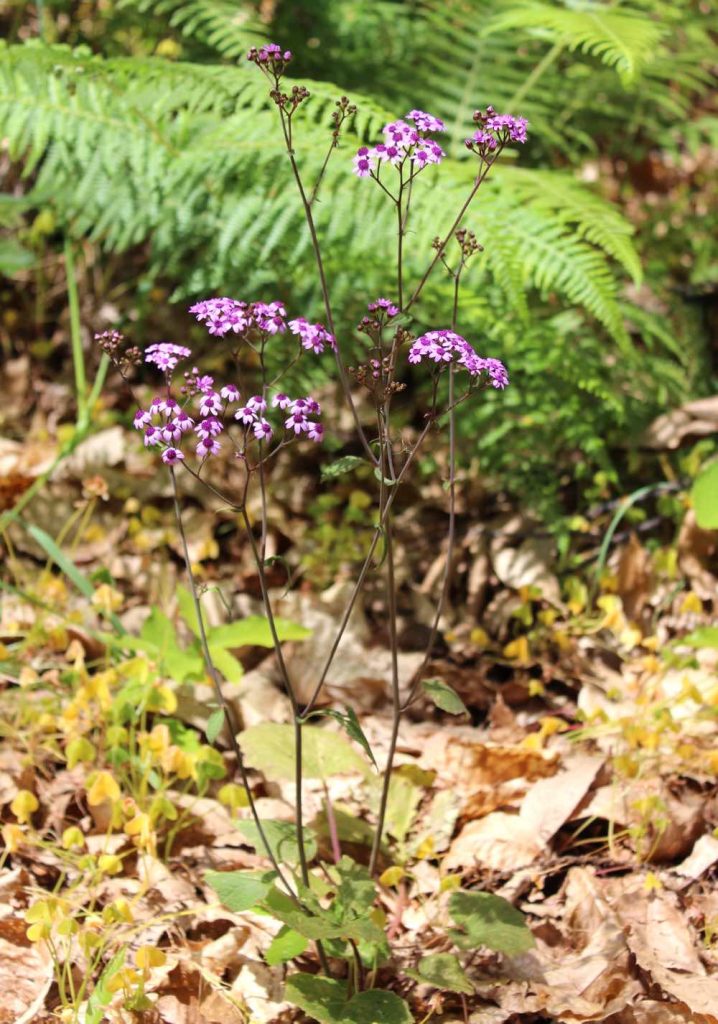 Whilst on our adventures, we also stumbled across lots of beautiful animals. On one hike, I looked down and was surprised to see a lone cow. I think she was surprised to us too! She paused, looked up and, after assessing us, she called out 'mooooo' and two little calves came trotting out the forest and followed her down the path. It was a lovely sight to behold.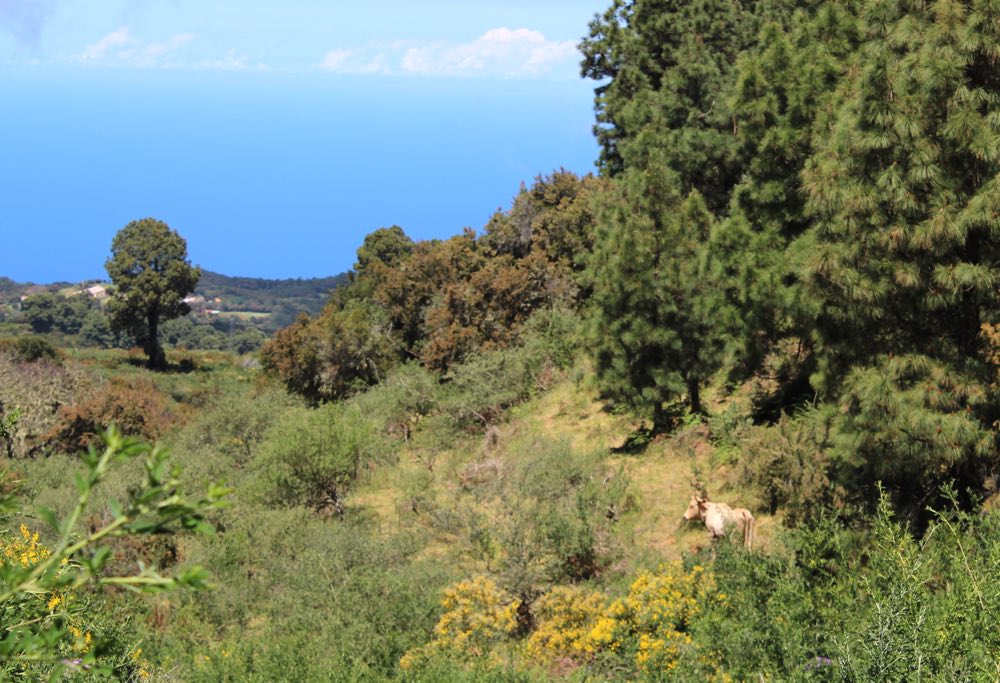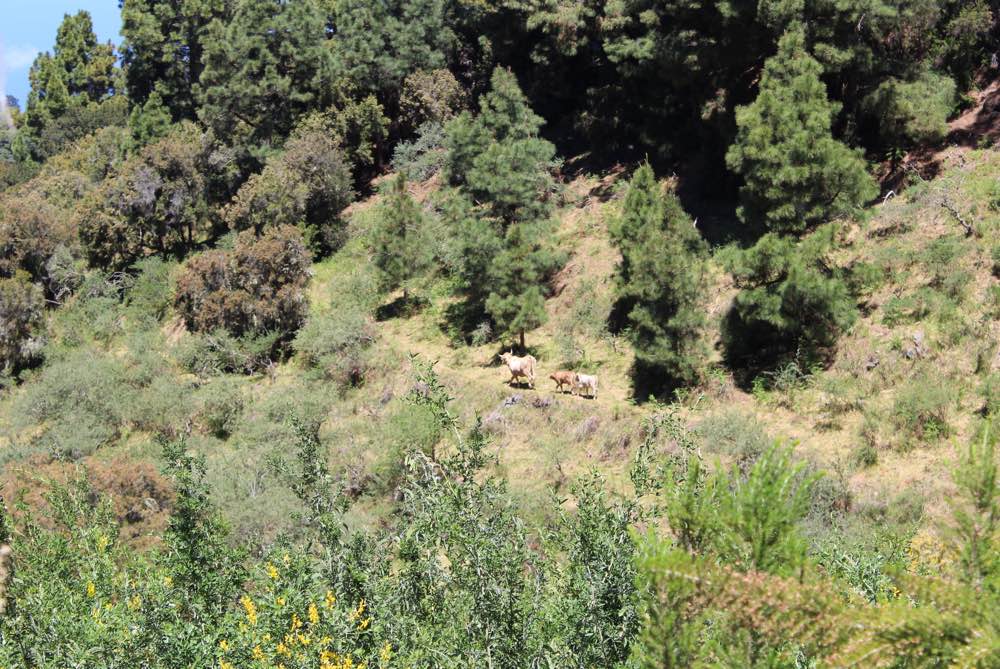 Another memorable hike was 'La Cuevas de Buracas'. More breathtaking views…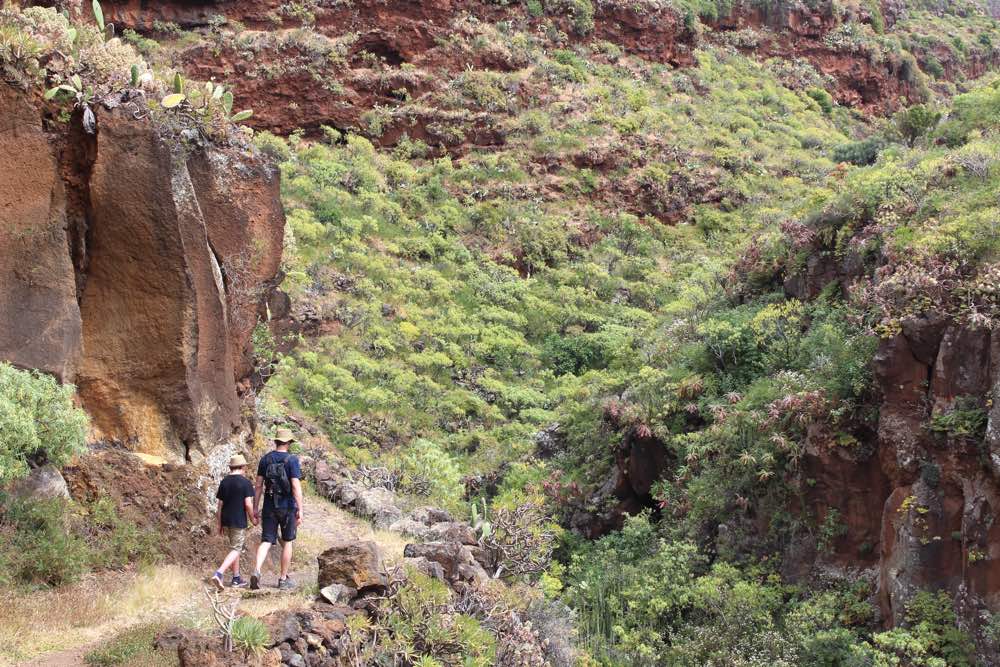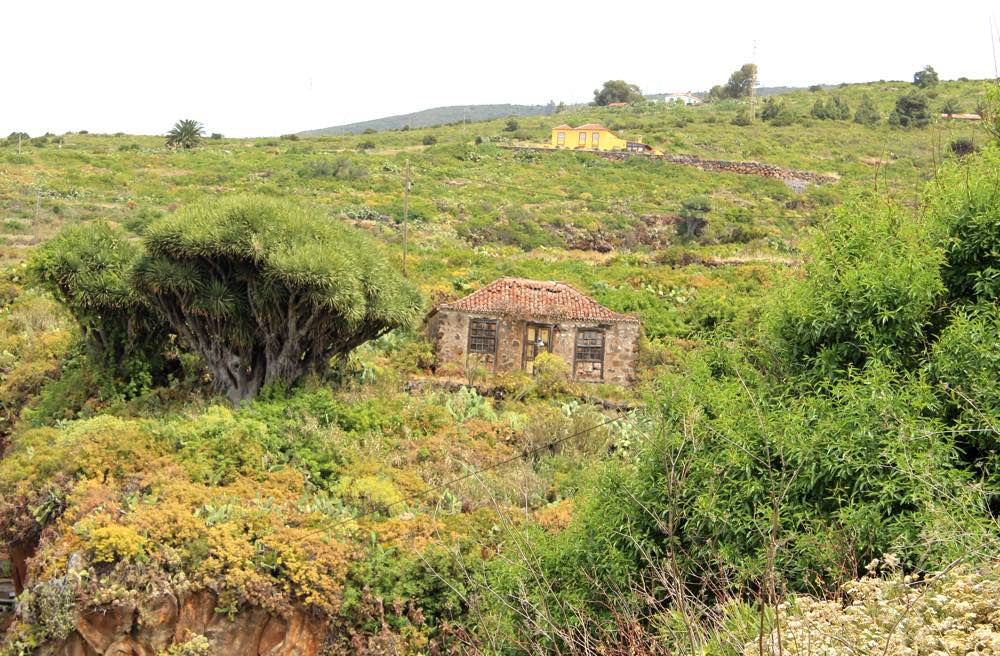 … as well as a chance encounter with a cockerel…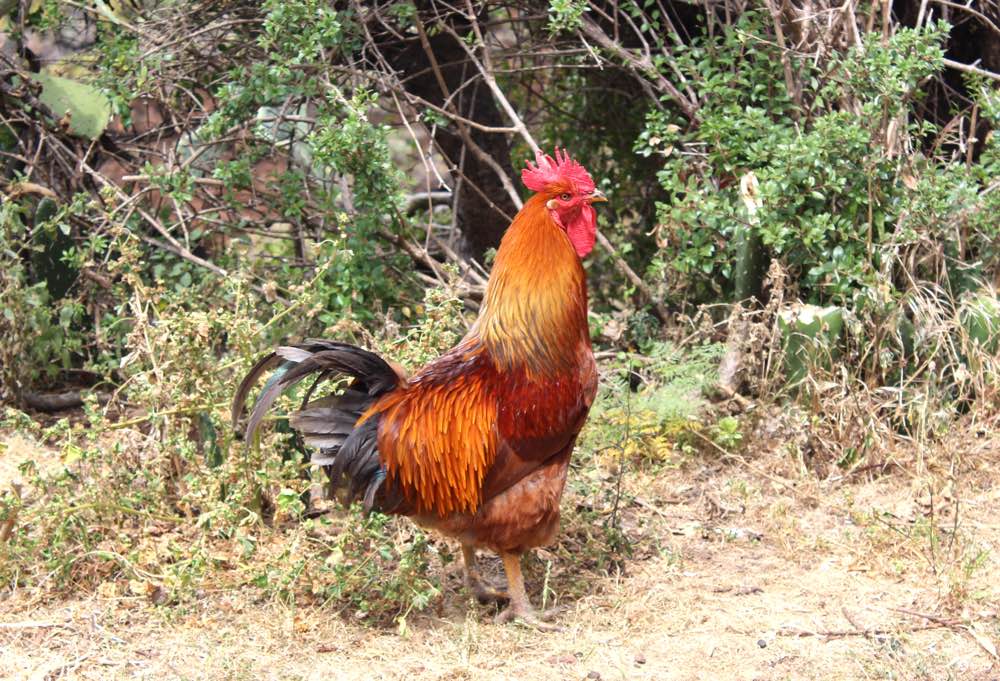 … and two endearing goats.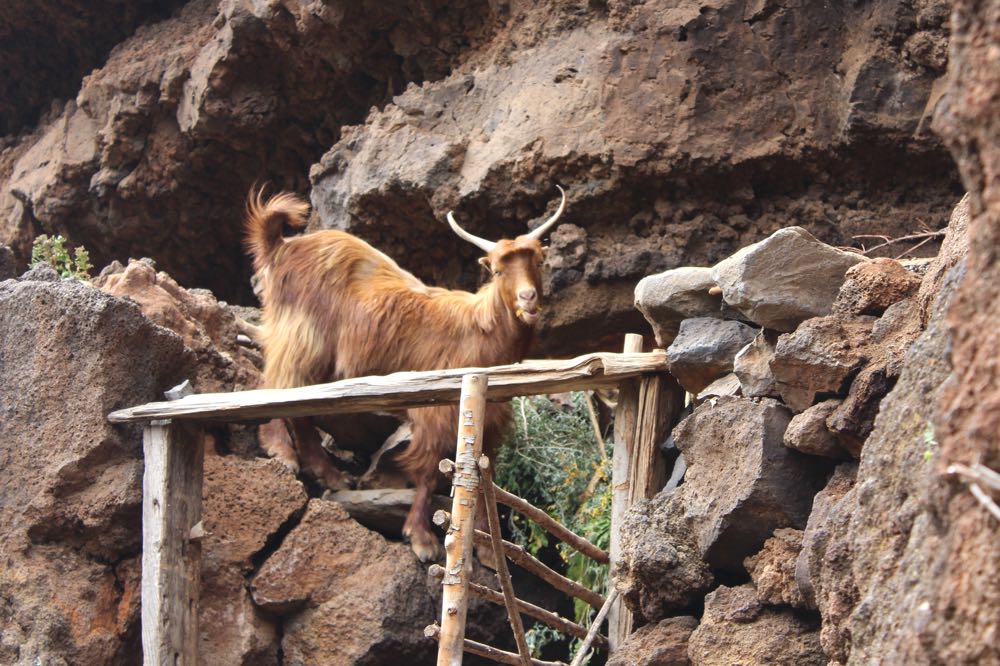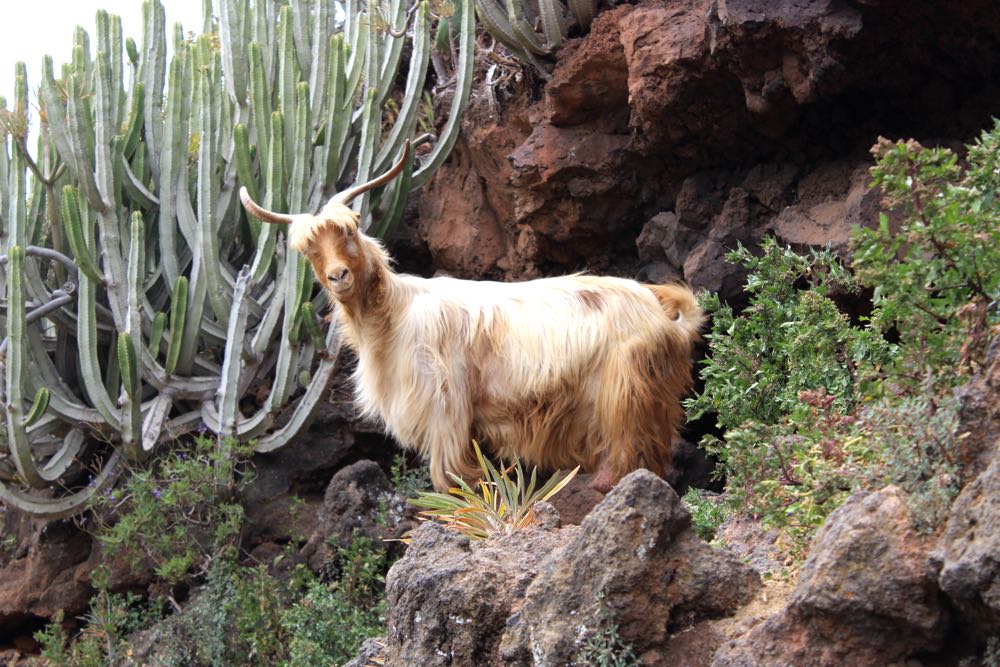 It's a very steep island, so many of the hikes start with a hill climb, for which you're then rewarded with the most incredible views.
The ultimate hike had to be the 'Pico De La Nieve'. It began with a steep climb through pine forests (which smelt incredible!)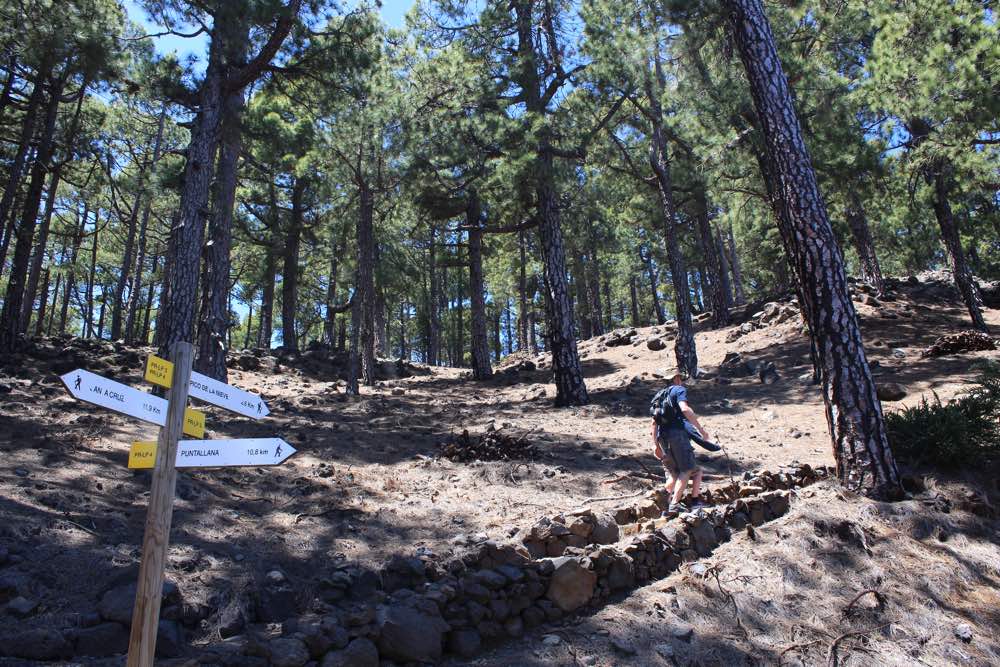 After the climb, we popped out through the trees and were rewarded with the most breathtaking views I've ever seen! A blanket of fluffy white clouds stretching as far as the eye could see.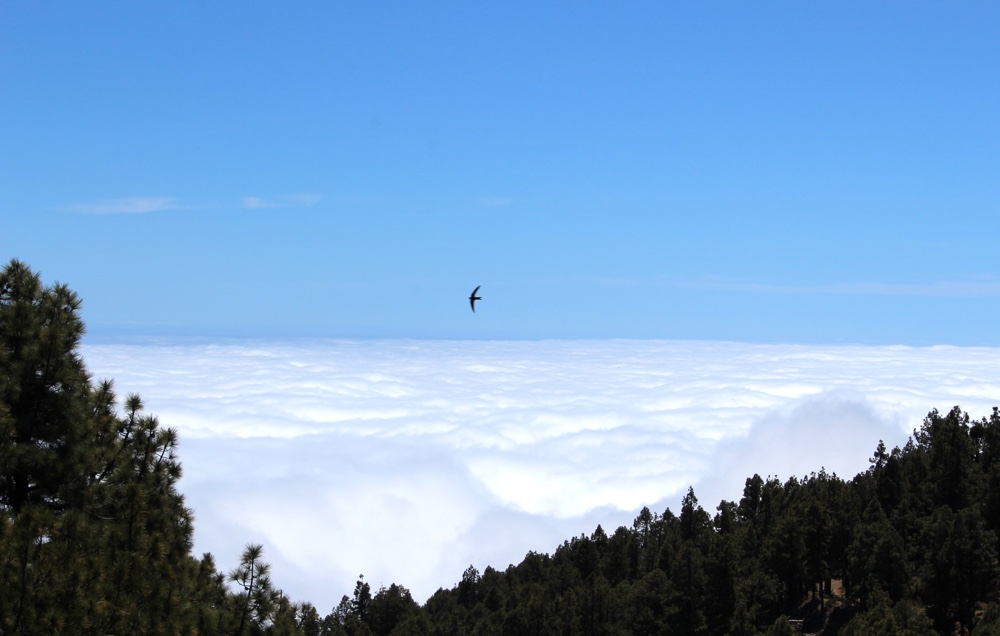 We really did feel on top of the world!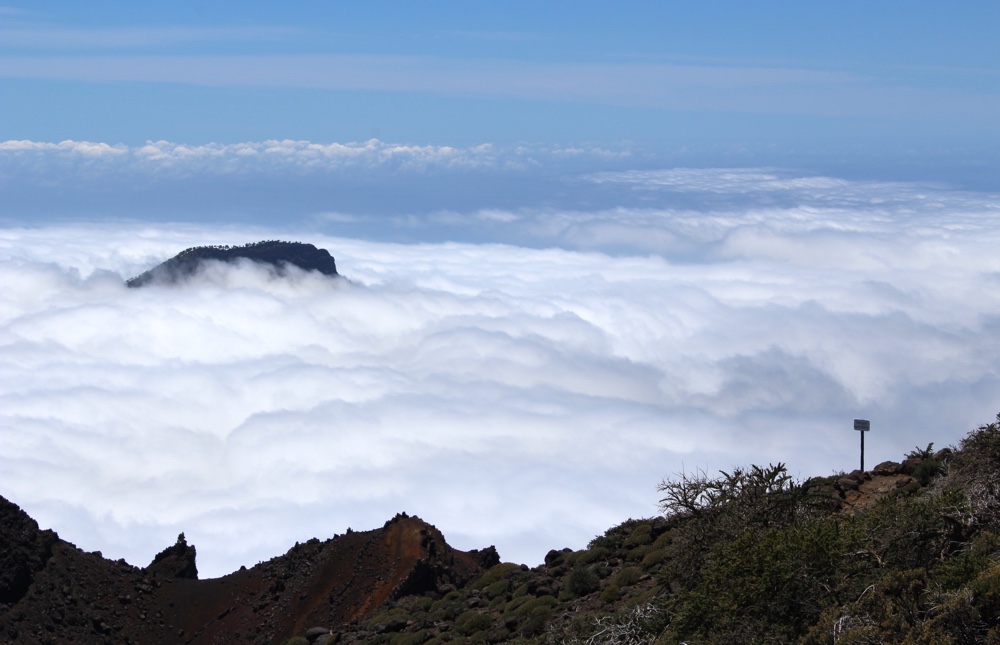 After the descent back to the car, we were met by this adorable raven. He was such a friendly guy and seemed really intrigued by Lucien.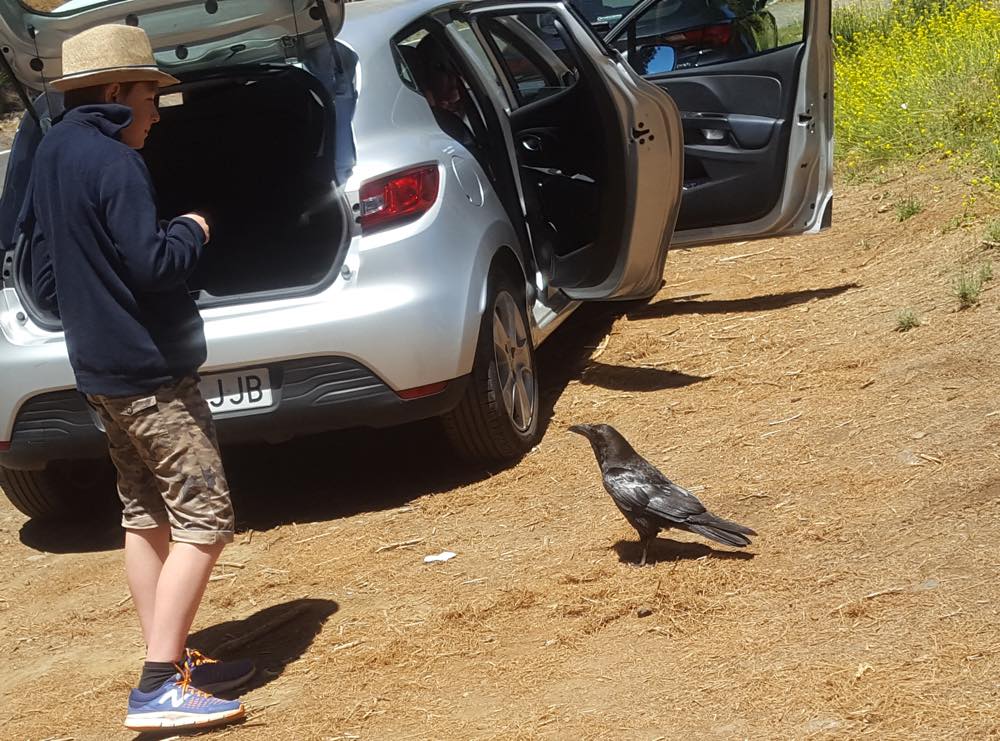 We split the holiday into two halves, spending the first week in Los Llanos de Aridane on the west coast, then San Pedro on the east coast. Of the two, Los Llanos was our favourite location to stay as the town is larger, with more going on. It has a lovely al fresco cafe in the central plaza where we enjoyed chilling out, sipping coffees and reading.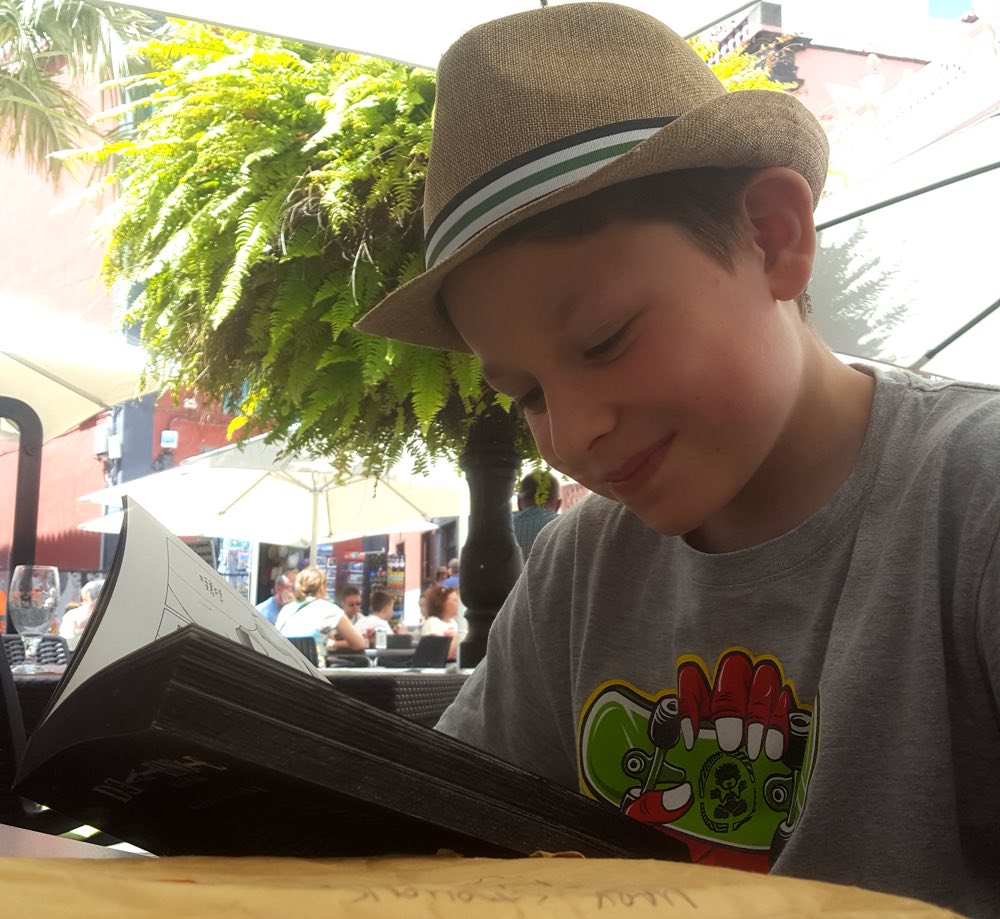 A short drive from the town is Puerto Tazacorte, with its colourful houses and black volcanic sand beach.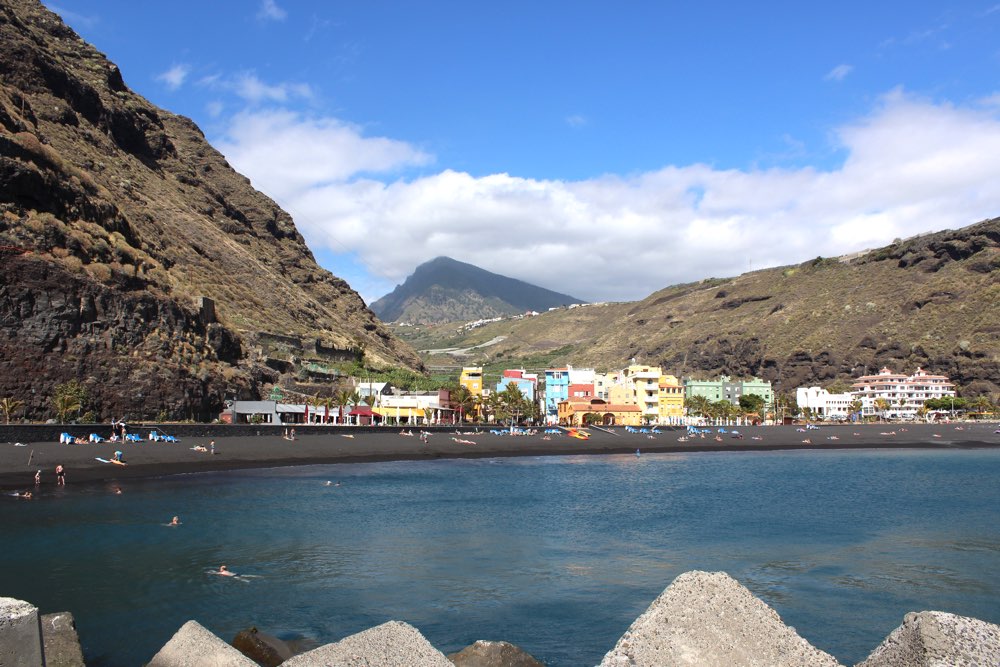 We loved heading to this place at dusk to sit on the rocks and watch the sun set.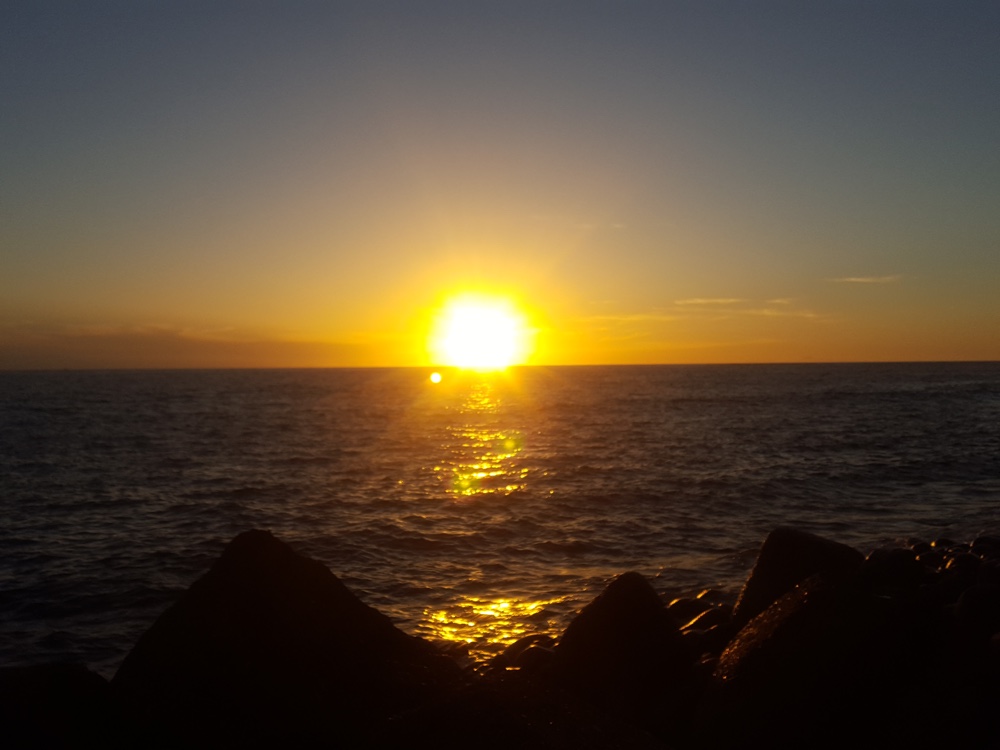 In Los Llanos, we found La Vitamina, which is a little cafe/restaurant serving vegan dinner options, as well as fresh juices and smoothies.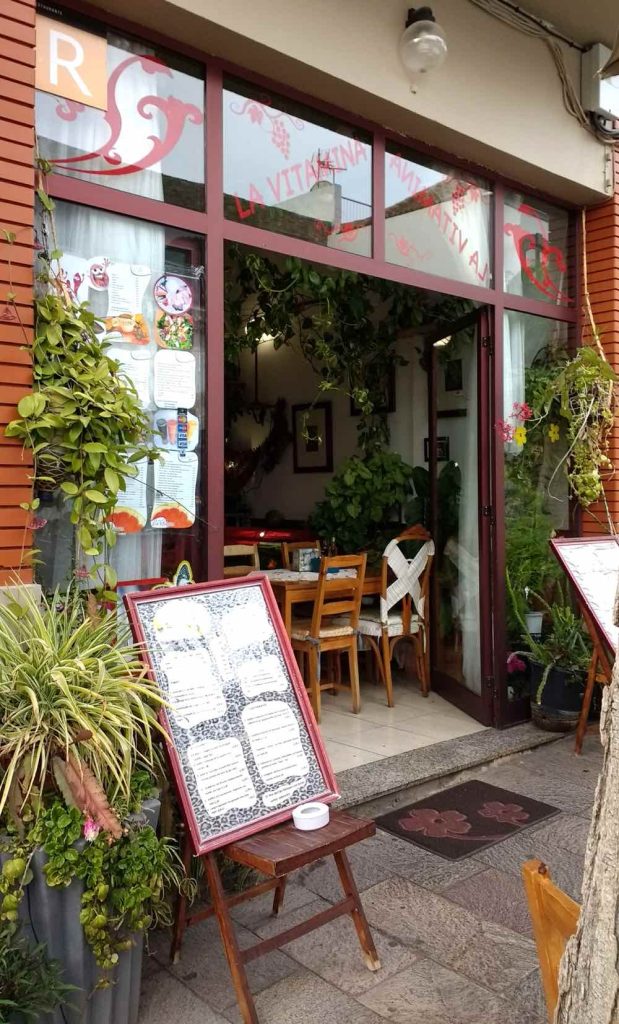 The boys chose the lasagne every time we visited La Vitamina (they really loved it!), but I was more adventurous and tried three different meals. All were delicious!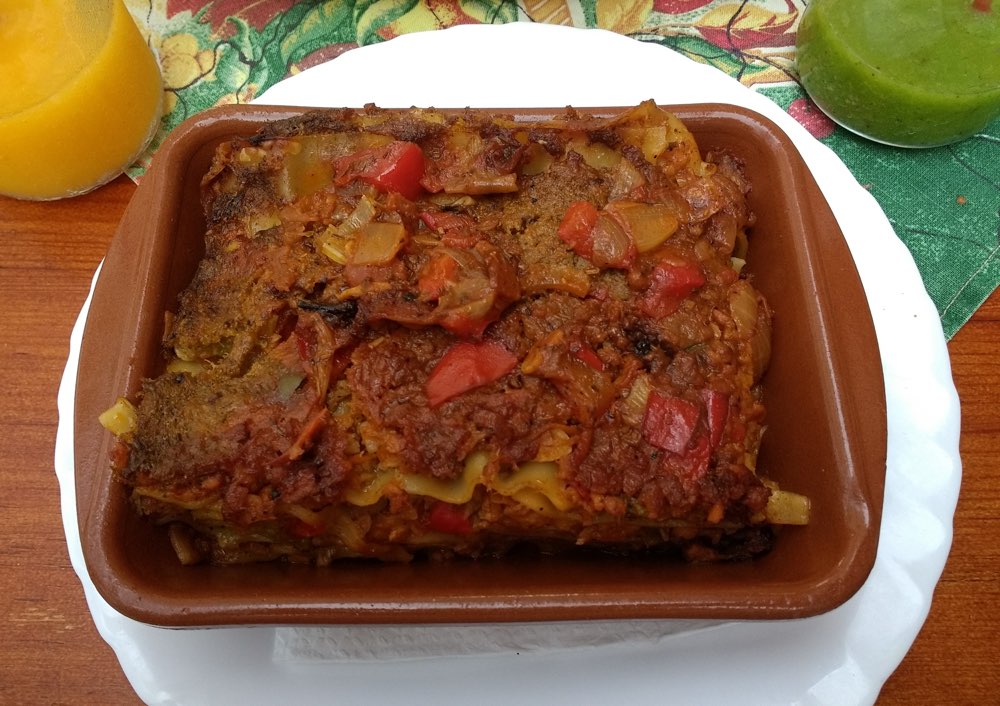 Though it may not look spectacular in the photo, this chickpea dish was incredible!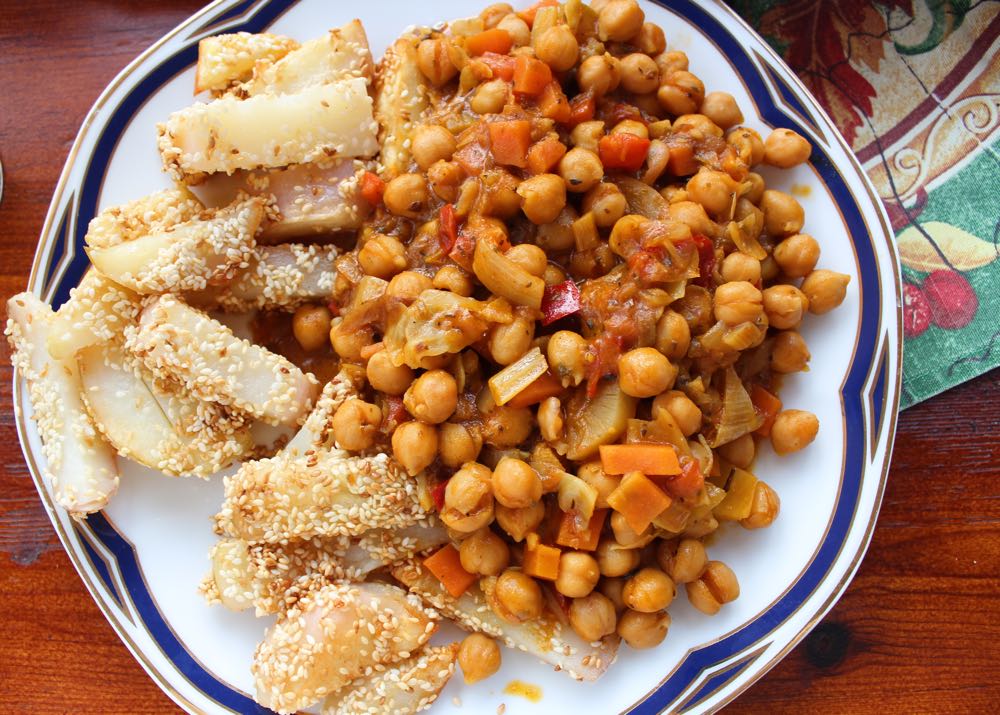 On the other side of the Island, we found Veg Art – a lovely little vegan cafe and health food shop that's located in Brena Baja, next to the hotel complex.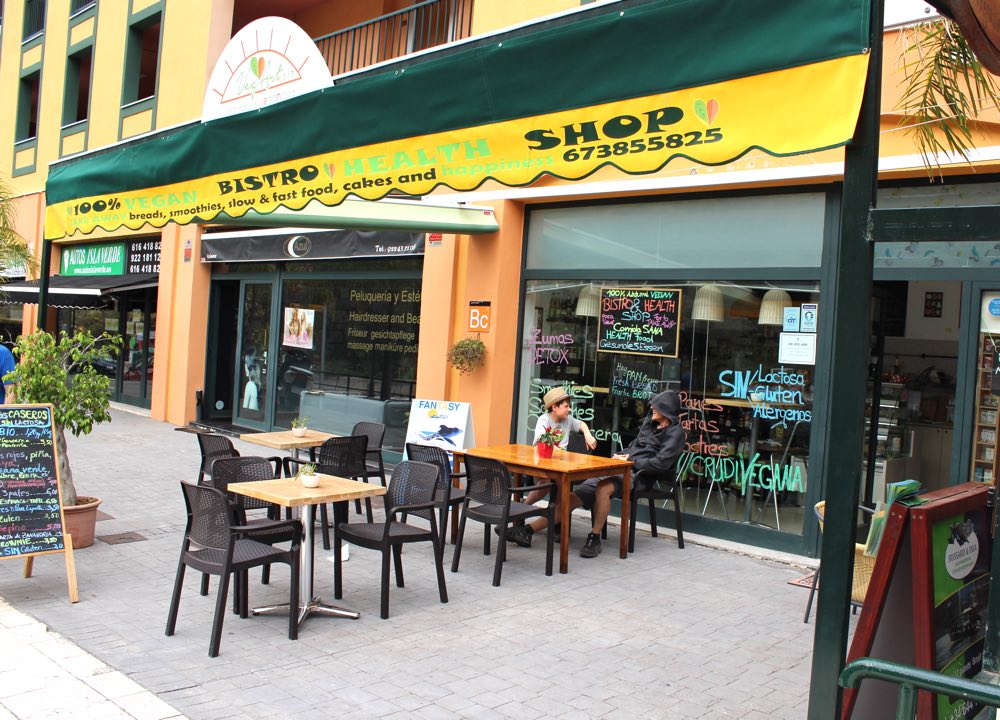 The cafe owner is so friendly and welcoming! Whilst staying on the east coast, we visited a few times for refreshing smoothies, sweet treats and lunches. At the cafe, I also had my first dragon fruit smoothie. Check out that colour!
Whilst we enjoyed eating out, we prepared most of our meals at the rental apartments as it was much cheaper. The supermarkets on La Palma aren't as big as those on Lanzarote, so we didn't find such a big selection of vegan-friendly foods, however there was still plenty for us to eat. Most days we had cereal and soya milk for breakfast, then we made packed lunches of multigrain rolls filled with hummus or guacamole and salad.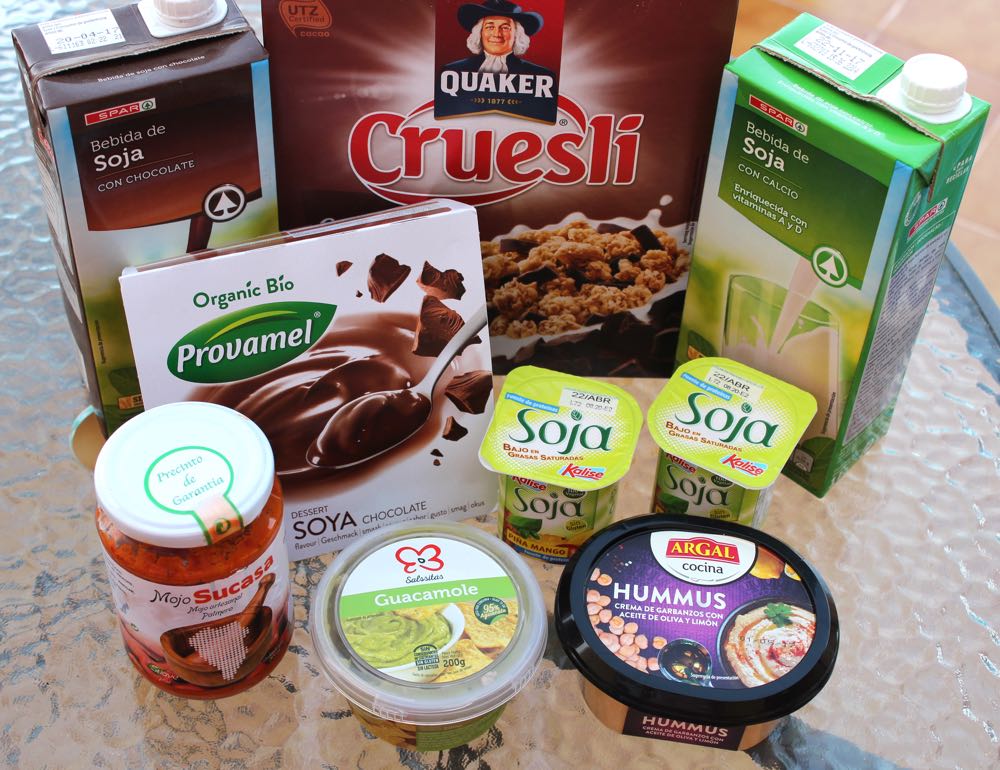 For evening meals, we tended to buy frozen packs of mixed vegetables, cans of pulses (chickpeas, lentils, etc) then added in some sauce and served with pasta, rice or in wraps. My favourite foodie find of this holiday was Mojo Sauce, which hails from the Canary Islands. It took vegetable dishes to a whole new level of deliciousness. Back home, I was still dreaming about this sauce so decided to have a go at re-creating it myself. It turns out it's really easy to make! Look out for my next blog post where I share the recipe.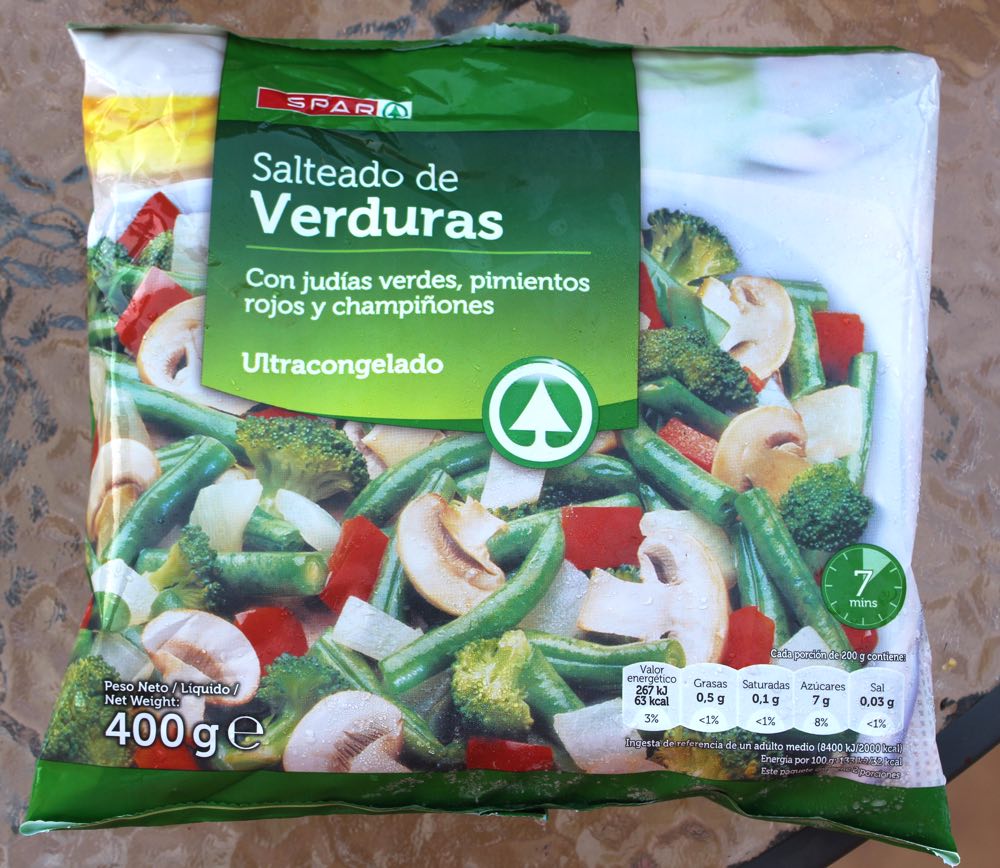 We also found an abundant supply of strawberries on La Palma. I lost count of the amount of trays we bought. They were so sweet and delicious!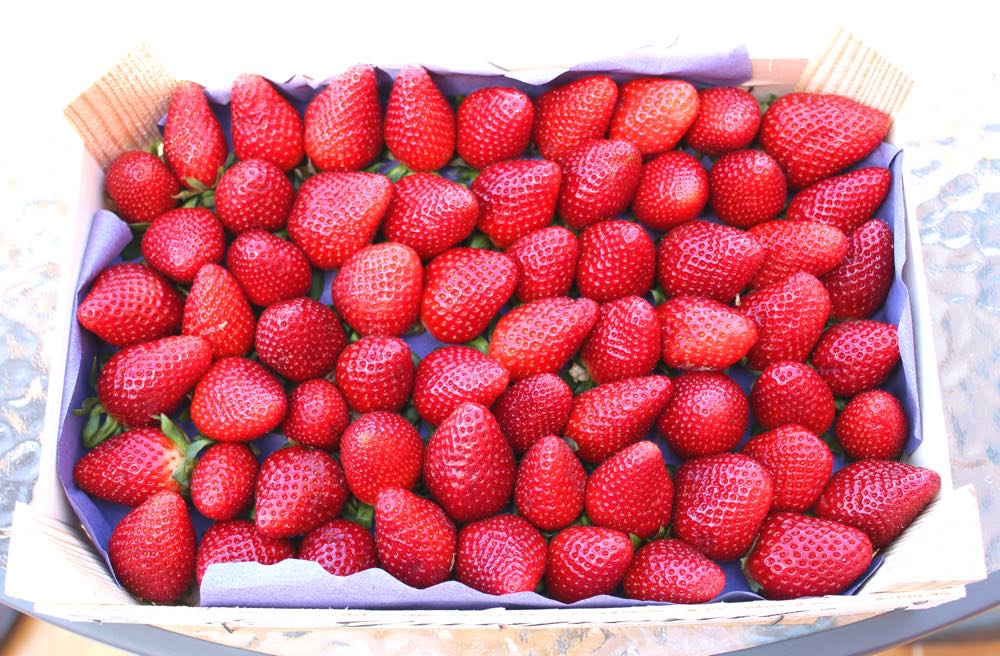 In summary, La Palma is a fantastic destination for a walking holiday. It's full of breath-taking scenery, including those stunning star-filled night skies. This island will always hold a special place in my heart. One day I'll be back.

SaveSave