In today's post, I'm sharing the recipe for one of my favourite sweet 'n' savoury snacks… Maple-Glazed Chickpeas with Oregano ❤️ I'd been hoping to include this recipe in my cookbook, but sadly run out of space, so I'm delighted to be able to share it with you today. These pan-fried chickpeas not only make a great snack, but they are also perfect for topping soups and pasta dishes. They're really simple to make and ready in less than ten minutes!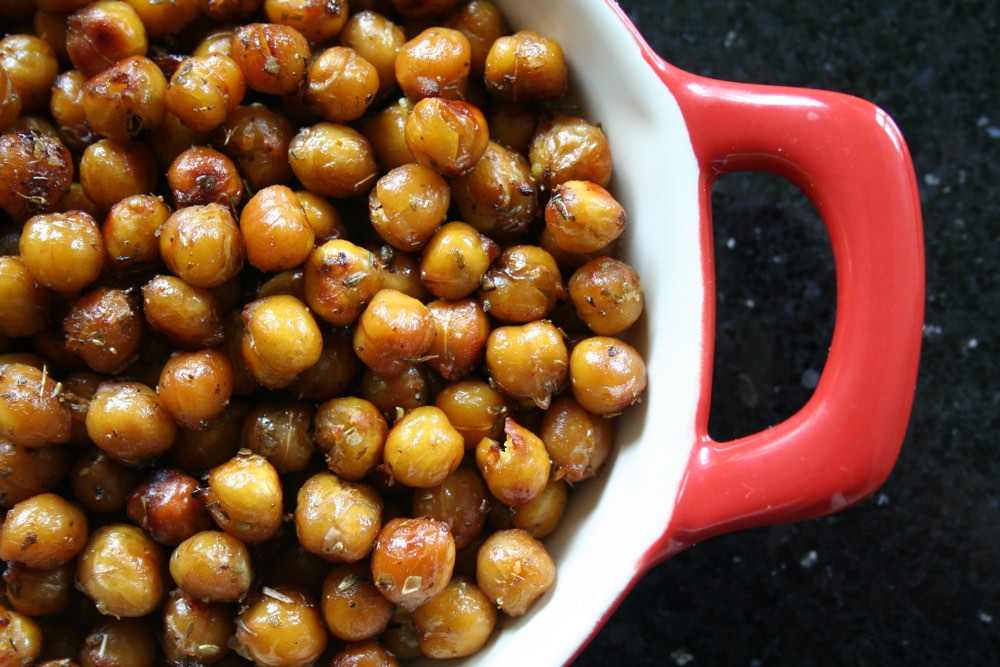 I absolutely love chickpeas and eat them most days in some shape of form. The fact that they're packed full of nutritional goodness makes me love them even more. They're a great source of protein, dietary fibre, B vitamins and a whole array of minerals. Just one cup of cooked chickpeas provides 84% of the recommended daily amount (RDA) of manganese and 26% of the iron RDA! [Source] Chickpeas also contain an abundance of antioxidant phytonutrients, including flavonoids and phenolic acids, which boost the immune system.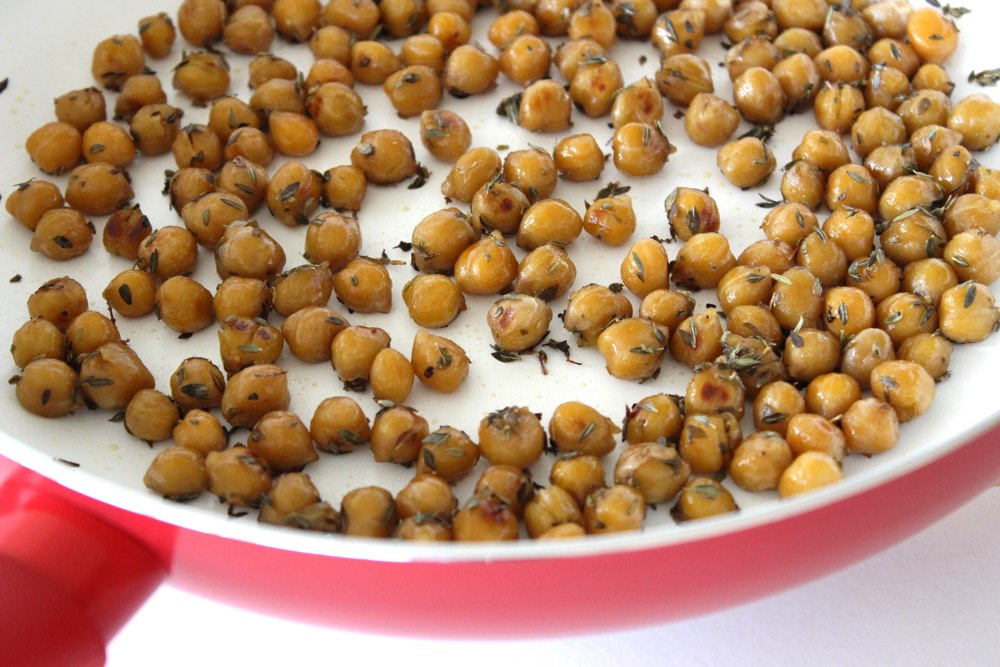 To make these maple-glazed chickpeas, you simply add the ingredients to a non-stick pan, give them a stir then cook until the liquids have evaporated and the chickpeas are shiny and warmed through. They won't be crunchy like oven-roasted chickpeas, but I actually prefer the texture of pan-fried chickpeas as I find them more succulent and less drying in the mouth.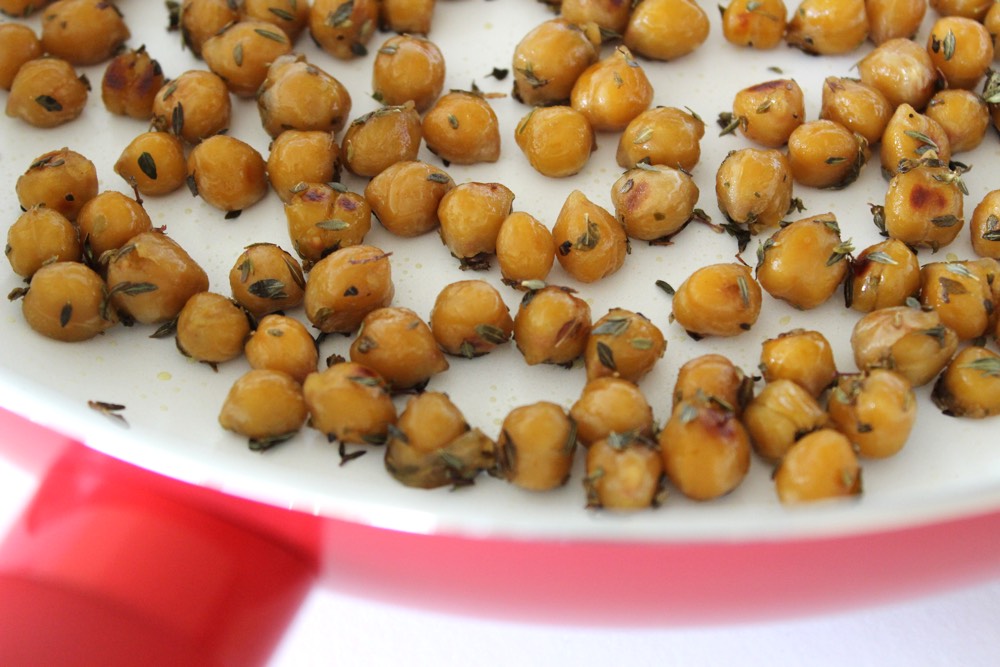 They're very moreish so be warned. I probably shouldn't admit this but one time I managed to polish off a whole panful before they'd had a chance to make their way into a bowl 😆
[print_this]
These pan-fried chickpeas make a tasty, nutrient-rich snack and topper for soups and pasta dishes. They are most delicious served warm.
Serves 2-3
Hands on time: 8 minutes    Ready in: 8 minutes
Ingredients
400g / 14 oz can chickpeas, drained
1 tsp extra virgin olive oil
1 TBSP maple syrup (or maple blend. I used Clarks Original)
1-1½ tsp dried oregano
¼ tsp salt
Method
Heat the oil in a non-stick frying pan (skillet) on medium heat. Add the drained chickpeas and stir through. Add the maple syrup, oregano and salt.
Continue cooking on medium-high heat, stirring continuously until the liquid has evaporated and the chickpeas are shiny and warmed through. Taste test and adjust the seasoning to suit.
Transfer the chickpeas to a bowl. Be sure to scrape off any oregano that's stuck to your spatula and add it to your snack bowl. The maple-coated oregano pieces are really tasty!
Any leftovers can be stored in the fridge for three days.
[/print_this]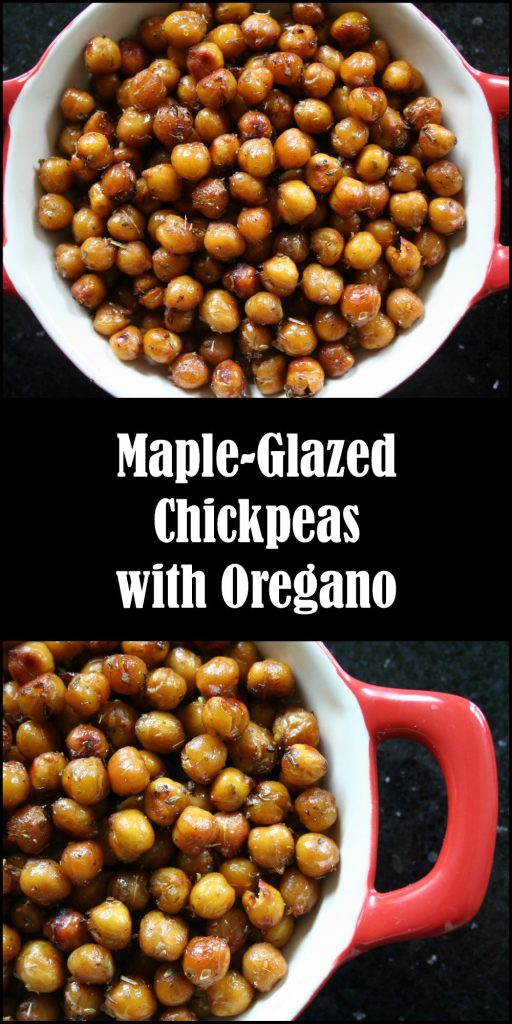 In my next post I'll be sharing a recipe for a delicious Butternut Squash and Cashew Soup that's just perfect for topping with these Maple-Glazed Chickpeas. I'll link to the recipe as soon as it's live.
Do you make pan-fried or roasted chickpeas? If so what's your favourite way to flavour them?

SaveSave
SaveSave
SaveSave
SaveSave
SaveSave