In today's post, I'm sharing a recipe for a pasta dish that features colourful roasted veggies and chunks of sausage, coated in a delicious red pepper sauce. It's easy to prepare and makes a great weeknight meal.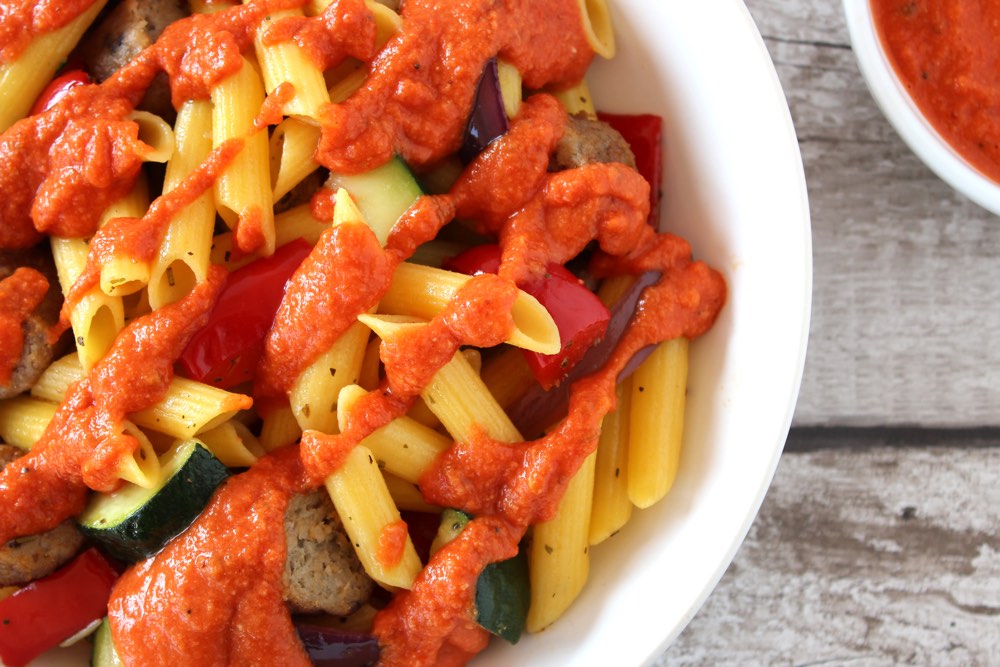 The mojo sauce really is the star of this dish, and takes it to a whole new level of deliciousness. I first discovered this sauce in a supermarket in La Palma, and it was just perfect for brightening up our simple home-cooked veggie meals. Back home, I'd been dreaming about this sauce and finally, nearly a year later, I set to re-creating it.
The main ingredient in mojo sauce is pepper. In La Palma, it is traditionally made with small red peppers called pimienta picona, which gives it a beautiful orangey-red colour and spicy flavour. According to Wikipedia, every Canarian family has its own recipe for mojo though, so it can vary greatly in flavour, spiciness and texture.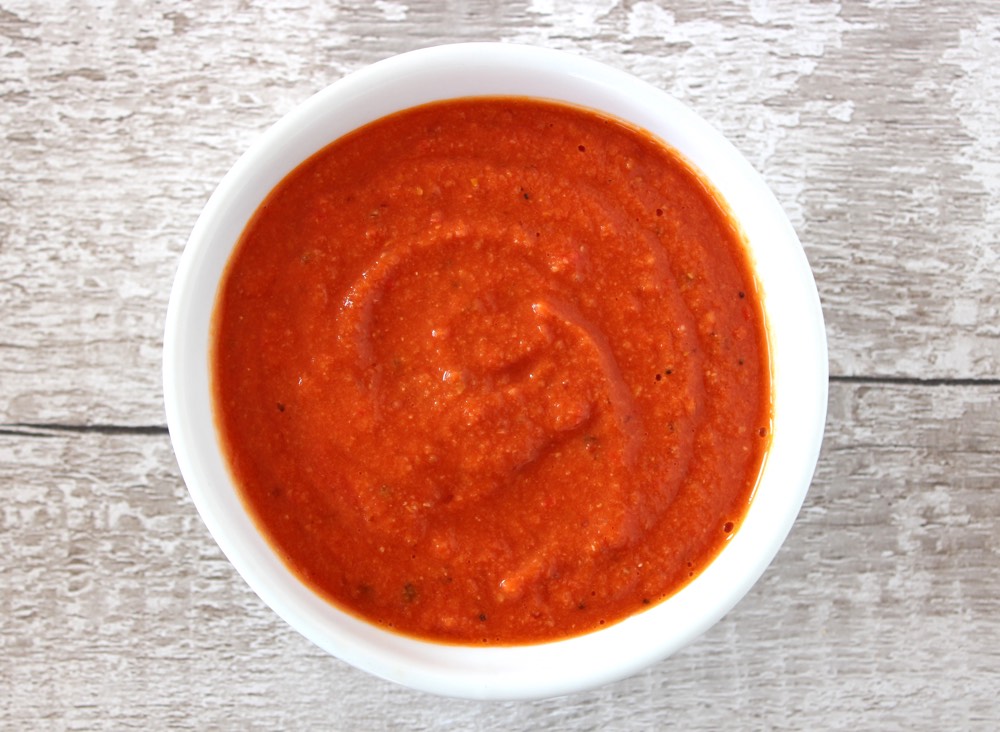 I love that the sauce is so adaptable, and I really enjoyed creating my own rendition. I can't claim that it's in any way authentic, but it's very similar to the colour, flavour and texture of the sauce we enjoyed last year.
While it's packed full of flavour, I've kept the chilli heat to a minimum so that it's suitable for all members of the family, including kids and spice wimps (like me!) Of course, you're very welcome to crank up the heat by adding some fresh chillies into the mix.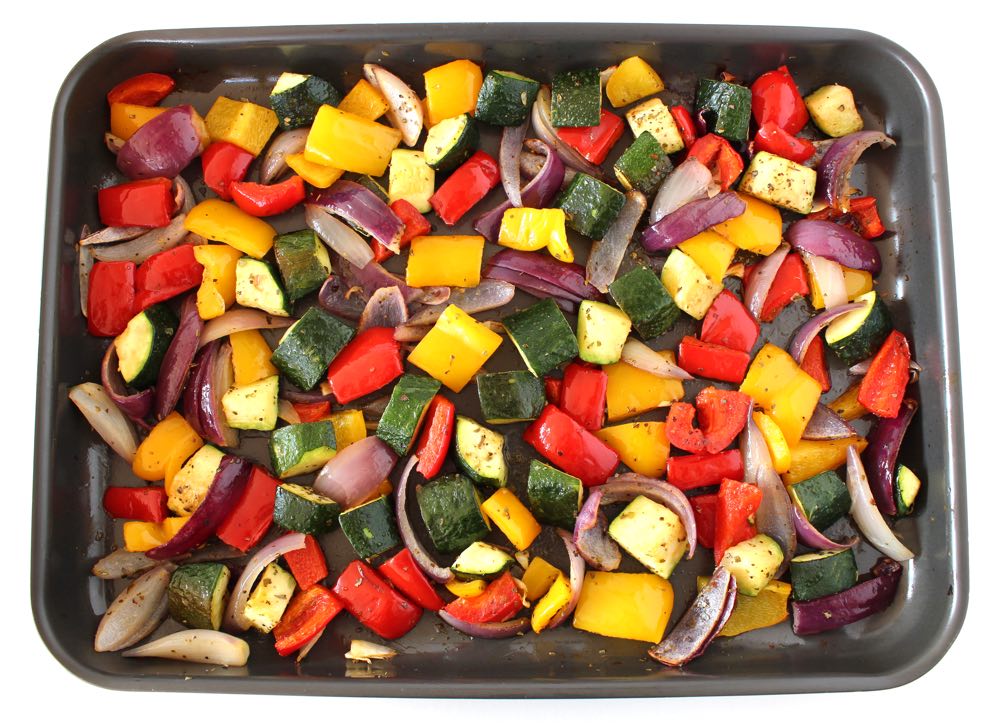 To prepare this pasta dish, I first roast a tray of colourful veggies. My favourite mix is bell peppers, courgette and red onion. Into the oven, I also add four or five vegan-friendly sausages.
While the veggies are roasting, I cook the pasta and prepare the mojo sauce. To make the sauce, it's simply a case of throwing all the ingredients in a blender (I used my Optimum Vac 2), whizzing smooth, then gently heating through.
Once the veggies, sausages and pasta are ready, I stir them through to combine…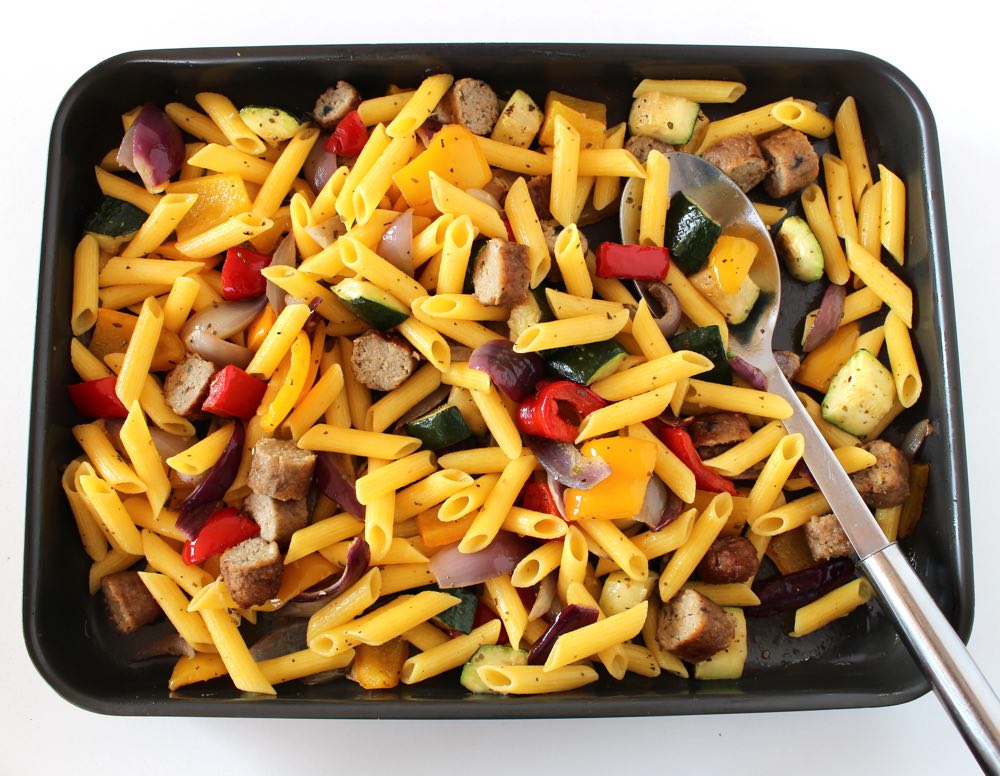 … transfer to warm bowls…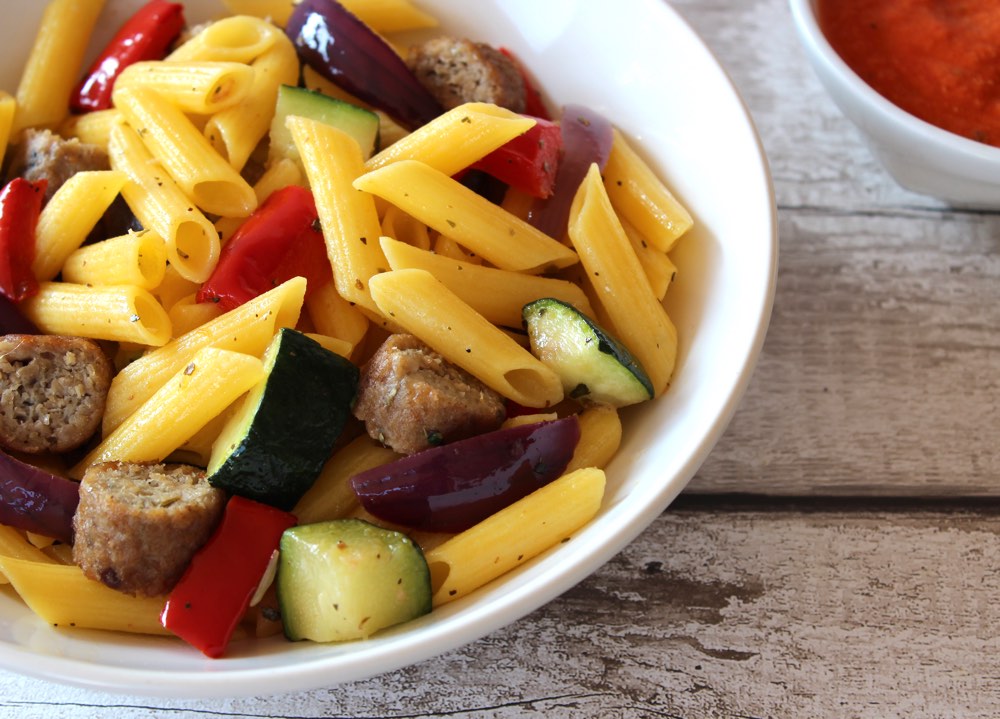 … and invite the family to drizzle on the mojo sauce, before tucking in.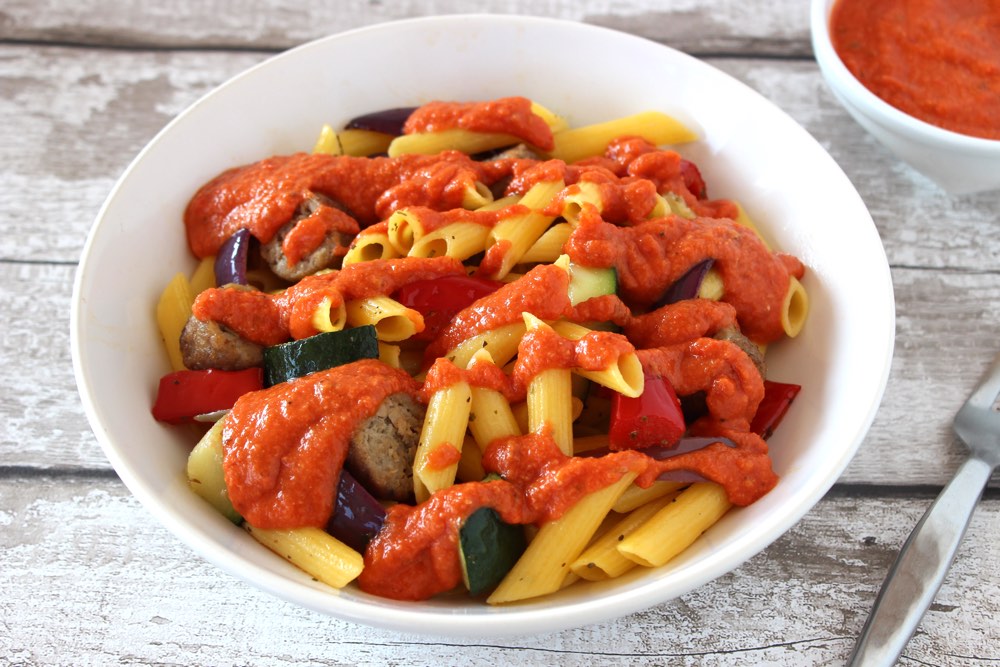 So good!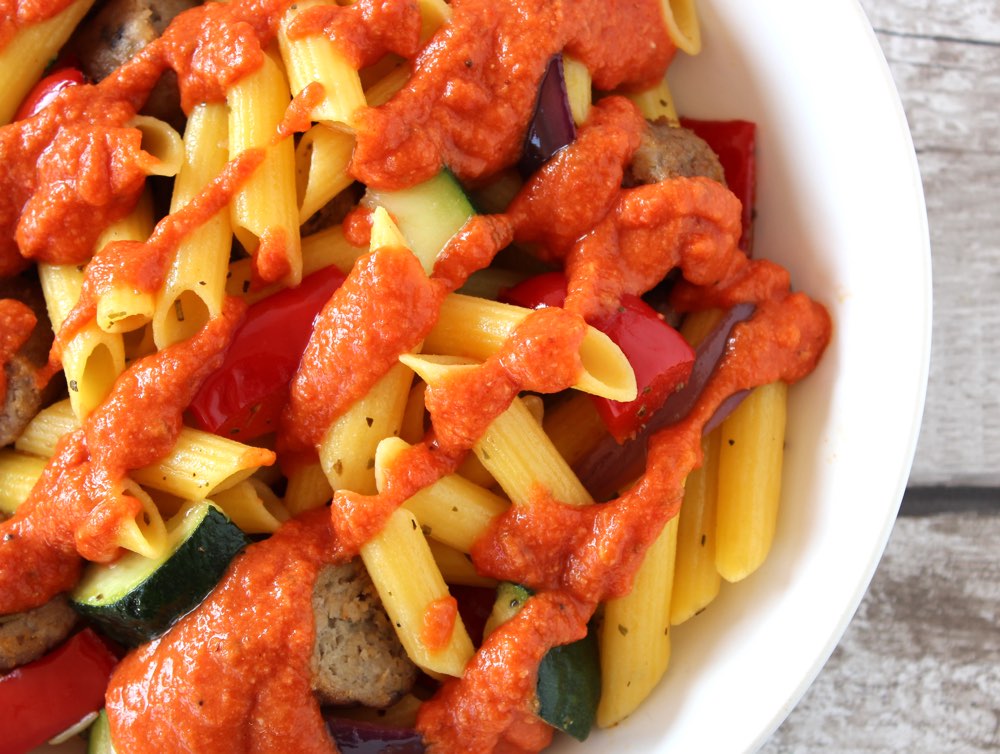 [print_this]
This recipe was inspired by a visit to La Palma. It was on this beautiful island that I discovered mojo sauce. It's a delicious, flavour-packed sauce, which you can use in myriad ways. I love drizzling it on pasta, rice and couscous dishes and stirring it through beans and veggies for burrito-style wraps. I also use it as a dressing for salads, dip for bread and topping for jacket potatoes.
Serves 4
Hands on time: 30 minutes    Ready in: 30 minutes
Ingredients
2 red medium onions, sliced into chunks
1 large courgette (zucchini) (about 325g), sliced into bite-size chunks
2 sweet romano or bell peppers, deseeded and sliced
1 TBSP olive oil
1 tsp dried oregano
pinch of salt
6 vegan-friendly sausages (I used Linda McCartney Chorizo & Red Pepper sausages which are vegan & gluten free)
350g / 12.5 oz penne pasta
Mojo sauce (see recipe below)
Method
1  Pre-heat the oven to 200C (180C fan) / 400F.
2  Arrange the onions, courgette and pepper pieces in a large roasting tin. Drizzle in the olive oil and stir through to combine. Sprinkle on the oregano and a pinch of salt. Roast for about 16-20 minutes, until the vegetables are tender. Stir half way through the cooking time.
3  Cook the sausages as per the instructions on the packet (I pop them in the oven at the same time as the veggies). When cooked, slice into bite-size pieces.
4  Prepare a large pan of salted boiling water and cook the pasta until al dente. Drain, then return the pasta to the pan. Drizzle in a drop of olive oil and stir through to prevent the pasta sticking together.
5  Prepare the mojo sauce (recipe below).
6  Once cooked, combine the roasted vegetables, sausage pieces and pasta. Arrange in warm pasta bowls and drizzle the mojo sauce on top, before tucking in.
7  Any leftovers can be stored in the fridge for up to five days. Gently heat through before serving.
Mojo Sauce
Makes: about 500ml / 2 cups
Hands on time: 5 minutes    Ready in: 5 minutes
Ingredients
400g / 14 oz can chopped tomatoes with chilli [see Note 1]
2 garlic cloves, minced (raw or pan-fried – see Note 2)
1 sweet romano or red bell pepper, deseeded and chopped
½ tsp salt
½-1 tsp ground cumin
1 tsp unrefined sugar
2 TBSP extra virgin olive oil
2 slices of bread, broken into pieces [see Note 3 for a GF option]
Method
1  Add all the ingredients to a jug blender. Initially begin with ½ tsp cumin and sugar, and 1 slice of bread. Blend from low to high speed, until smooth. Taste test and add more cumin and sweetener, if desired.
2  Pour the sauce into a pan and gently heat through before serving.
3  Stored in an airtight container (e.g. glass jar), this sauce will keep for five days in the fridge.
Notes
1  If serving to children, use a can of plain chopped tomatoes or chopped tomatoes with basil.
2  If, like me, you're not a fan of raw garlic, pan-fry it in a splash of olive oil until it just starts to brown.
3. For a gluten-free mojo sauce, use 150g / ¾ cup butter beans to thicken the sauce instead of bread.
[/print_this]
Pin for later ⬇️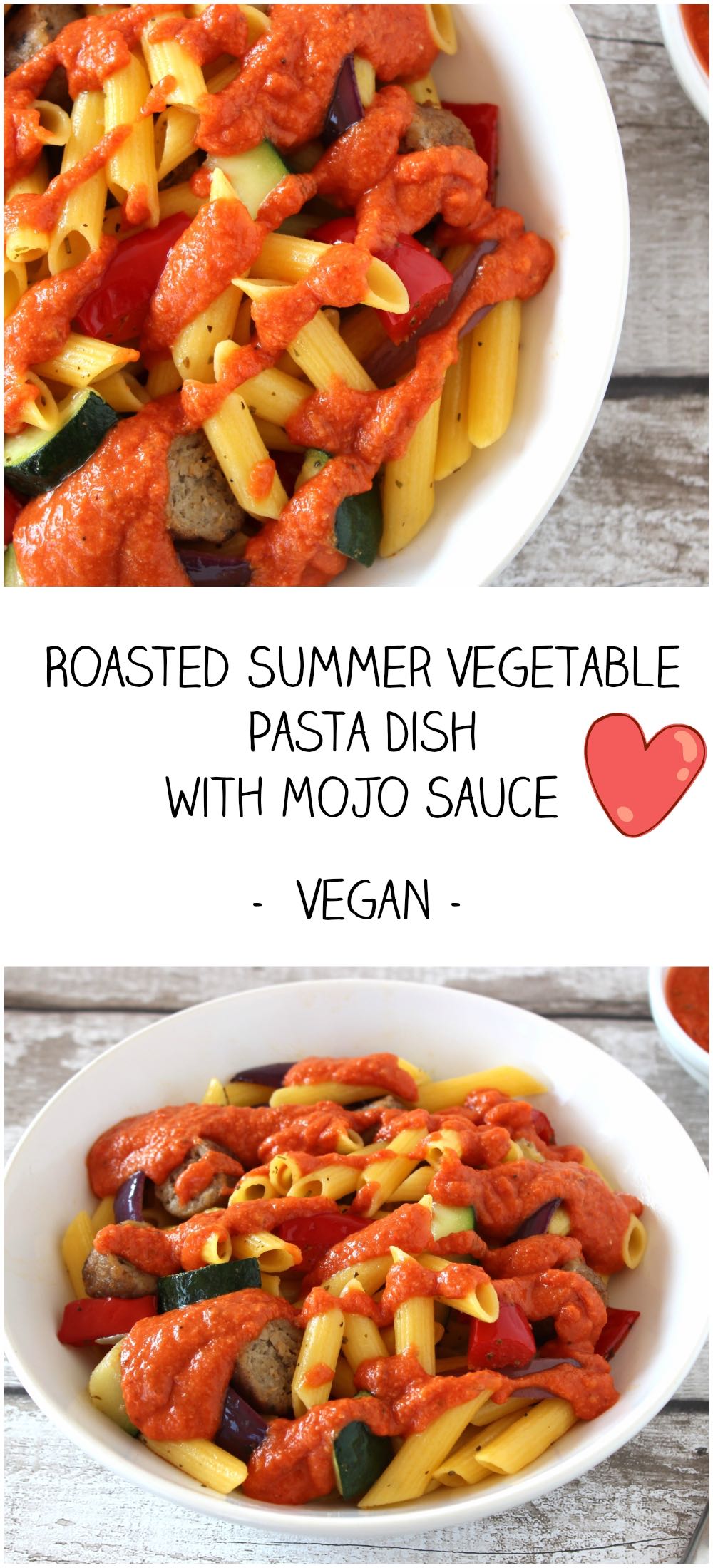 This recipe is being submitted to the Suma Blogger's Network  Big thank you to Suma for supplying the following ingredients that I used in the recipe:
– Suma Organic Chopped Tomatoes with Chilli
– Suma Organic Italian Extra Virgin Olive Oil
– Suma Organic Corn Rice Penne Pasta
– Aspall Red Wine Vinegar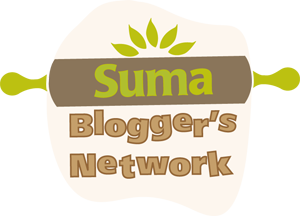 Have you visited the Canary Islands? If you've got any recommendations, I'd love to hear them! I've visited Lanzarote and La Palma, but am wondering where to go next! Tenerife, Gran Canaria or Fuerteventura?

SaveSave