In today's post, I'm sharing a recipe for a delicious mayonnaise that uses basic pantry ingredients, is ready in five minutes and costs as little as 34p! I never thought I'd find another mayo as tasty as Vegenaise, but this home-made version is just that. So if you're on a budget or have difficulty finding great-tasting vegan mayos in your shops, then I definitely recommend giving this one a try.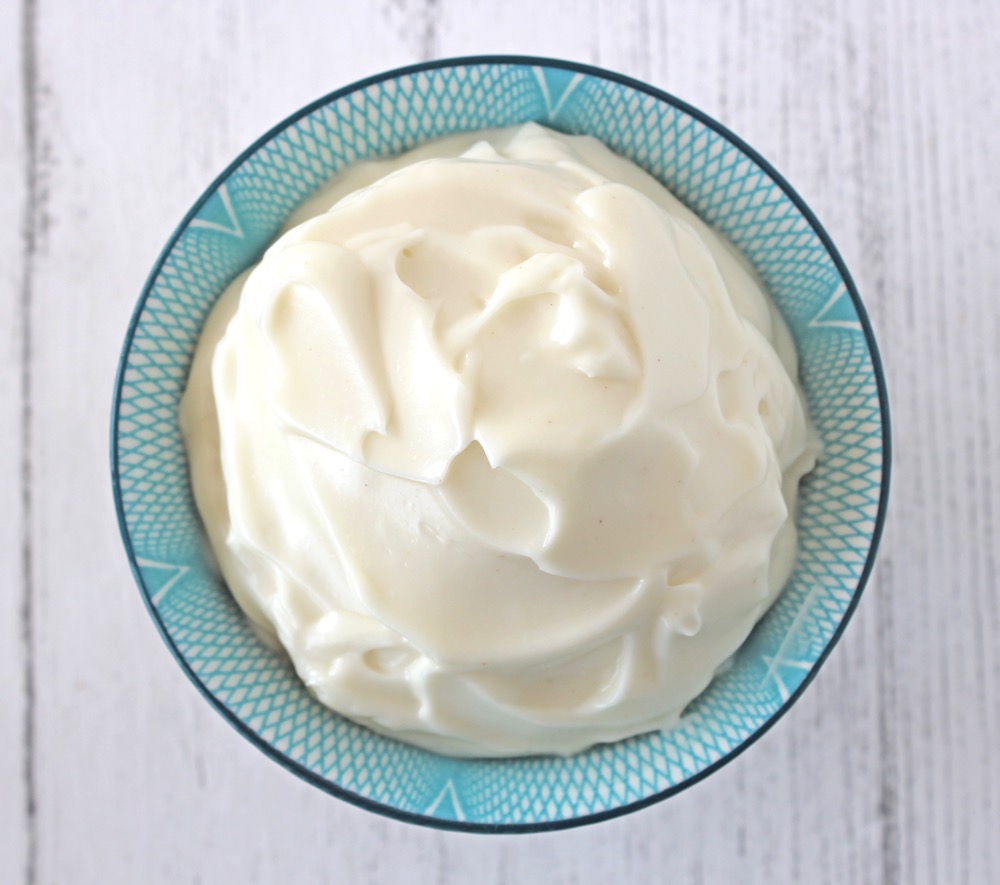 While I'm a little late to the party (as per usual), the home-made vegan mayo craze kicked off in 2015, following a discovery by French musician Joel Roessel that the water from a can of beans (or left over from cooking beans) could be used as a plant-based alternative to egg whites. Ingenious! This discovery was then further developed by American software engineer Goose Wohlt (who named it 'aquafaba') and the Facebook community Aquafaba (Vegan Meringue – Hits and Misses!)
For those unfamiliar with the term 'aquafaba', it's basically the Latin for 'bean water' (Aqua = water Faba = bean). The Latin name sure does sound more appealing, doesn't it?
Literally within weeks of the aquafaba discovery, my Facebook newsfeed started filling up with images of meringues, pavlovas, marshmallows, mousses, macarons and mayonnaise that were being made with this liquid that we usually throw down the sink. Basically, all the foods that I loved in my pre-vegan days and never dreamed I would ever get to eat again.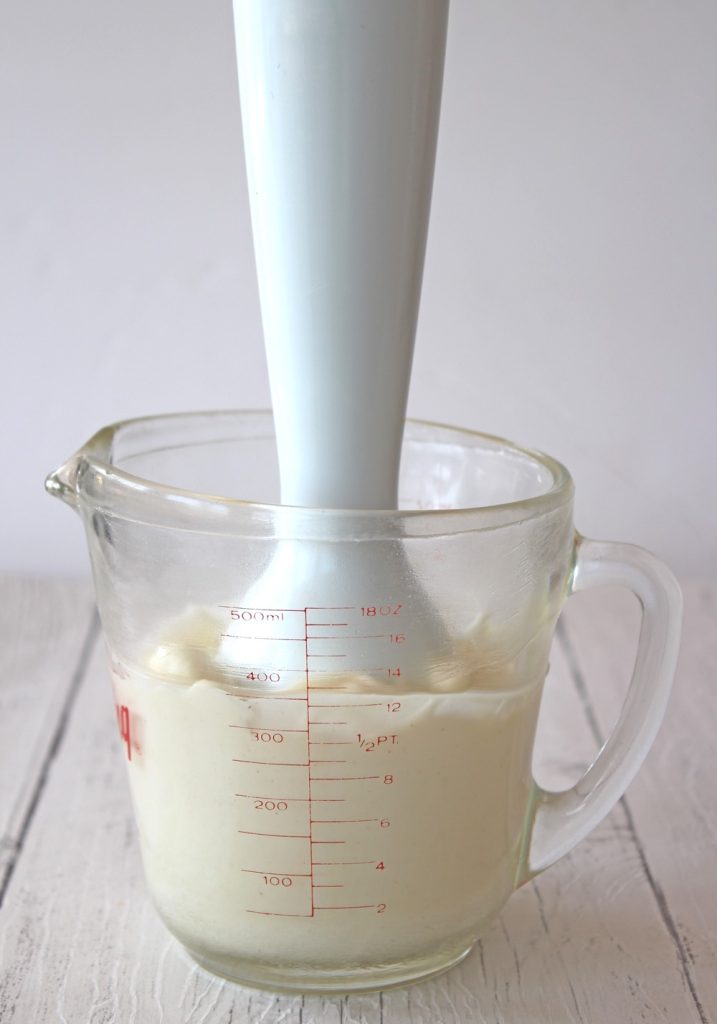 The reason I was slow to join the home-made mayo craze is because the American Follow Your Heart Vegenaise had made its way into my local health food shop. I can honestly say that Vegenaise was the best mayo I'd ever tasted (even better than the traditional egg-based mayo) so I was in no rush to find a replacement.
However, after repeatedly seeing aquafaba mayo videos popping up on social media, the intrigue got the better of me and I decided to give it a try.
And the verdict?
I LOVE IT! Not only does it taste gorgeous, but it's really fun to make too! Literally within seconds of whizzing the runny ingredients together, they turn into this mass of thick, white, creamy deliciousness.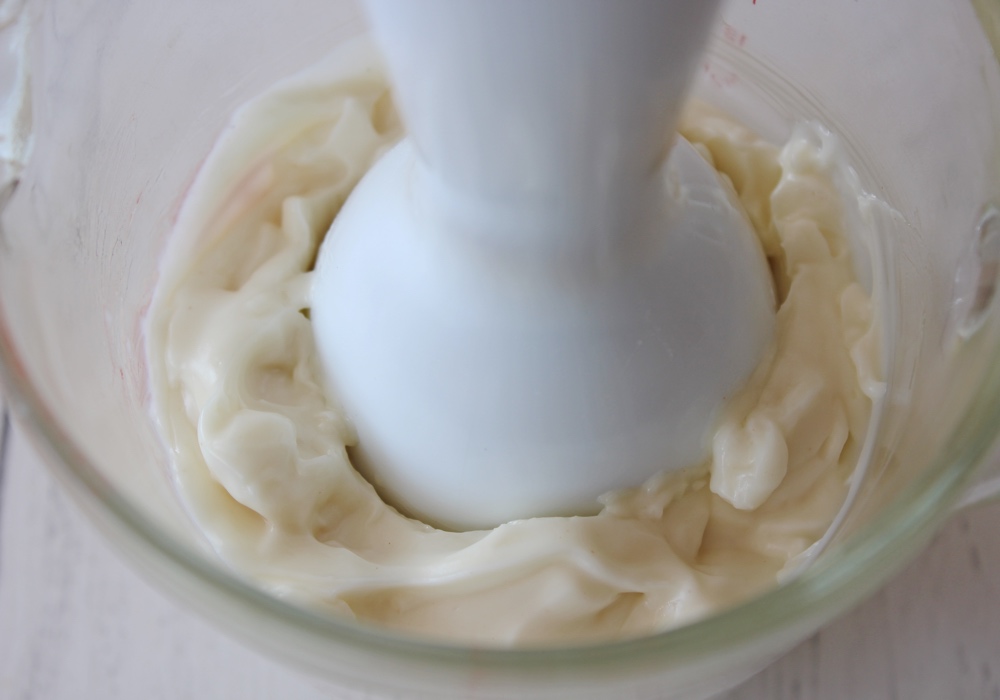 The great thing about making your own mayonnaise is that you can adjust the flavour to suit your personal preferences. A lot of mayo recipes that I've tried are too acidic for my taste buds, so I cut right back on the vinegar in my version.
You can also switch up the flavour of the mayonnaise depending on what you're planning to serve it with. For my vegan doner kebabs and smashed chickpea sandwich fillings, I love to add a couple of teaspoons of sweet chilli sauce to the mayonnaise for a touch of spiciness.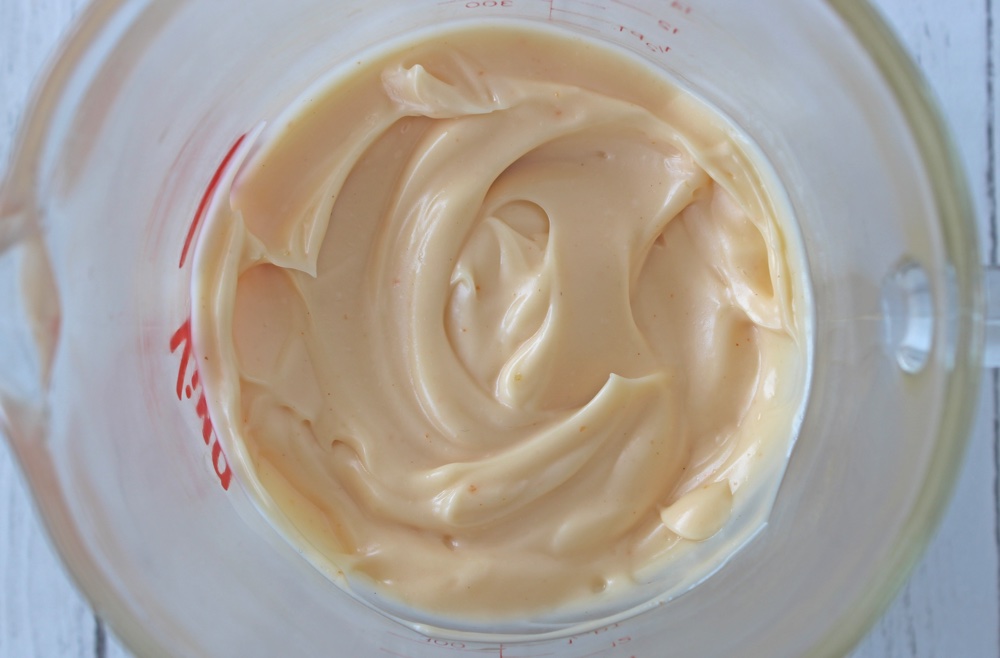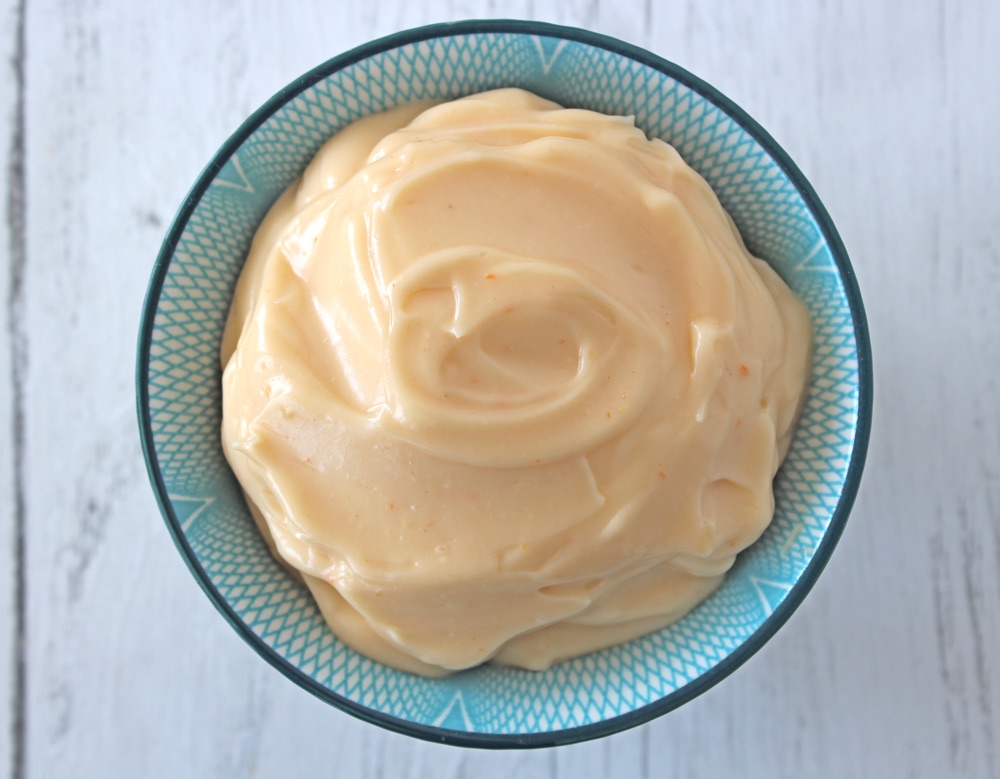 Another big advantage to making your own mayo is that it is super cheap! Using sunflower oil, it cost just 34p to make 240ml / 1 cup's worth of mayo. (The equivalent amount of Vegenaise costs £1.77).
Using organic oil, it still only cost 70p (compared to £2.25 for the equivalent amount of organic Vegenaise).
If you're on a budget or can't get access to a decent vegan mayo, then home-made is definitely the way to go.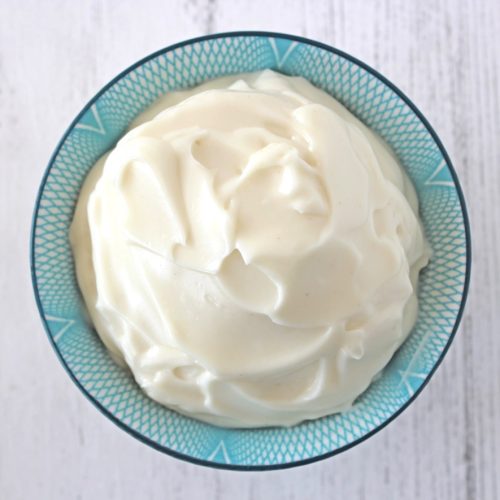 Quick & Easy Vegan Mayonnaise
When using a can of chickpeas, don't discard the water! Instead use it to make delicious home-made mayonnaise. For me, the ratio of ingredients below produces a mayonnaise that is very close in taste to my favourite store-bought mayo (Vegenaise). However, feel free to adapt the quantities of vinegar, sweetener, mustard and salt to suit your own taste buds. I've also added a sweet chilli mayo option, which is delicious (probably my favourite home-made mayo, to date).
Ingredients
3

TBSP

aquafaba

I use the water from a can of unsalted chickpeas

1

tsp

apple cider vinegar

1

tsp

maple syrup or agave nectar

1

tsp

Dijon mustard

½

tsp

salt

200

g

/ 1 cup neutral-tasting oil

e.g. organic rapeseed (canola) oil, sunflower oil, grapeseed oil

Sweet chilli option [See Note below]
Instructions
Place the aquafaba, vinegar, syrup, mustard and salt in a jug. Using a stick (immersion) blender, whizz the ingredients until fully combined.

Add 2 TBSP oil and pulse the blender until the oil is just combined (this only takes a few seconds). Add another 2 TBSP oil and pulse for a few seconds again until combined. Repeat this process, adding just 2 TBSP oil at a time, until all the oil is incorporated and the mayonnaise has become thick and creamy. (It is important to add the oil slowly so it has a chance to emulsify).

Taste test and add a touch more vinegar, mustard, sweetener or salt, if desired.

Transfer the mayonnaise to a clean glass jar and refrigerate. The mayonnaise should keep for up to 2 weeks.
Notes
Sweet Chilli Option: Add 2 tsp sweet chilli sauce into the mayonnaise and whizz to combine (I use Lingham's Chilli Sauce). Taste test and add more sweet chilli, if desired.
Thanks to Hippy Chick for inspiring this recipe!
Pin for later ⬇️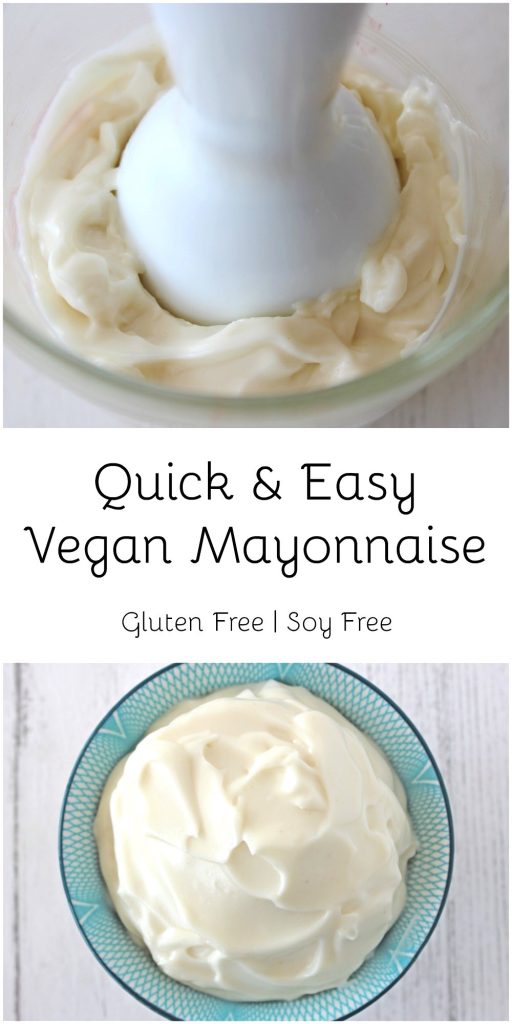 If you try this recipe, please come back and leave a review. It's so helpful to me (and other readers) to hear your experiences and ideas for variations. Thank you!
Best wishes,

SaveSave
SaveSave
SaveSave