Today I'm sharing my veganized version of the Turkish doner kebab. This kebab is one of my family's favourite 'easy weekend' meals and we love tucking into them while we're watching a movie, or sitting in the garden on a warm summer's evening. The kebabs are highly versatile, so feel free to switch the filling components to suit your own personal tastes.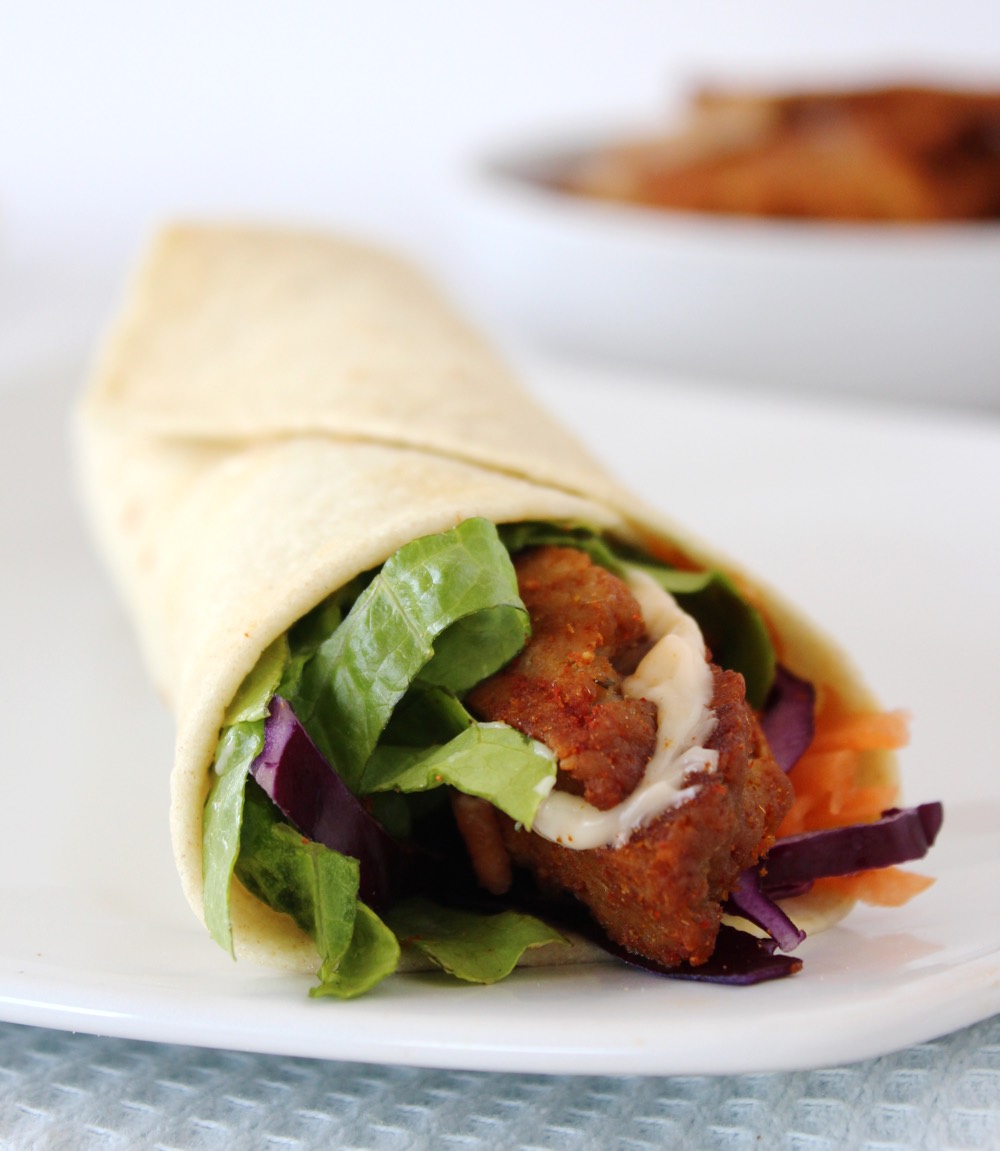 Doner kebabs are a popular fast food here in the UK. Traditionally, they are made with processed lamb meat, heavily seasoned with spices. Apparently it's hard to tell what kind of meat is actually in the doner kebab, and tests by UK Trading Standards have revealed that doner meats sometimes contain a mix of animals, such as chicken, beef and pork.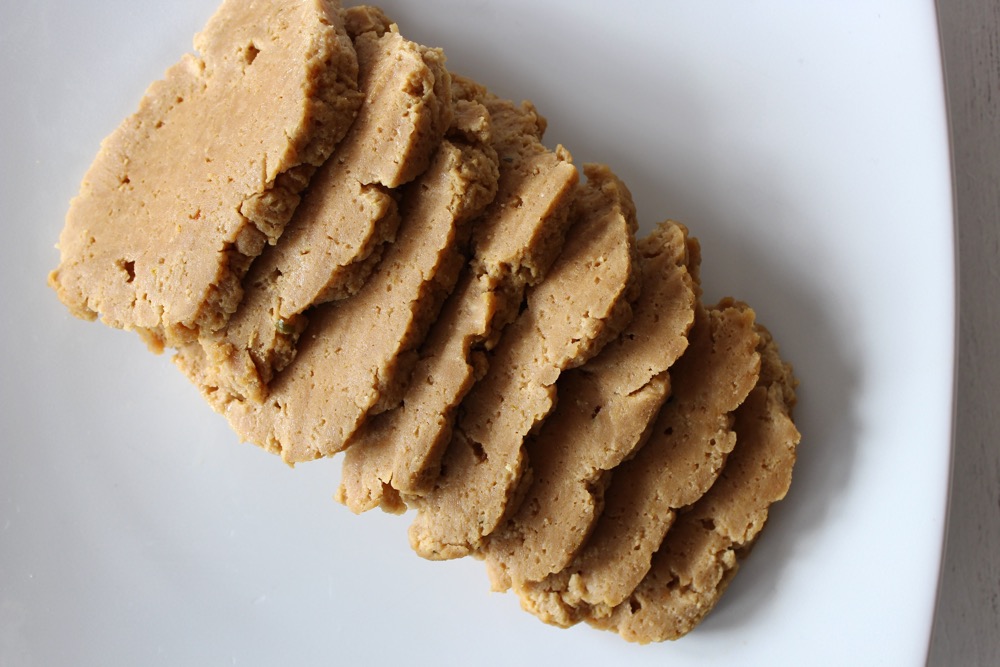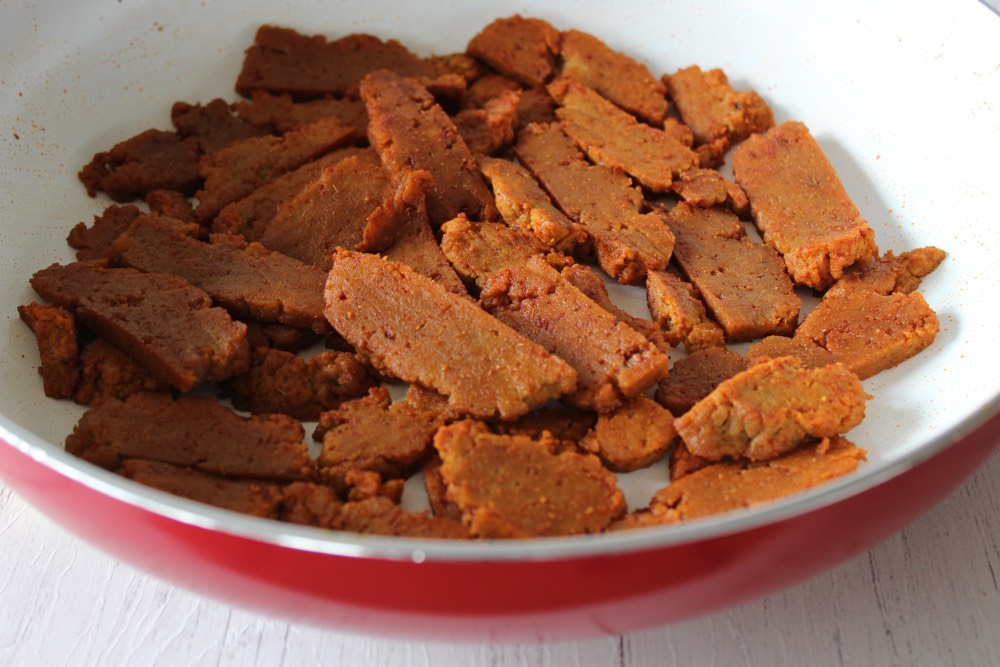 Since the key thing with the doner meats is the seasoning and texture, they're easy to replicate using plant-based meat alternatives. I like to use home-made seitan (my current favourite recipes are this Easy Seitan 'Chicken' and Basic Home-Made Seitan) as it tends to work out a lot cheaper, plus it gives me the flexibility to flavour it exactly how I wish. However there are also a range of store-bought alternatives now available, including these…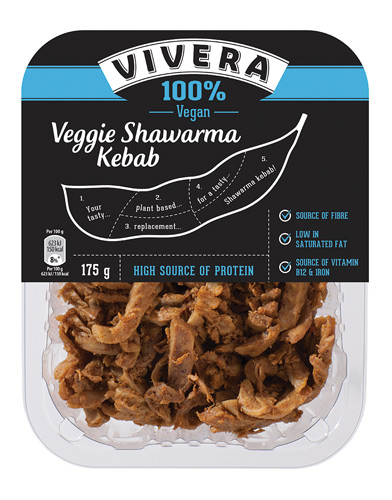 The Dutch company Vivera's Veggie Shawarma Kebab is now widely available in the major UK supermarkets – Tesco, Asda, Sainsbury's and Waitrose. You'll find it on the veggie/vegan chiller aisle.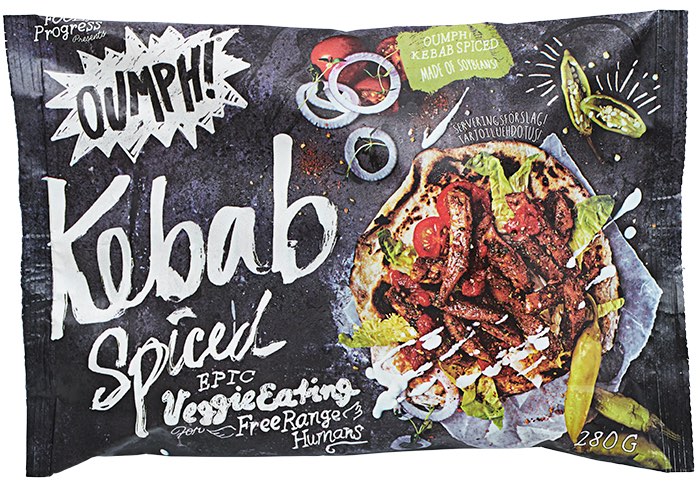 The Swedish brand Oumph has recently made its way into UK health food shops and Tesco. As its name suggests, the Oumph 'Kebab Spiced' is just perfect for kebabs. You'll find it in the veggie/vegan freezer cabinet.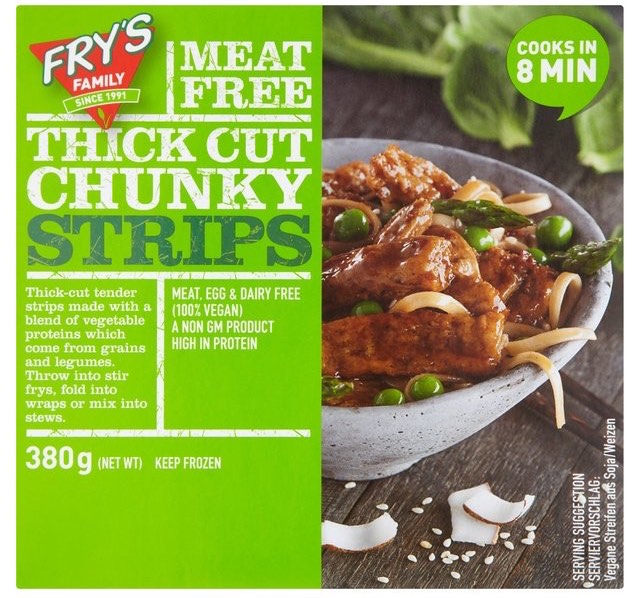 The South African family business Fry's also sells Thick Cut Chunky Strips that work well in kebabs. (In the UK, these are available in health food shops, Morrison's and Ocado in the freezer section).
Doner kebabs can be served in large flatbreads (such as flour tortillas) or pittas. Lately, my family has been making home-made flour tortillas as they taste so much nicer than the shop-bought ones (plus they literally cost a few pence to make).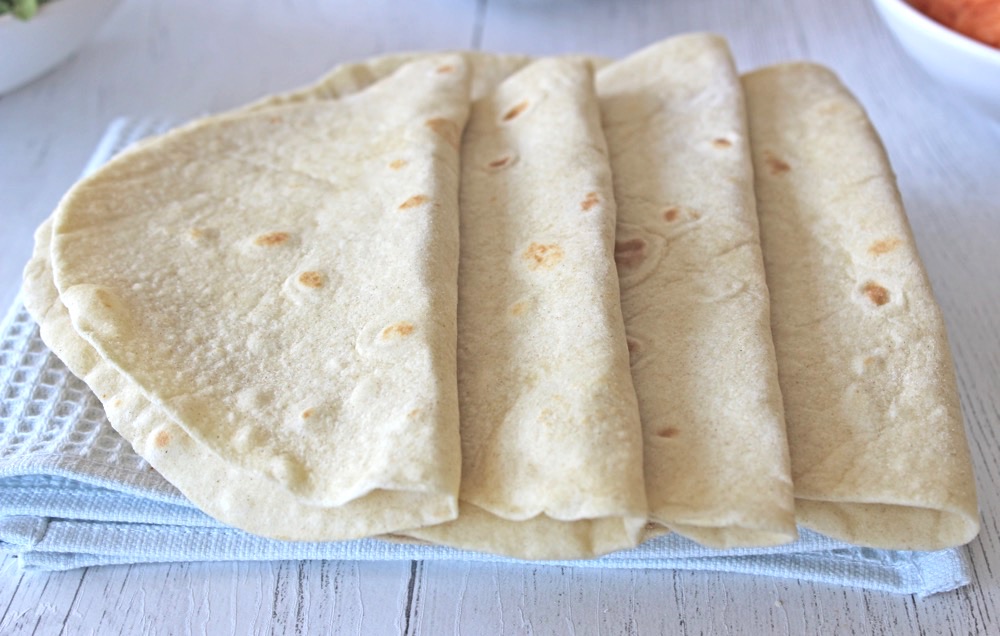 Alongside the doner meat, the kebab contains a variety of salad vegetables. We tend to use romaine lettuce, red cabbage, carrot and sometimes red pepper and pickles, all of which adds beautiful colours and textures to the kebab.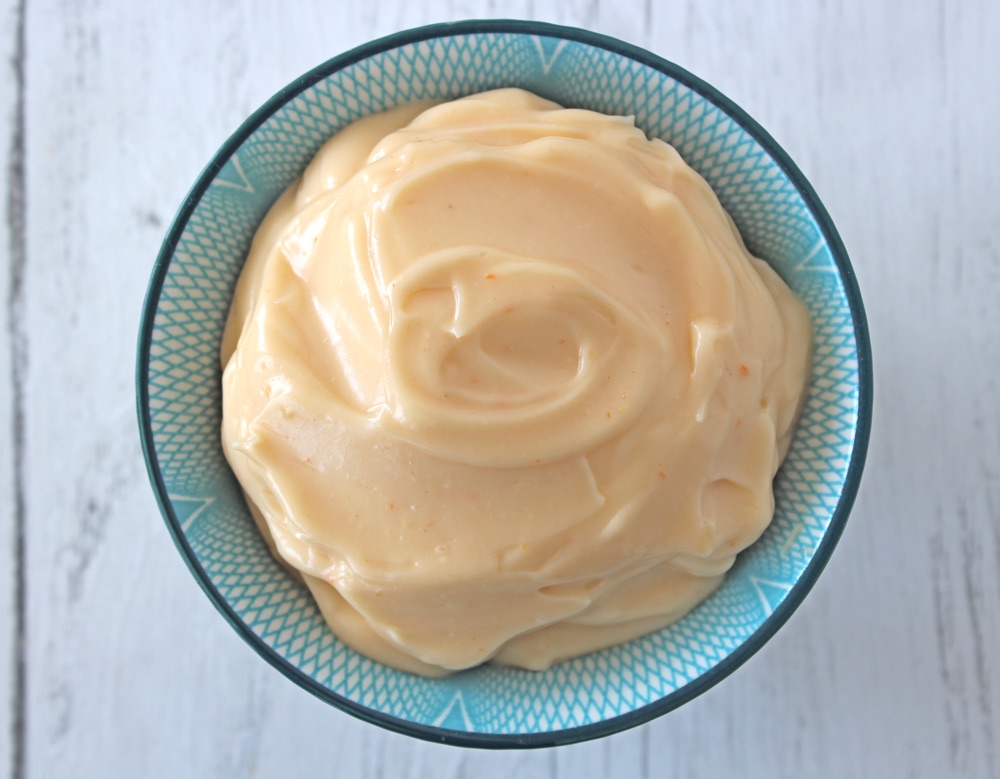 The final, important step is to add some kind of dressing or sauce. Our current favourite condiment for these kebabs is the home-made sweet chilli mayonnaise, which I posted earlier this week. It takes less than five minutes to make, is super cheap and tastes delicious (just as good, if not better than store-bought mayonnaise).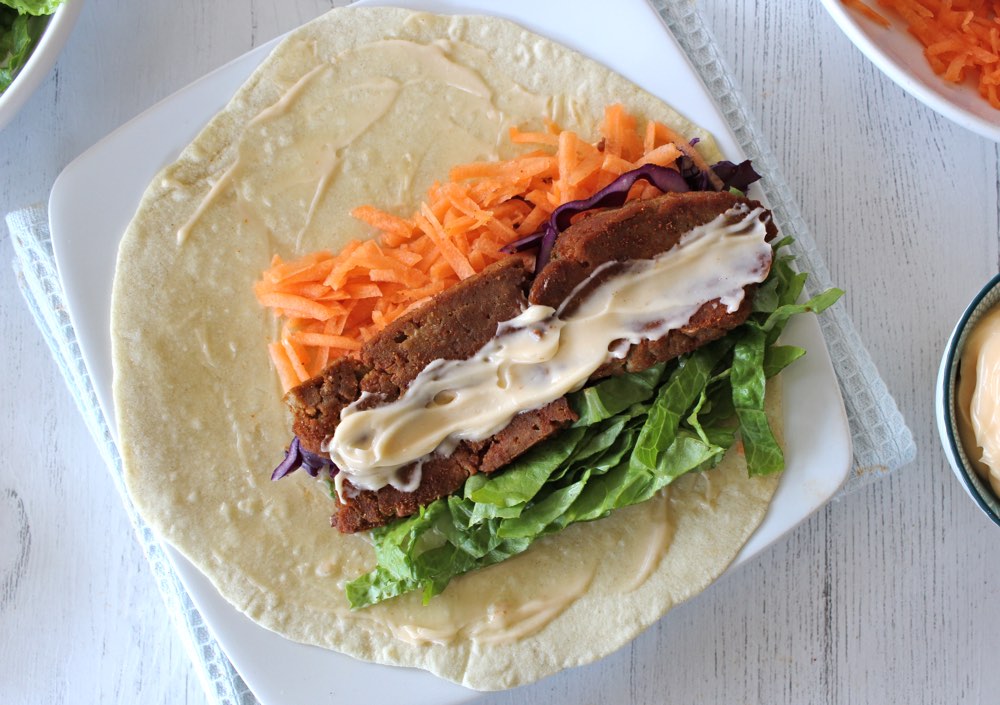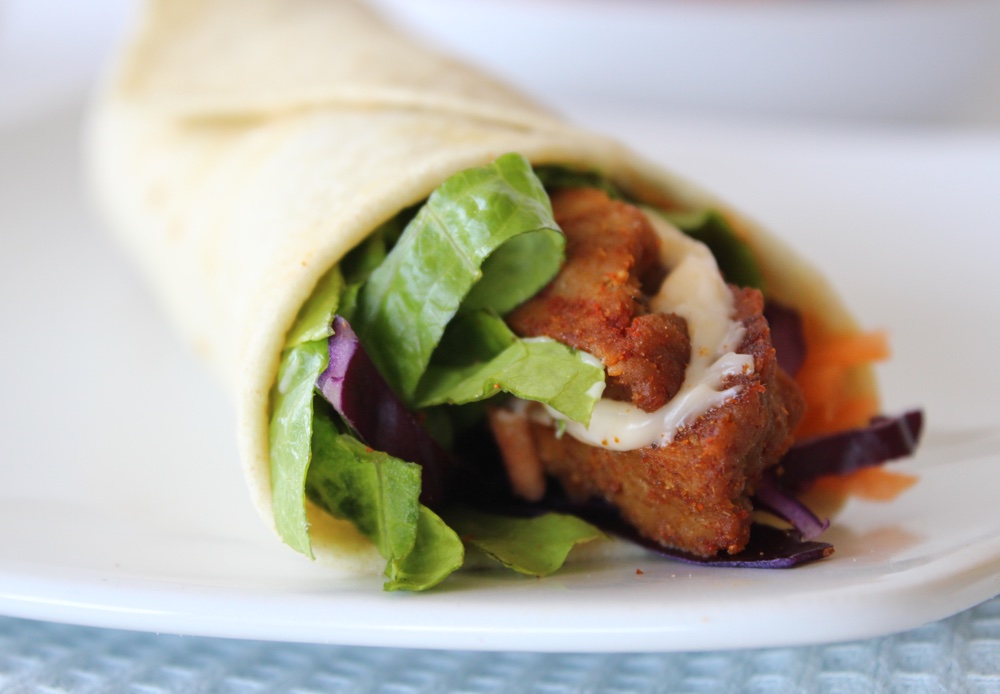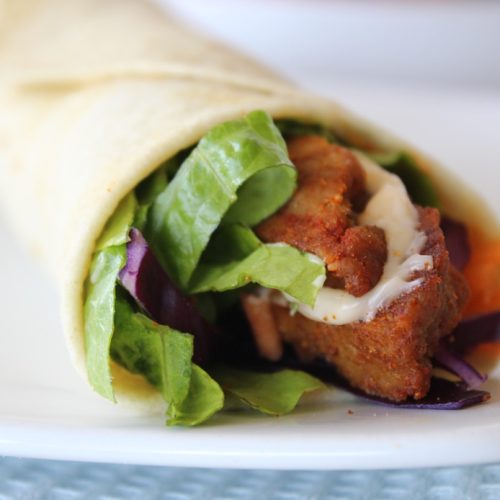 Vegan Doner Kebabs
These kebabs are quick and easy to prepare, making them perfect for busy weeknights and lazy weekends. They also make a great take-away lunch option, wrapped in foil or parchment paper to keep the filling neatly packed inside. They are highly versatile, so feel free to switch up the filling depending on what you desire or what needs using up in your fridge.
Ingredients
6

large flour tortillas, home-made* or shop-bought

350

g

/ 12 oz home-made basic seitan** or shop-bought kebab meat alternative e.g. Oumph! Kebab Spiced or Fry's Thick Cut Chunky Strips

1

romaine lettuce head

thinly sliced into ribbons

1

packed cup red cabbage

finely sliced

1

large carrot

peeled and grated

home-made chilli mayonnaise*** or shop-bought e.g. Vegenaise
Instructions
Pan fry the strips of seitan (or other meat-free alternative) in a little olive oil. Add seasonings, to taste. For kebabs, I like to flavour the home-made seitan with smoked paprika and ground cumin. I sprinkle 1 tsp of each spice over the seitan, a little at a time, stirring with a wooden spoon until evenly coated. If using shop-bought meat-free strips, cook according to the instructions on the packet.

Pre-heat a hot frying pan (skillet) and add one tortilla at a time, flipping onto both sides until warmed through and pliable.

Coat the tortilla in a thin layer of mayonnaise.

Arrange the lettuce, red cabbage, carrot and vegan kebab 'meat' along the centre of the tortilla. Leave a border on one side (about 2 inches) which you can tuck in to form the bottom of the kebab (to prevent the filling falling out). Add a touch more mayonnaise on top of the filling.

Fold in the tortilla along the border, then roll the tortilla as tightly as possible, holding in the filling with your fingers as you do so. Press down the edge seam of the tortilla to seal it. If you wish, you can wrap the end of the kebab in foil to keep it securely wrapped.
Pin for later ⬇️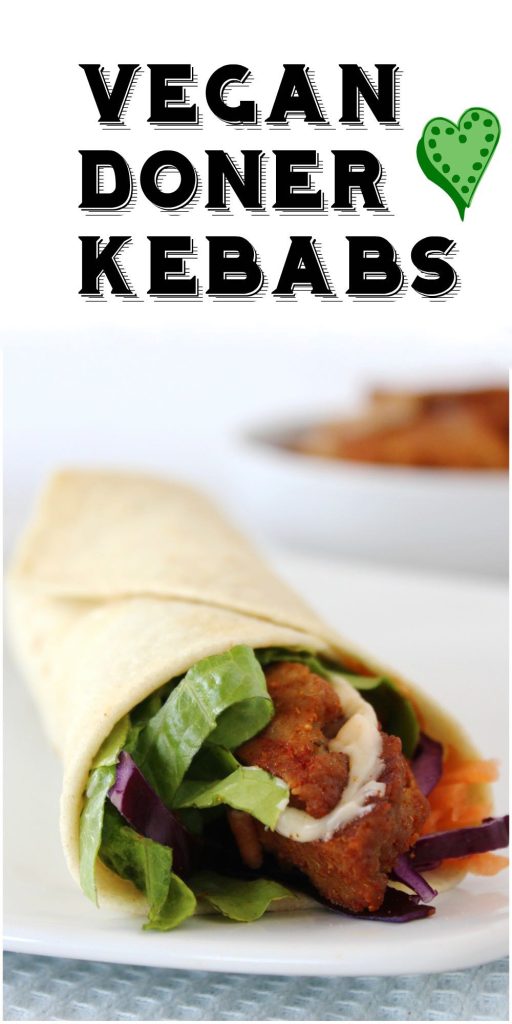 I'm submitting this recipe to the Suma Blogger's Network. Big thank you to Suma for supplying me with their vital wheat gluten, spices and oils which I used to create my vegan doner 'meat'.
If you make these Vegan Kebabs (or any other recipes on my blog), I'd love to hear your feedback and any suggestions for adaptations!   Tag your photos with #bitofthegoodstuff on social media and they'll find their way to me. You can also connect with me on my social media channels here: Instagram, Twitter, Facebook, Pinterest.   
With love,

SaveSave