Hey dear friends! Today, I am delighted to be sharing one of personal favourite recipes with you – Spanish Omelette (Tortilla de Patatas). This is no ordinary omelette, however, as it's 100% plant-based!! Yep, not a single egg in sight. In my pre-vegan days, Spanish Tortilla was a favourite comfort food of mine, but I love this vegan version even more. Not only is it delicious, it's cruelty-free (no hens or chicks are harmed in the making of this omelette) AND healthier than the traditional version. It's lower in fat, contains zero cholesterol, and is a rich source of plant proteins, B vitamins, vitamin C, and an array of minerals including potassium, magnesium, zinc and iron.
Healthy, tasty AND cruelty-free. A winner all round!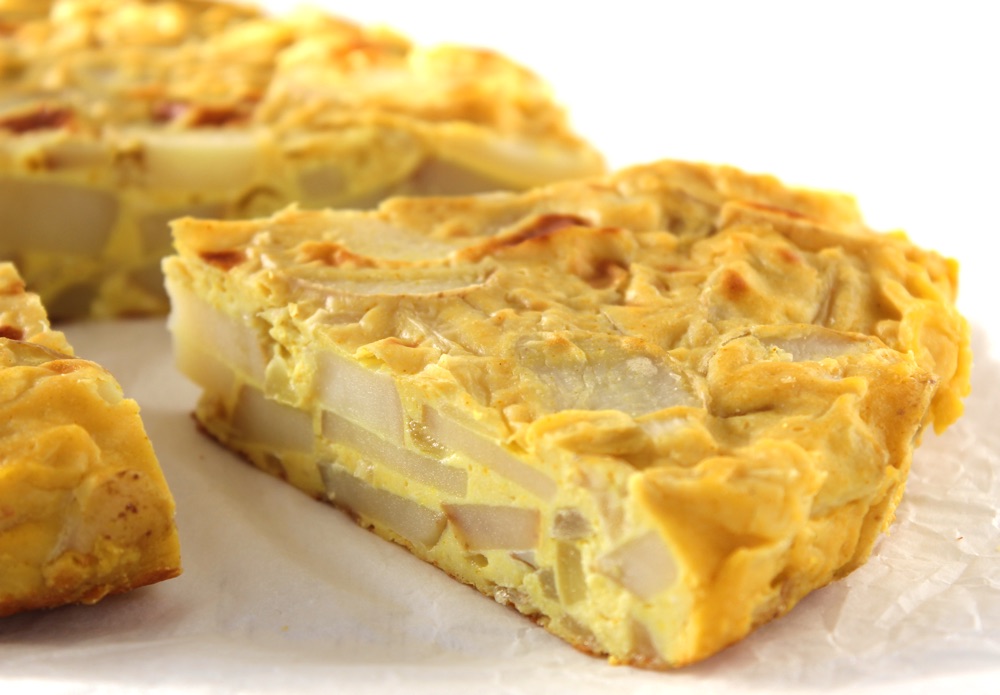 Over the years, I've made a few vegan potato omelettes, but I've never been 100% satisfied with the result. I found they tasted okay, but the texture wasn't quite right. The Vegan Tapas pages in this month's Vegan Life magazine inspired me to have another shot at mastering the Spanish omelette. This time I was determined to keep experimenting until I had a winning recipe.
This week, I've been busy experimenting with different recipes and cooking methods, and my family were very willing taste testers. When it came to recipes, there was a clear winner and, of course, that's the one I'm sharing today. It's an adaptation of my Frittata recipe (p72 of the Bit of the Good Stuff cookbook) and uses a mix of silken tofu and chickpea flour. It's this combination that gives the Tortilla a lovely, soft 'egg like' texture. I've made Tortillas in the past using just chickpea flour… and I tried it again this week, but I find that the omelettes come out much denser and drier than when I combine the flour with tofu.
I also wanted to make this omelette as healthy as possible, without compromising on flavour. I do use extra virgin olive oil, as it lends the wonderful flavour we associate with the Spanish Tortilla; however where the potatoes are traditionally shallow fried in oil (and thus use a lot of oil), I first boil them until tender, then pan-fry them in the oil. This has enabled me to massively cut down on the amount of oil used, plus it saves time as the potatoes cook a lot faster.
One mistake I made early on when attempting Spanish omelettes was to use the wrong type of potato. I used floury potatoes (like Maris Piper) and they not only have the wrong texture for an omelette but the slices also fall apart. For Spanish omelettes, you want to use waxy potatoes, like Charlotte or Maris Peer. This week, I used salad potatoes which hold their shape well (as you can see in the picture below).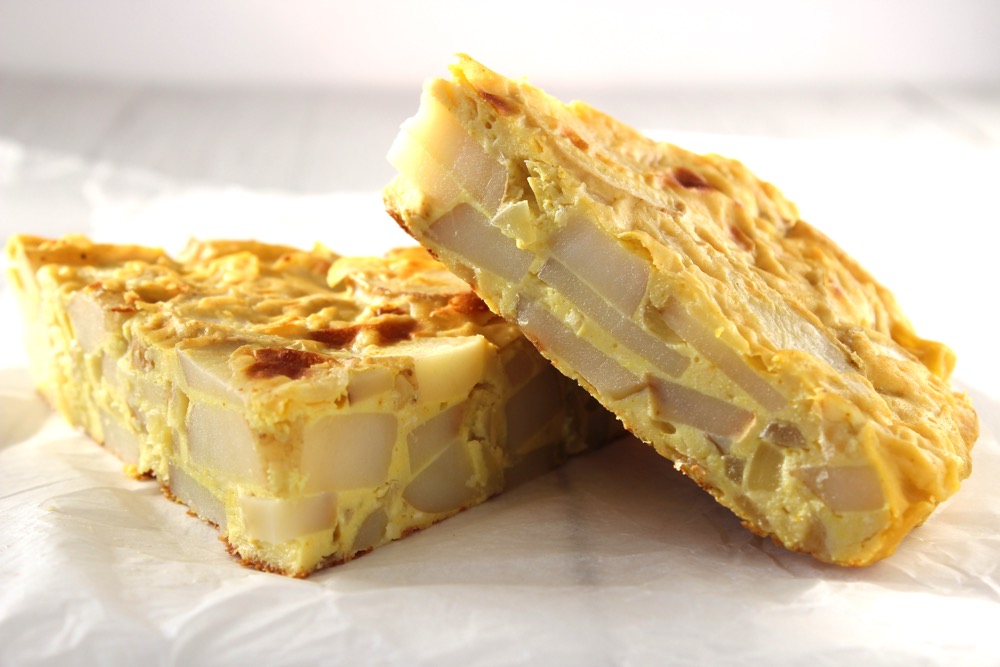 I experimented with three different cooking methods for this vegan omelette, and two out of three worked great. The first method is to cook the omelette in an oven-proof frying pan on the stove top then finish it off under the grill. The second method is to bake the omelette in the oven (in a flan tin or similar). I personally don't have a preference as the omelettes taste the same whichever cooking method is used. The only difference is that the oven-baked omelettes look a little neater in appearance, as you can see in the picture below.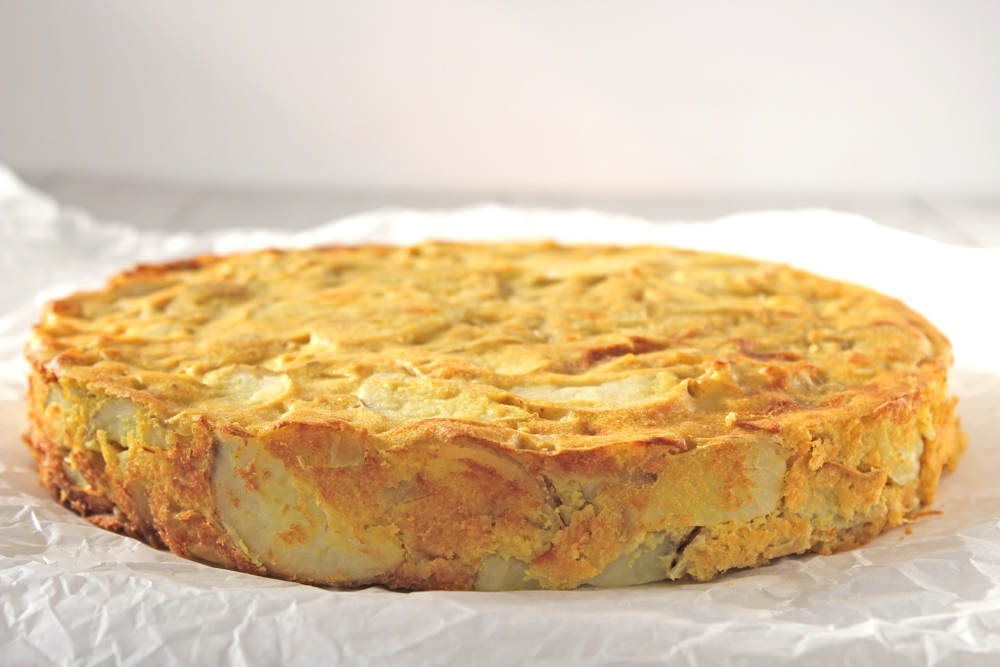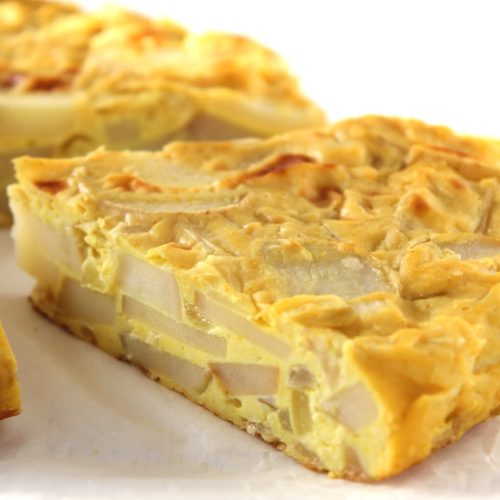 Vegan Spanish Potato Omelette – Tortilla de Patatas
This Spanish omelette is one of my favourite comfort foods! It's easy to make and can be served hot or cold. As a main meal, my family loves to serve it warm, with roasted vegetables and baked beans. Served cold, it's perfect for lunchboxes, picnics, buffets and tapas parties.
Ingredients
600

g

/ 21 oz waxy potatoes

e.g. charlotte, maris peer or salad potatoes

1½

TBSP

extra virgin olive oil

divided

1

large onion

diced

2

tsp

garlic

minced

½

tsp

salt

60

ml

/ ¼ cup soya milk

300

g / 10½ oz silken tofu*

drained

1

tsp

Dijon mustard

45

g

/ ⅓ cup gram flour (aka chickpea flour, besan flour)

2

TBSP

nutritional yeast flakes

2

TBSP

cornflour (cornstarch)

¼

tsp

ground turmeric

¼

tsp

black salt (kala namak)

optional – adds an 'eggy' flavour

vegetable oil for greasing the pan
Instructions
Prepare a large pan of boiling water.

If you wish, you can peel the potatoes (I prefer to leave the skin on). Cut the potatoes into halves or quarters, then into 0.5cm / ⅕ inch slices. Boil the potatoes for 10 minutes or until tender, then drain using a colander.

Meanwhile, heat ½ TBSP extra virgin olive oil in a large non-stick frying pan (skillet) on medium-low heat and cook the onions, stirring now and then.

Prepare the batter: place the milk, silken tofu, mustard, gram flour, nutritional yeast, cornflour, turmeric and black salt (if using) in a large mixing bowl and blend smooth using a hand blender (alternatively use a jug blender).

When the potatoes are tender, tip them into the frying pan with the onion. Add 1 TBSP extra virgin olive oil, 2 tsp garlic and ½ tsp salt. Continue cooking for a couple of minutes on medium heat, stirring regularly until the potatoes are fully coated in the oil and salt. (They should start to turn a light yellow colour). Taste test and add a touch more salt or oil, if needed.

Add the contents of the frying pan to the batter in the mixing bowl and stir through.
7a. To Pan-Fry the Omelette:
Coat the bottom of a clean, non-stick oven-safe frying pan (skillet) with oil and heat on medium heat. (I use a rapeseed/canola oil spray as I find it less sticky than olive oil). Tip the omelette mixture into the pan and use a silicone spatula to distribute it evenly; smooth the top and neaten the edges. Cook for 15 minutes on medium-low heat, or until the edges start to firm up.

Towards the end of the cooking time, preheat the grill (broiler). Place the frying pan under the grill (with the handle sticking out) until the omelette is lightly browned (about 3 minutes). Keep a watch on it as it can burn quickly. Using an oven glove, remove the pan from the grill. Leave to rest for at least 10 minutes (it will firm up as it cools), then loosen with a slotted turner and transfer to a chopping board.
7b. To Oven-Bake the Omelette:
Pre-heat the oven to 200C (180C fan). Grease the sides of a 22cm / 9" loose-bottom flan tin and line the bottom with non-stick baking paper. Add the omelette mixture and press it down using a silicone spatula. Cook for 30 minutes, or until the tortilla is firm to the touch and a skewer inserted through the middle comes out clean. Leave to rest for at least ten minutes (it will firm up as it cools), then gently run a knife round the outer edge and transfer the omelette to a chopping board.
Notes
Recipe makes one omelette – 22cm / 9" in diameter. Stored in an airtight container in the fridge, the tortilla will keep for up to five days. To re-heat the tortilla, I squirt a couple of sprays of rapeseed (canola) oil in a frying pan and cook the omelette slices on medium heat, turning regularly until warmed through.
* I used Clearspring Organic Japanese Silken Tofu
Products I used in this recipe…
– Clearspring Organic Silken Tofu
– KTC Gram Flour
– Engevita Nutritional Yeast Flakes with B12
– Top-Op Kala Namak (Black Salt)

Pin for later ⬇️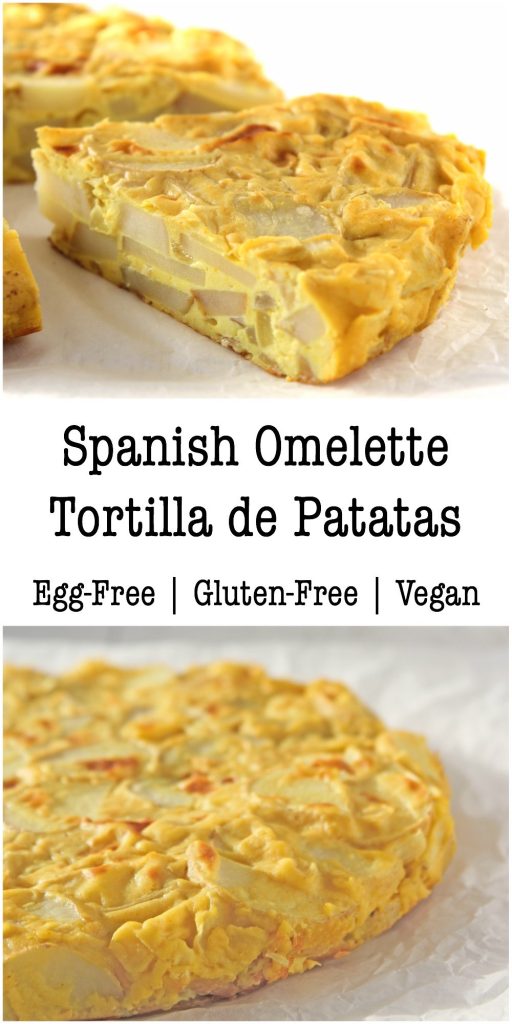 If you make this Spanish Omelette (or any other recipes on my blog), I'd love to hear your feedback and any suggestions for adaptations! Tag your photos with #bitofthegoodstuff on social media and they'll find their way to me. You can also connect with me on my social media channels here: Instagram, Twitter, Facebook, Pinterest.
With love,

---
Reader Remakes ❤️