In today's post, I'm sharing a recipe for a Chinese "Egg-Fried" Rice that's perfect for serving any night when you need a quick and easy meal on the table. Not only is it tasty, but it's also packed full of nutritional goodness. It's especially rich in protein, vitamins A, B and C, and an array of minerals. For example, a quarter serving of the recipe provides a whopping 48% of the protein RDA, 55% of the calcium RDA, 53% of the vitamin C RDA and 168% of the vitamin A RDA!! It's also much lower in fat than traditional Chinese egg-fried rice and contains zero cholesterol.
And, most importantly, it's cruelty free! No hens or chicks were harmed in the making of this meal!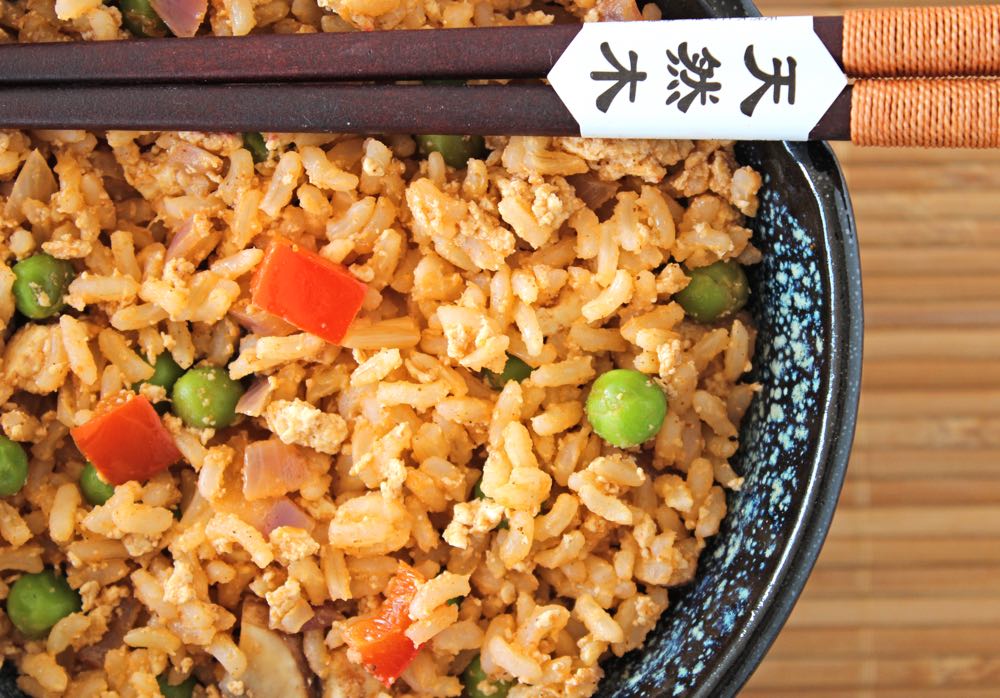 A few years ago, I discovered that tofu makes a fantastic egg replacer for Chinese egg-fried dishes. Crumbled, seasoned and stirred through rice or noodles, its texture and appearance have an uncanny resemblance to egg, which is pretty weird when you consider that tofu is made from beans!
I like to use calcium-set tofu as it's a quick way to boost the family's calcium levels. Here in the UK, the one brand of tofu that I've found to be calcium-set is Cauldron Foods Organic Tofu. (And fortunately, this is the one that's widely available in our supermarkets right now!) According to the FAQ page on the Cauldron Foods website, a 100g serving (¼ pack) of their tofu provides around 40% of the recommended daily amount of calcium.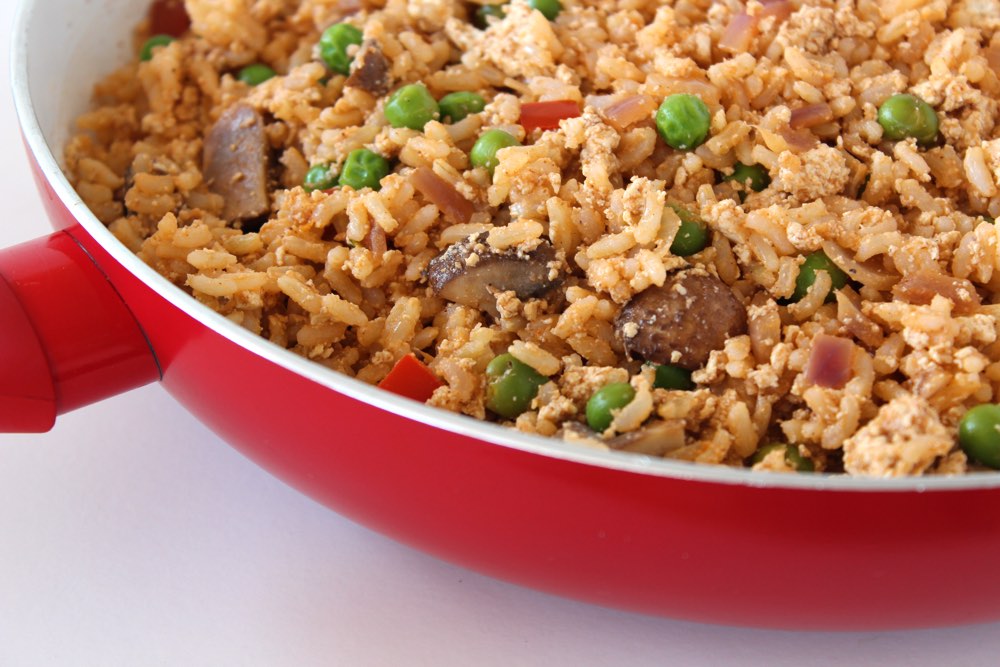 Back in 2014, I shared a recipe for Egg-Fried Noodles, but my family's favourite Chinese Egg-Fried Rice still hadn't made its way onto the blog. It was high time for me to put that right! Since Thursday is typically 'Rice Night' in our house, I made sure to photograph our dinner last night before we devoured it. That way, I would have some pictures to share alongside the recipe today.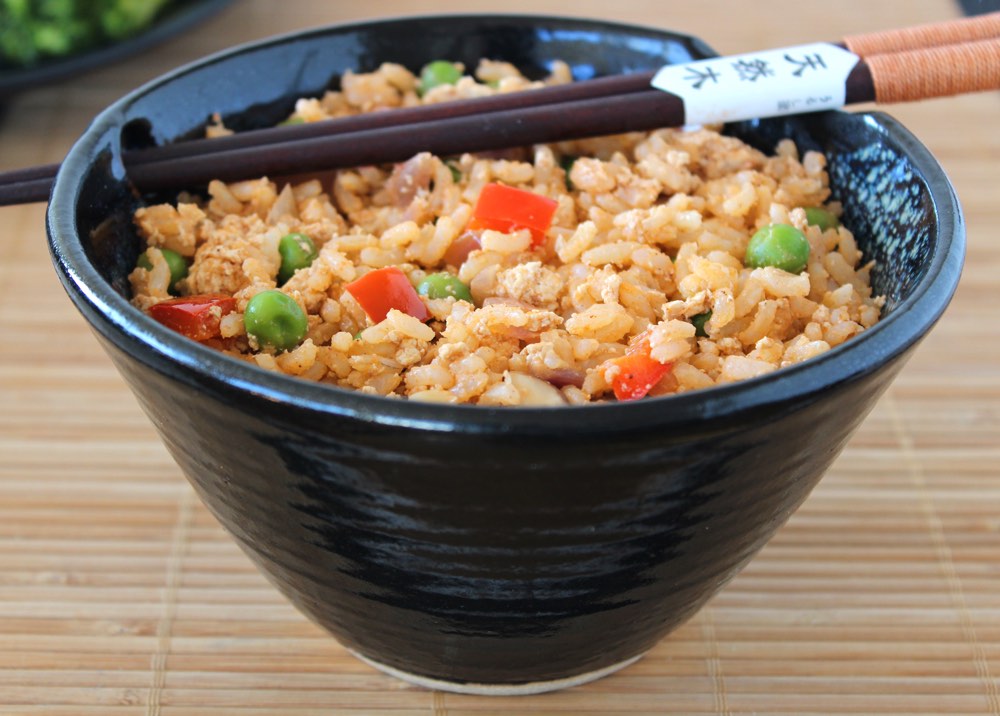 The dish is really simple to make. While the rice is cooking, pan fry some veggies and crumbled tofu, then whisk together the marinade and pour it into the pan. When the rice is cooked, stir it through the veggies then it's ready to serve.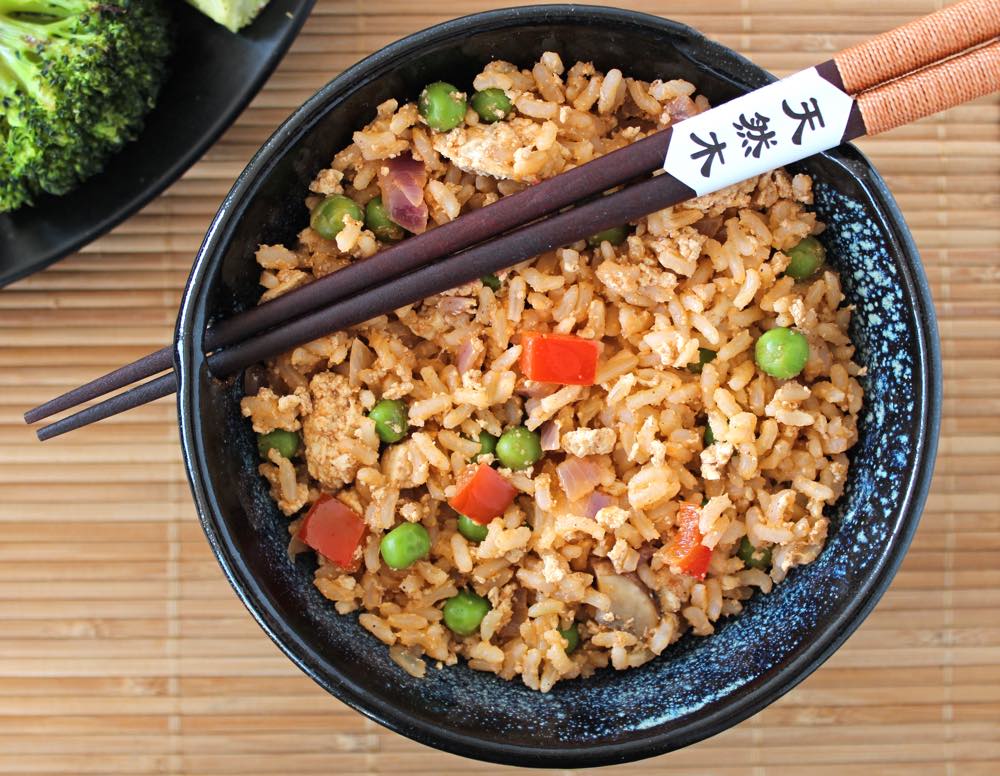 The choice of veggies to include in the fried rice is entirely yours. I add red pepper and green peas as they're so colourful. Mushrooms are great for savouriness and some chewy texture. If you wish, you could even add in some vegan meat alternatives like Iceland's "No Chick" strips or Oumph's "The Chunk" to make a vegan style "Chicken" Fried Rice.
[print_this] This Chinese "Egg-Fried" Rice dish is packed with plant-based goodness. It makes a great weeknight meal, either served on its own or with a side-dish of green veggies (we love roasted broccoli!)
Serves: 4-5
Hands on time: 20 minutes Ready in: 35 minutes
Ingredients
290g / 1½ cups brown rice
1 TBSP toasted sesame oil, divided
1 large onion, diced
2 tsp garlic paste (or 2 garlic cloves, minced)
1 small red bell pepper, deseeded and diced
125g / 1½ cups mushrooms, chopped
400g / 14 oz firm tofu
1½ tsp Chinese Five Spice
190g / 1½ cups frozen peas*
Marinade
1 TBSP toasted sesame oil
1 TBSP reduced-salt soy sauce (use tamari for a GF option)
1 TBSP white miso (or substitute with another 1 TBSP soy sauce)
2 TBSP tomato puree (paste)
½ TBSP maple syrup, or to taste
¼ tsp Chinese Five Spice
Method
1. Cook the brown rice.**
2. When the rice has been cooking for about 10 minutes, gently heat ½ TBSP oil in a large, deep-sided frying pan (skillet). Add the onion and cook on medium heat for a couple of minutes.
3. Add the garlic, bell pepper and mushrooms and continue cooking for a further 2-3 minutes.
4. Drain the tofu and crumble it into the pan. Sprinkle the Chinese Five Spice on top, and stir through.
5. Add all the marinade ingredients to a small bowl and whisk with a fork until fully combined. Set aside about 1 TBSP of the marinade and pour the remainder into the pan. Stir through until the tofu is thoroughly coated.
6. Add the frozen peas and continue cooking for 5-6 minutes, stirring occasionally, until the peas are heated through.
7. When the rice is ready, drizzle in ½ TBSP toasted sesame oil and stir through. Add the 1 TBSP marinade that you set aside and continue stirring until the rice is fully coated.
8. Add the rice to the frying pan, a couple of a scoops at a time, stirring each time to combine.
9. Arrange the rice in warm bowls and serve (chopsticks are optional!) Any leftovers can be stored in the fridge for 24 hours. As with any rice dish, make sure that the rice is chilled within an hour of cooking.
* If you're planning to re-heat this dish, it's is best to omit the frozen peas as the instructions on the packet state 'do not reheat'.
** Here's how I cook brown rice using the absorption method: First, rinse the rice in a fine mesh sieve under running cold water, agitating the grains with your hand until the water runs clear. Place the rice in a large heavy-bottomed saucepan along with double the volume of water (e.g. 1½ cups rice & 3 cups water). Bring to the boil, then reduce the heat and simmer uncovered for 10 minutes. Reduce the heat to very low, cover with a tight-fitting lid and cook for a further 20 minutes. When air pockets have appeared in the rice, it's ready.
[/print_this]
Products I used in this recipe…
Cauldron Foods Organic Tofu
KTC Garlic Paste
Meridian Organic Toasted Sesame Oil
Kikkoman Less Salt Soy Sauce
Clarks Original Maple Syrup
Clearspring Sweet White Miso
Suma Chinese Five Spice
Pin for later ⬇️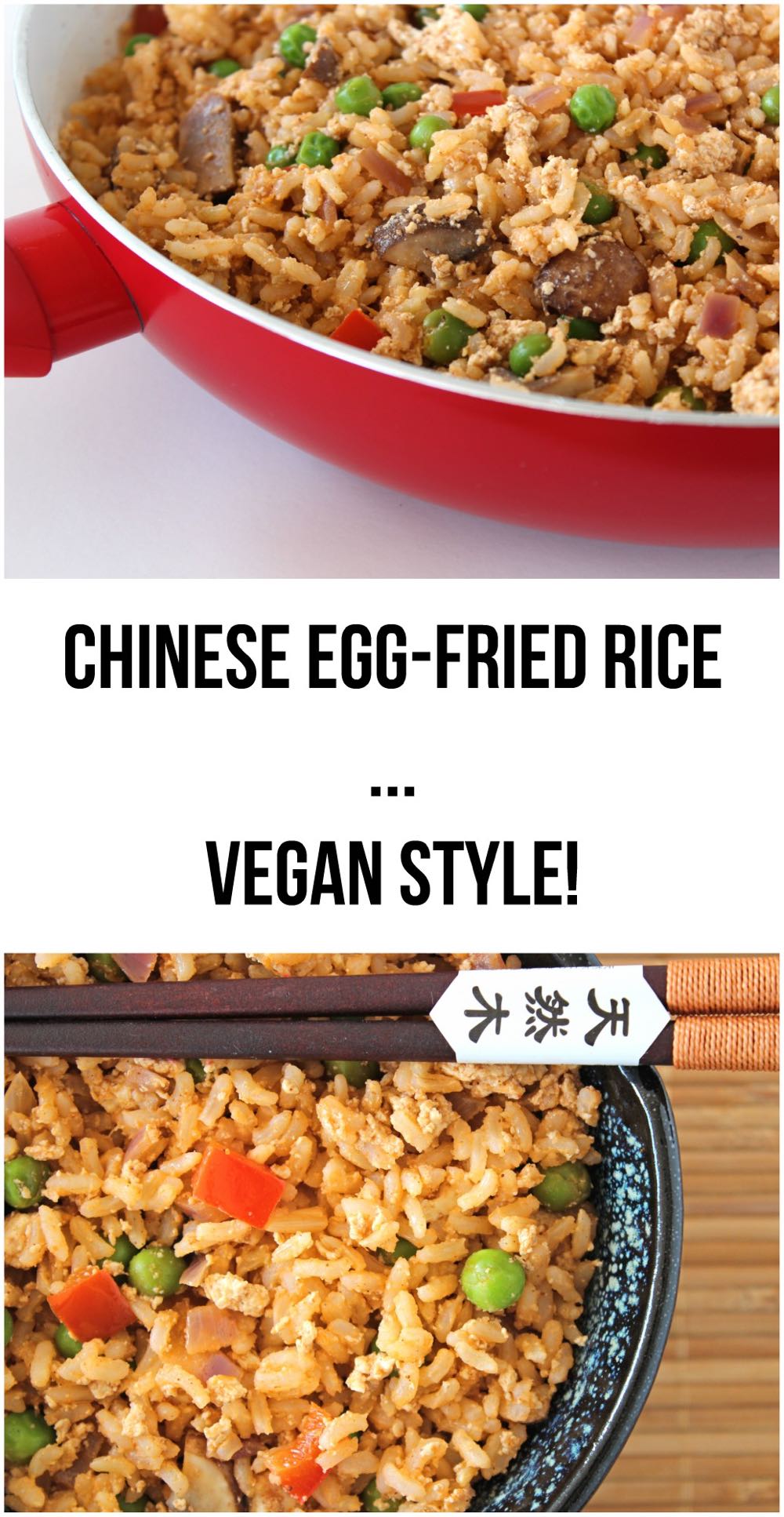 If you make this Chinese Fried Rice (or any other recipes on my blog), I'd love to hear your feedback and any suggestions for adaptations! Tag your photos with #bitofthegoodstuff on social media and they'll find their way to me. You can also connect with me on my social media channels here: Instagram, Twitter, Facebook, Pinterest.
With love,