Hey lovely people! Today I'm sharing a vegan version of the classic Indian dish Murgh Makhani ('Butter Chicken'). While the chicken, cream and butter have been replaced with plant-based alternatives, there has been no compromise in flavour or consistency. The dish is filled with beautiful Indian spices and is really flavourful, but mild enough (heat wise) to be appealing to all members of the family.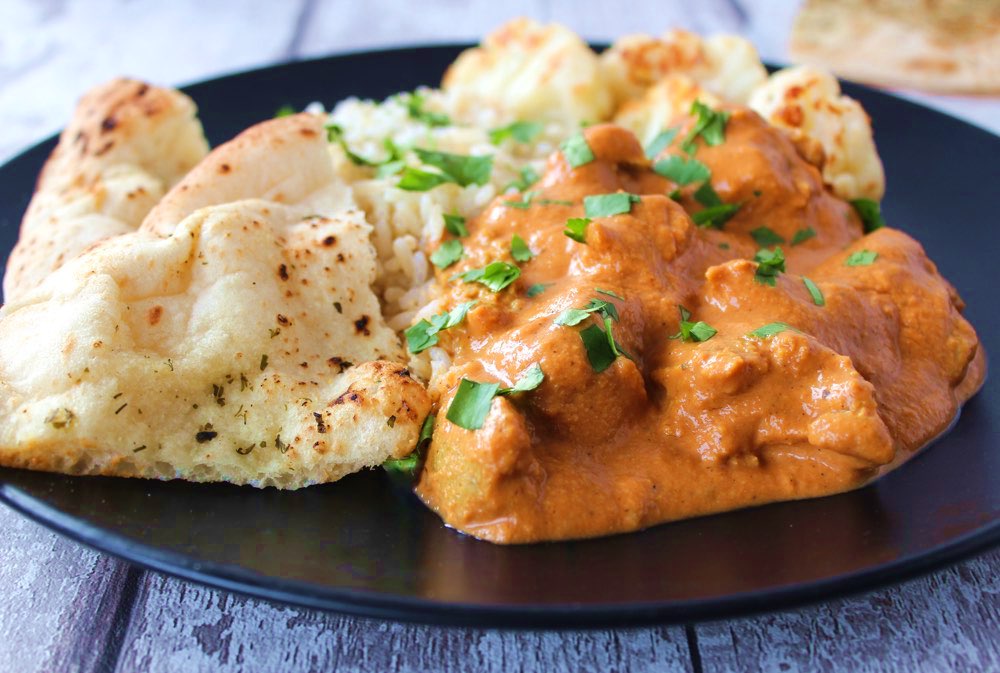 As well as being a tasty, cruelty-free version of traditional 'Butter Chicken' it also happens to be packed full of nutritional goodness. It's rich in B vitamins, vitamin A, vitamin C, vitamin E and a whole array of minerals, including iron, calcium and zinc. It is also super high in protein. A single serving provides an incredible 70% of the protein RDA! Unlike the traditional dish, this vegan version is low in fat and contains zero cholesterol. It's a winner all round!
The inspiration for this dish came from this month's Vegan Life magazine. As soon as I spotted the recipe for 'Butter Chicken' (p53) I couldn't wait to give it a try. The author of the recipe is the incredibly talented Sasha Gill who blogs at The Sasha Diaries and has recently authored her debut vegan cookbook Jackfruit and Blue Ginger … all the while studying medicine at Oxford University! Sasha's Instagram account is truly beautiful and full of inspiration. I highly recommend checking it out.
The recipe I'm sharing today is an adaptation of Sasha's original recipe. Rather than heading out to buy new ingredients, I decided to use the spices I already had available in my pantry. I was also a bit short on time, so I tweaked the method to enable me to have it on the table within 30 minutes. The resulting dish was so tasty that I quickly jotted down the amendments I made, then re-made it a few days later to check it wasn't a fluke. Nope. It was equally delicious the second time.
After pan frying the onion, garlic and spices for a couple of minutes, I blended all the sauce ingredients in my Optimum VAC2 Vortex Blender. Literally within seconds it was silky smooth! I poured the sauce back into the pan, added the meat substitute and heated it through. Job done!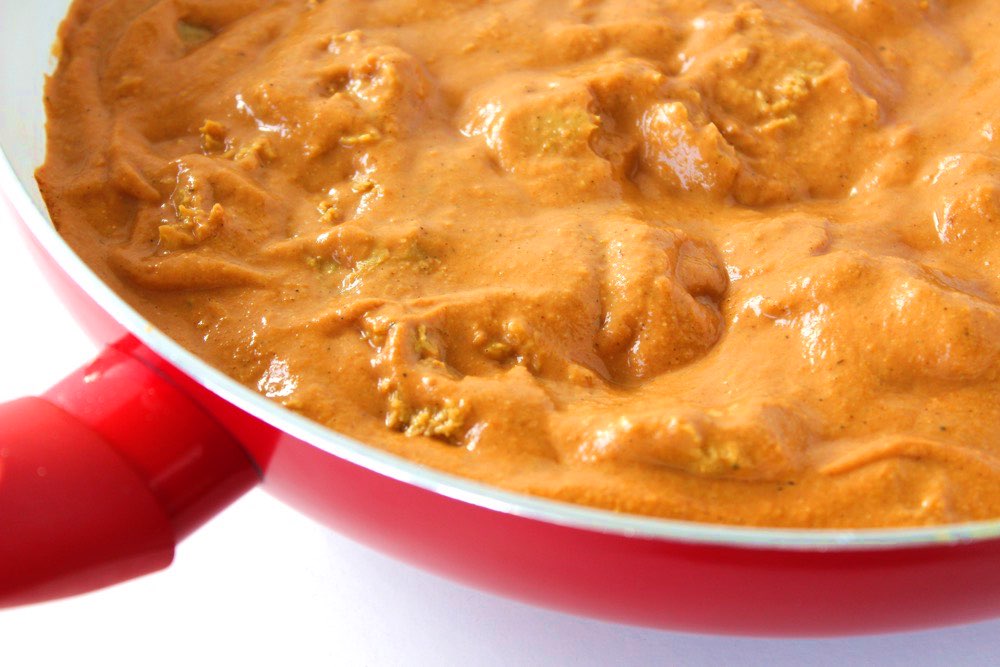 Instead of chicken, we used seitan (as recommended by Sasha), which is chewy, succulent and soaks up the flavours of the sauce really well. Lately, I've really got into making seitan from scratch. Not only is it easy to make, but I find it works out far cheaper than the store-bought meat alternatives. This recipe cost me £3.11 to make, which equates to 78p per portion. Bargain!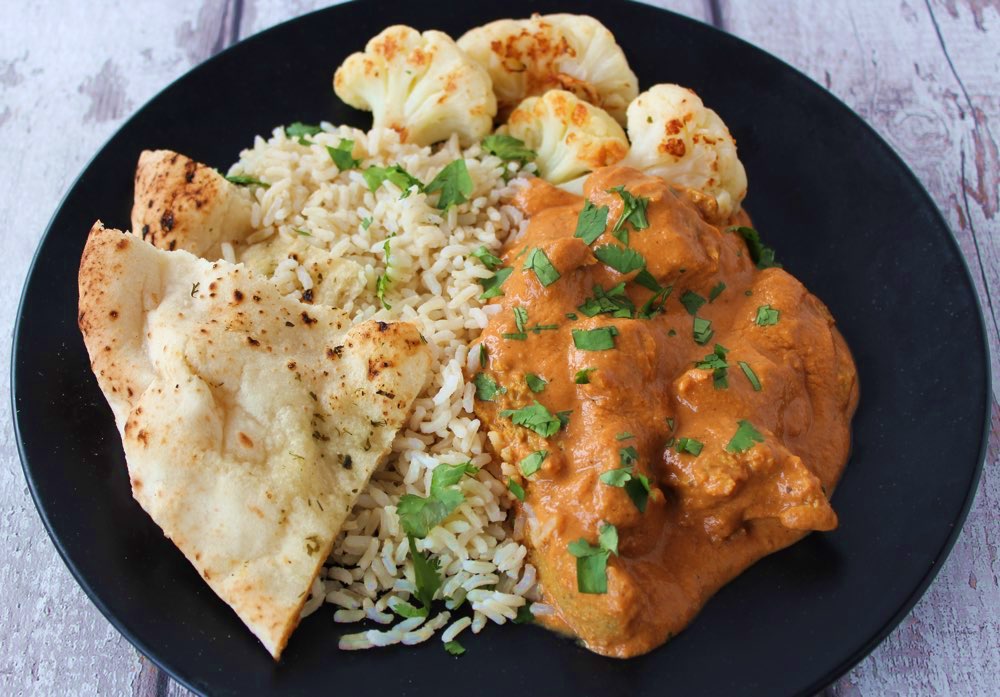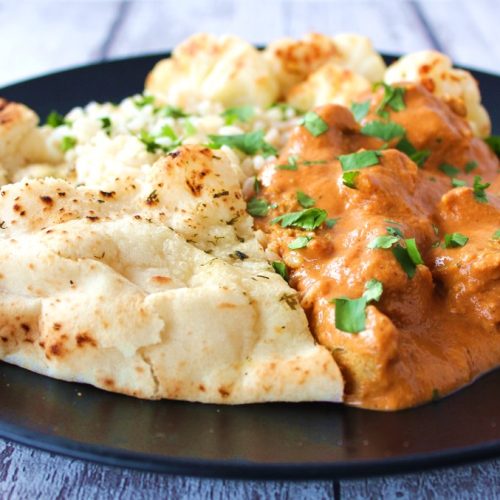 'Butter Chicken' … Vegan Style!
A delicious, plant-based version of the Indian dish Murgh Makhani ('Butter Chicken'). It is beautifully flavoured with Indian spices but I've kept it mild enough for children (and spice wimps like me!) Serve with your favourite rice and naan bread. My family also loves to add a side dish of roasted cauliflower.
Adapted from Sasha Gill's Butter 'Chicken' in Jackfruit and Blue Ginger, featured in Vegan Life magazine Issue 48
Ingredients
½

TBSP

olive oil

1

brown onion, diced

3

tsp

garlic paste

2

tsp

ginger paste

1

tsp

ground cumin

½

tsp

ground turmeric

¼

tsp

ground cinnamon

2

tsp

garam masala

480

ml

/ 2 cups tomato passata

40

g

/ ¼ cup cashews

(If you don't have a power blender, soak the cashews in freshly boiled water for 30 minutes to soften them, then drain)

120

ml

/ ½ cup plant-based milk

(I used soya)

1

tsp

unrefined sugar

½

tsp

salt

450

g

/ 16 oz seitan 'chicken' or store-bought meat alternative*

coriander (cilantro) leaves to garnish
Instructions
Heat the oil in a large non-stick pan over medium heat and cook the onion until it starts to soften (about 4 minutes).

Add the garlic and ginger paste to the pan and stir through. Stir in the dry spices (cumin, turmeric, cinnamon and garam masala). Add a splash of water if it starts to stick. Cook for a further minute.

Meanwhile, add the cashews and plant milk to a high speed blender, and blend smooth.

Add the contents of the pan to the blender, along with the tomato passata, sugar and salt. Whizz until smooth.

Pour the mixture back into the pan. Tear up the seitan 'chicken' into chunks and add them to the pan. Simmer for 10 minutes, or until warmed through. Taste test and adjust the seasoning, to suit.

Garnish with coriander leaves and serve with rice and pieces of naan bread. We also love to serve some roasted cauliflower on the side.
Products I used in this recipe…
KTC Minced Garlic Paste
KTC Minced Ginger Paste
East End Garam Masala
Aldi Curly Cashews

Pin for later ⬇️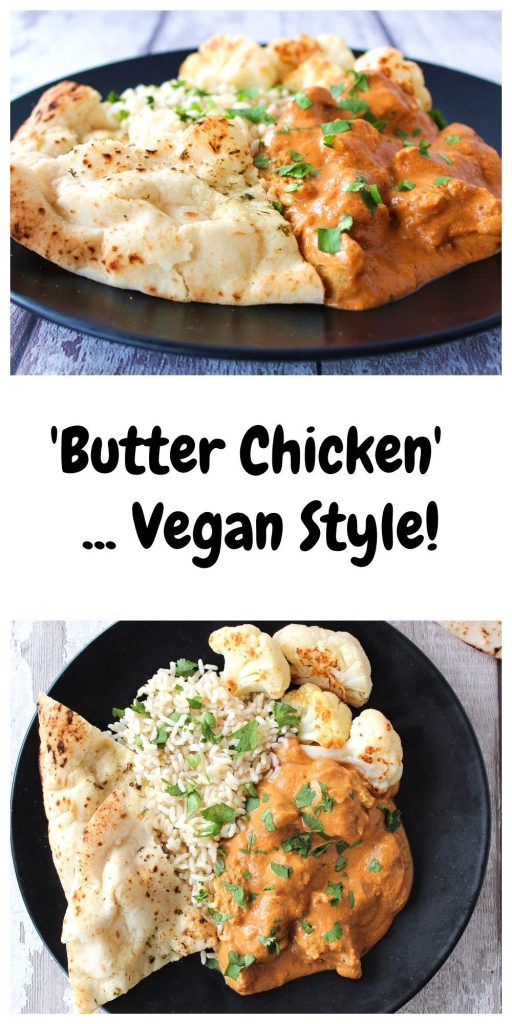 Big thank you to Sasha Gill and Vegan Life magazine for the inspo! ✨
If you make this Vegan Style 'Butter Chicken' (or any other recipes on my blog), I'd love to hear your feedback and any suggestions for adaptations! Tag your photos with #bitofthegoodstuff on social media and they'll find their way to me. You can also connect with me on my social media channels here: Instagram, Twitter, Facebook, Pinterest.
With love,