The recipe I'm sharing today is a twist on a traditional Easter favourite … it's a Hot Cross Bun Loaf! This spiced fruity loaf is perfect for sharing with friends and family over the holidays. I've made three loaves already this week and no doubt I'll be baking more in the lead up to the bank holiday weekend. It sure is a crowd pleaser. Happy holidays everyone!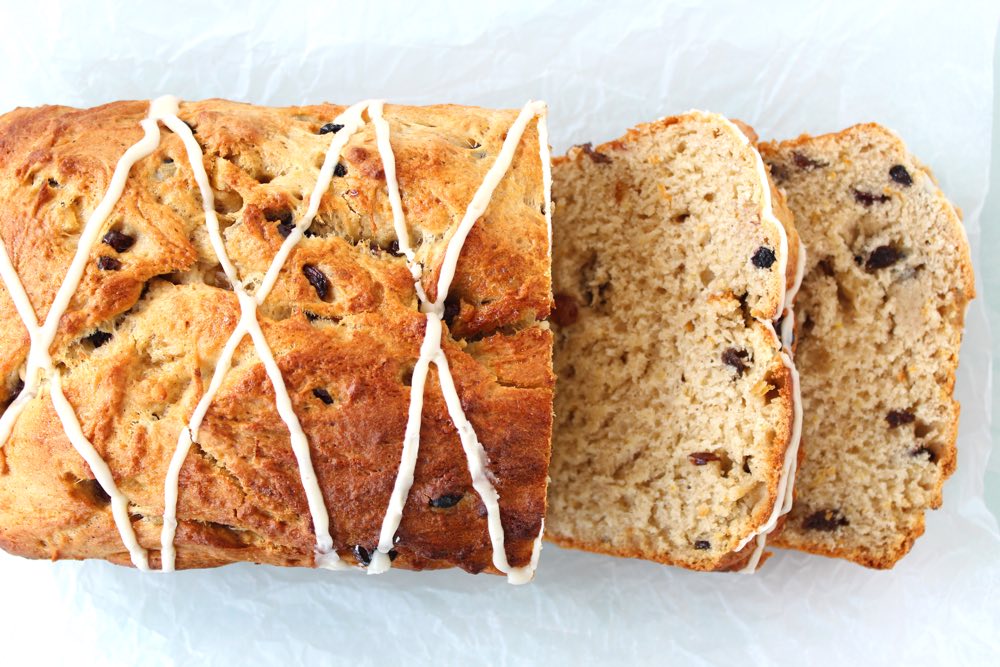 It was the April edition of the Vegan Life magazine that inspired today's recipe. I'm a massive fan of hot cross buns, so when I spotted the 'Hot-Crossed Loaf' on p47, I knew that I had to give it a try.
I was so impressed with how it turned out. There is something really satisfying about baking bread from scratch. It doesn't take a great deal of effort either. The main challenge is being patient while the dough proves. It's definitely worth the wait though!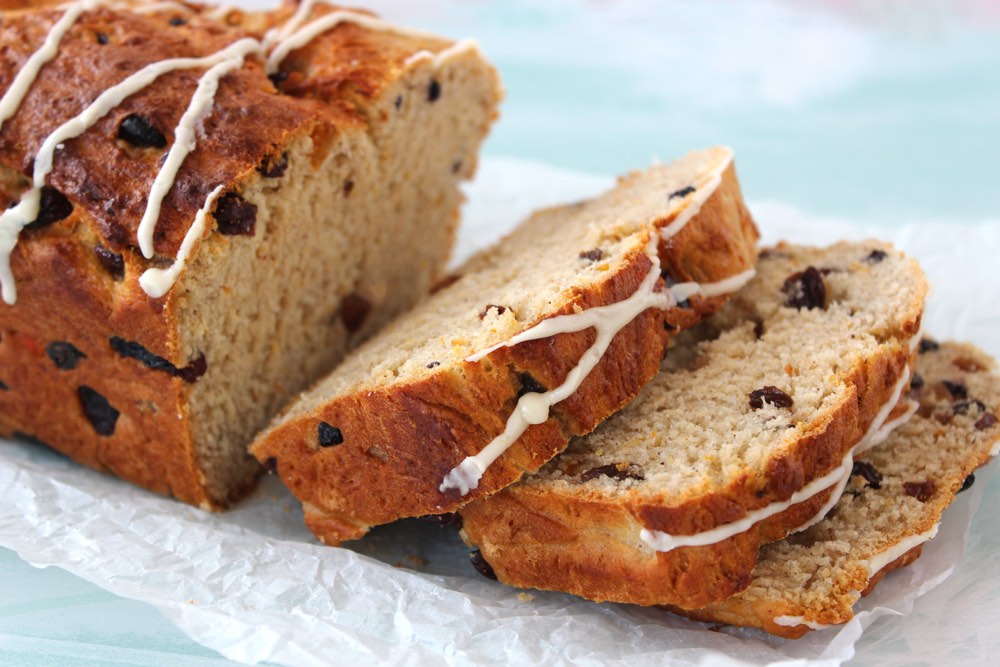 I did tweak the original recipe a little to suit my personal tastes. Instead of nutmeg and the zest of an orange and lemon, I used a tablespoon of mixed spice and added a little salt too, to make the flavours pop. My family was amazed at how similar the loaf tasted to hot cross buns!
I also played around with the glaze topping. Inspired by my Hot Cross Bun recipe (which I posted way back in 2014!), I tried topping one of the loaves with a glaze made of unrefined sugar and orange juice. Though a little sticky on the fingers, the glaze made the loaf beautifully shiny and tasted delicious too. In the recipe below, I've given the original glazing option, then added the instructions for my 'super shiny' glaze in the Notes section.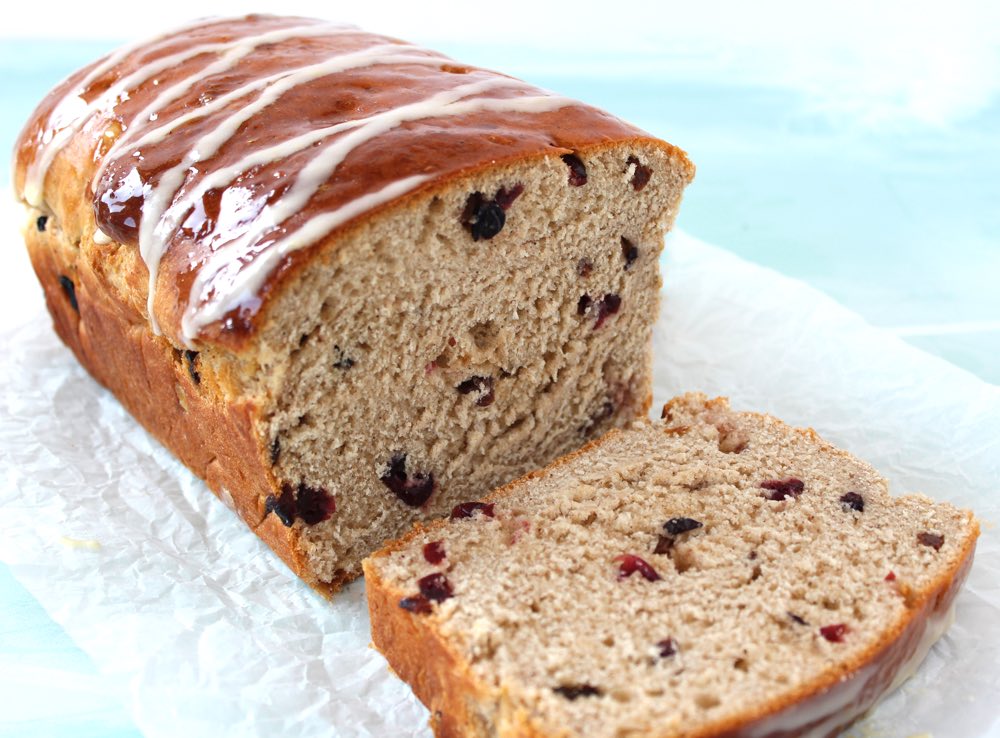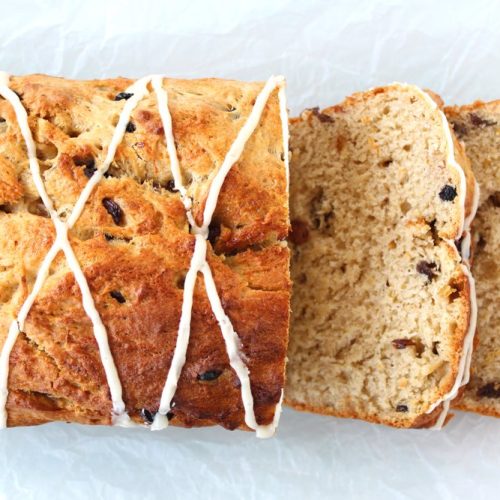 Hot Cross Bun Loaf
A twist on the traditional Easter favourite, this spiced fruity loaf is perfect for sharing with friends and family over the holidays. It's delicious served freshly baked with a cuppa, or toasted and topped with vegan butter and jam.
Recipe lightly adapted from 'Hot Crossed Loaf' in Vegan Life magazine, Issue 49
Ingredients
For the dough:
7

g

/ 2¼ tsp fast action (easy bake) yeast

1

tsp

unrefined sugar

120

ml

/ ½ cup lukewarm water

180

ml

/ ¾ cup lukewarm plant-based milk

(I used soya milk)

75

ml

/ ⅓ cup neutral-flavoured oil

(I used rapeseed (canola) oil)

1

TBSP

mixed spice

(or substitute with pumpkin spice)

1

tsp

ground cinnamon

½

tsp

salt

50

g

/ ¼ cup unrefined sugar

500

g

/ 3½ cups plain (all-purpose) flour

135

g

/ ¾ cup mixed dried fruit

(I used raisins, candied orange peel and dried cranberries)
For the glaze:
1

TBSP

maple syrup

(or for a super shiny glaze, see Notes below)
For the cross topping:
35

g

/ ¼ cup icing (confectioners) sugar

½

TBSP

fruit juice

2-3

drops of orange extract
Instructions
Add the yeast, 1 tsp sugar and lukewarm water to a large mixing bowl and hand whisk to combine. Leave for a few minutes.

When the yeast has frothed, add the lukewarm milk, oil, mixed spice, ground cinnamon, salt and sugar to the bowl. Hand whisk to combine.

Add the flour, a little at a time, stirring with a spoon until it forms a dough. Transfer the dough to a floured surface and knead for about 4 minutes adding more flour, as needed, until it is smooth and no longer sticky.

Transfer the dough to a clean, lightly oiled bowl, cover with a tea towel and leave in a warm place for an hour, or until the dough has doubled in size. (If your house is cold, cover the bowl with a piece of foil and place in the oven at a very low temperature (40C).

Add the dried fruit and knead to distribute it as evenly as possible through the dough. Grease and line a large (3lb) loaf tin with non-stick baking paper (or use a non-stick loaf liner). Place the dough in the prepared tin and cover with a tea towel. Leave to prove in a warm place for another 30 minutes.

When the dough is almost ready, pre-heat the oven to 200C (180C fan) / 400F.

Brush the top of the dough with maple syrup (or skip this step if you've opted for the super shiny glaze option – see Notes below).

Bake in the centre of the oven for 30 minutes, or until golden brown on top and the bread makes a hollow sound when tapped.

Once the loaf has cooled, sieve the icing sugar into a bowl and add ½ TBSP fruit juice and a couple of drops of orange extract. Keep stirring until a thick icing has formed – it should be thick enough that it doesn't drop off the spoon easily. Spoon into a piping bag and criss cross your loaf. Allow the icing to set before serving.

Stored in an airtight container, the loaf will keep fresh for a couple of days. After this, it is best served with some dairy-free butter. It is also delicious toasted.
Notes
For a super shiny glaze, once the loaf has baked, gently simmer 1½ TBSP unrefined sugar with 1½ TBSP fruit juice in a small saucepan, stirring regularly until the glaze has reduced and thickened. Immediately brush the glaze on top of the warm loaf, then leave to cool. If using this glaze, the maple syrup at Step 7 can be omitted.
Pin for later ⬇️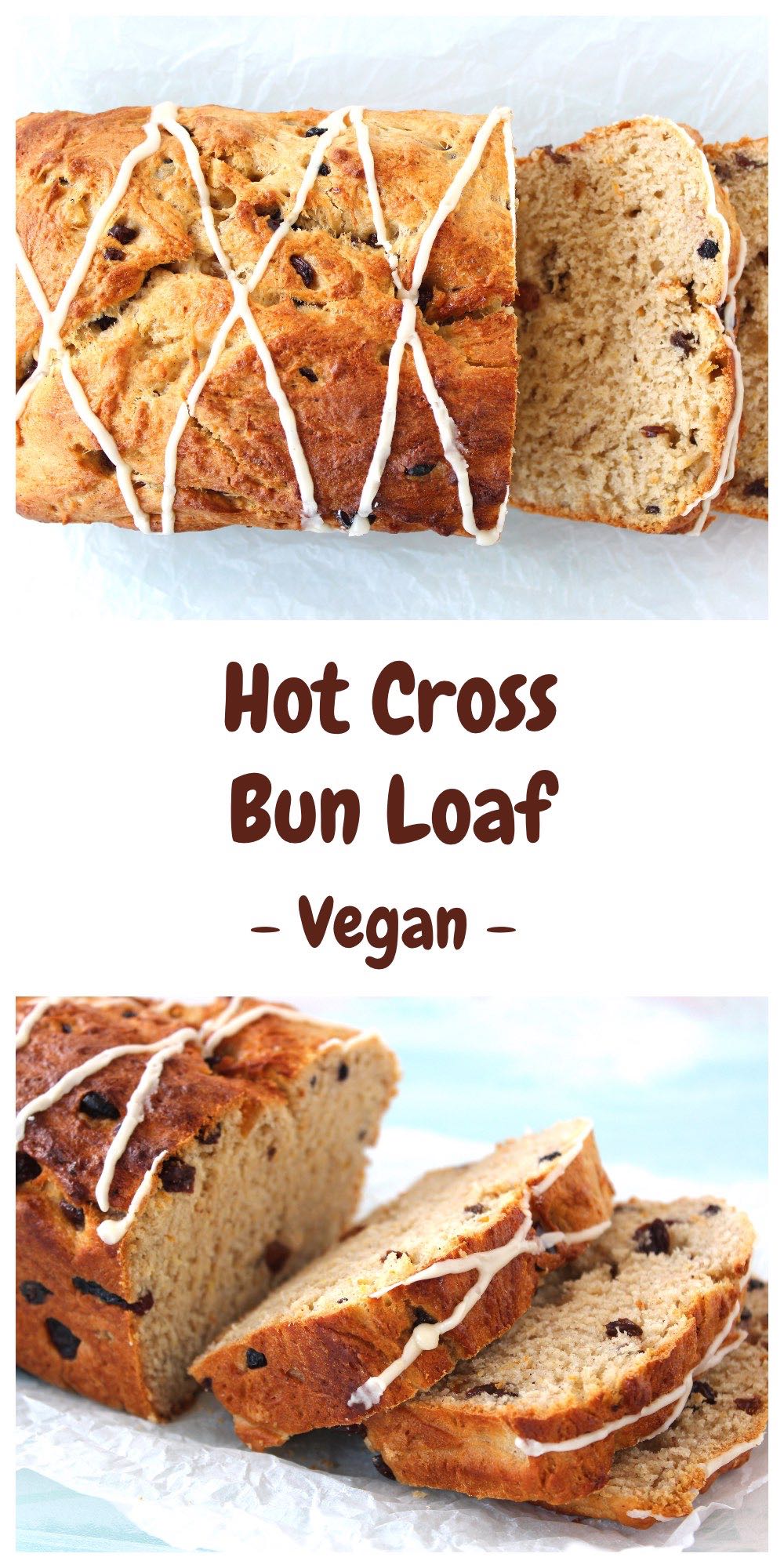 Big thank you to Vegan Life magazine for the inspo! ✨
If you make this Hot Cross Bun Loaf (or any other recipes on my blog), I'd love to hear your feedback and any suggestions for adaptations! Tag your photos with #bitofthegoodstuff on social media and they will find their way to me. You can also connect with me on my social media channels here:
Instagram, Twitter, Facebook, Pinterest.
With love,