With its mild taste and soft texture, dhal has got to be the most family-friendly Indian dish! I first introduced dhal to Lucien when he was a toddler. As a twist on the classic recipe – and to bring a touch of sweetness and creaminess to the dish – I added some creamed coconut and butternut squash. He absolutely loved it! Fifteen years on, and this recipe is still a firm family favourite. We make it at least a couple of times a month!
The soft texture of red lentils makes them perfect for introducing children to the wonderful world of legumes! They are so easy to prepare from scratch. There is no need to soak them before cooking. Simply give them a good wash under a running tap and they're good to go. They are also a fast cooking lentil, ready in just 15-20 minutes.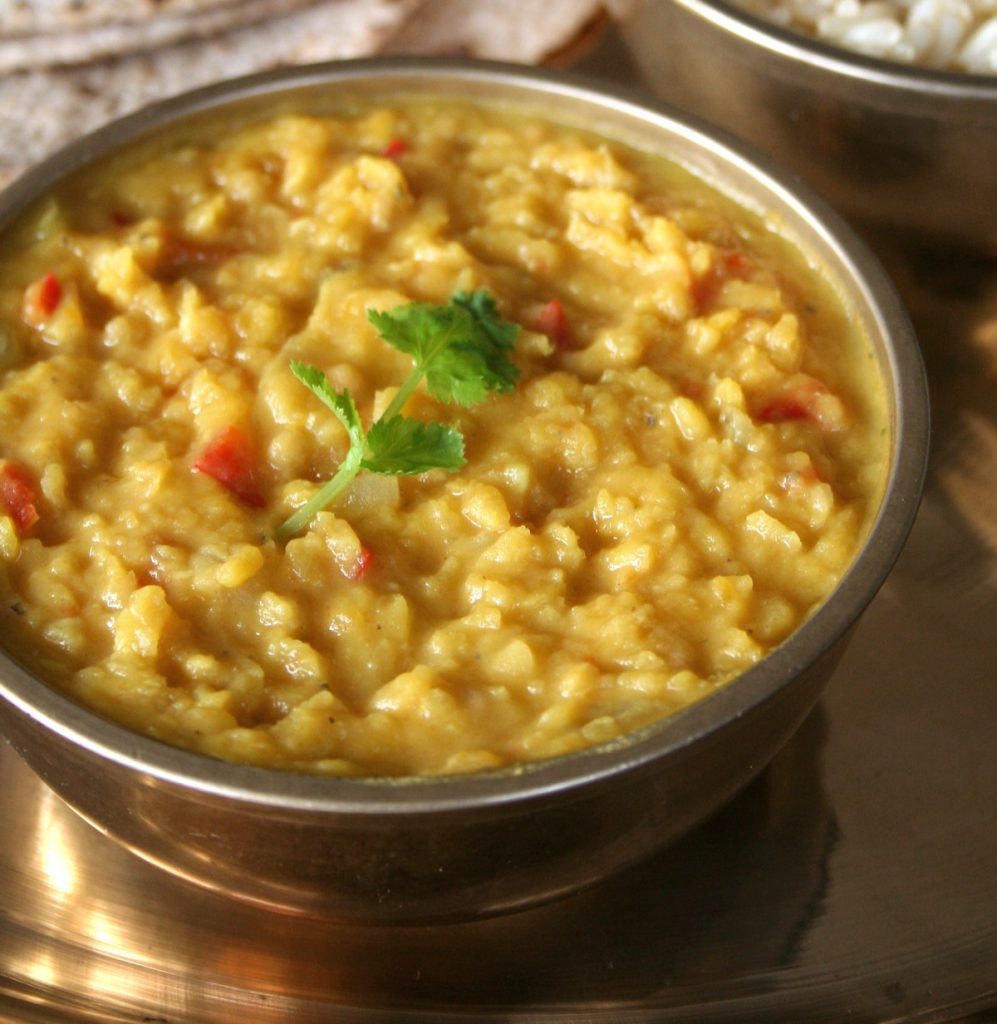 Lentils are super cheap to buy and they are packed full of nutrients! They are a great source of protein and dietary fibre, antioxidant phytonutrients, and a whole host of minerals (especially iron, manganese, phosphorus, potassium and copper). Lentils are also a rich source of prebiotics (food for our friendly gut bacteria) which help to keep us in tip top health!
Just a word of caution: If you're not used to eating lentils, I always recommend starting out with small portions (half a cup or less of rinsed and well-cooked lentils) to give your gut time to adjust. After a couple of weeks or so, you should be able to start to increase the quantity of lentils without any unwanted side effects.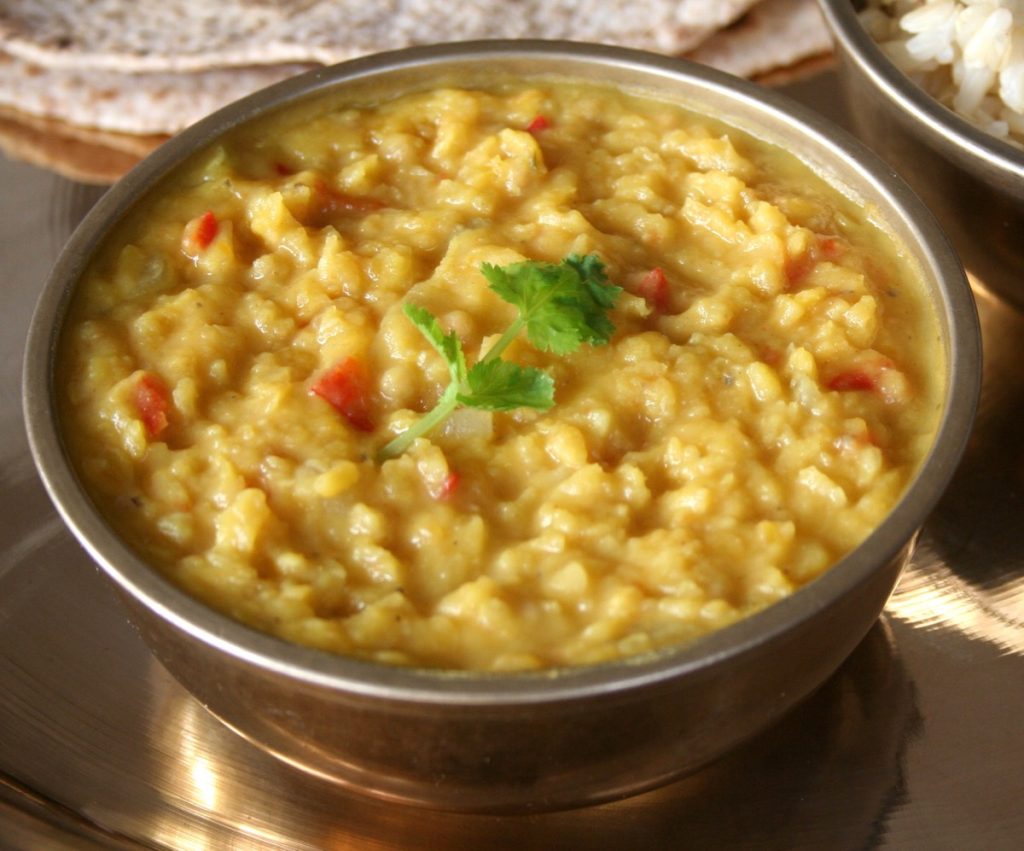 We love to serve this Dhal with side dishes of sautéed kale and mushrooms or roasted broccoli (which I prepare while the Dhal is simmering) and chapattis or naan bread. It used to be difficult to get hold of vegan naan in the UK, but luckily the Clay Oven brand is now widely available in our big supermarkets. We especially love their Garlic and Coriander Naan!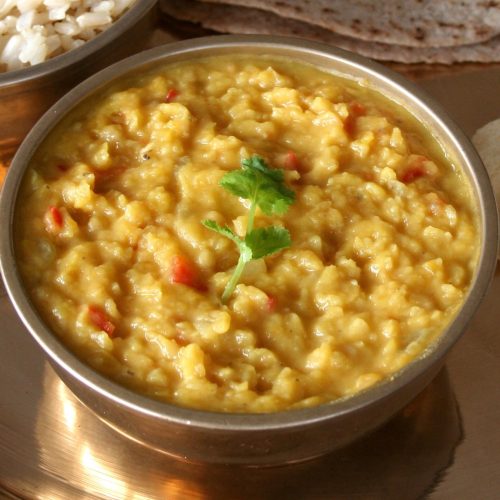 Coconut Dhal with Butternut Squash
With its mild taste and soft texture, dhal has got to be the most family-friendly Indian dish. It's also really easy to make and cheap too!
Ingredients
1

TBSP

olive oil

1

white onion, finely diced

2

tsp

minced garlic

18

g

(1 inch piece) root ginger, finely grated

(or sub with 2 tsp chopped ginger)

2

tsp

mustard seeds

1

tsp

ground cumin

1

tsp

mild curry powder

(or you can use garam masala)

½

tsp

ground turmeric

225

g

/ 1¼ cups red lentils

800

ml

/ 3½ cups vegetable stock (broth)

2

medium tomatoes, diced

(or sub with 2 TBSP tomato puree (paste))

400

g

/ 2½ cups butternut squash, diced

50

g

/ ¼ cup creamed coconut, chopped

salt, to taste
Instructions
Place the lentils in a fine mesh sieve and wash under cold running water, agitating them with your hand until the water runs clear.

Gently heat the oil in a large heavy-bottomed saucepan and cook the onion until it starts to soften. Meanwhile, prepare the stock and remaining vegetables.

Add the garlic, ginger and dry spices to the pan, and cook on medium-low heat for 2 minutes. If it starts to stick to the pan, add a splash of water to loosen it. Add the lentils and stir through.

Add the stock, tomatoes (or tomato puree), squash and creamed coconut. Bring to the boil then reduce the heat, cover with a lid, and simmer for 15-20 minutes. Stir towards the end of the cooking time and add a splash of extra stock or water, if needed. When the lentils are tender, remove the pan from the heat and leave to rest for a couple of minutes. Season with salt, to taste.

This dish is delicious served with vegan naan breads, chapattis (or soft flour tortillas) and/or brown rice. We also love to add a side dish of sautéed kale and mushrooms or roasted broccoli (to add some greens to our plate!) Any leftover dhal can be stored for up to five days in the refrigerator or for weeks in the freezer.
Pin for later ⬇️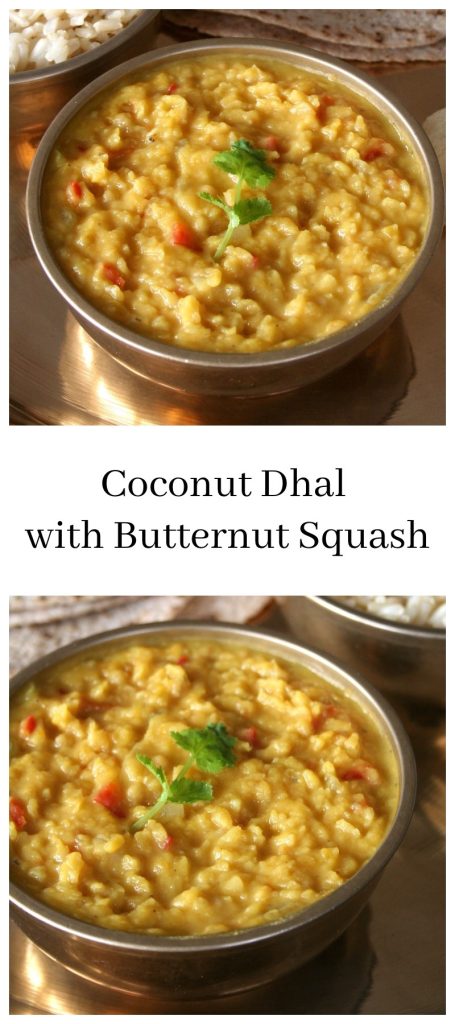 If you make this Coconut Dhal (or any other recipes on my blog), I'd love to hear your feedback and any suggestions for adaptations! Tag your photos with #bitofthegoodstuff on social media and they will find their way to me. You can also connect with me on my social media channels here: Instagram, Twitter, Facebook, Pinterest.
With love,