Today I have a delicious treat for you that takes only five minutes to prepare…
Maple Glazed Nuts ♥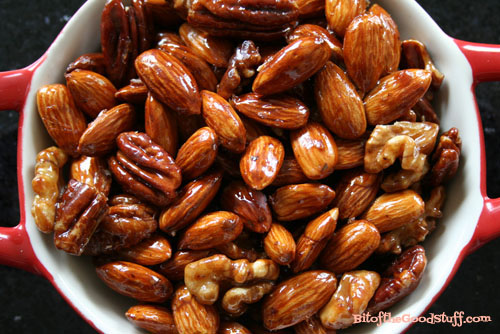 These taste SO good! And they're packed with lots of nutty goodness 🙂
I've just made a fresh batch as a treat for Lil' L and his friend when they get home from school.  I'm also going to bag some up for M to take out on his mountain bike rides this weekend.
As well as making a great post-school and exercise snack, they're also the perfect snack to munch on at work to keep your energy levels up.
Be warned though, they are addictive and they will test your will power!  If (like me) you're tempted to devour the whole lot in one go, I suggest bagging it up into individual size portions and hiding them 😉
Here's how I make them…
[print_this]
Hands-on time: 5 minutes    Cooking time: 5 minutes
Ready in: 8 minutes
Ingredients
2 cups of nuts (I use a mix of raw walnut halves, pecans and whole almonds*)
4 tbsp maple syrup (I use Clark's Original Maple Syrup, which is a mix of maple and carob syrup. It tastes great but is much cheaper than pure maple syrup)
sea salt, optional
* You will often find that nuts such as almonds, cashews and peanuts are cheaper in Asian grocery stores or in the World aisles of large supermarkets.  Currently, a 750g bag of Aasani Raw Almonds costs £5 in Tesco.
Method
Preheat a dry frying pan (skillet) on a medium-high heat.
Add the nuts and dry fry for 2 minutes, stirring continuously.  Add the maple syrup and continue stirring for about 3 minutes, until the nuts are fully coated and the syrup has caramelised and become very sticky.
Space out the nuts on a piece of non stick baking paper.  If you like the sweet and salty combo, lightly sprinkle the nuts with salt as soon as they have left the pan.  As they cool, the nuts will firm up, become shiny, and not sticky at all.  Store in an airtight container in a cool, dry place.
[/print_this]
[This recipe has been submitted to Ricki Heller #Wellness Weekend]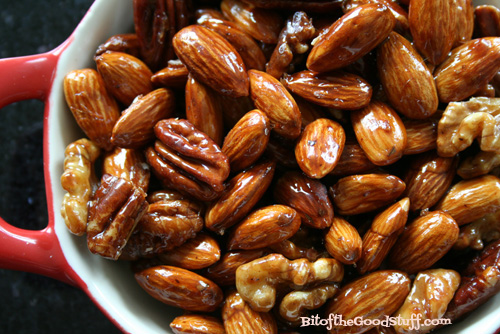 Have a wonderful weekend everyone 🙂  xx