At the start of the Autumn half term school holidays, Lil' L moved into double digits. I'm still dumbfounded as to how my boy grew up so fast. Seriously, where did all those years go?
His day kicked off with present & card opening. I love watching his facial expressions as he opens presents!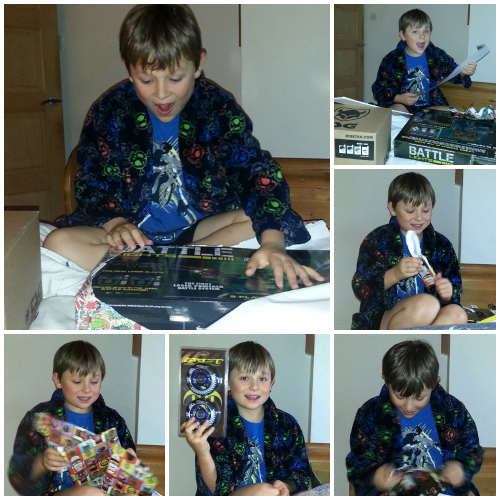 Another sign that he's growing up is the lack of toys on his birthday wish list. Instead, he wanted new wheels for his scooter, a skater helmet and books (so glad he still enjoys reading!)
The birthday celebrations continued for the next few days (one of the perks of having a birthday in the school hols!) and included a Laser Quest party; a trip to Dorset to visit his Nan; walks in the forest; and bike rides with his Dad and cousin. What a lucky boy he is!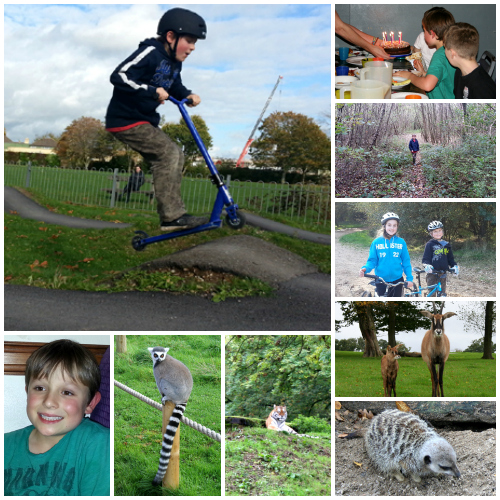 As usual, he requested a vegan chocolate cake for his birthday. This year, I made a very simple chocolate victoria sponge sandwich cake, which worked out surprisingly well. It was moist, held together well when sliced, and wasn't too rich or sickly sweet.
I was all set to use cashew cream frosting (which I prefer a million times over to regular frosting) … but then had a change of heart. This cake wasn't for me, it was for Lil' L and his friends. Rather than impose my preferences on them, I ditched the cashews and dug out an old box of icing sugar from the back of the cupboard. I even went to the shops and bought some sugar sprinkles.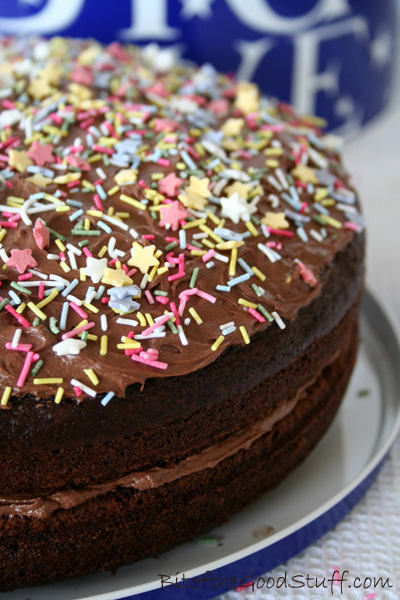 The cake got great feedback from the family (including my mum!) as well as Lil' L's friends. I was particularly surprised when Lil' L's best friend came up to me after the party to tell me how much he'd enjoyed the cake. This meant a lot as he isn't normally a 'cake person' (you're much more likely to seeing him diving into a fruit bowl or tucking into roasted nuts and seeds!)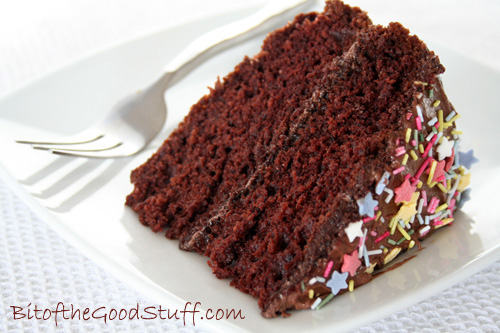 The cake was super easy to make. Here's how I did it:
[print_this]
Makes 1 x 9 inch sandwich cake    Serves: 12-16
Hands on time: 20 minutes    Ready in: 2 hours
Ingredients
480ml / 2 cups soya milk
2 tsp apple cider vinegar
200g / 1½ cups plain (all purpose) flour
200g / 1½ cups fine wholemeal (wholewheat) or chapatti flour (I use the latter)
60g / ½ cup cocoa powder
1 tsp bicarbonate of soda (baking soda)
1 tsp baking powder
½ tsp salt
140ml / ⅔ cup rapeseed (canola) oil (or other neutral-flavoured oil)
330g / 1⅔ cups unrefined cane sugar (e.g. golden caster sugar)
2 tsp vanilla extract
Decorating options:
– chocolate frosting (recipe below) and vegan-friendly sprinkles (e.g. Sainsbury's or Morrisons Sugar Star sprinkles, Dr Oetker Sugar Stars and Sugar Strands)
– raspberry jam or fruit spread (e.g. St Dalfour) for filling and a dusting of icing (powdered) sugar on top

Method
Preheat the oven to 180C (160C fan) / 350F. Lightly oil 2 x 9 inch spring-form or loose-bottomed cake tins and line the bottoms with non-stick baking paper.
In a large mixing bowl, whisk together the milk and vinegar, then set to one side.
In a separate large bowl, add the dry ingredients (flours, cocoa powder, bicarbonate of soda, baking powder and salt) and stir through to combine.  
Add the oil, sugar and vanilla extract to the milk and vinegar, and whisk until fully combined. Sieve in a third of the dry ingredients and whisk to combine. Add another third and whisk to combine. Add the last third along with any remaining wheatgerm. Stir through to combine (but do not over stir).

Divide the batter equally between the prepared tins. Place on racks as close to the centre of the oven as possible. Bake for 40-50 minutes, until a skewer inserted through the middle comes out clean and the cakes are springy when lightly pressed. (In my oven, I find the cake on the higher rack is ready after 40 minutes, and the cake on the lower rack needs an extra 10 minutes). If both cakes are domed, decide which one will be the bottom tier, cover with a clean tea cloth and gently press down to level. 
Leave the cakes in their tins for at least an hour (they will firm up as they cool), then transfer to a wire rack. Once completely cooled, decorate and assemble the cake. Chill before serving.
Stored in an airtight container, this cake will keep for up to a week in the fridge. (I find the flavour and texture of the cake actually improves in the next day or two after baking). It also freezes well.

Chocolate Frosting
The quantities below are sufficient for frosting the centre and top of a 23cm/9 inch cake (as shown in the picture). 
Ingredients
150g / 1 cup icing sugar
35g / ¼ cup 4 cocoa powder
50g / 4 TBSP dairy-free spread/vegan butter (e.g. Vitalite, Flora Dairy Free, Pure)
1 – 1½ TBSP water
Method
Sieve the icing sugar and cocoa powder into a large bowl. Add the dairy-free spread/butter and 1 TBSP water. Stir with a metal spoon until it starts to combine, then beat with an electric whisk until light and fluffy. If the frosting looks a little dry, add another ½ TBSP water and keep beating. This frosting will keep for a week in the fridge. 
[/print_this]
Products used in this recipe
– Morrisons 23cm Non-Stick Springform Cake Tins – These are made in the UK, cost only £4 each and have a 5-year guarantee!
– Salter Aquatronic Electronic Kitchen Scale – These scales are great as you can weigh everything directly into the same bowl. As an added bonus, they come with a 15 year guarantee!
– Tesco Chapatti Flour – I use this flour in all my baked goods. It's a very fine wholemeal flour and super cheap too!
– Dr Oetker Sugar Stars and Sugar Strands – Purchased from The Co-Op; also available from Tesco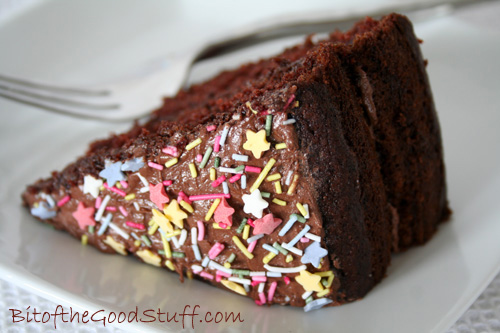 For those of you that dislike the traditional Christmas fruit cake, I think this would make a great alternative. You could even add some festive sprinkles!
SaveSave
SaveSave
SaveSave
SaveSave
SaveSave
SaveSave
SaveSave
SaveSave
SaveSave
SaveSave
SaveSave
SaveSave