This week we're celebrating British Sandwich Week. Do you know how the sandwich got its name? I remember as a kid thinking it was a strange name for a food. It clearly didn't contain sand. Maybe it was what witches ate? Incredibly, I only learnt the meaning of the name this month (thanks to the May issue of Vegan Life).
John Montagu, the 4th Earl of Sandwich, was fond of ordering meat tucked between two slices of bread, avoiding both the inconvenience of a fork and messy meat-covered hands, so he could easily eat while playing cards. His fellow gamblers saw the appeal and started ordering "the same as Sandwich". The 18th century aristocrat's clean and convenient way of eating is why we came to call any variation of filling between bread 'a sandwich'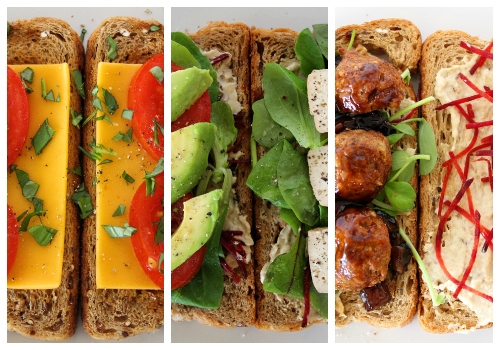 Sadly, here in the UK, the availability of ready-prepared vegan sandwiches is extremely limited. The supermarket aisles are filled with row upon row of chicken, cheese, ham, egg mayo and tuna. If you're lucky, you might find a falafel sandwich, but then you're likely to find they've added milk or egg into the dressing. I'm sure that one day the sandwich shops will catch up with the growing plant-based trend but, until then, we'll just have to whip up some of our own.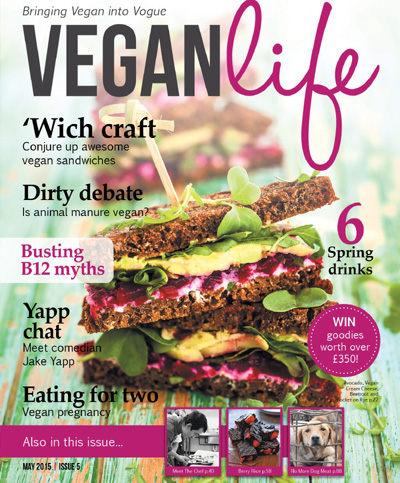 This month's Vegan Life magazine has a fantastic selection of sandwich recipes, including the Reuben, Buffalo Tofu Hoagie, Triple BLT, Spicy Wiener and The Peter Pan. There's also a fun Sandwich Roulette on their Interactive App.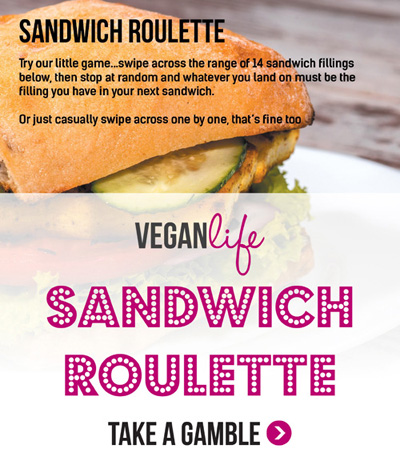 You spin the scroll bar and whatever recipe you land on has to be your next sandwich creation. I landed on Coronation Chickpea which is perfect for me as I love chickpea spreads (as you'll see below).

In honour of British Sandwich Week, I thought I'd share a selection of my family's current favourite creations. All of them are 100% plant-based and come together in a matter of minutes. I don't know about you but, if I need a sandwich, I need it pretty instantly. I'm usually making sandwiches first thing in the morning for lunchboxes or I need to grab a quick bite at lunchtime between jobs, so I can't be spending ages cooking or prepping the filling.
So, in no particular order, here are our current 7 top picks. Between us, we've eaten all of these already this week and we're only on day 3 of British Sandwich Week!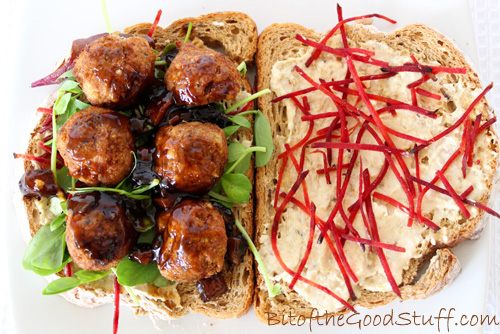 1. Falafel, Caramelised Onion Hummus, Beetroot Salad and Sweet Pickle.
I always keep a stash of Cauldron Falafels in the fridge for quick sandwich making. At home, I love this filling in freshly baked or lightly toasted granary bread. For lunchboxes, we stuff it into wholemeal pitta breads so, no matter how much the school bag gets shaken, the filling stays neatly inside.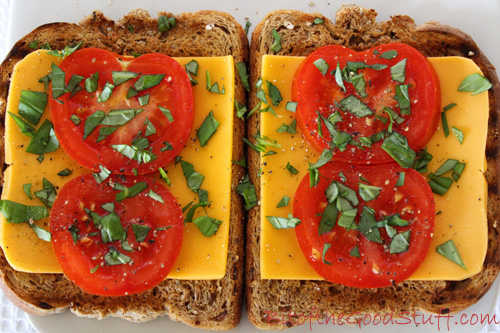 2. Cheese, Tomato and Basil.
This is a pretty classic combination, except that we use vegan 'cheese'. In our dairy-eating days, none of us actually liked cheese slices, but we really like the Violife version. They're made with coconut oil instead of cow's milk and are surprisingly tasty. The slices come in a range of flavours. Cheddar, olive oil, herbs, pizza and smoked are our favourites. In the UK, Violife is currently available in health food shops, Tesco and Asda.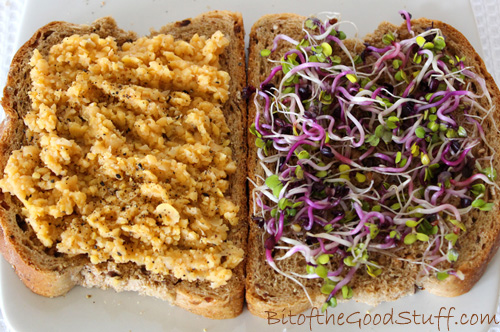 3. Sweet Chilli Chickpea Smash
Chickpea smashes are really versatile. You can flavour them in different ways and change the texture, making them coarse or creamy. One of my all-time favourite smashes is Sweet Chilli Chickpea, made with a can of drained chickpeas, glug of sweet chilli sauce, splash of fresh lime juice and salt whizzed in a blender or food processor until coarse. In this sandwich, I've served it with organic sprouts and freshly ground black pepper.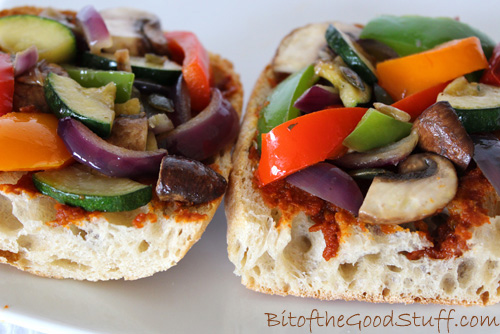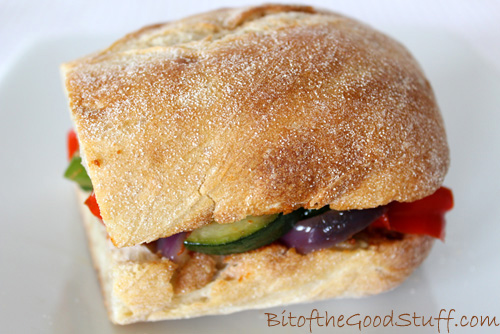 4. Mediterranean Veggie Ciabatta
This is one of our favourite 'easy' Saturday night teas. It's also one of Lil' L's favourite school lunches (though we use pittas to keep the veggies intact). A selection of colourful veggies (red onion, courgette/zucchini, bell pepper, mushrooms) and seeds (sunflower & pumpkin) are pan-fried, then served on crispy, warm ciabatta slathered in sun-dried tomato paste. The veggies are either fried in a drizzle of olive oil with plenty of seasoning or a splash of tamari.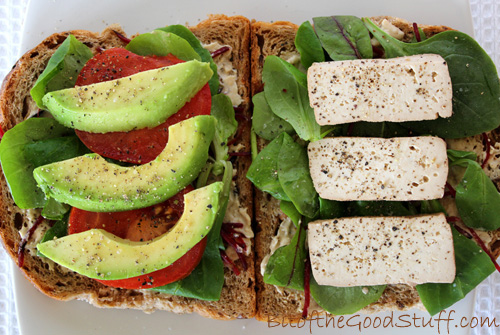 5. Smoked Tofu, Avocado, Tomato Salad
I was so pleased to find smoked tofu in the Spanish Hipercor so we could make one of our favourite sandwiches whilst in Marbella last month – organic smoked tofu, sliced tomato and avocado, beetroot salad and hummus, topped with a sprinkling of salt and freshly ground black pepper. For our return flight, we stuffed this filling into seeded wholewheat mini baguettes. It tasted so good and far, far better than any option available on the plane. Back home, I use the Cauldron organic smoked tofu, which is currently available from Waitrose, Ocado and health food shops.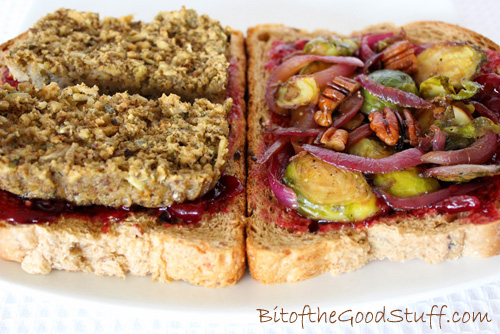 6. The Sunday Dinner Sandwich
We used to call this The Boxing Day Sandwich as it was filled with our Christmas Dinner leftovers. However, I love this sandwich so much that I couldn't relegate it to a 'once a year' thing. Now we use the leftovers from the Sunday roast dinner, or I even just make this sandwich instead of a Sunday roast, hence why Lil' L calls it the 'Sunday Dinner sandwich'. My favourite components for this sandwich are red lentil & cashew nut loaf or sage & chestnut stuffing, balsamic red onion and brussel sprout hash, served on soft granary bread slathered in cranberry sauce. Tastes. So. Good.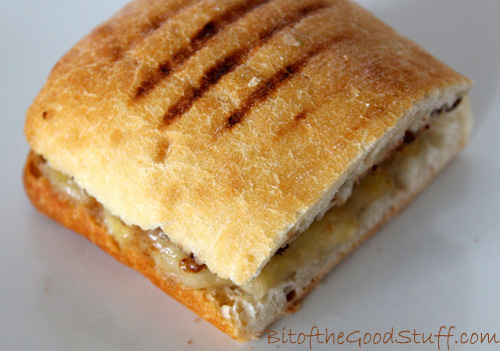 7. Home-made 'Nutella' and Banana Panini
And here's one of our favourite 'Elevenses' or mid-afternoon snacks, perfect for when a sweet craving strikes. Slather one side of toasted panini in home-made 'nutella' (hazelnut butter, maple syrup, cocoa powder, a little coconut oil and pinch of salt whizzed together) and the other side in mashed ripe banana and a sprinkling of ground cinnamon, then slam together and devour.
Happy Sandwiching everyone! xx
What's your current favourite sandwich creation?