Today I'm sharing a lightly adapted family-friendly version of Terry Hope Romero's Backyard Buffalo Ranch Caesar Salad which featured in Issue 8 of Vegan Life magazine. Filled with crisp colourful veggies, crunchy croutons, chewy tofu, and the most delicious creamy (yet healthful) ranch dressing, this salad is a total feast for the senses. It's kid approved too. Lil' L declared it to be the "best salad ever" and has enthusiastically devoured it for dinner twice this week already.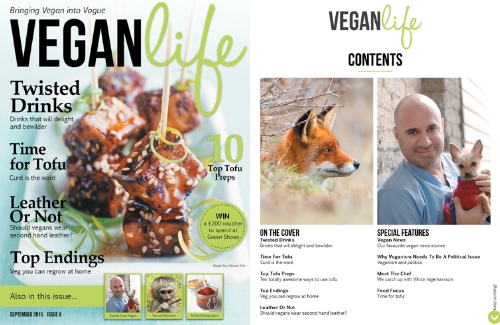 The latest issue of Vegan Life showcases tofu with tips and recipes that would appeal to tofu newbies and veterans alike. I find that tofu is one of those divisive foods, with people either falling into the 'love' or 'hate' camps. I first attempted to cook it back in the early 90s and it was a total disaster. It turned out mushy, bland and poles apart from the delicious tofu served at my local Chinese restaurant.
I've since learned that there are two key preparation steps needed for tofu – firstly the excess water needs pressing out and secondly, it needs flavouring. Tofu has no flavour of its own, but it soaks up marinades and sauces beautifully.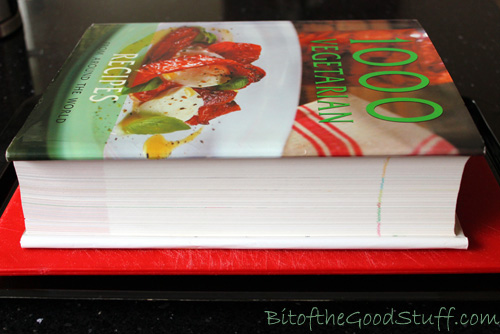 One of the most common ways of pressing tofu is to wrap it in kitchen paper or a kitchen towel and balance a heavy object on top. A favourite technique of mine is to place the tofu on a lipped baking tray or tea tray with a chopping board on top, followed by a big heavy cookbook. I leave it for about 30 minutes, then remove the book and drain off the water that has collected in a pool round the tofu. This way, I don't need to waste any paper or dirty a clean kitchen towel.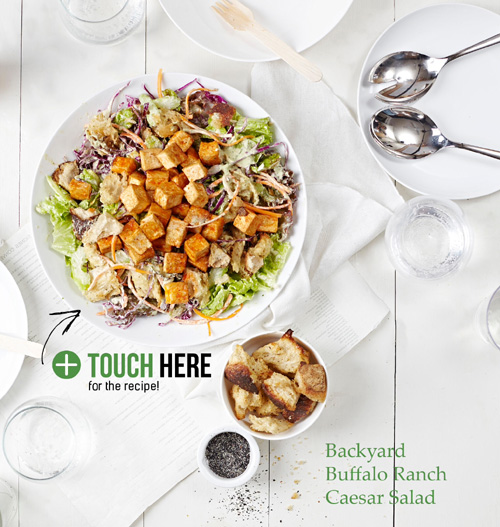 The latest issue of Vegan Life has a host of delicious-sounding tofu recipes that I'm planning to work my way through. The first recipe that caught my eye was the Backyard Buffalo Ranch Caesar Salad, which is from Terry Hope Romero's Salad Samurai:100 Cutting-Edge, Ultra-Hearty, Easy-to-Make Salads You Don't Have to Be Vegan to Love. Now that's a pretty spectacular title for a cookbook!
The recipe has four components – crisp salad vegetables, creamy ranch dressing, croutons and hot saucy tofu cubes. Just reading the recipe, I could imagine how amazing this salad bowl was going to taste. Since I would be serving it to Lil' L, I decided to forgo the Sriracha chilli sauce marinade for the tofu and use tamari soy sauce instead, which would still be flavourful but without the heat.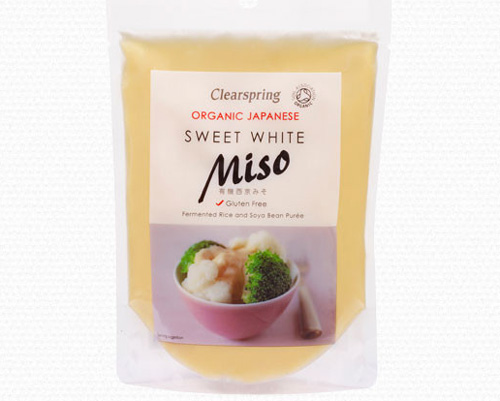 The ranch dressing called for a couple of new-to-me ingredients. Firstly white miso. I often use brown miso in soups and gravies, but I'd never tried white miso before. It's so delicious! It's much sweeter and milder than the brown miso, making it perfect for salad dressings and dips.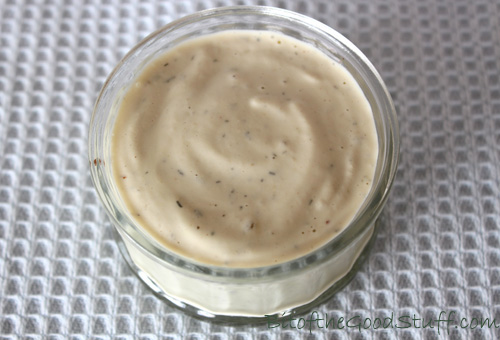 I was also pleased to discover that my local health food store (Harvest in Bath) stocked onion powder. This seems to be a pantry staple in American kitchens, but I've struggled to find it here in UK shops (though it is available from Amazon).
I found a huge selection of croutons available in Waitrose. I opted for the Roasted Garlic and Rosemary Soughdough Bruschettas (found in the salad aisle), which turned out to be perfect for this salad.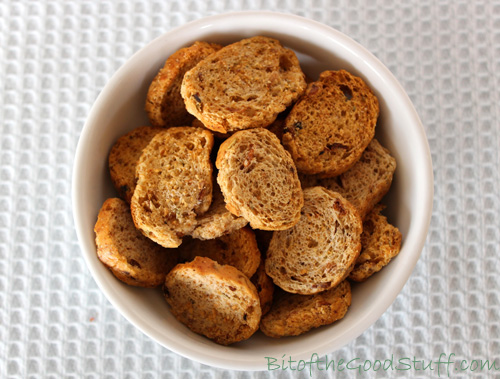 We returned from our family vacation on Sunday night, and I couldn't wait to head into Bath to buy the ingredients for this dish. We served it as our main meal on Monday evening.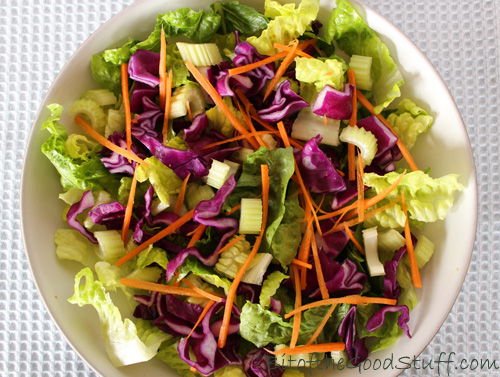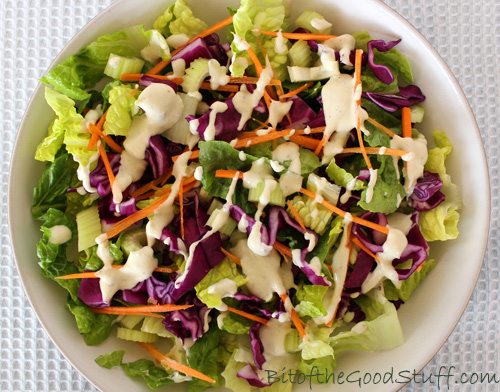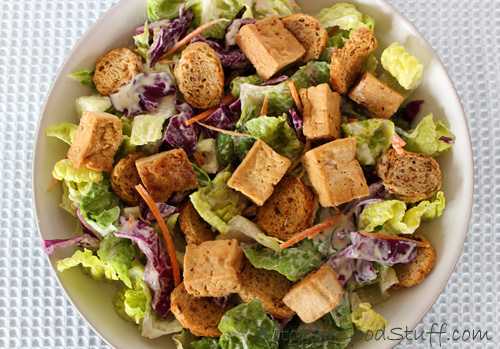 And the verdict? The family absolutely loved it. I don't think I've ever seen Lil' L tuck into a salad so enthusiastically!
The combination of flavours, colours and textures makes this dish a real joy for the senses. In particular, Terry's 'Back at the Ranch' dressing is mindblowingly good. It was hard for me to resist spooning the whole lot straight into my mouth. I'm always excited to find delicious dressings that happen to be healthful too.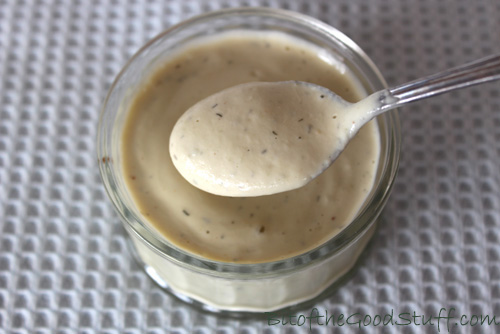 The second time I served the salad, I added a handful of broccoli and alfalfa sprouts for an extra nutrient boost. They all but disappeared into the sauce, so this could be a great way to encourage kids to eat sprouts if they're usually less than keen. My local health food store stocks the Sky Sprouts range, which are lush.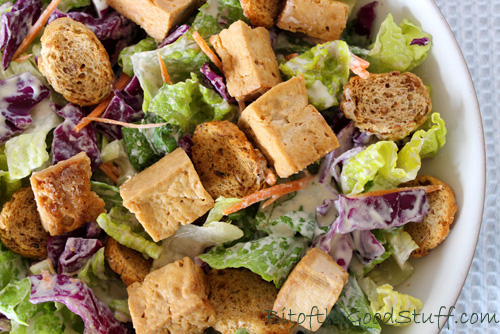 These Backyard Buffalo Ranch Caesar Salad bowls are huge and filling, making them perfect for serving as a main meal in the warmer months. They would make a great lunchbox option too.
[print_this]
Here's my lightly adapted family-friendly version of Terry Hope Romero's Backyard Buffalo Ranch Caesar Salad
Serves 3-4
Preparation: 30 minutes (for pressing tofu & soaking cashews)
Hands on time: 25 minutes    Cooking time: 8-10 minutes
Ready in: 55 minutes
Ingredients
Tamari Tofu Cubes*
400g / 14 oz extra firm tofu (I used Cauldron Organic Original Tofu)
1 TBSP coconut oil
2 TBSP tamari soy sauce
1 TBSP maple syrup (or agave)
1 TBSP freshly squeezed lemon juice
'Back at the Ranch' Dressing
75g / ½ cup cashews
175ml / ¾ cup hot water
2 TBSP freshly squeezed lemon juice
1 TBSP olive oil
1 garlic clove, peeled
2 tsp white miso (available in the UK from health food stores, Ocado and Waitrose. I used Clearspring White Sweet Miso)
2 tsp Dijon mustard
1 tsp onion powder
3 TBSP chopped fresh herbs such as dill, basil or tarragon (I used fresh basil and 1 tsp dried dill & tarragon)
Salad Veg
1 large head romaine lettuce
200g / 2 cups thinly shredded red cabbage
1 small carrot (50g), julienned
2-3 celery stalks, thinly sliced
Handful broccoli and alfalfa sprouts (optional)
60g / 2 cups croutons
Method
Prepare the tofu. First, slice the tofu block in half to make two wide rectangles and press for 30 minutes (see my tips in the post above on how to do this). Dice the tofu into cubes. In a non stick frying pan (skillet), melt the coconut oil over medium heat. Sauté the tofu until golden brown on all sides. In a mixing bowl, whisk together the tamari, maple syrup and lemon juice. Add the hot tofu cubes and toss them in the sauce. Keep covered until ready to serve.
Prepare the dressing. If you don't have a high powered blender, soak the cashews in the hot water for 30 minutes to soften them, then pour into a blender (including the soaking water) and blend until smooth. If you have a high powered blender you can skip this soaking step. Just pulse the cashews into a fine powder, add the hot water and whizz until smooth. (I used my Froothie and it took literally seconds for the cashews to turn into cream).  Add the remaining ingredients and pulse to combine. Chill the dressing in a lidded container until ready to use, or at least 20 minutes for the flavours to blend. Store in the refrigerator and use within 2 days.
Assemble the salad. Shred the lettuce, wash and spin dry, then transfer to a large bowl. Add the cabbage, carrots, celery and sprouts (if using). Drizzle in the dressing and stir through. Sprinkle in the croutons. Top with the tofu cubes and serve.
*Speedier Option – for a quicker, lower prep option, use a shop-bought pre-marinaded organic tofu (Cauldron Foods or Taifun available in the UK) [/print_this]
Big thank you to Terry Hope Romero & Vegan Life for sharing such an amazing recipe ♥