I love this time of year when the British hedgerows and allotments are laden with berries. Whenever I'm out on a run along the river and canal paths, I can never resist pausing to grab a handful of blackberries. If you see someone running round Bath with purple stained hands, that'll be me! In today' post, I'm sharing a recipe that showcases another glorious summer fruit – the raspberry
♥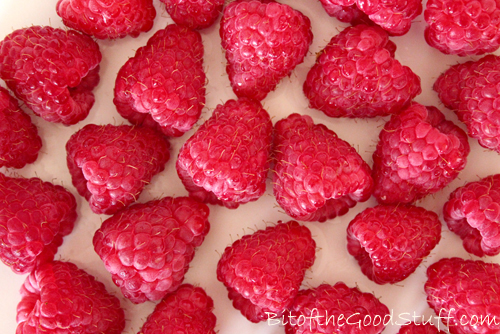 This streusel-topped raspberry muffin is a family favourite. It was inspired by a blueberry muffin recipe I came across on the Peas and Thank You blog. (This blog sadly closed down a while back… I hope Mama Pea's okay!) While they do contain sugar and oil (and are thus best classed as a 'treat' muffin rather than a breakfast / 'eat every day' kind of muffin), they're not all bad. They're made with wholegrain flour and unrefined sugar; they're free from animal products (dairy/eggs); and they are far less calorific than the muffins on sale in coffee shops.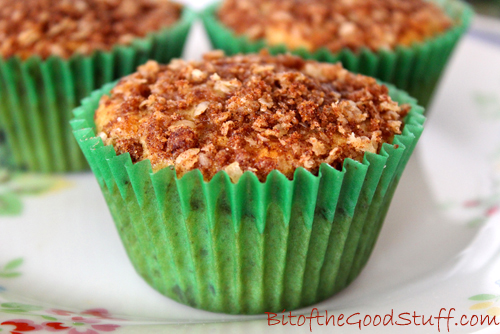 I've made these muffins many times over and the recipe is pretty adaptable. You can either use unrefined cane sugar or coconut sugar. Lil' L and I prefer coconut sugar (which is less sweet and 'sugary'), while M prefers cane sugar. He definitely has the sweet tooth in the family. I've also tried wholemeal spelt flour and virgin coconut oil, which resulted in a denser, slightly nutty tasting muffin. I wasn't mad keen on the taste and texture for a fruit muffin, but Lil' L actually preferred it. I guess it all comes down to personal preference and when it comes to fruit muffins, for me, light, fluffy and sweet (but not sickly sweet) will always come out on top.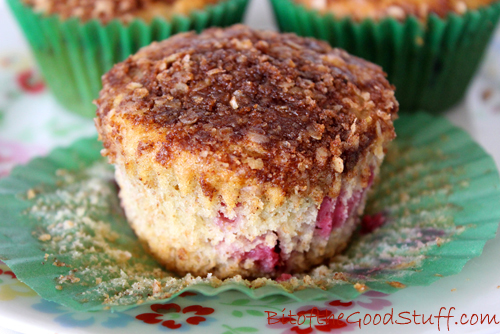 By the way, I read a great tip on
the kitchn
about how to prevent all your fruit from sinking to the bottom in baked goods – toss them in a tablespoon or two of flour from the recipe's ingredients (just enough to give them a light coating). The coating absorbs some of the juice from the fruit, helping to keep it in place until the batter has set. I've also found that it helps to prevent pockets of air forming round the fruits (I guess the flour absorbs the steam from the juice too). Since raspberries are hollow, you will always have some holes in your muffins, but at least there won't be big holes around the raspberries too.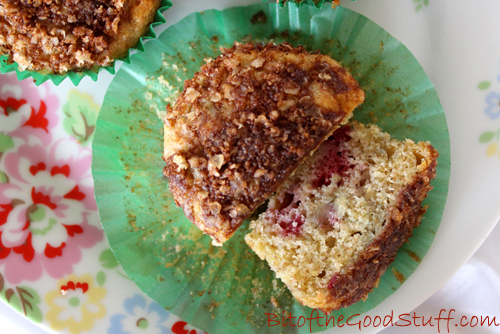 Lil' L started back at school last week and he loves taking these muffins as a 'treat' in his lunchbox. He's just started his first year at senior school and seems to be settling well into his new responsibilities, which include getting himself up in the morning and fed/washed/clothed; packing his school bag with the right books; remembering PE kit; getting out the house in time for the bus; and not losing the many items he's now solely responsible for – wallet, bus pass, dinner pass, phone (so far, so good anyway). While he's doing really well, I'm still in a bit of daze wondering how he could possibly be senior school age already?  The years sure do fly by…. [print_this] Makes 10-12 muffins Hands-on time: 15 minutes    Cooking time: 25-30 minutes Ready in: 50 minutes
Ingredients
160ml / 5½ fl oz / 2/3 cup soya milk or almond milk 80ml / 2¾ fl oz / 1/3 cup freshly squeezed orange juice or fruit juice (orange, apple, tropical all work well) 70ml / 2½ fl oz / 1/3 cup neutral-flavoured oil (organic rapeseed (canola) oil, sunflower oil, etc) 1 tsp vanilla extract 100g / 3½ oz / ½ cup unrefined caster sugar (organic sugar) or 100g / 3½ oz / ¾ cup coconut sugar 200g / 7 oz / 1½ cups fine wholemeal (wholewheat pastry) flour or chapatti flour (I use the latter) 2 tsp baking powder ½ tsp bicarbonate of soda (baking soda) ¼ tsp salt 130g / 4½ oz / 1 packed cup fresh raspberries Streusel Topping 3 TBSP rolled oats 1 TBSP wholemeal flour 2 TBSP unrefined sugar (I usually use coconut sugar, but demerara sugar might add a nice crunch) 1 tsp ground cinnamon 1 TBSP neutral-flavoured oil
Method
Pre-heat the oven to 200C (180C fan) / 400F. Line a muffin tin with papers. Toss the raspberries in 1-2 tablespoons of the wholemeal flour until they are lightly coated all over. Set 12 raspberries side (we'll push them into the muffins at the end). In a small bowl, stir the streusel ingredients together until they start to look shiny and coated in oil. Set to one side. Place the milk, juice, oil, vanilla extract and sugar in a large mixing bowl and whisk with a fork until fully combined. In a separate bowl, add the flour, baking powder, bicarbonate of soda and salt. Stir through to combine. Sift the dry ingredients into the wet ingredient bowl and gently stir until just combined. Fold in the raspberries, being careful not to break them up. Gently scoop the batter into the muffin cups until they are 2/3-3/4 full. Distribute the remaining 12 raspberries across the muffins, pushing them into the top of the batter. Sprinkle the streusel on top. Bake in the oven for 25-30 minutes, or until a toothpick inserted through the middle is clean of batter. Leave to rest for a few minutes than transfer to a wire rack until completely cooled. These muffins will keep for up to 3 days stored in an airtight container in the fridge or for up to 3 months in the freezer. To freeze them, place in a single layer in a freezer bag, squeeze or suck out all the air and zip/ tie securely (this will help prevent freezer burn). [/print_this]
Do you go foraging?
If so, what kinds of goodies do you find growing in your area?
Luckily I don't have to go far to forage as my garden is full of wild blackberry bushes and cob nut trees. The squirrels are busy burying the nuts at the moment (all over my lawn and in the plant pots!) We also have a Bramley apple tree which is groaning under the weight of apples. We'll be picking some this weekend and I can't wait to bake my first
Apple Crumble
of the season 🙂