It was my blogging friend Aimee Ryan's 2014 publication that got me hooked on coconut milk ice cream. I've always been a big lover of ice cream, but the shop-bought varieties paled into insignificance once I'd had my first taste of home-made coconut milk ice cream.
If you've experienced itself, you'll know just how delicious it is. The texture is silky smooth and creamy. The coconut flavour is so subtle that the ice cream can be flavoured a myriad of ways. Aimee's recipe book has over 50 to choose from, including fruity, nutty, spicy, boozy, floral and dessert-inspired flavours. And, in addition to being vegan (and gluten-free), her ice cream recipes also happen to be cane-sugar free too. For this, my tummy is very thankful.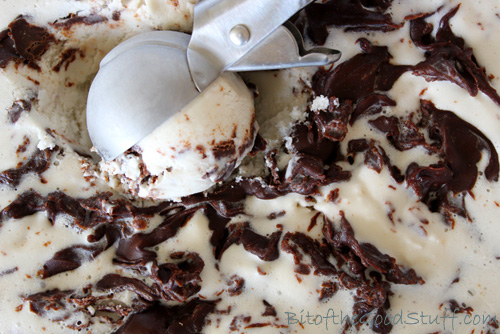 Coconut milk ice cream is simple to prepare and only requires a few minutes of 'hands-on' time. Once the ingredients have been heated, combined then chilled, it's over to the ice cream maker to do the hard work.
Since I only have a small freezer, a couple of years ago I acquired a stand-alone ice cream maker (I wrote about it in this post). It's a big piece of kit, but I absolutely love it. Unlike the freezer ice cream makers where you need to pre-freeze the bowl overnight, I simply chill this one for 10 minutes then pour in the mixture. After 40-50 minutes, we have soft whip. After 3 hours of freezing, it's firm enough to scoop into balls.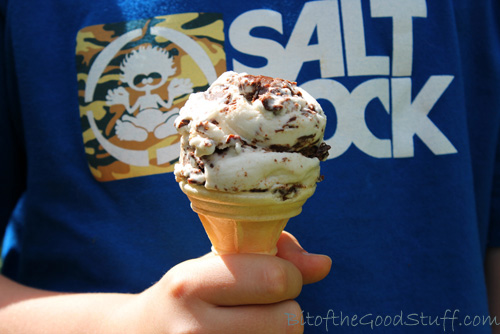 Since I'm already a fan, I was very excited to see one of Aimee's ice cream recipes featured in the latest edition of Vegan Life magazine. And it happened to be a recipe that we'd yet to try… Peanut Butter Chocolate Swirl. 
Me and the boys adore peanut butter, so this ice cream was bound to be a winner in our house. As soon as the weather warmed up, we set about making it.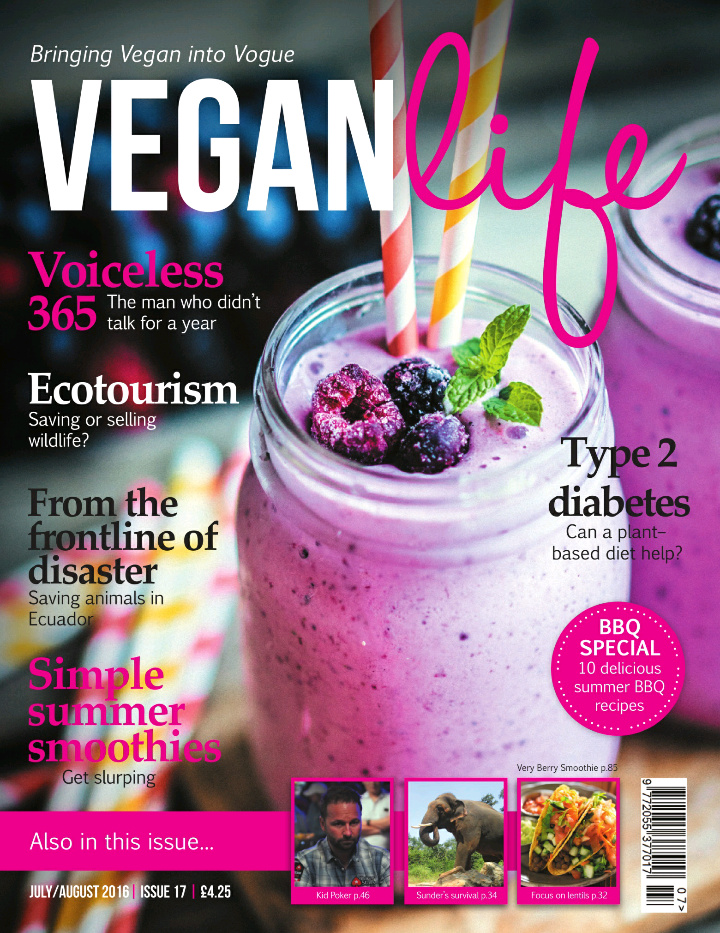 This ice cream was so much fun to make. I loved how the chocolate peanut sauce solidified as it hit the ice cream. I used a skewer to break it up and swirl it through the ice cream so that each scoop would guarantee plenty of chunks.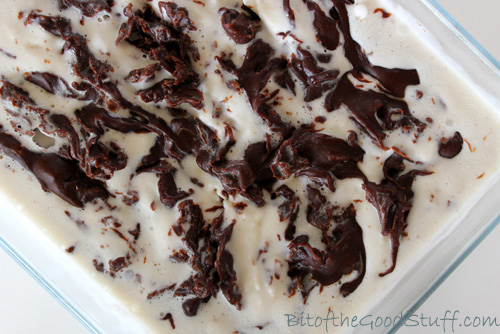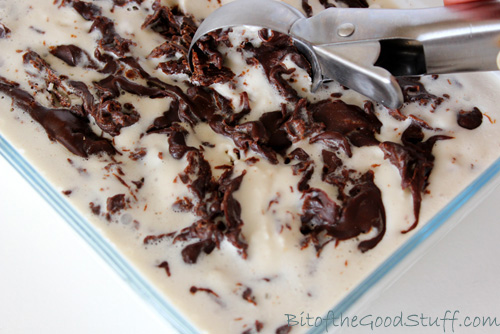 As expected, the ice cream proved to be a huge hit with the family. It's such a great combination of flavours and textures. I've been dreaming about this ice cream ever since we left home for a summer adventure in the Black Forest. As soon as we return, I can't wait to whip up another batch.
[print_this]
Lightly adapted from Aimee Ryan's Peanut Butter Chocolate Swirl Recipe from Coconut Milk Ice Cream: Vegan & Grain-free Ice Creams & Frozen Treats, featured in Vegan Life Issue 17
Makes: approximately 1 pint
Ingredients
Ice Cream
2 x 400g / 14 oz cans coconut milk
2 TBSP arrowroot powder
120ml / ½ cup maple syrup
1 tsp vanilla extract
1 TBSP alcohol (optional)
Chocolate Peanut Sauce
45g / ¼ cup dark chocolate chips
65g / ¼ cup natural peanut butter
Method
Mix 60ml / ¼ cup coconut milk with the arrowroot powder in a small bowl and set aside to thicken.
Pour the rest of the milk into a saucepan with the maple syrup and bring to a boil. Immediately stir in the arrowroot mixture. Remove from the heat and stir in the vanilla and alcohol. Leave to cool, then chill in the refrigerator.
Once chilled, churn in an ice cream maker according to the manufacturer's instructions. (I have the Andrew James Ice Cream Maker with Built In Compressor and I chill the machine for 1o minutes, then pour in the mixture and churn for 40-50 minutes).
Prepare the Chocolate Peanut Sauce: Gently melt the choc chips in a heat-proof bowl set over a simmering pan of water (making sure the water does not touch the bowl). Stir in the peanut butter until fully combined, then remove from the heat. Leave the sauce to cool at room temperature.
Once the ice cream is churned, transfer to a freezer-safe container (I use these Pyrex lidded glass dishes). Pour the sauce over the top and use a skewer to swirl it through.
Freeze for at least 3 hours, until firm enough to scoop.
Note: Aimee recommends adding a tablespoon of alcohol as it helps prevent the ice cream turning into a solid block in the freezer. If you omit the alcohol, leave the ice cream at room temperature for about 15 minutes before serving. To form smooth balls, heat a metal ice cream scoop in a glass of hot water before scooping.
[/print_this]
And here's my very willing and helpful hand model, tucking into his reward.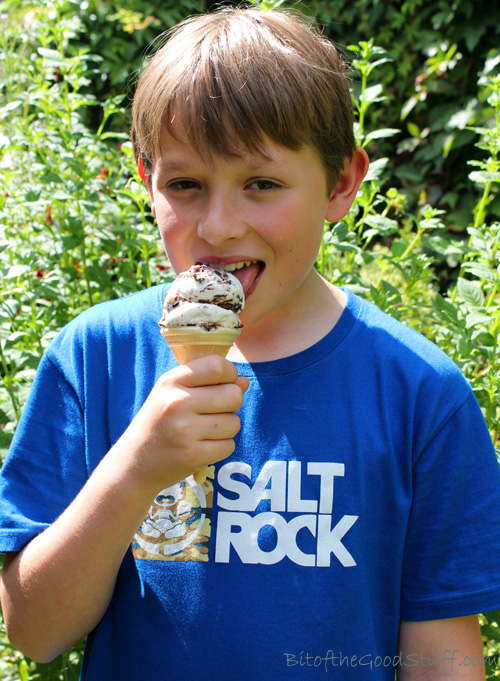 Big thank you to Aimee and Vegan Life for sharing this delicious recipe!