In today's post, I'm sharing one of my family's favourite puddings. Simple and quick to make, this Blueberry Vanilla Chia Pudding with Goji Nut Sprinkles makes a delicious weekday dessert, yet it's healthy and filling enough to serve for breakfast too. What a decadent way to start the day!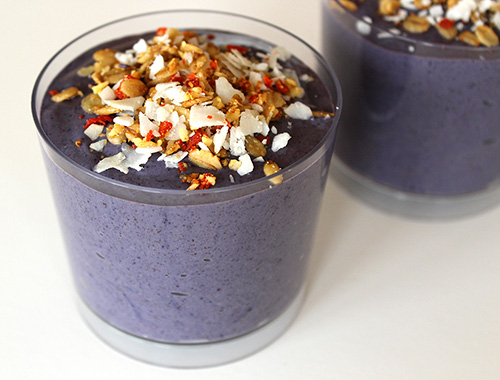 Also in this post, I'm launching a fantastic international giveaway in partnership with Sevenhills Wholefoods. If you're a regular reader of the Bit of the Good Stuff, you'll know that I'm a big fan of Sevenhills and often feature their products in my recipes. Not only do I find them to be super high quality, but affordable too. I purchase them direct from their website as they offer free UK delivery on orders over £20, which is great value. I have practically a whole shelf in my kitchen filled with Sevenhills products and amongst my favourites are their chia seeds, cacao powder, goji berries, hemp seeds and royal quinoa.
As well as their products, I also value the Sevenhills ethics. They directly source from farmers and work closely with them, fostering long term partnerships so that the farmers are able to sustain their livelihoods between harvest cycles. Sevenhills products are also processed close to their origin, which further supports the local communities, providing them with regular income and employment.
Scroll down to the bottom of this post for a chance to win THREE of my personal favourite superfoods from the Sevenhills range as well as a signed copy of the Bit of the Good Stuff cookbook. I'm delighted to say that this giveaway is international so, providing that you're over 18 years old, you are eligible to enter!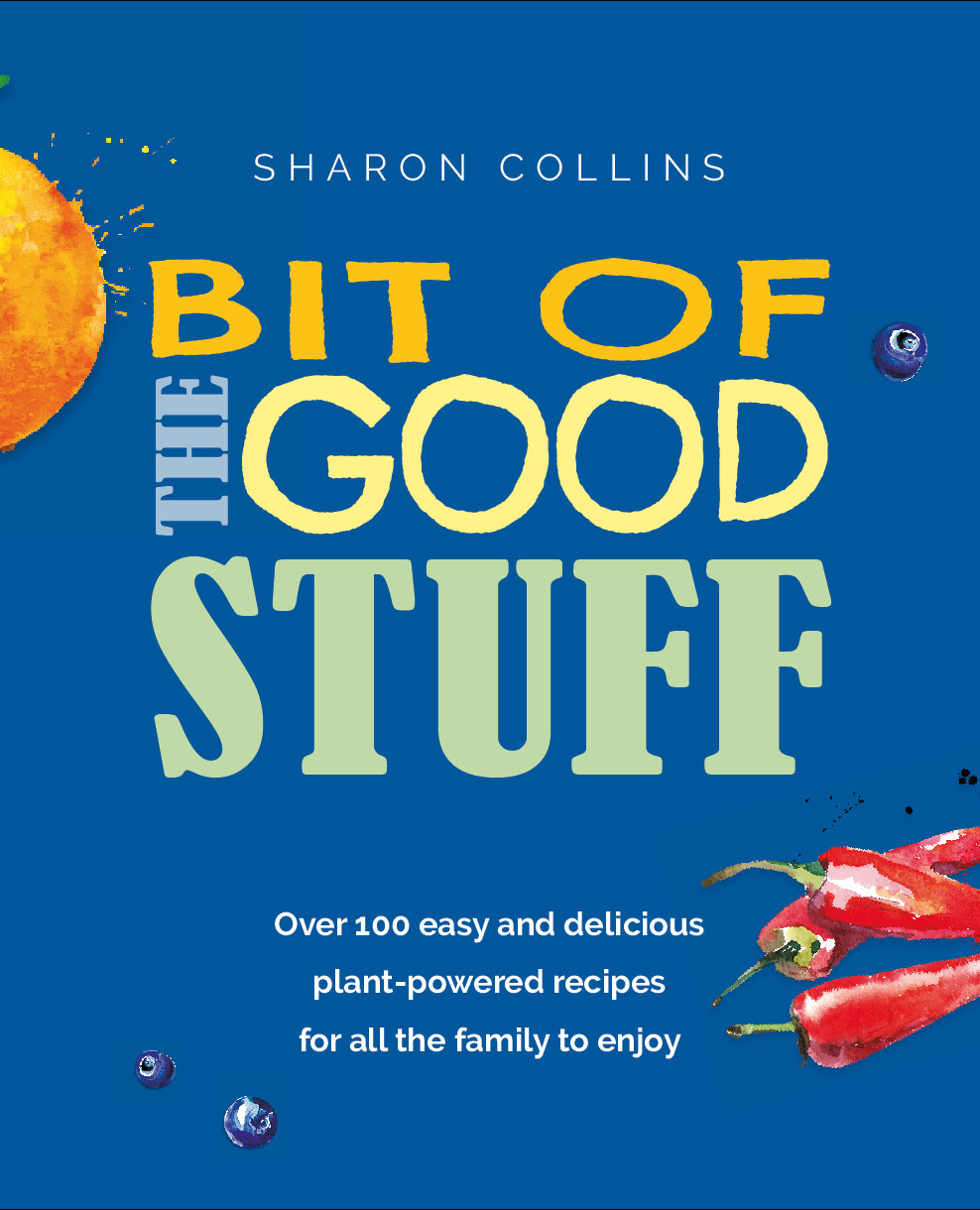 Sales of the cookbook have been going fantastically well since it launched four months ago, and I've been blown away by the feedback you've been sending me. The book's been given all 5 star reviews on Amazon UK so far, which is amazing!
We've also been receiving lots of repeat orders, which must be a good sign. Some customers are on their third order, so thank you everyone for spreading the word and sharing a Bit of the Good Stuff ❤️ One reader took their copy into work and by the time the book had been passed round her office, we'd received another four orders!
The book's also had some great press coverage, both nationally and locally. Most recently, in the April 2017 issue of Vegetarian Living magazine, not only did one of my personal heros – the wonderful Fiona Oakes – name Bit of the Good Stuff as her favourite cookbook (an incredible accolade in itself!), but the book also featured in the magazine's list of 'Future Classics – New Releases You Might Just Want to Keep Forever'. How cool is that?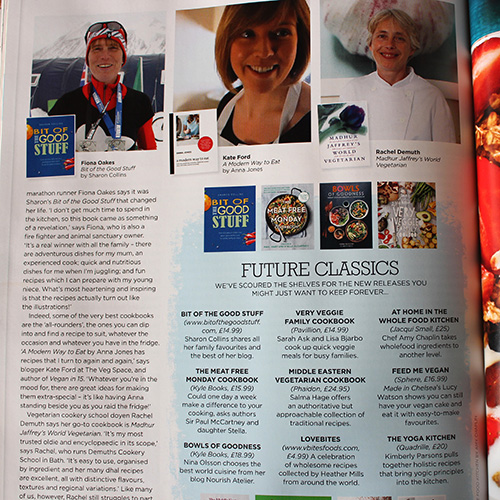 The recipe I'm sharing today is from the 'Breakfast and Elevenses' chapter of the cookbook though, as I mentioned above, it can easily be served as a weekday dessert too (and we often do!) If you have a high powered blender (like this one), this pudding comes to together in just 6 minutes. No worries if your blender isn't high powered though; all you'll need to do is soak the nuts and dates to soften them first, then they'll blend up fine.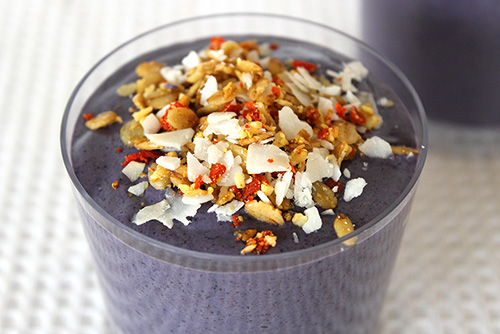 Blueberry Vanilla Chia Pudding
Dessert for breakfast anyone? This creamy pudding is packed with nutrient-rich ingredients that provide slow release energy and keep you feeling full for hours. What a great way to start the day! You can easily make it the night before and store it in the refrigerator for a fast 'grab and go' breakfast. We also love to serve this pudding as a quick weekday dessert.
Serves 2
Hands-on: 6 minutes Ready in: 6-36 minutes
Ingredients
240ml / 1 cup non-dairy milk
3 TBSP chia seeds
40g / ¼ cup raw cashews
¾ tsp vanilla extract
2 soft, sticky dates (e.g. Medjool), pitted
pinch of salt
70g / ½ cup frozen blueberries
maple syrup, optional
Suggested toppings: Goji Nut Sprinkles (see below); Granola
Method
1 If you don't have a power blender, first soften the cashews by soaking in freshly boiled water for 30 minutes. 5 minutes before the end of the soaking time, add the dates. Drain thoroughly.
2 Place all the ingredients in a high speed blender, starting with the milk. Give the ingredients a stir so that they are coated in milk. Start blending on low speed to break up the nuts and dates, then blend on high speed for a couple of minutes until completely smooth. Stop now and then to scrape down the sides. Taste test and add a splash of maple syrup, if desired.
3 Scoop into two small bowls or ramekins and sprinkle on your desired toppings. The puddings can either be served immediately or chilled in the refrigerator for up to 24 hours. If storing in the refrigerator, cover the bowls to make them airtight. This will ensure the puddings keep their vibrant purple colour.
Goji Nut Sprinkles
These sprinkles come in handy when you need a quick topping to 'dress up' a breakfast or dessert. They're especially suited for children as the pieces are broken up nice and small.
Makes: 10 servings
Hands on: 5 minutes Ready in: 5 minutes
Ingredients
4 TBSP toasted coconut chips
2 TBSP pecans
4 TBSP toasted flaked almonds
4 TBSP dried goji berries
Method
1 Place the coconut chips, pecans and 2 TBSP of the almonds in a bowl and crush them between your fingers to break them up.
2 Add the remaining 2 TBSP of almonds and the goji berries to a mini food processor and whiz into crumbs (I use the bowl attachment that came with my hand blender).
3 Combine all the ingredients and transfer to an airtight jar. Store in the refrigerator where they will keep for weeks.
Giveaway Time!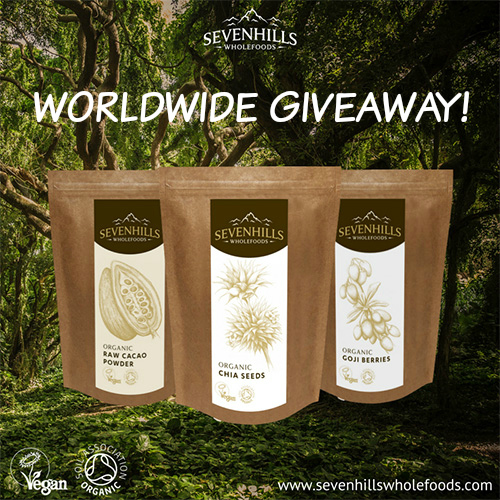 To be in with a chance of winning three of the Sevenhills superfoods that I love using in my cookbook recipes – Cacao Powder, Goji Berries and Chia Seeds – as well as a signed copy of the Bit of the Good Stuff cookbook, leave me a comment under this blog post answering the question in the Gleam widget below. This will unlock bonus entries.
The giveaway is open worldwide. Entrants much be aged 18 years or over. The closing date is Friday 7th April 2017. Full T&Cs can be viewed in the widget.
Sevenhills Superfoods and Bit of the Good Stuff Cookbook Giveaway
Good luck everyone!