In today's post, I'm sharing one of my family's favourite puddings. Simple and quick to make, this Blueberry Vanilla Chia Pudding with Goji Nut Sprinkles makes a delicious weekday dessert, yet it's healthy and filling enough to serve for breakfast too. What a decadent way to start the day!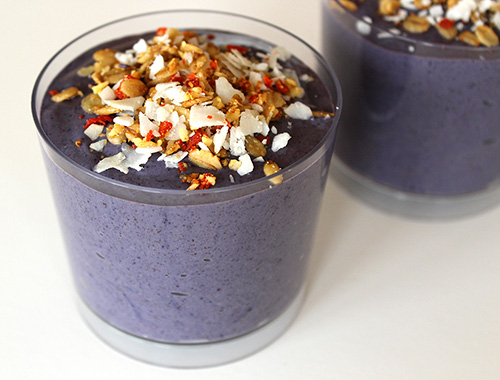 Also in this post, I'm launching a fantastic international giveaway in partnership with Sevenhills Wholefoods. If you're a regular reader of the Bit of the Good Stuff, you'll know that I'm a big fan of Sevenhills and often feature their products in my recipes. Not only do I find them to be super high quality, but affordable too. I purchase them direct from their website as they offer free UK delivery on orders over £20, which is great value. I have practically a whole shelf in my kitchen filled with Sevenhills products and amongst my favourites are their chia seeds, cacao powder, goji berries, hemp seeds and royal quinoa.
As well as their products, I also value the Sevenhills ethics. They directly source from farmers and work closely with them, fostering long term partnerships so that the farmers are able to sustain their livelihoods between harvest cycles. Sevenhills products are also processed close to their origin, which further supports the local communities, providing them with regular income and employment.
Scroll down to the bottom of this post for a chance to win THREE of my personal favourite superfoods from the Sevenhills range as well as a signed copy of the Bit of the Good Stuff cookbook. I'm delighted to say that this giveaway is international so, providing that you're over 18 years old, you are eligible to enter!