In today's post, I'm sharing a recipe for a delicious Pear and Yogurt Cake. While simple to make, this cake looks pretty impressive with its glistening pear and cinnamon-speckled top. The cake itself has a beautifully moist, light and fluffy texture and is flavoured with hints of vanilla and almonds.
I know some people with gluten sensitivities are able to tolerate spelt flour and this cake works just perfectly with white spelt flour. Otherwise regular plain (all-purpose) flour or even a combination of half white/plain flour and half wholemeal or chapatti flour works great.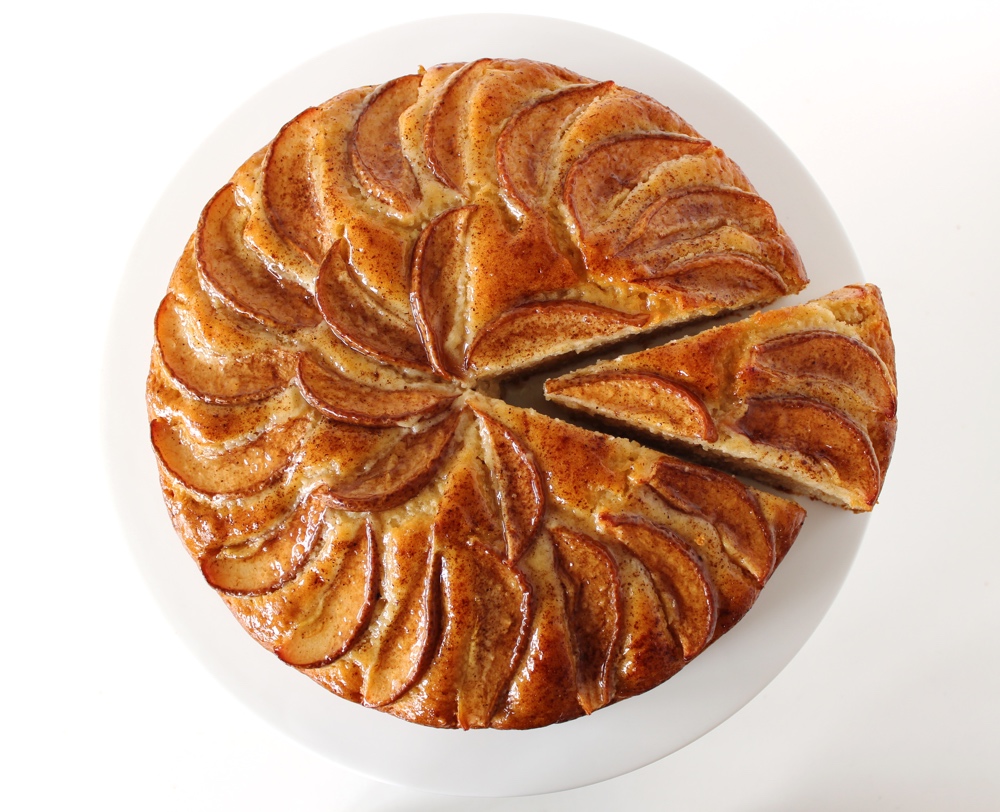 The inspiration for this cake was a visit during May half-term break to one of my favourite cafes in Bristol – Roll for the Soul. This community-run cafe also houses a cycle workshop and event space. It has a great atmosphere and lovely food and coffee, so I highly recommend a visit if you're in the area [UPDATE: Sadly Roll for the Soul closed down in September 2017 ]
Roll for the Soul is in one of my favourite districts of Bristol. We often head over there to check out the street art. One of my favourite street artists is Silent Hobo and I actually bumped into him a few weeks ago at Montpelier Railway station where he was putting the finishing touches to this mural. Isn't it beautiful?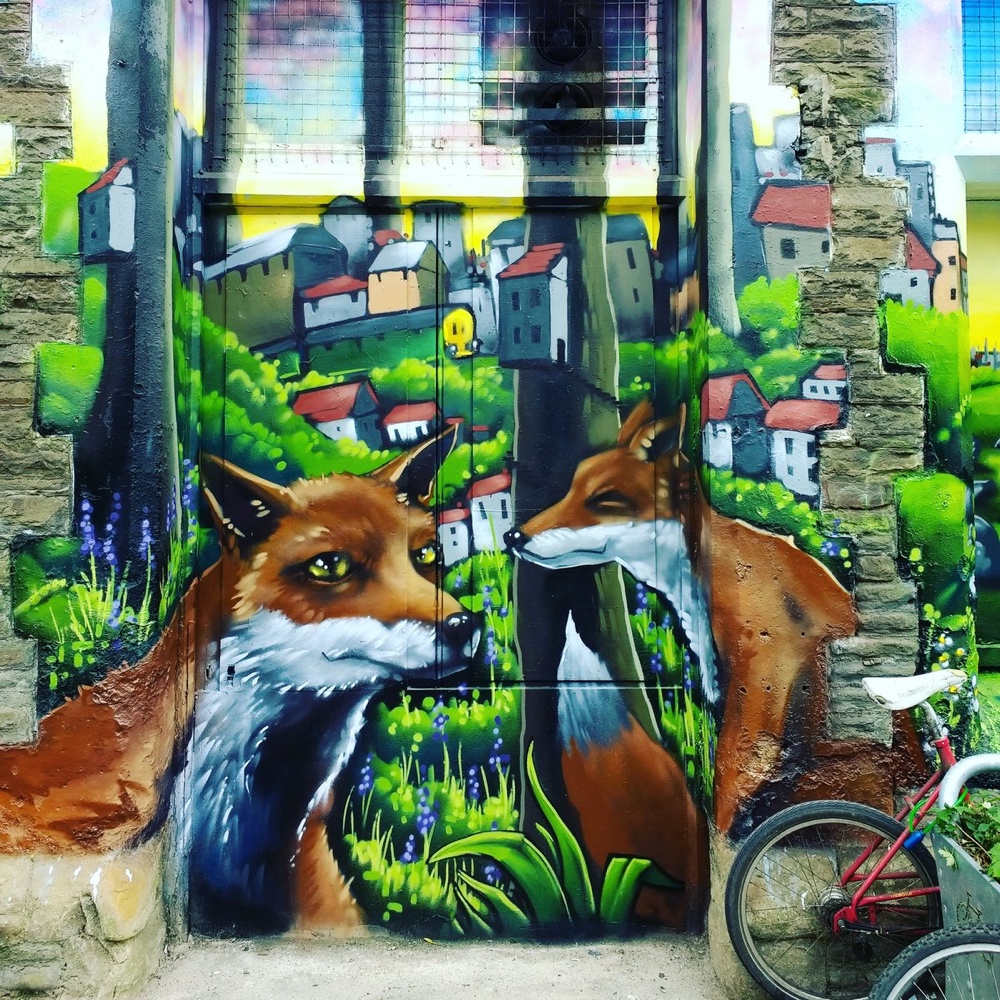 Last week, at Roll for the Soul, I had my first-ever slice of Pear Cake and it was so delicious that I couldn't wait to try re-creating it at home. Back in Bath, I headed to the fruit & veg market stall in Kingsmead Square where I spotted these beauties which would be just perfect for topping a cake.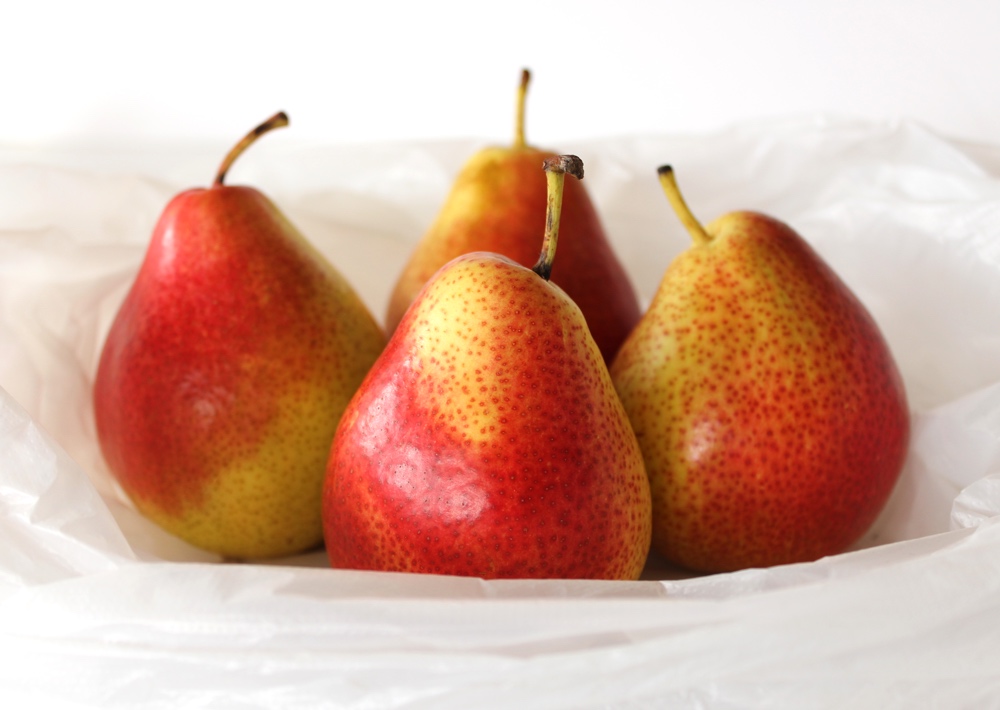 I'm pretty sure the Pear Cake I had at Roll for the Soul had a hint of almonds, so I decided to use my Orange Almond Cake recipe (a reader favourite!) as the basis for creating my Pear Cake. I switched the milk for yogurt, reduced the amount of ground almonds to give it a more 'spongy' texture and tweaked the wet/dry ingredient ratio. The resulting cake turned out beautifully!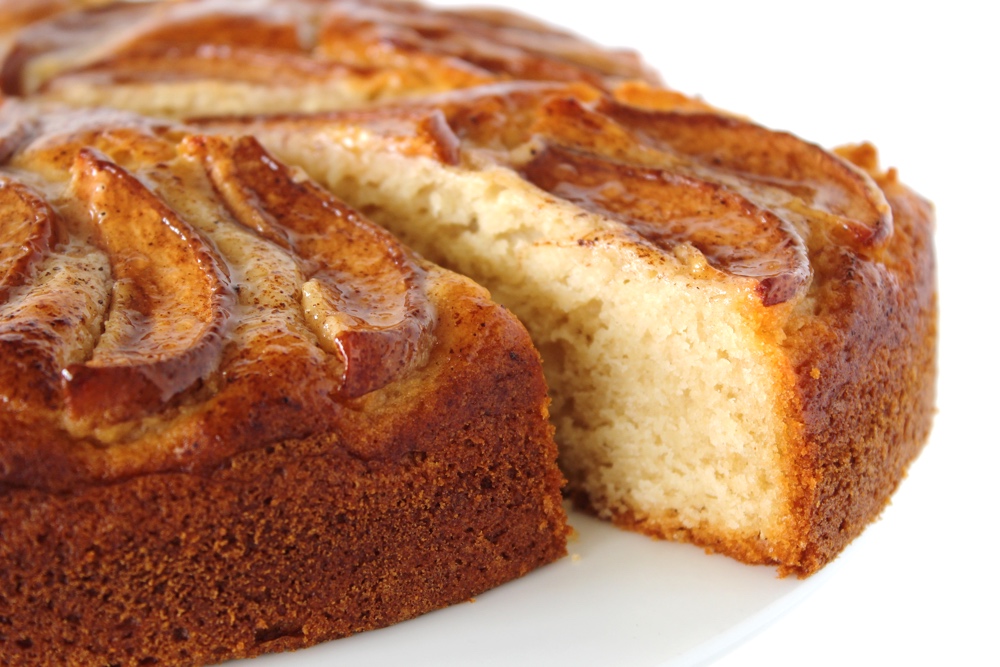 It slices well too. It can be picked up but, for me, this is the kind of cake that's best eaten with a fork. Far more elegant that way!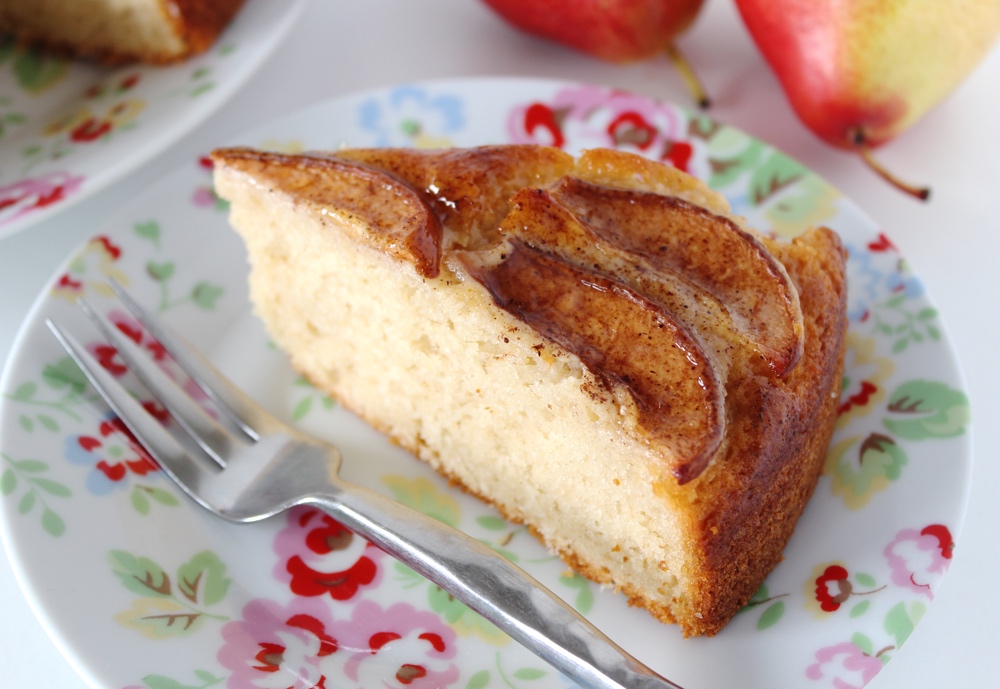 Just in case it was a fluke or 'beginner's luck', I made two more cakes to check the recipe. Again, both cakes came out perfect so I'm now happy to release the recipe into the world. I hope you have as much success with it as I have.
[print_this] This cake is simple to make, but looks pretty impressive with its glistening pear and cinnamon-speckled top. I'm sure it will wow your friends and family! It would be a great cake to take along to a dinner party or for afternoon tea.
Serves 10-12
Hands-on time: 20 minutes Ready in: 2 hours
Ingredients
Wet ingredients
250ml / 1 cup natural/plain soya yogurt (I use Alpro)
2 tsp apple cider vinegar
100g / ½ cup unrefined cane sugar (e.g. golden caster sugar)
80ml / ¼ cup maple syrup (or maple blend. I use Clarks Original).
100ml / ½ cup organic rapeseed (canola) oil or other neutral-tasting oil
1 tsp almond extract
1 tsp vanilla extract
Dry ingredients
280g / 2 cups white spelt flour (I use Doves Farm) (or substitute with plain (all-purpose) flour or half plain flour and half wholemeal (wholewheat) flour)
1½ tsp baking powder
½ tsp bicarbonate of soda (baking soda)
½ tsp salt
50g / ½ cup ground almonds (almond meal)
Topping
1-2 ripe pears
generous pinch of ground cinnamon
Glaze
2 TBSP unrefined sugar
4 TBSP water
¼ tsp vanilla extract
1 tsp cornflour (corn starch)
Method
1. Preheat the oven to 180C (160C fan) / 350F. Grease a 23cm / 9 inch cake tin and line the bottom with non-stick baking paper.
2. In a large mixing bowl, whisk together all the wet ingredients. Taste test and add a touch more almond extract, if desired.
3. In a separate bowl, mix together all the dry ingredients except the ground almonds.
4. Slice the pears ready for the topping. To do this, I slice the pears into halves, then quarters. Using a sharp knife, scoop out the core. Place the pears cut side down on a chopping board, and slice into even-sized thin slices.
5. Sift the dry ingredients into the wet ingredient bowl and stir through to combine (but do not overmix). Add the ground almonds and stir through.
6. Tip the batter into the prepared tin and use a silicone spatula to distribute it evenly. Arrange the pear slices on top, then add a light sprinkle of ground cinnamon.
7. Place on the centre rack in the oven and bake for 50-55 minutes, or until a skewer inserted through the middle comes out clean.
8. While the cake is cooling, prepare the glaze. In a small bowl, mix 1 TBSP water with the cornflour until dissolved. Add the remaining water, sugar and vanilla extract to a small pan over medium heat. Once the sugar has dissolved, whisk in the cornflour paste. Gently bring to the boil, whisking continuously. When the mixture has thickened slightly remove from the heat.
9. Use a silicone pastry brush to lightly coat the top in the glaze (you won't need to use all the glaze). Leave the cake in the tin until it has completely cooled (it will firm up as it cools), then transfer to an airtight container. The cake will keep for 5 days in the refrigerator. It also freezes well.
[/print_this]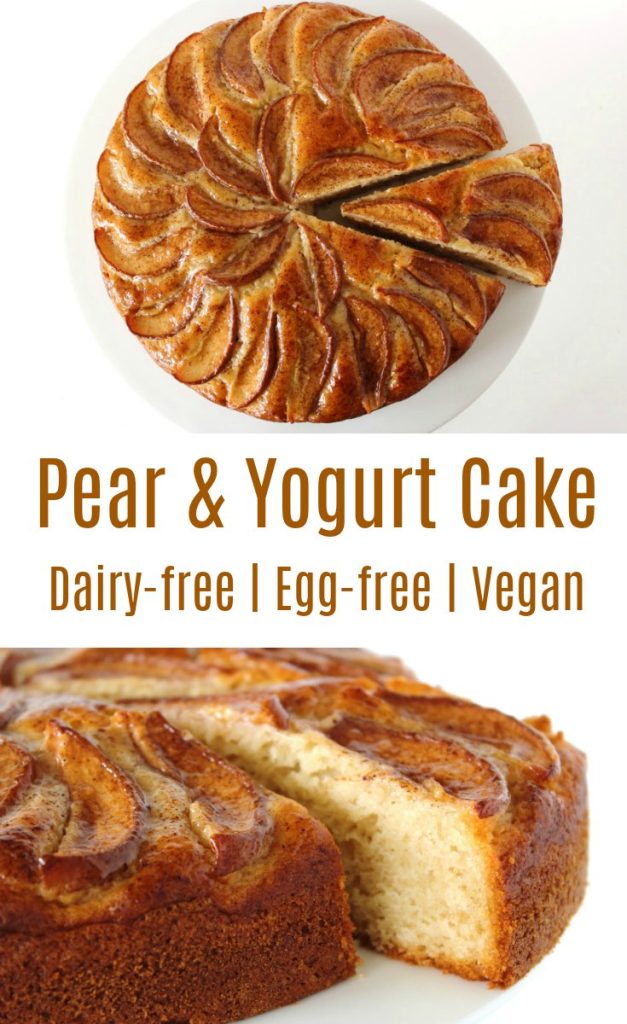 I'm sharing this recipe with the Suma Blogger's Network. Big thank you to the lovely people at Suma for supporting Bit of the Good Stuff and for supplying ingredients for my kitchen experiments.
If you bake this cake, I'd love to hear your thoughts on it! I'd love to see your pictures too! Use the hashtag #bitofthegoodstuff on social media and they'll find their way to me.

SaveSave