Today, I'm delighted to be sharing a recipe for a delicious vegan camembert-style cheese. When I started food blogging back in 2011, I would never have dreamed that I would be sharing such a recipe but here we are, in 2019, where it's pretty much possible to veganise anything!! Whether you avoid dairy for ethical, dietary or environmental reasons, this creamy, cashew-based cheese is more than a worthy substitute for traditional camembert. Not only does it taste amazing, but it also has a beautiful texture. As it bakes, it forms a skin on the outside, yet remains soft and gooey in the middle.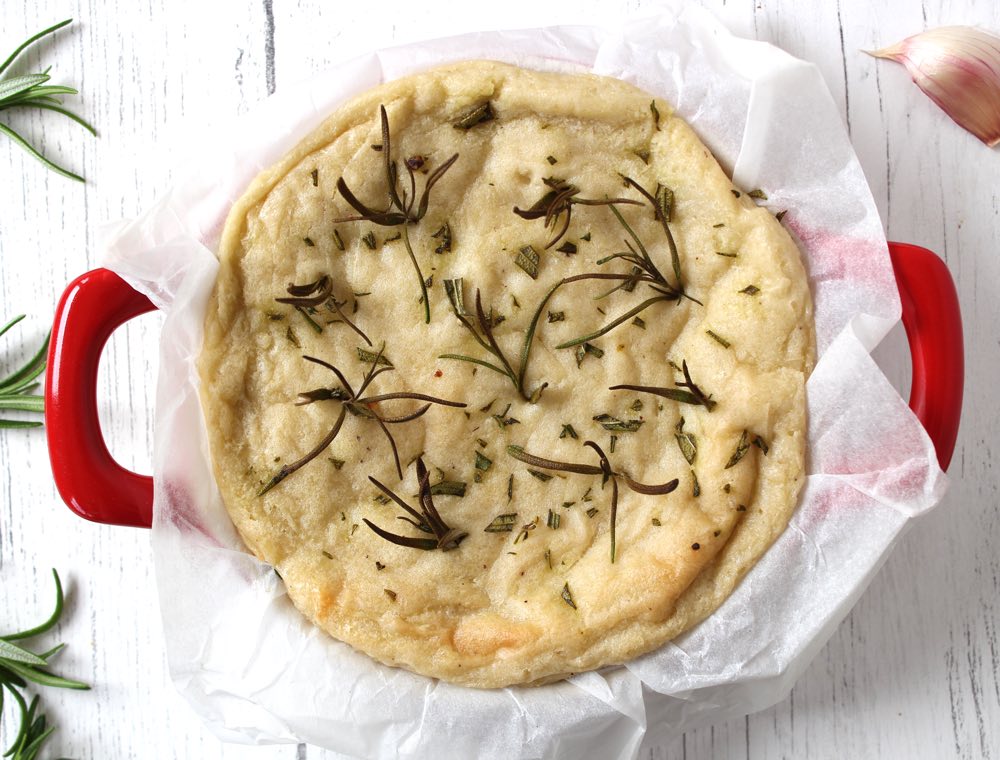 Unlike a lot of hand-made cheeses, this one is incredibly quick and easy to make. It takes just 10 minutes hands-on time and is ready to serve in half an hour. It's also super cheap. I calculated that this cheese cost me just 65p to make, which is way cheaper than any vegan cheeses you'll find in the shops.
And while it feels like an indulgent treat, it's actually good for you! It's rich in heart-healthy monounsaturated fats, B vitamins and a whole host of minerals, including zinc, manganese, magnesium and iron. Unlike its dairy counterpart, this plant-based camembert contains zero cholesterol as well as significantly less saturated fat. Oh, and most importantly, it's cruelty-free… no cows were harmed in the making of this cheese 🐮❤️ It's a winner all round!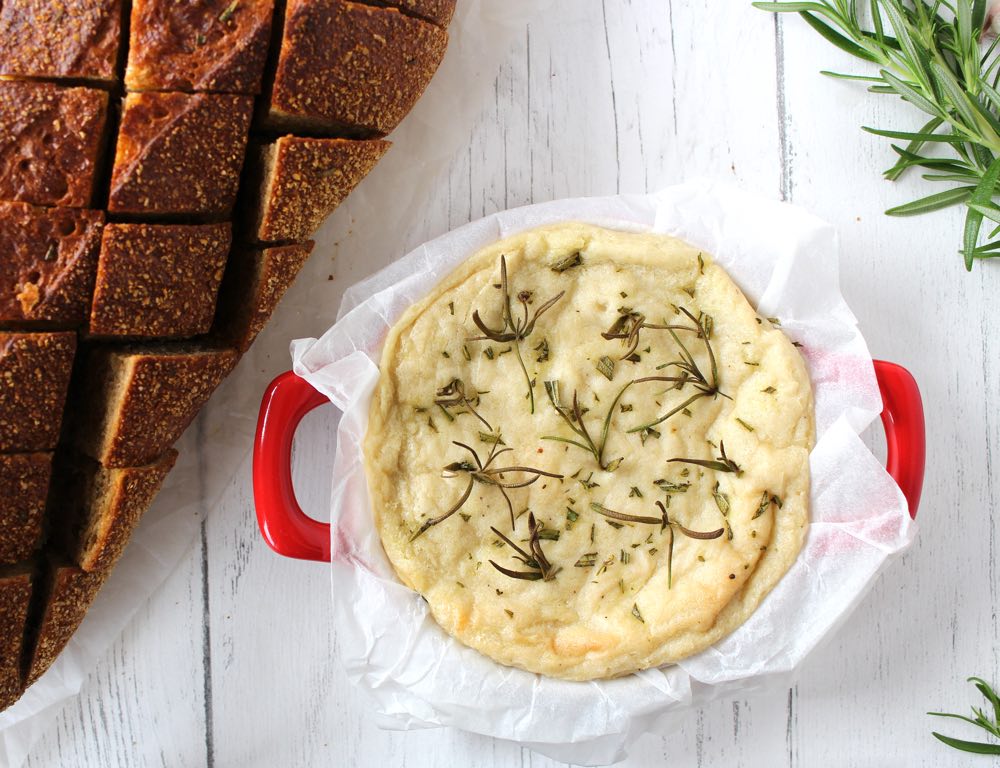 The inspiration for today's recipe was the infamous 'Camembosh' which was featured in this month's Vegan Life magazine (the one with the lovely Henry and Ian from BOSH! on the front cover). I'd been meaning to try this cheese ever since I'd first heard the rave reviews about it on social media, and seeing it in Vegan Life prompted me to dive into the kitchen and get stuck in.
The recipe is actually very similar to the one I use for cashew 'mozzarella' which I make every Sunday for our pizza night. It is so easy to make! It's simply a case of blending the ingredients, then heating them in a saucepan and stirring until they become thick and gooey. For the camembert cheese, the mixture gets transferred to a shallow dish and baked in the oven for 20 minutes until it forms a skin. And that's it! It's now ready to serve. If you wish, you can warm some bread in the oven at the same time, ready for dipping into the camembert.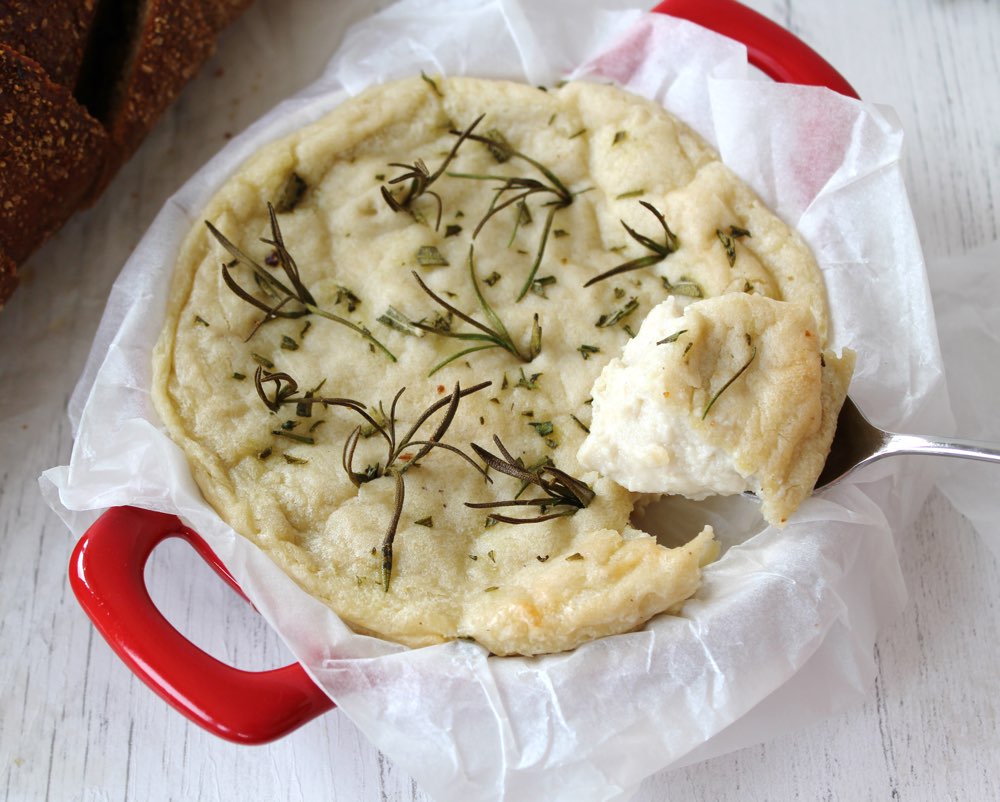 The recipe I'm sharing in this post is an adaptation of the Camembosh. The main tweak I've made is to reduce the salt. The BOSH! recipe calls for 1½ tsp salt, plus extra for seasoning. A friend who had already tried the cheese recommended reducing the salt quantity as she'd found it very salty. Heeding her advice, we initially reduced the amount to 1 tsp, but we still found it too salty, so in the second batch, we reduced it to ½ tsp. This amount proved to be perfect for us. In the recipe below, I recommend using ½ tsp salt initially, then taste test while the cheese is on the stove. You can always add extra salt at this point, if needed.
I also reduced the amount of garlic compared to the original recipe as I wanted the 'cheesy' aspect of the camembert to shine through. Feel free though to add more garlic if you'd prefer a more garlic-flavoured camembert.
The BOSH! recipe recommends boiling the cashews for 20 minutes to soften them, however if you have a power blender, you can get away with skipping this step. I'm currently using my Optimum VAC2 Vortex Blender and smaller Nutri Force Extractor to make cashew cheeses and both machines blend the cashews smooth within a matter of seconds without the need to pre-soften them.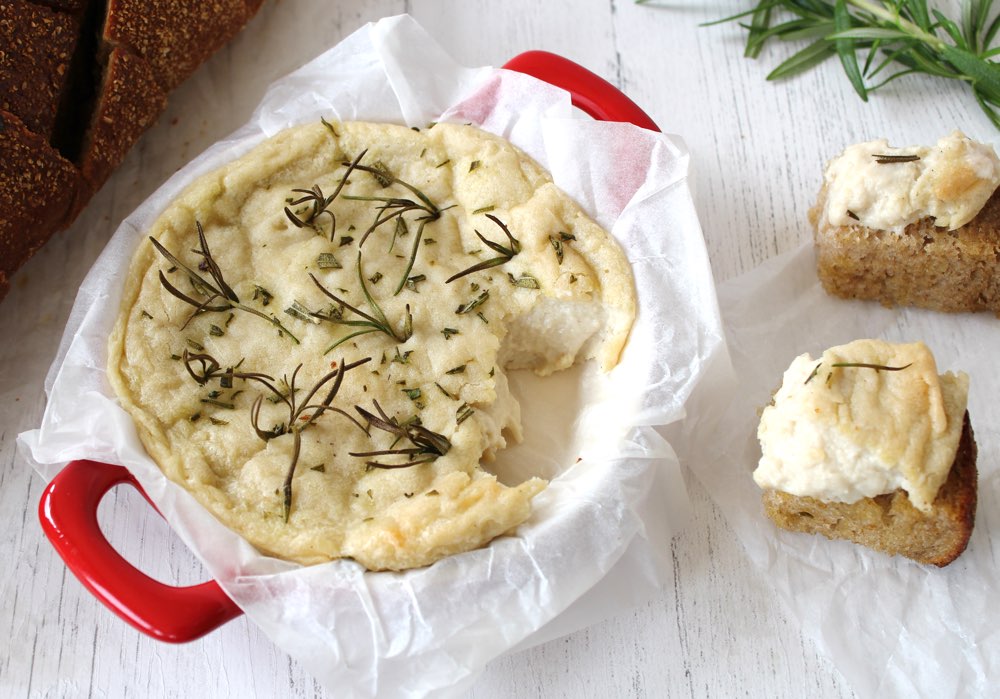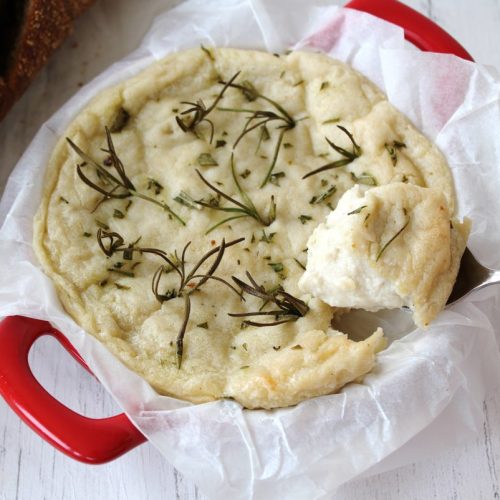 Easy Vegan 'Camembert Cheese'
This creamy cashew 'camembert' is delicious served with warm crusty bread as a weekend treat or when you're having friends over for 'drinks and nibbles'. It's also perfect for picnics, buffets and parties. Any leftovers make a great sandwich filling. We especially love it with slices of sun-dried tomato and chutney.
Ingredients
75

g

/ ½ cup cashews

(If you don't have a power blender, first soften the cashews by soaking them in freshly boiled water for 30 minutes, then drain)

150

ml

/ ⅔ cup water

2

TBSP

tapioca flour (tapioca starch)

1

garlic clove

peeled

1

tsp

apple cider vinegar

1

TBSP

nutritional yeast flakes with B12

½

tsp

salt
For Garnish
1

sprig fresh rosemary

(highly recommended as it imparts a wonderful flavour to the cheese)

freshly ground black pepper

(omit if serving to children)
Instructions
Preheat the oven to 180C / 350F. Line a small shallow dish with baking paper (the dish I use measures approx 11cm x 3cm).

Add all the ingredients (except the rosemary and pepper) to a blender and whizz on high speed until smooth.

Transfer to a saucepan and cook on medium heat, stirring continuously until it is smooth and has started to thicken (about 2 minutes). Initially, as it warms up, it will go lumpy but don't worry this is normal. Keep stirring and it will soon smoothen out. Taste test and add a touch more salt, if needed.

Pour into the prepared dish and smooth the top. Garnish with rosemary needles (I push some of the needles in whole and finely chop a few to sprinkle). Add some freshly ground black pepper, if desired.

Bake for 20 minutes, or until the cheese has formed a skin and is lightly browned round the edges. (You can also warm some bread in the oven at the same time, if you wish).

Serve immediately or leave to cool before transferring to an airtight container. It will keep for up to five days in the fridge. Bring to room temperature or re-heat in the oven for a few minutes before serving.
Notes
This recipe has been adapted from the BOSH! Camembosh in BISH BASH BOSH! by Henry Firth and Ian Theasby, featured in Vegan Life magazine Issue 50 (The BOSH! guys credit Ellie from Kinda Co. for the original recipe).
Pin for later ⬇️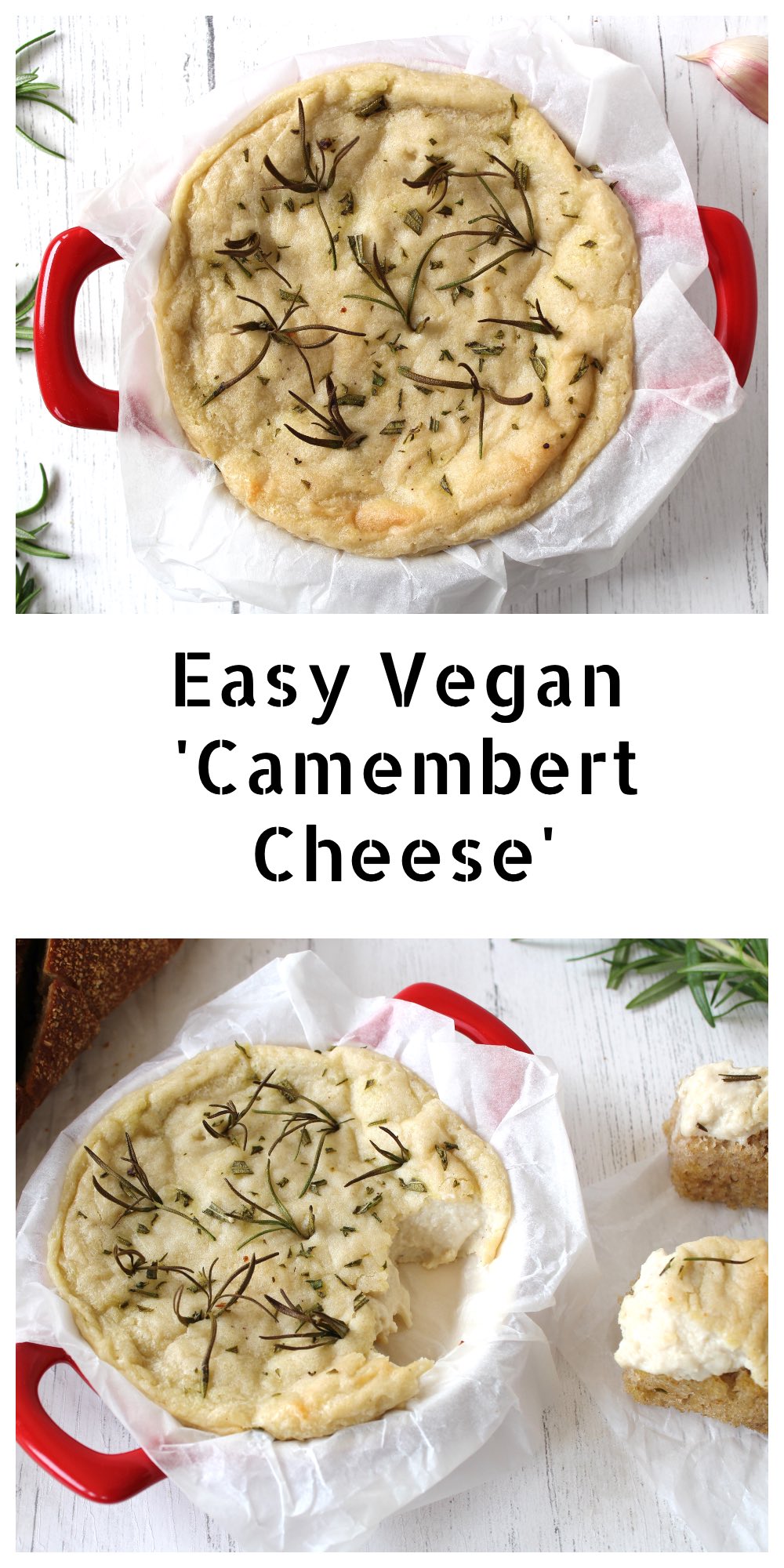 Ingredients I use in this recipe:
– Aldi Cashews
– Tapioca flour (aka tapioca starch), currently available in the UK from independent health food shops and online (I use the Suma and Infinity Foods brands, which cost around £2 for 500g)
– Engevita Nutritional Yeast Flakes with B12, currently available in the UK from health food shops, some larger supermarkets and online. (It's definitely becoming more widely available…. I recently found it in my local Waitrose!)
If you make this Cashew 'Camembert' (or any other recipes on my blog), I'd love to hear your feedback and any suggestions for adaptations! Tag your photos with #bitofthegoodstuff on social media and they will find their way to me. You can also connect with me on my social media channels here:
Instagram, Twitter, Facebook, Pinterest.
With love,


——————————–
N.B. This post contains some affiliate and sponsored links. Any funds we receive via these links will fund the upkeep of Bit of the Good Stuff. Thank you for your support!